Disclosure: As an Amazon Associate and member of other affiliate programs, I earn from qualifying purchases.
Decorating the dining room for Christmas in navy, silver and velvet. It's one of my favorite holiday decor color combos and looks beautiful with a flocked Christmas tree.
I've been wanting to change up my holiday decor and use something other than the traditional red and green colors I usually use. Navy blue is one of my favorite colors, as you can see throughout our cottage, and I've always wanted to try it out for the holidays. This year I finally went for it and I'm really loving the way it looks.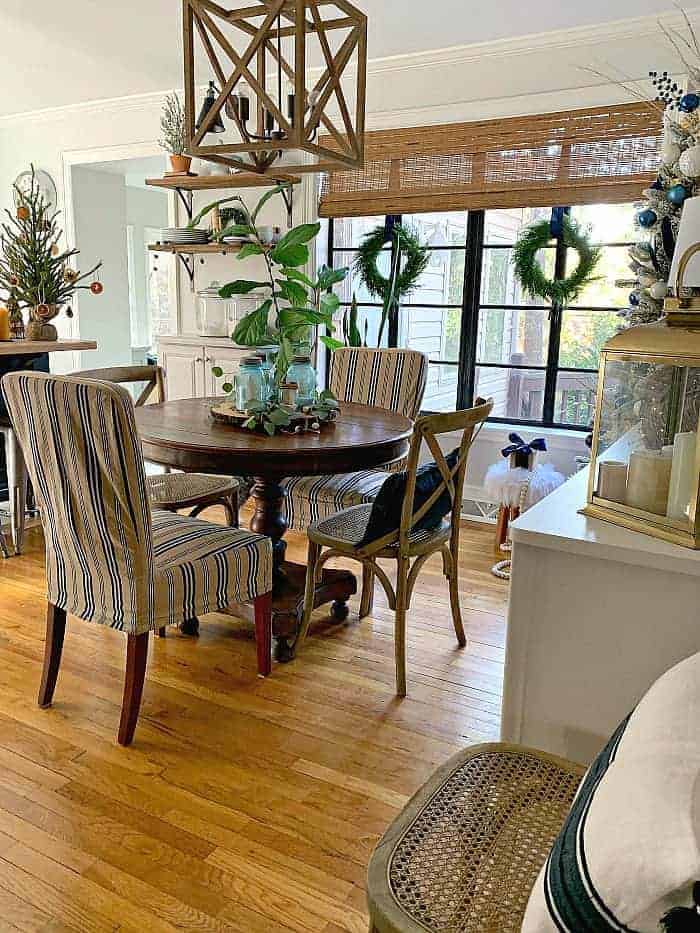 Last year I went with a natural theme when I decorated the cottage for the holidays, using dried oranges and cranberries. I loved how easy it was to put together and the way it looked. This year we went in a completely different direction. So let's look around the cottage dining room and check out our navy Christmas decor.
---
I'm so excited to be joining in on my first holiday tour of the season, the Very Merry Christmas Home Tour hosted by Carrie from Lovely Etc. If you're coming from Gretchen's, Boxy Colonial, welcome! I know it's a bit early for Christmas decor but we all wanted to share our holiday decorating ideas in hopes of inspiring you. So grab your coffee and check out all of the beautiful holiday homes!
---
The navy Christmas tree...
The first thing you notice in our dining room is that our Christmas tree sits in the corner, instead of the living room. We have an older home, which is small, so the only place to have a big tree is the dining room. It took me a while to get used to it but I've grown to accept and love it.
If you've visited us during the holidays before then you might also notice that the tree has changed. I usually put my fuller green tree in this corner but this year I switched it out for the slimmer flocked tree that I had in the sunroom last year. It's a beautiful tree but I think I prefer the look of the fuller, green tree. The navy does look pretty against the flocking, though.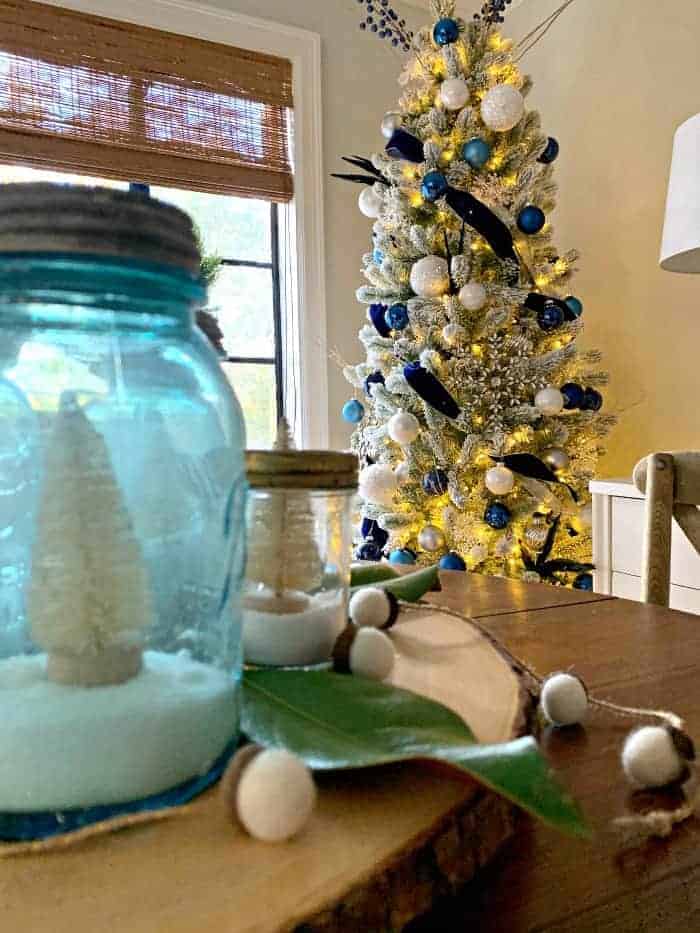 I've been collecting navy ornaments the last several years in hopes of creating a blue Christmas look. Most were found on clearance after the holidays, which is the best time to get them. The navy velvet ribbon was one of my only purchases for the tree, besides the crystal snowflake ornaments, so I didn't spend a lot putting this tree together.
The ribbon wasn't easy to find so when I finally did locate it, I bought a lot. Probably more than I'll ever need, but it's a good excuse to decorate with navy again. (Source list at the bottom of the post).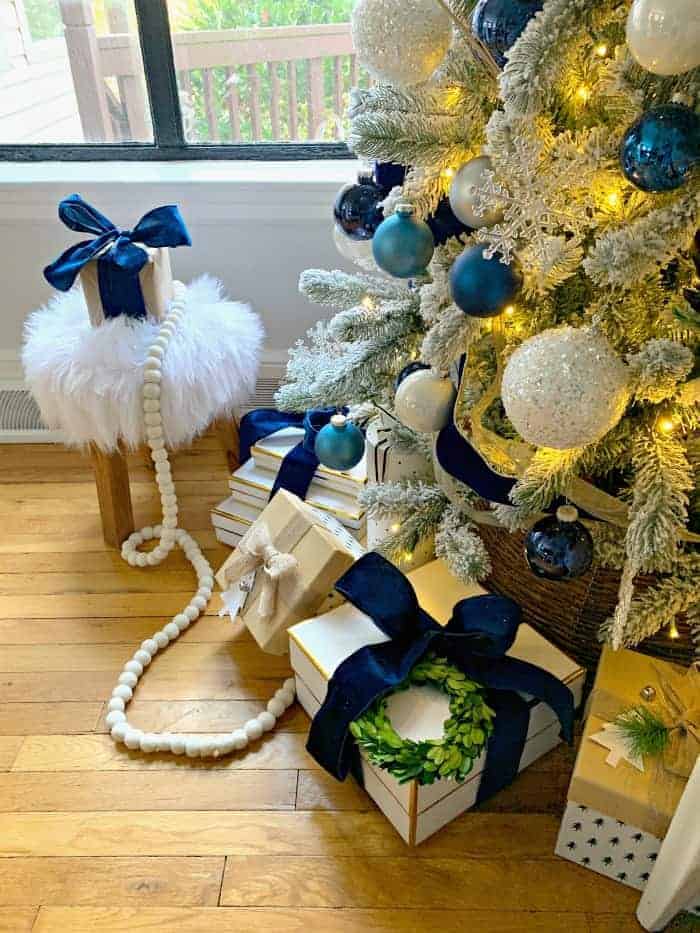 As for the rest of my Christmas decor, I kept it simple. For the natural wood buffet I used a big glass jar filled with leftover navy and silver ornaments and grouped together a couple of faux lighted mini Christmas trees. All of the wreaths that I hung around the cottage were tied with the beautiful velvet navy ribbon, that I apparently have stock in.
That gorgeous velvet ribbon is my favorite thing this season (can you tell?). I love it with the green.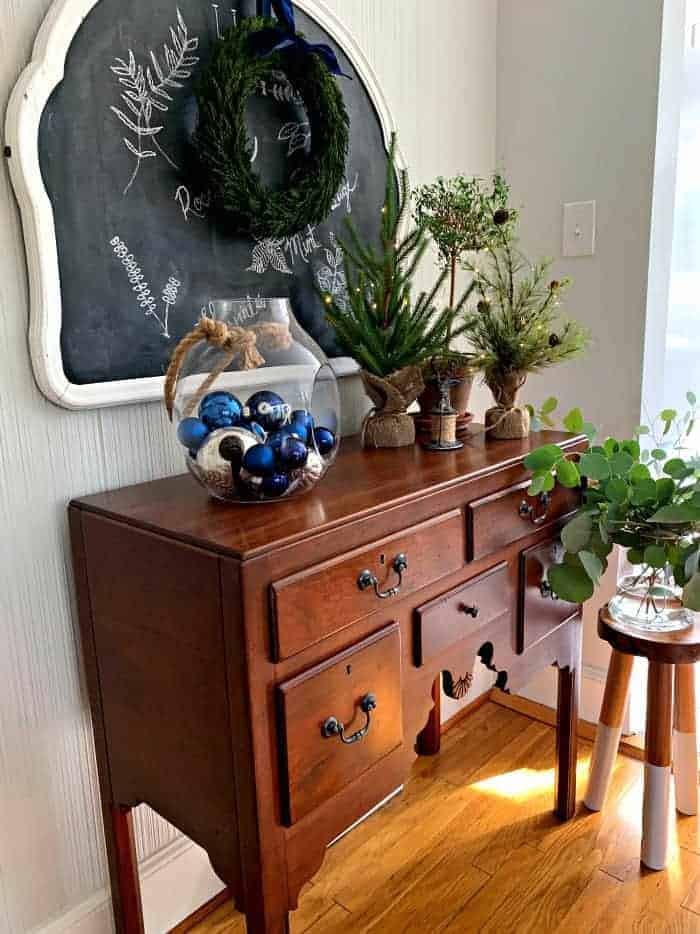 I brought out some of the DIY dried orange ornaments that I made last year and hung them on a mini tree on our kitchen island. A grouping of beeswax candles adds a soft, warm glow at night (and who can resist that subtle, natural scent).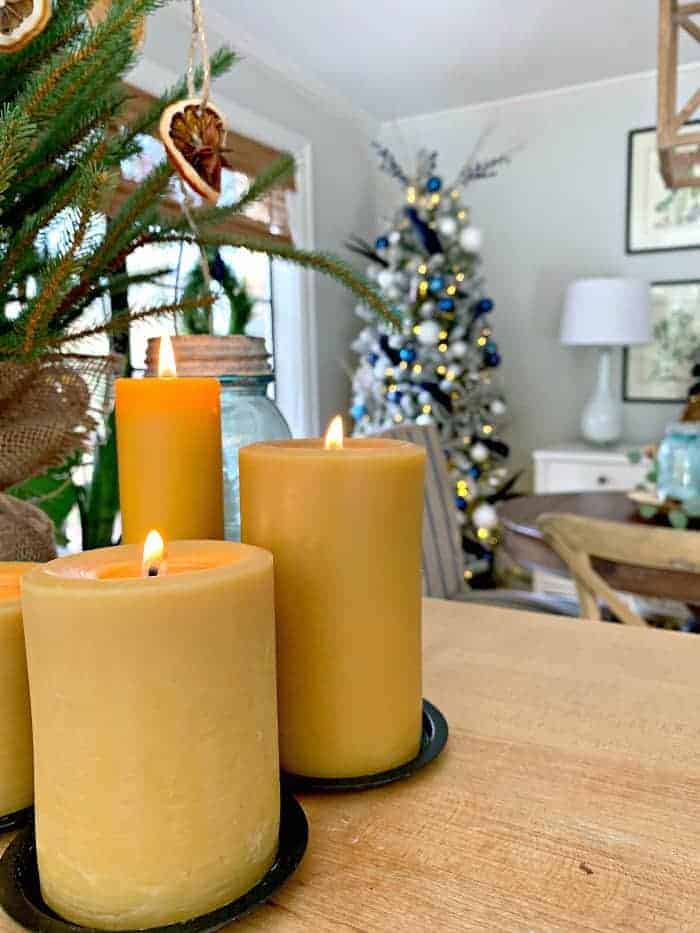 I have to say that I was nervous about using navy because I was afraid it wouldn't look like Christmas without the red and green. I couldn't have been more wrong.
The cottage looks festive and it's truly my style. I just wish that I would have done it sooner.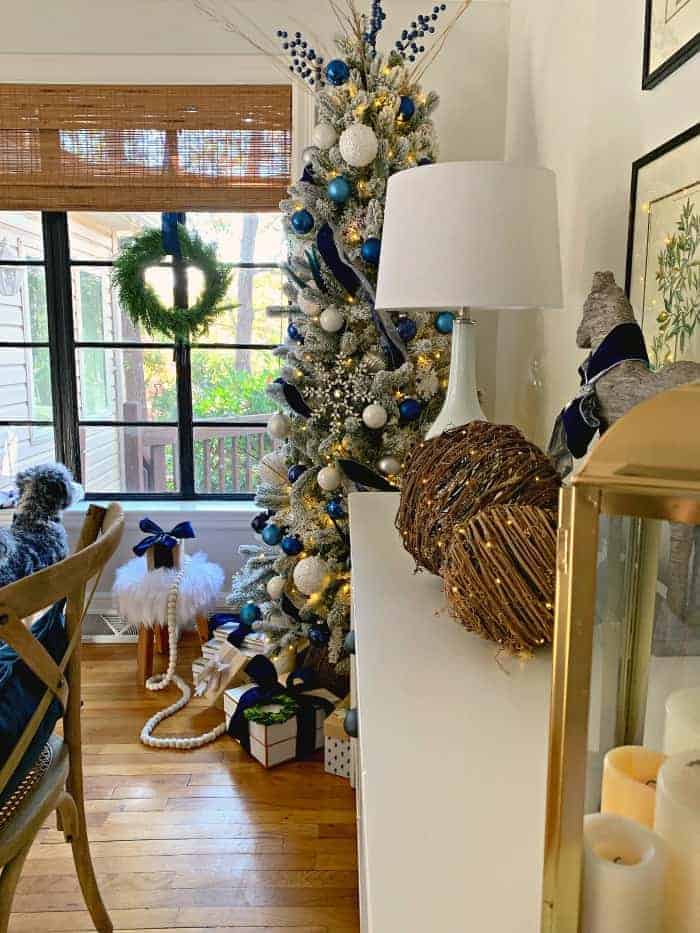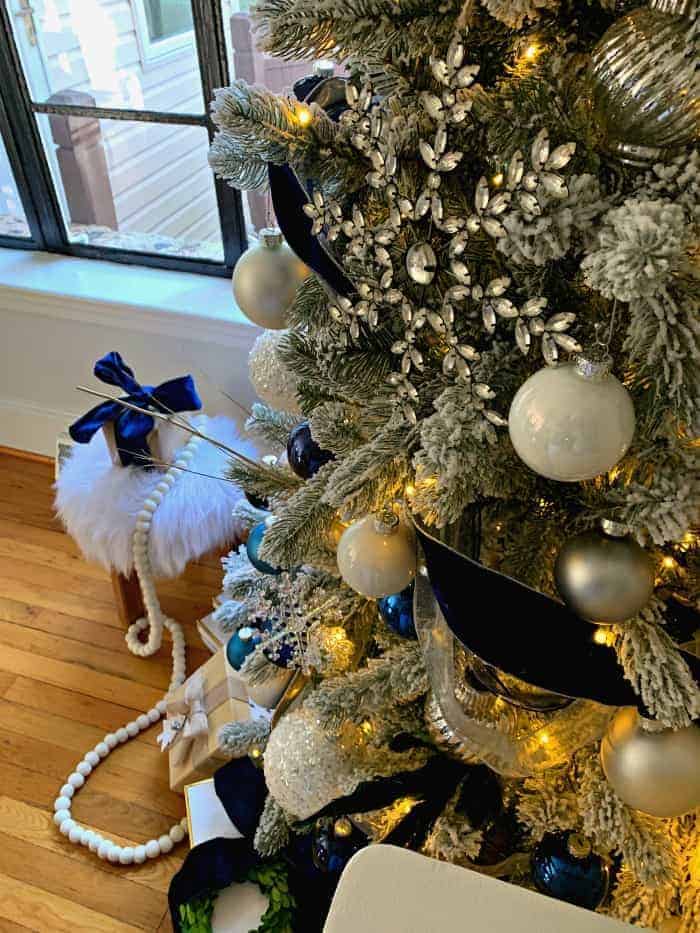 The chair covers and navy velvet pillow covers blended in well with our holiday theme this year, which meant less work decorating. It also meant that I could use things that I already had so I didn't have to go out and buy new just for the holidays. They might not scream Christmas but they fit in with the tree decor.
The holidays are expensive enough without having to go out and buy new decor every time you want to change out your colors.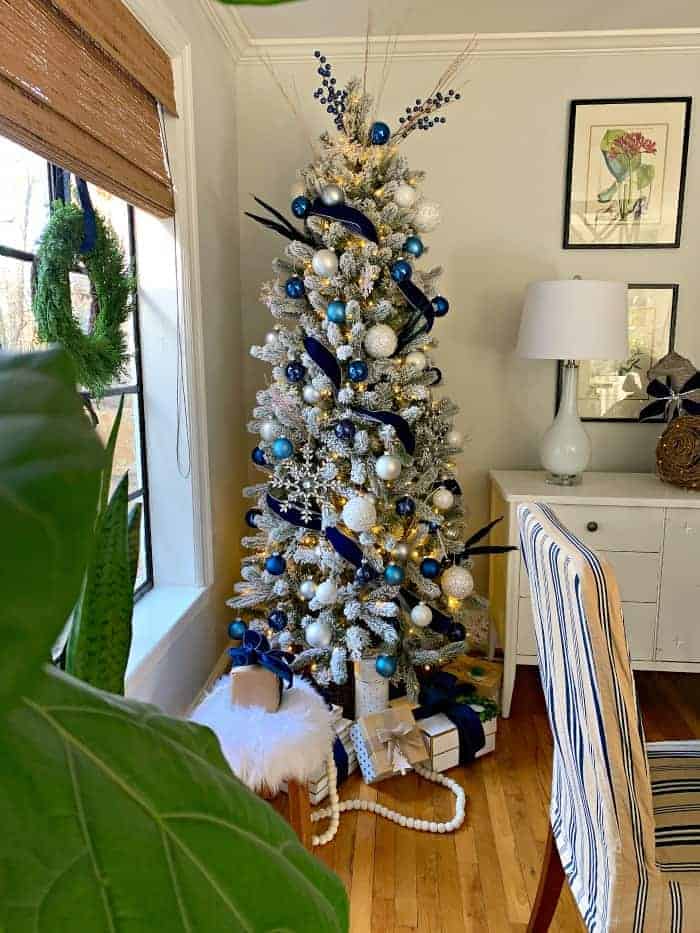 Puppy's First Christmas!
This year we have an energetic new addition for the holidays. It's Cooper's first Christmas with us (he just turned one a few weeks ago) and it's been a challenge keeping him away from the ornaments and packages. We've dubbed him official Christmas decor inspector because he loves to thoroughly inspect every bauble, package and box that I bring out. Let me tell you that he takes his title seriously.
It's been fun but I have to constantly keep an eye, and ear, out for him. Such is life with a puppy.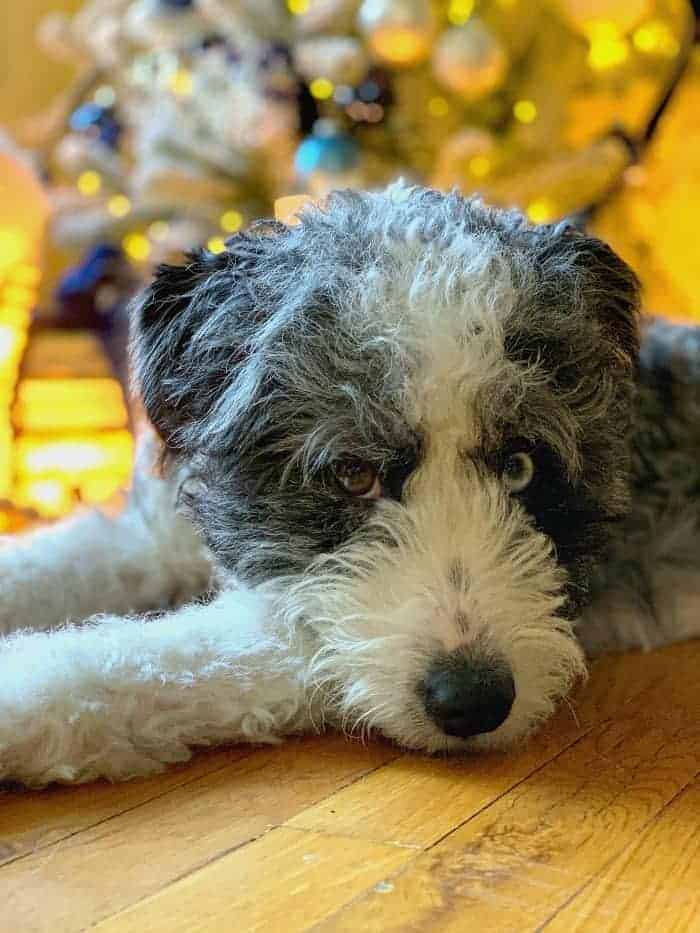 That's it for our navy Christmas dining room. I have a lot more holiday decor to share, including our front porch and a tour of Minnie, our tiny RV, all dressed up for the holidays, so make sure you come back. I'll also be sharing more on Instagram.
So tell me...are you a traditionalist when it come to holiday colors and decor or do you like to shake things up?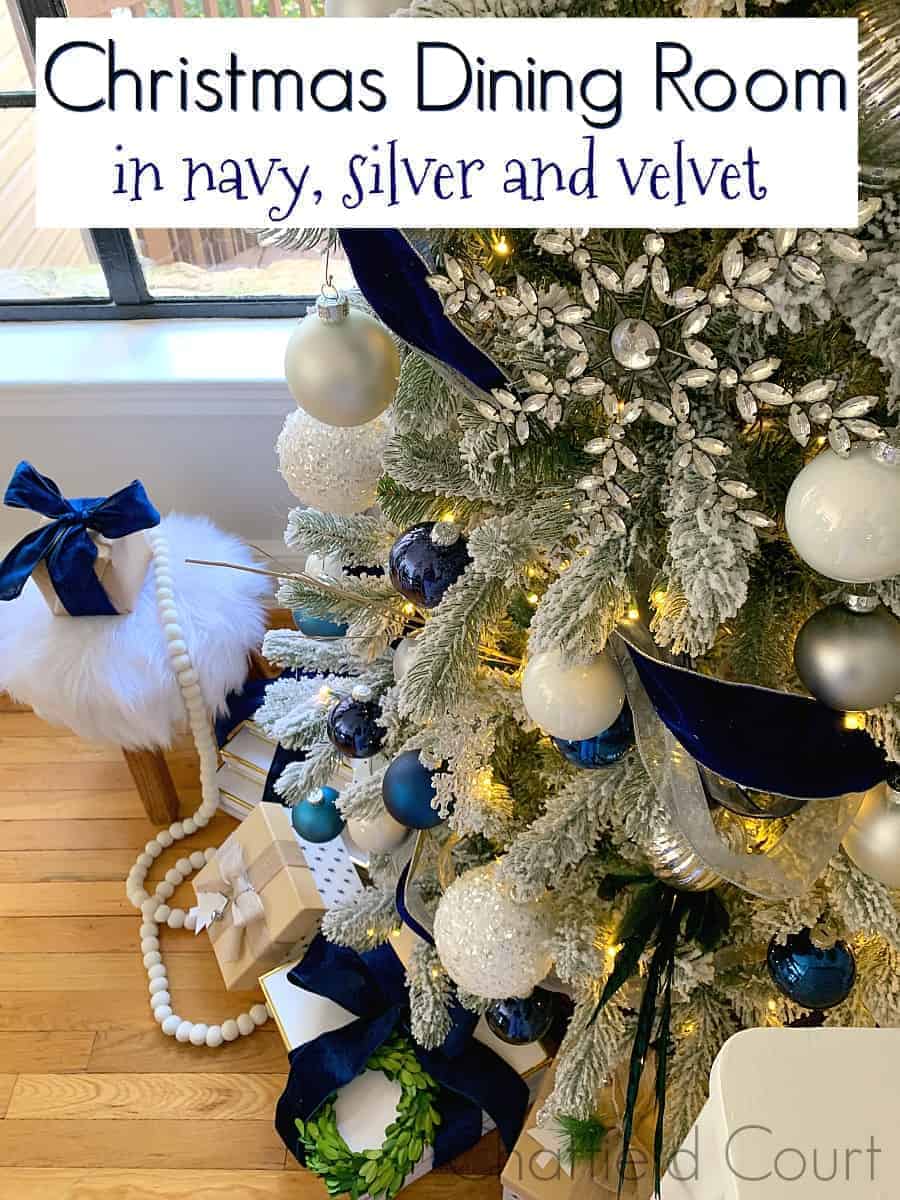 ---
Next up on the tour is Marly, A Brick House, and her Christmas mantle and living room. Don't forget to check out the rest of the bloggers that are sharing their holiday homes. Enjoy!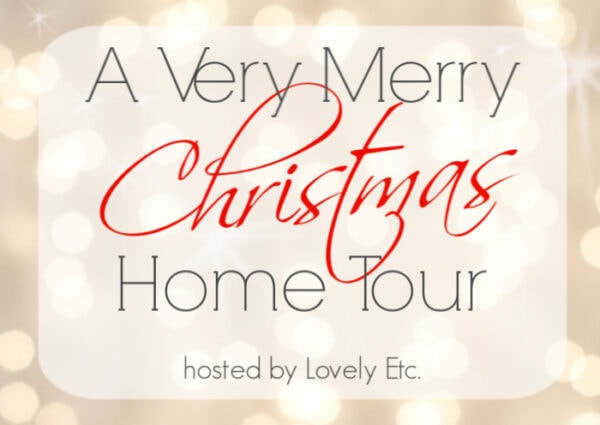 Monday

Lovely Etc * Thrifty and Chic * Boxy Colonial * Chatfield Court * A Brick Home
Tuesday

The Striped House * Casa Watkins Living * Up to Date Interiors * Our House Now a Home * All Things With Purpose
Wednesday

Green With Decor * Lehman Lane * Jonesville * Sweet Pea
Thursday

DIY Beautify * What Meegan Makes * Sunny Side Design * Bright Green Door
---
Source list
This list contains affiliate links. We may earn a small commission if you buy through our links.
navy velvet ribbon - Michaels
navy striped chair covers - Pottery Barn (no longer available)
faux fur stool - DIY by me
flocked Christmas tree - King of Christmas
snowflake crystal ornament - Pottery Barn
glass hanging jar with rope - gift from my mom
beeswax candles - Etsy
window shades - Blinds.com
lighted twig balls - Pottery Barn
wreaths in windows - Target
wooden cane seat dining chairs - Restoration Hardware