*As an Amazon Associate and member of other affiliate programs, I earn from qualifying purchases.
Come take a tour of our RV Christmas decorations complete with wreaths, trees and twinkling lights.
When we started our cargo trailer conversion in 2017, decorating for Christmas was never on my radar.
There were always so many projects to worry about…to complete.
This year our tiny RV is in a good place project-wise, so I pulled out the Christmas decor.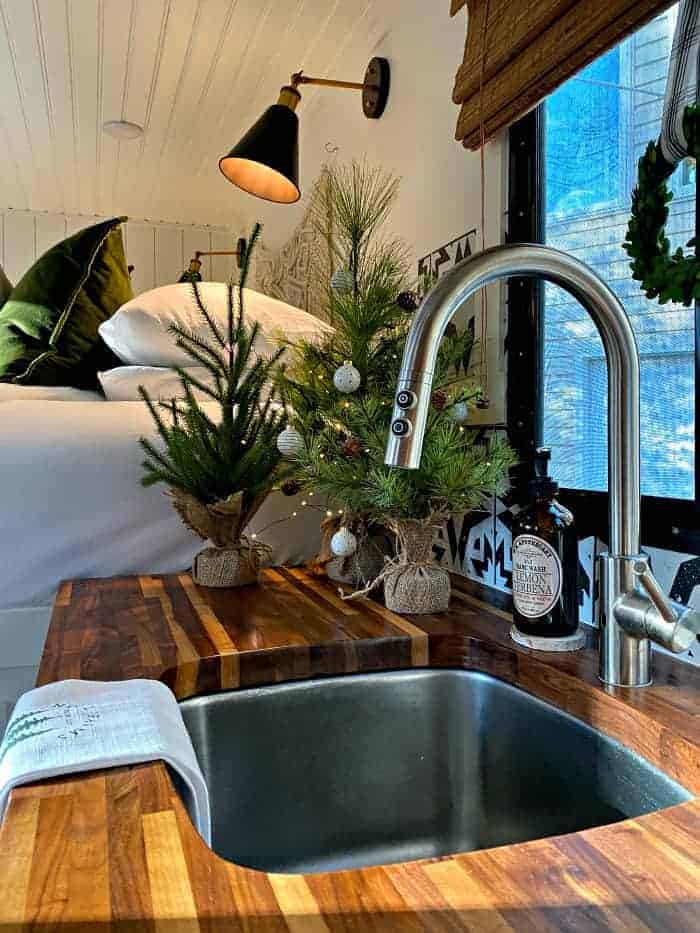 We don't have any plans to camp over the holiday but that doesn't mean Minnie can't get her Christmas on.
I recently shared our cargo trailer reveal and all the details of the work that went into turning it into a tiny RV.
We've taken several trips this year, while we were still building it, and it's been fun getting back into the camping lifestyle.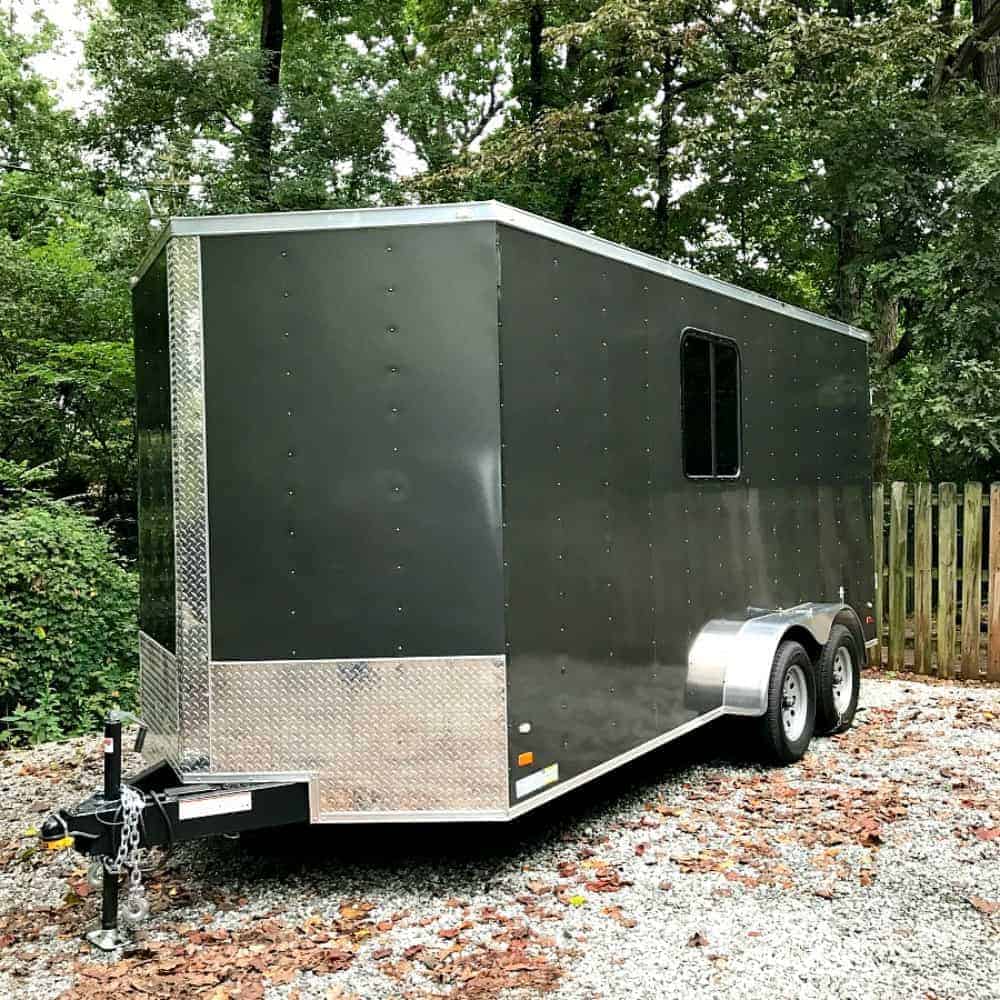 We bought the trailer way back in 2017 but this is the first year that it's been done enough to decorate it for Christmas.
It's only 112 square feet (3x smaller than your typical hotel room) so I wasn't able to add a ton of decor or a full sized tree.
I tried my best to make it look and feel festive without making it look like Christmas threw up.
So let's get to the RV Christmas decorations…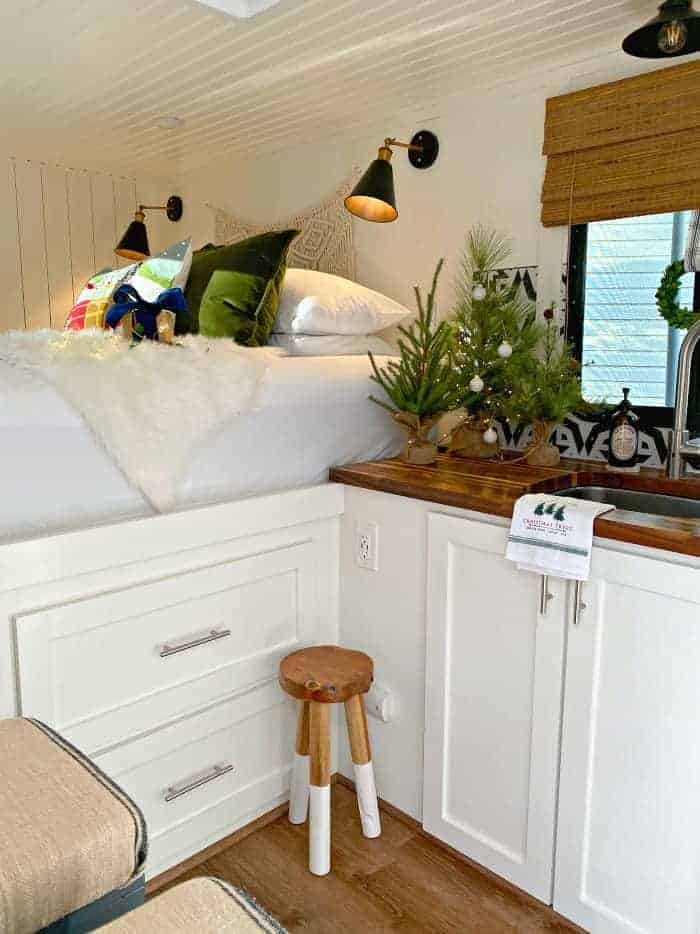 I didn't want to put a lot of money into it, since it's a weekend travel trailer, so I mostly decorated with things I already had.
The wooden Christmas tree in the corner of the kitchen was a recent find, but everything else was recycled.
Since I went with a navy, white and silver Christmas decor in the cottage, I chose to go with natural elements and dark green in the RV.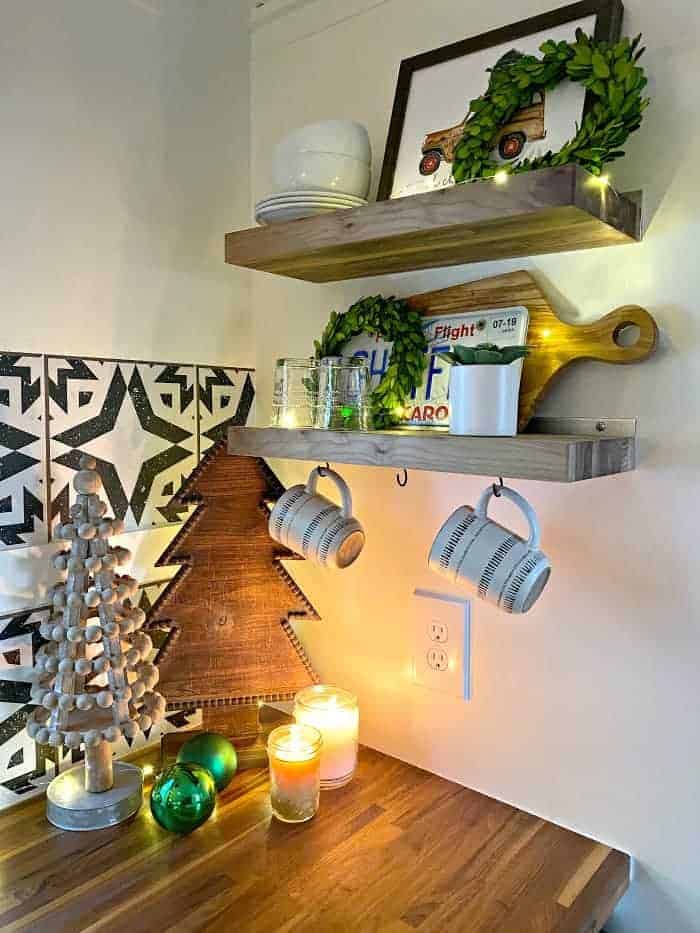 I grouped mini Christmas trees together on one end of the countertop and added a few strands of battery-operated lights.
They are really inexpensive and so easy to use all over the house, or in this case…RV.
I like to make sure that I get the ones with a timer, that way I don't have to worry about turning them on and off.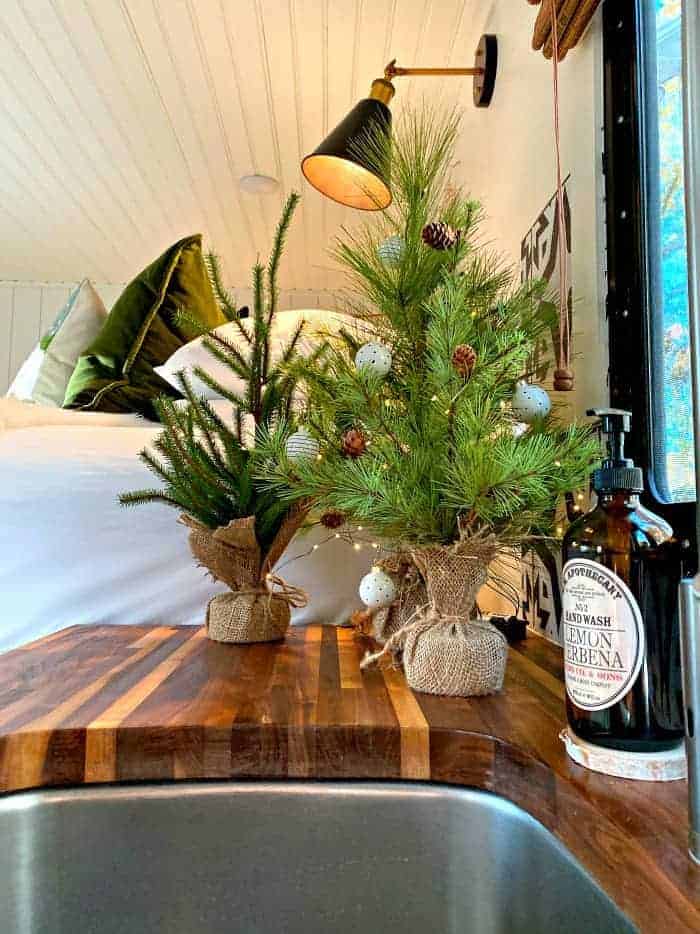 The shelves that we built from the leftover countertop, are the perfect spot to add twinkle lights and wreaths.
They're sharing the space with our dishes and glasses. I love having our every day dishes within easy reach when we're camping.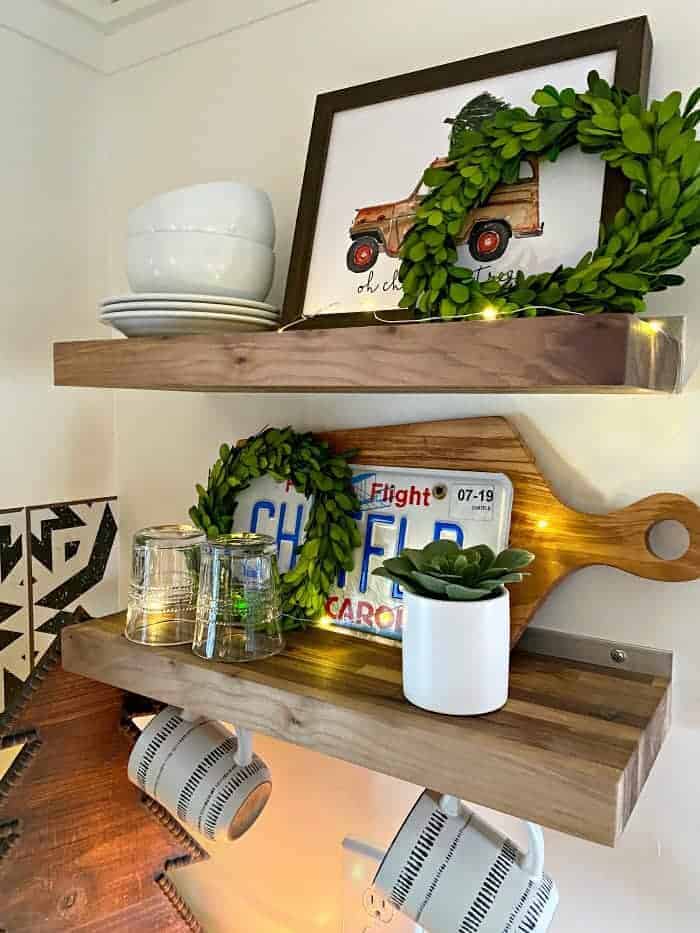 We are lucky enough to have a king-sized bed in the RV so I made sure to add some Christmas cheer to it.
I added forest green velvet pillows and a fun lumbar pillow.
I also tossed on a faux fur throw and my DIY acorn garland to give this side of the trailer a fun seasonal vibe.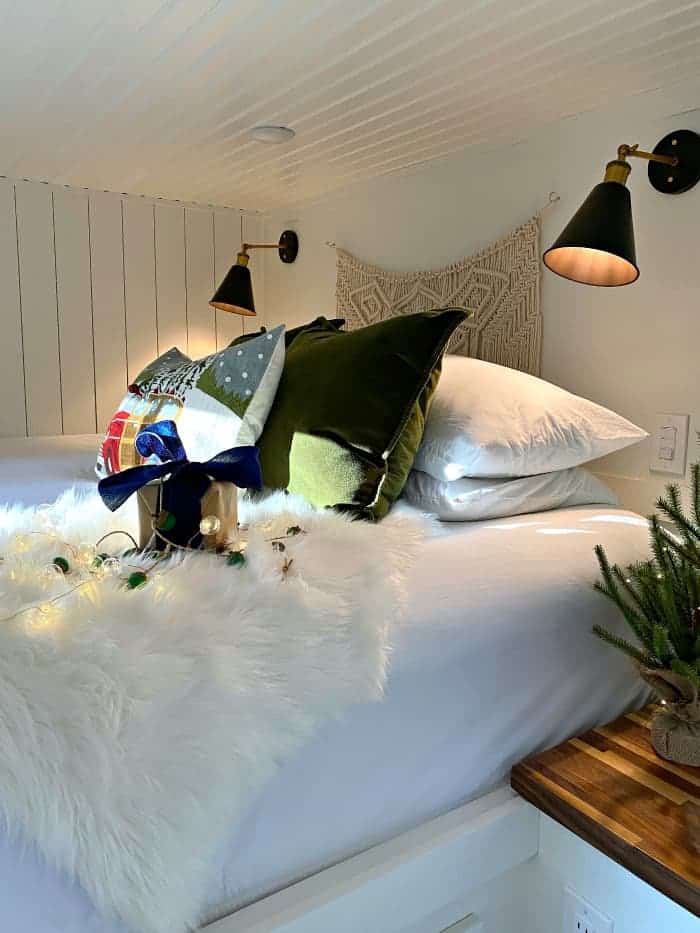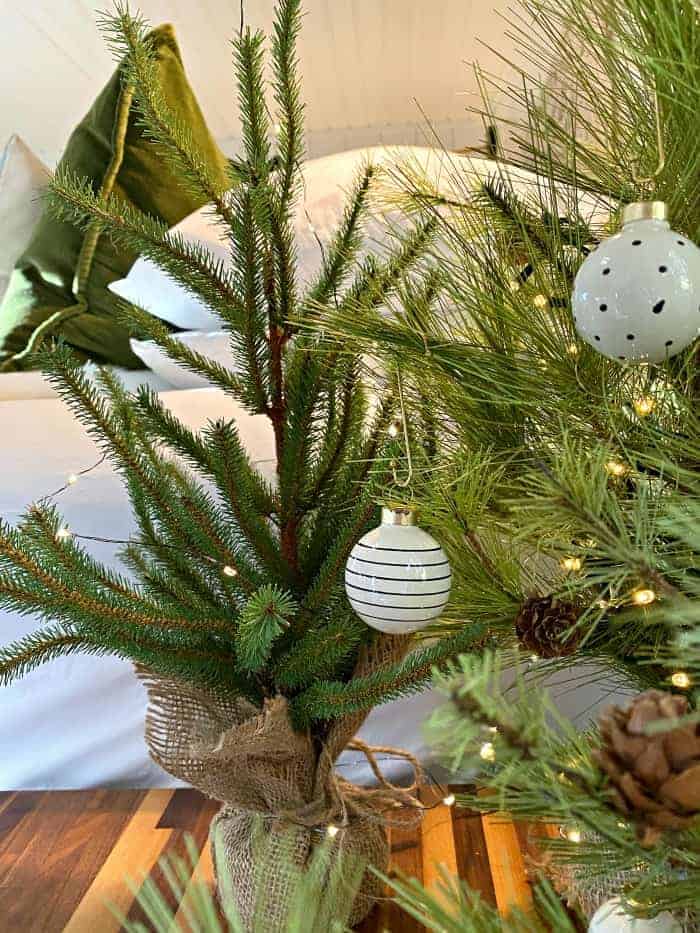 Like I said, we built Minnie for weekend, warm weather getaways so there aren't any plans to take her out during the holidays.
If we get a break in the weather though, that could all change. That's the great thing about having an RV.
You can take your mobile home away from home out at a moment's notice.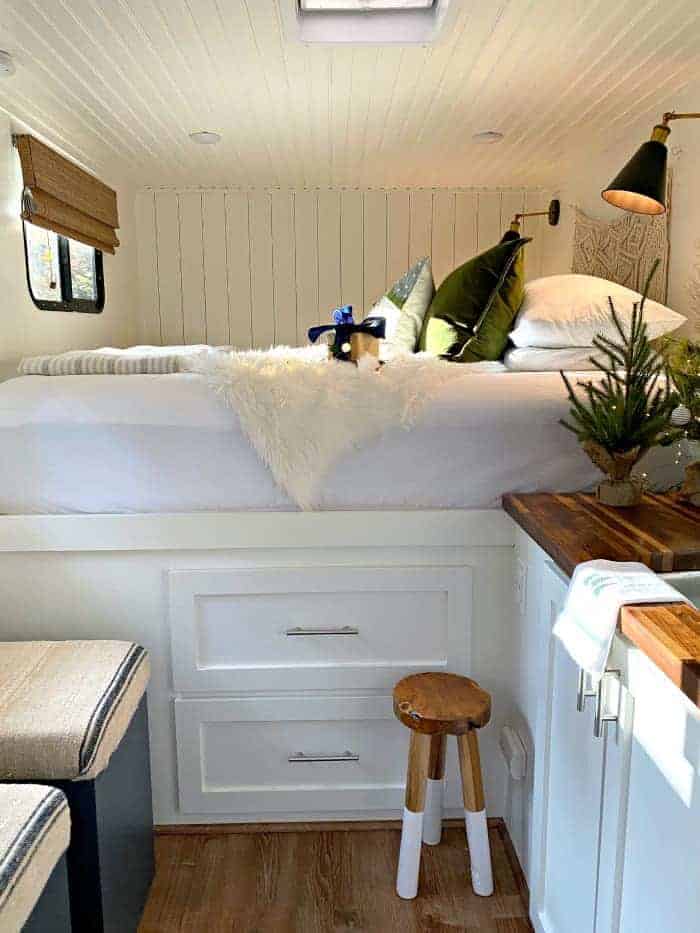 It's always a challenge decorating a tiny space, especially for a holiday, so I hope this gave you some ideas.
Now I want to go out there, turn the twinkle lights on and read a book. Hmmm, I may just have to give it a try.
---
Want to know more about our cargo trailer conversion? Check out these posts…
We also have a video tour on our YouTube channel. It's already gotten more than 800K views in the 2 months since I posted it. You can watch it, here. Make sure you "like" our video and subscribe to our channel!