Disclosure: As an Amazon Associate and member of other affiliate programs, I earn from qualifying purchases.
Installing a new RV kitchen faucet and butcher block countertop in the ongoing cargo trailer conversion.
This is a sponsored post written by me on behalf of Pfister. All opinions are 100% my own.
So far we've shared updates on the tongue and groove ceiling install, an update on our progress and how we installed vinyl plank flooring. Today, though, is all about our new countertops and faucet, which marks a big milestone in this cargo trailer remodel project.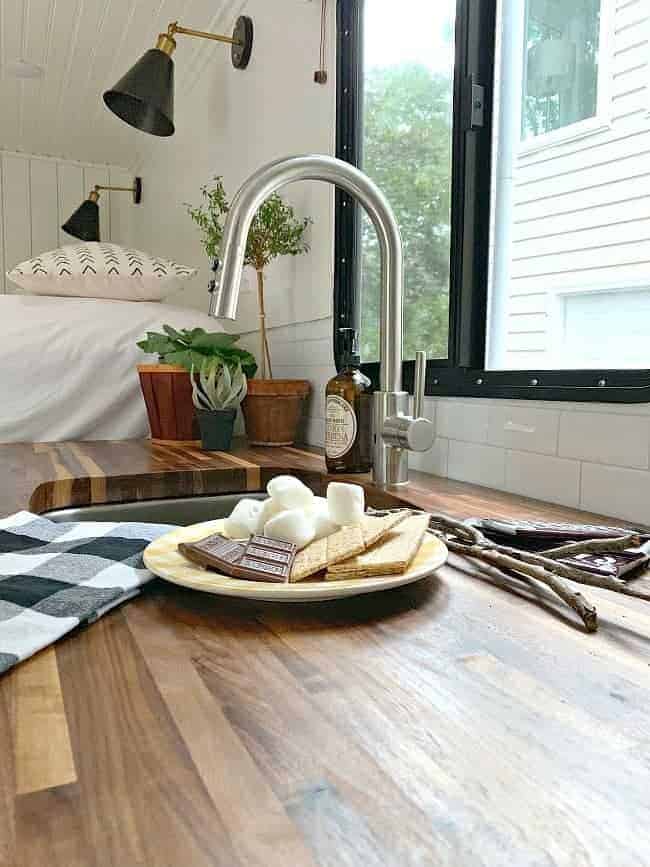 We have running water!!!
It was a big day in our little RV when we turned on the water for the first time, and it's been a long time coming. Actually it's been 7 long and hard months, but all of that hard work is starting to pay off.
Now, we may have water but it's only cold running water (we still need to install a hot water heater). And, even though it was cold, I didn't let it stop me from using it when we went camping over the Labor Day holiday weekend.
I was able to brush my teeth and, yes, I even washed my face. It was so nice to be able to get myself ready in my own space.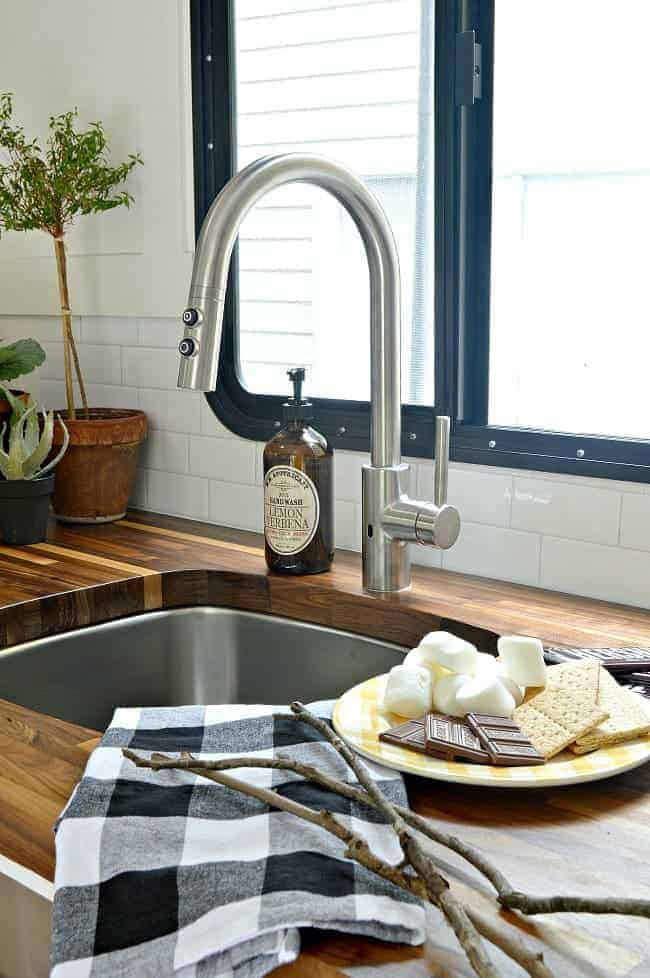 And what kitchen is complete without a kitchen countertop, even if it is a tiny RV kitchen. We went with a walnut butcher block and it turned out better than we'd hoped.
We knew early on that we were going to do butcher block for the kitchen. From our research we found that it's generally less expensive than other types of countertops and it's easy to cut and fit. Very Important for a project like this.
When we found a deeply discounted, and damaged, 12' piece of walnut butcher block at a local store, we knew it was the perfect piece for Minnie. The idea was to cut off the damaged ends and use the rest for the kitchen counter and drop table.
Once we built and framed in the kitchen cabinet, we were able cut and fit our new countertop.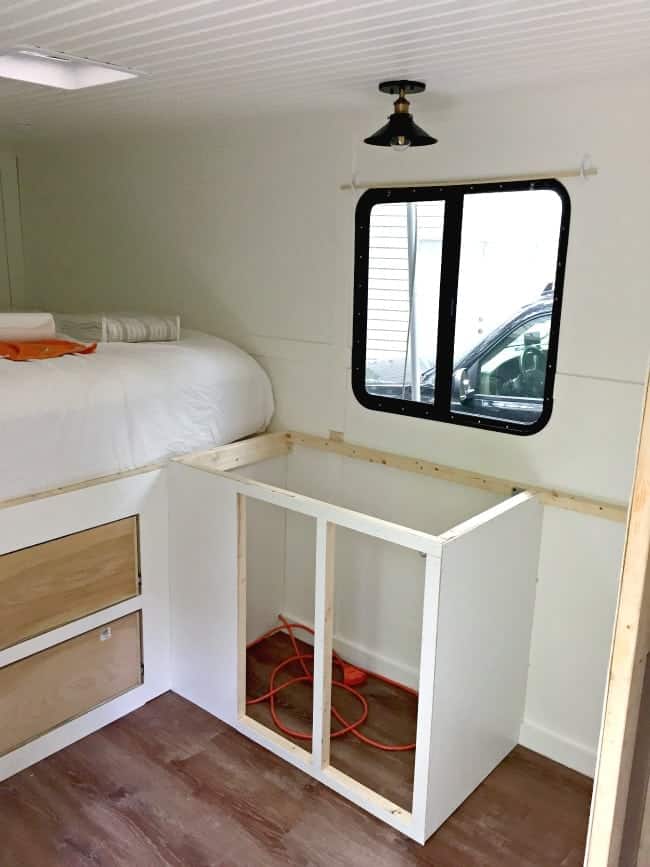 When we were confident with the fit, I went to work refinishing it. I researched a lot of options but eventually chose a product called Waterlox, which is a blend of tung oil and resin.
It was quite the process to refinish both the countertop and the drop table. It took me almost 2 weeks to complete, and 9 total coats. I'll have to do another post on the refinishing process.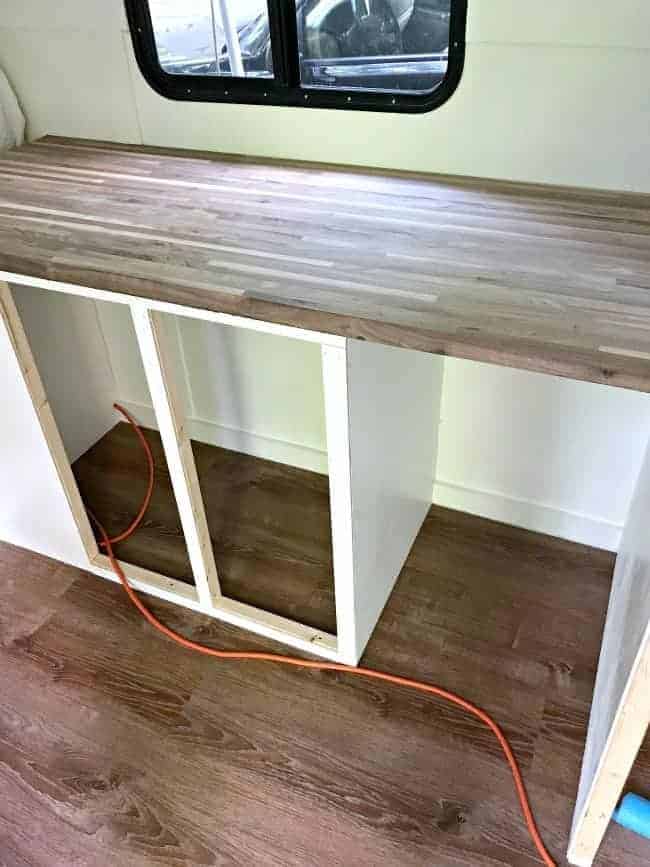 Check out the beautiful finish. I'm thrilled with the way it turned out.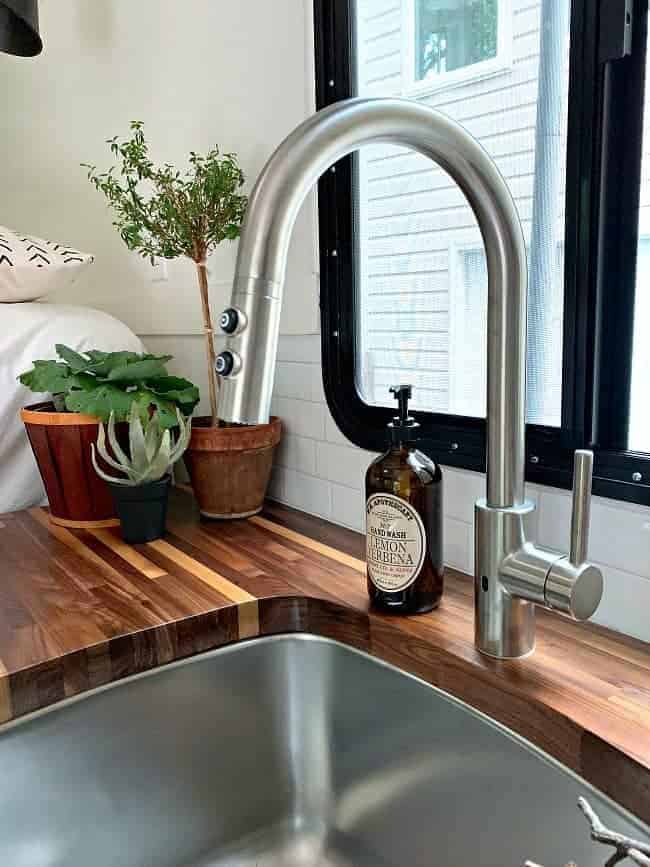 The butcher block countertop may have been an easy choice but the kitchen sink was not. We had a few obstacles to tackle with this project, like the size and placement (on top of the counter or undermount). Luckily, we were able to find a sink that could either be installed under the countertop or on top. Plus it was the perfect size.
Undermount or on top of the counter...
Since I couldn't have the ceramic farmhouse sink I wanted, I at least wanted the sink to be mounted under the counter. The hubs, on the other hand, had a different opinion. He wanted to stick with easy and installing the sink on top of the counter is definitely easier.
He was nervous about getting a smooth and straight edge on the sink cutout. I finally talked him into giving it a shot, although we only had one shot. In the end it all worked out. The sink fit perfectly and we were able to get a smooth finish on the cutout.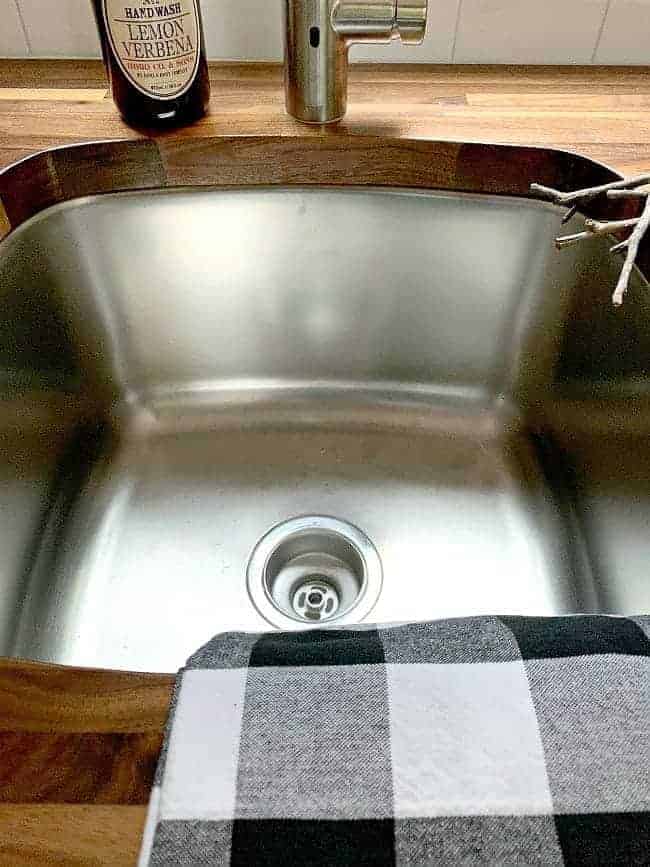 The crowning jewel on our new countertop is the new faucet, and I think we found the perfect one.
This is my first Pfister faucet and all I can say is...wow. It's just the right size and I'm loving the pull-down nozzle. The best feature about it though, is that it's touch-free. It has an electronic sensor that allows you to turn the water on and off with a wave of the hand.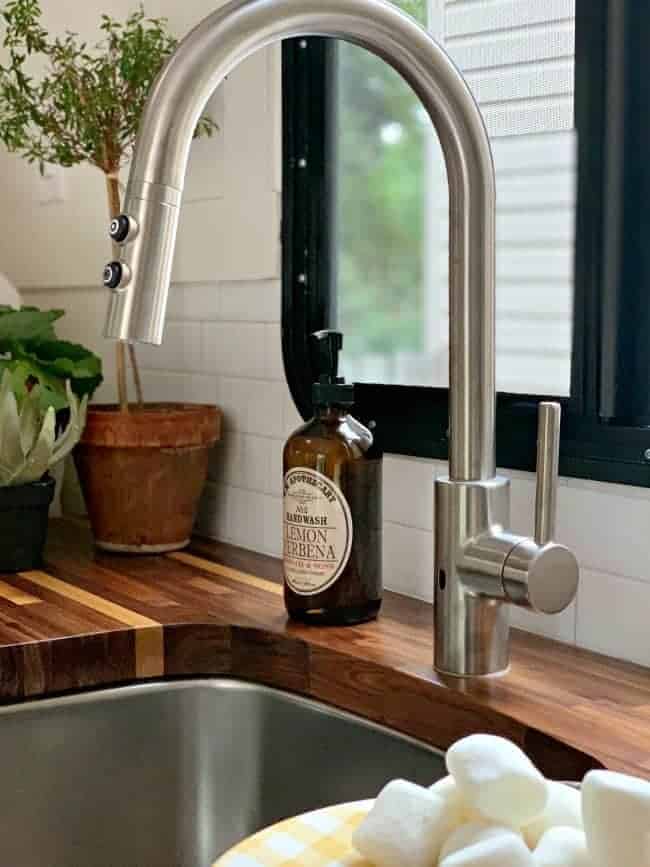 It's really the perfect feature for our RV.
On our last camping trip to the beach we didn't have hookup for sewer, which meant we didn't have a place to drain our water. When we did use water, the sensor made it so easy to conserve. I wasn't sure how I would like a faucet with an on/off sensor but for us, even in a camper, it just makes sense.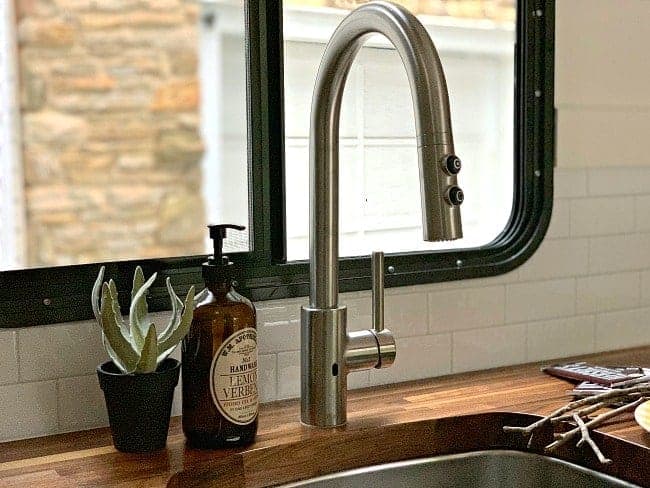 I'm so happy with the way the kitchen is shaping up. We still need to finish the walls (more on that later) and make the cabinet doors, but it's turning into a pretty and functional space.
Next up is the bathroom. Our biggest project yet.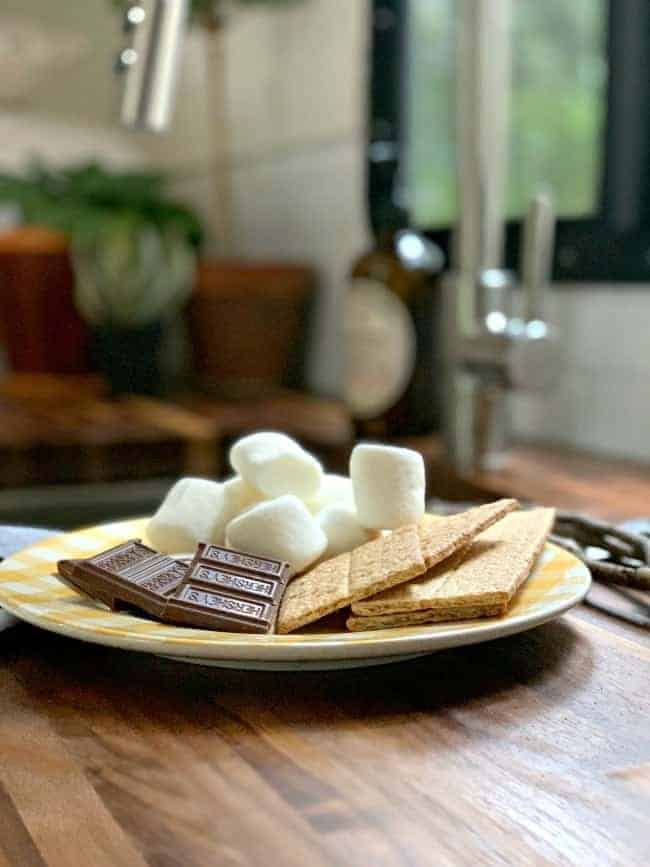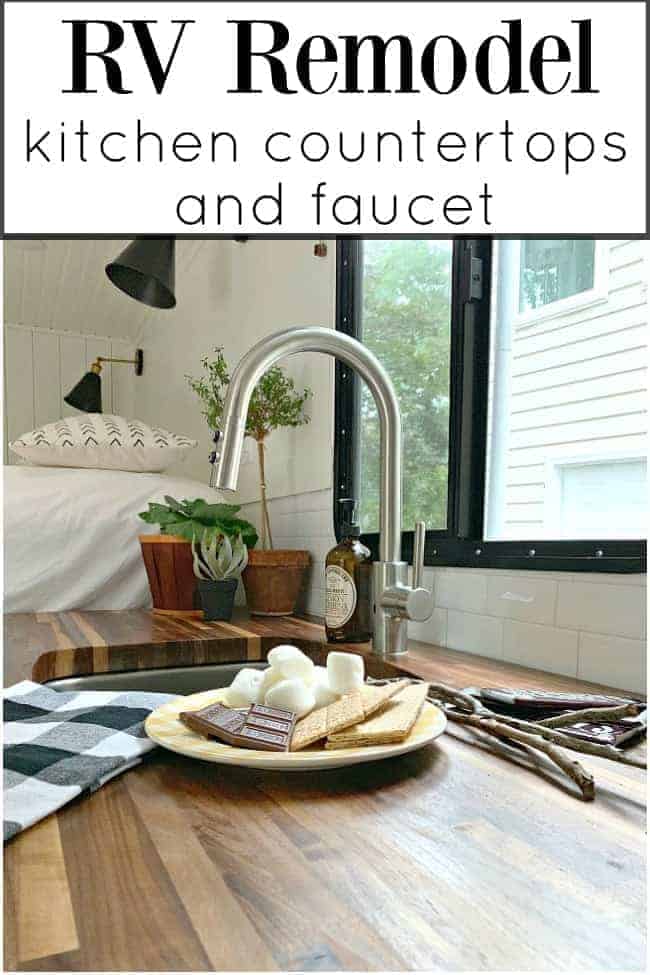 *As an Amazon Associate and member of other affiliate programs, I earn from qualifying purchases.