Disclosure: As an Amazon Associate and member of other affiliate programs, I earn from qualifying purchases.
Cargo trailer conversion progress and the DIY projects left on the to-do list while we're creating our cozy RV camper.
Strap in, this is a long one with lots of pictures. It's been a while since I shared any RV renovation progress on Minnie so we have a lot to cover (or you can skip to the bottom of the post and check out the reveal!).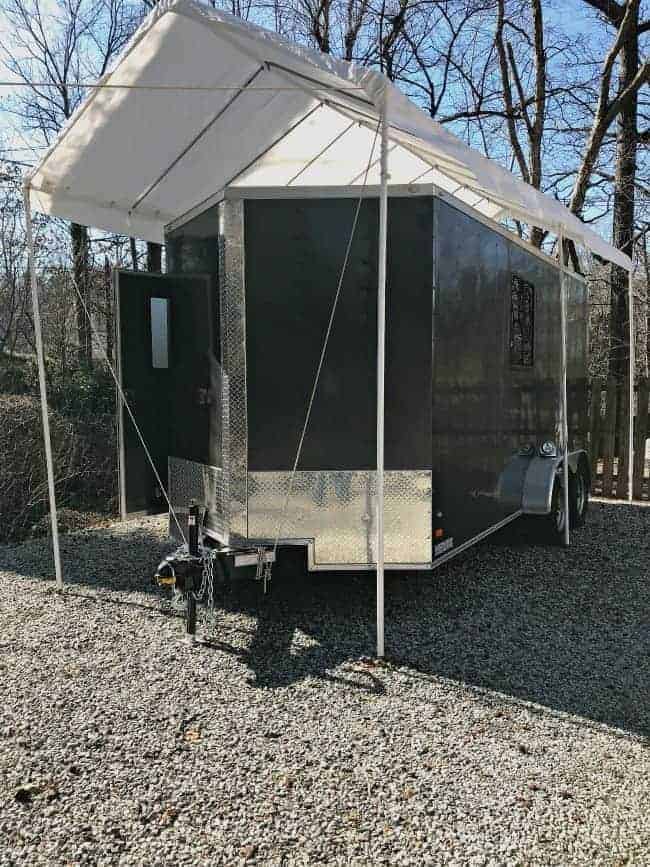 I feel like I've talked a lot about this big project of ours but I've only shared 2 posts since we brought her home last year. The first was the introduction and grand tour, with video, and the 2nd was the installation of the tongue and groove ceiling.
Just to refresh your memory...
Minnie is a 17' (112 square feet) cargo trailer that we bought last year. Our plan is to turn this empty shell into a fully functioning tiny RV that we can take on the road. She was a blank canvas when we brought her home, with nothing but plywood on the walls and floor and metal on the ceiling.
Here is our projected layout.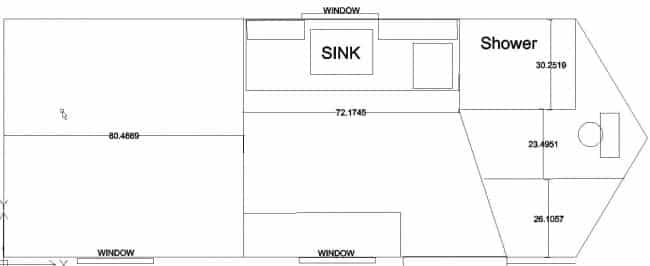 Just a head's up. This is a tiny space...T.I.N.Y.! Getting good photos, with great lighting, has been very difficult. Please bear with me while I try to master photography in our tiny and dark RV.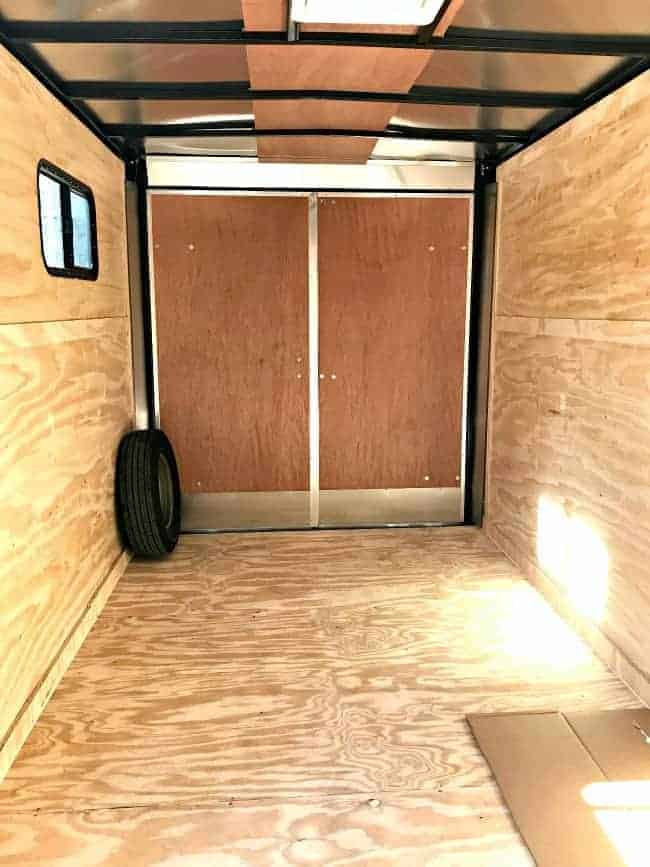 It took us months of planning but we finally started our first project in March, covering the metal ceiling with tongue and groove planks.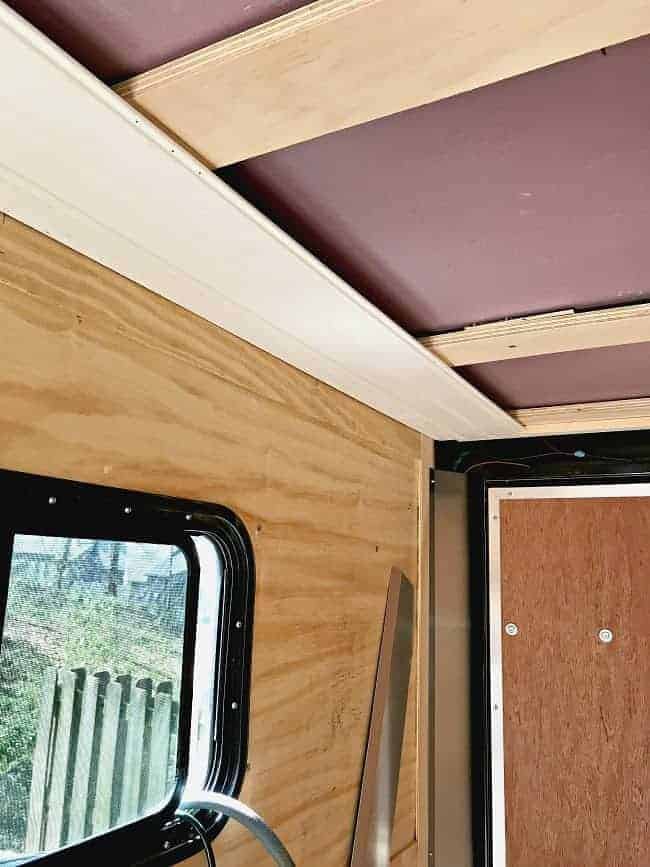 Once the plank ceiling was done, we built a wall to close off the barn doors and framed out the king size bed.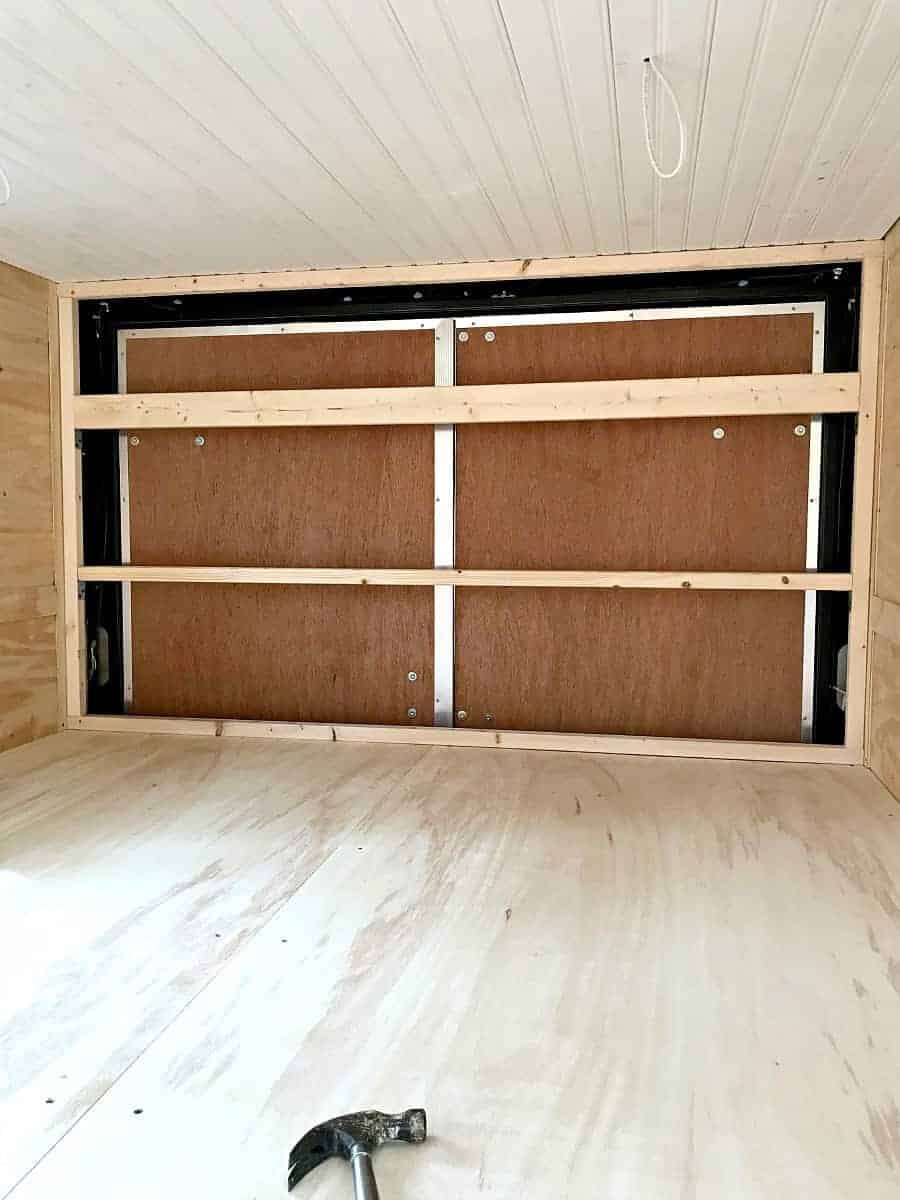 After the bed platform was built and the wall was up, we installed shiplap to cover up the plywood. This was my first time using shiplap and I'm not a fan. The wood kept cracking and splitting. I much prefer the tongue and groove planks, but that's just my opinion.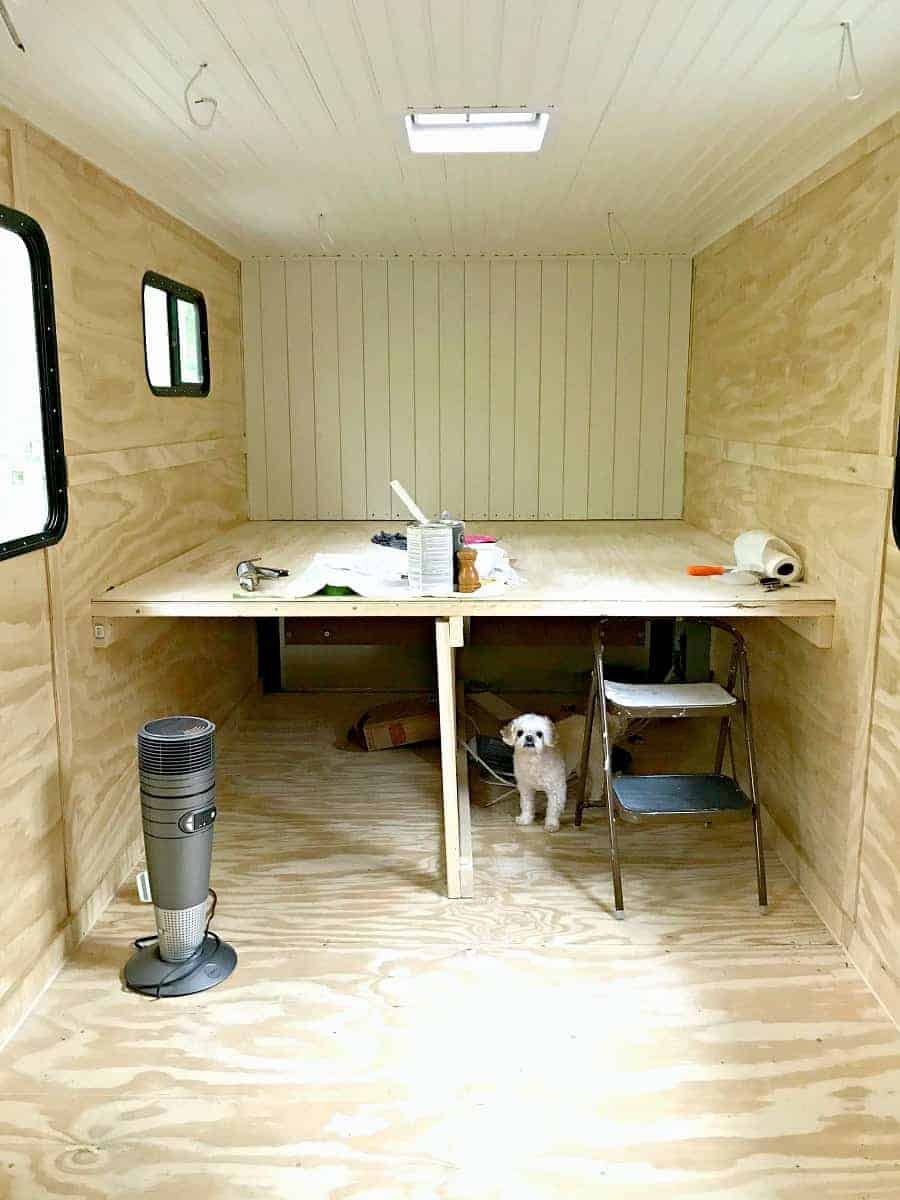 With the ceiling done and the shiplap installed, it was time for caulk, primer and paint. The ceiling and shiplap got 2 coats of BM Advance in White Dove and the plywood walls got three coats (after a coat of primer).
It may be a small space but it was a lot of painting to do (all by myself). I'm so glad that it's all done.
Once the walls and ceiling were painted, we installed the ceiling lights. If you watched my Instagram stories then you may have heard me complain about the lack of stylish lighting fixture choices for RVs. I just couldn't find any.
I settled on LED flush-mount lights that will run off 12 volt battery. The light over the kitchen sink was an exception. It happens to be a regular light fixture and we just added a 12 volt bulb.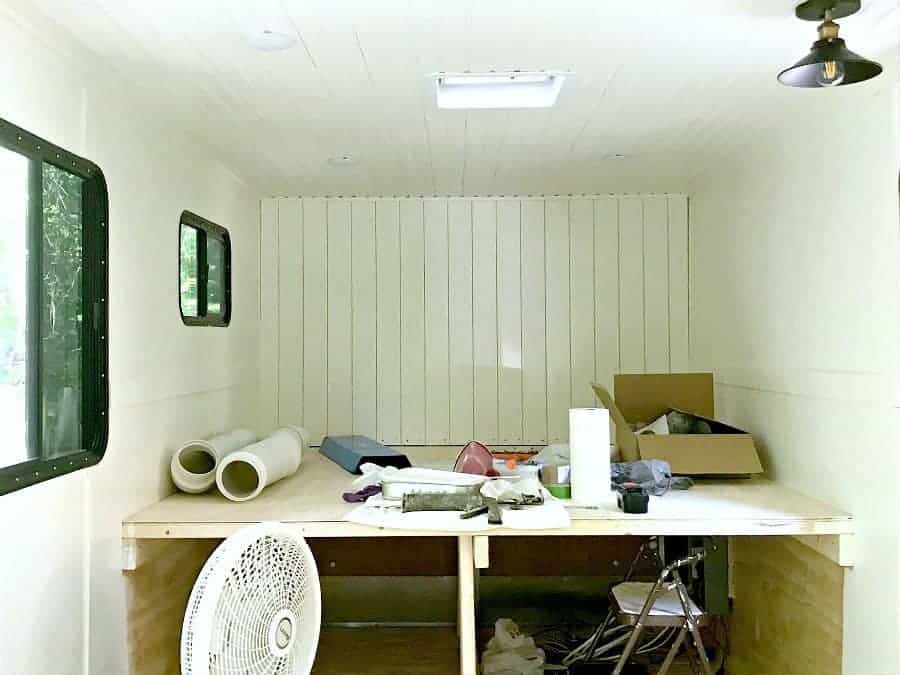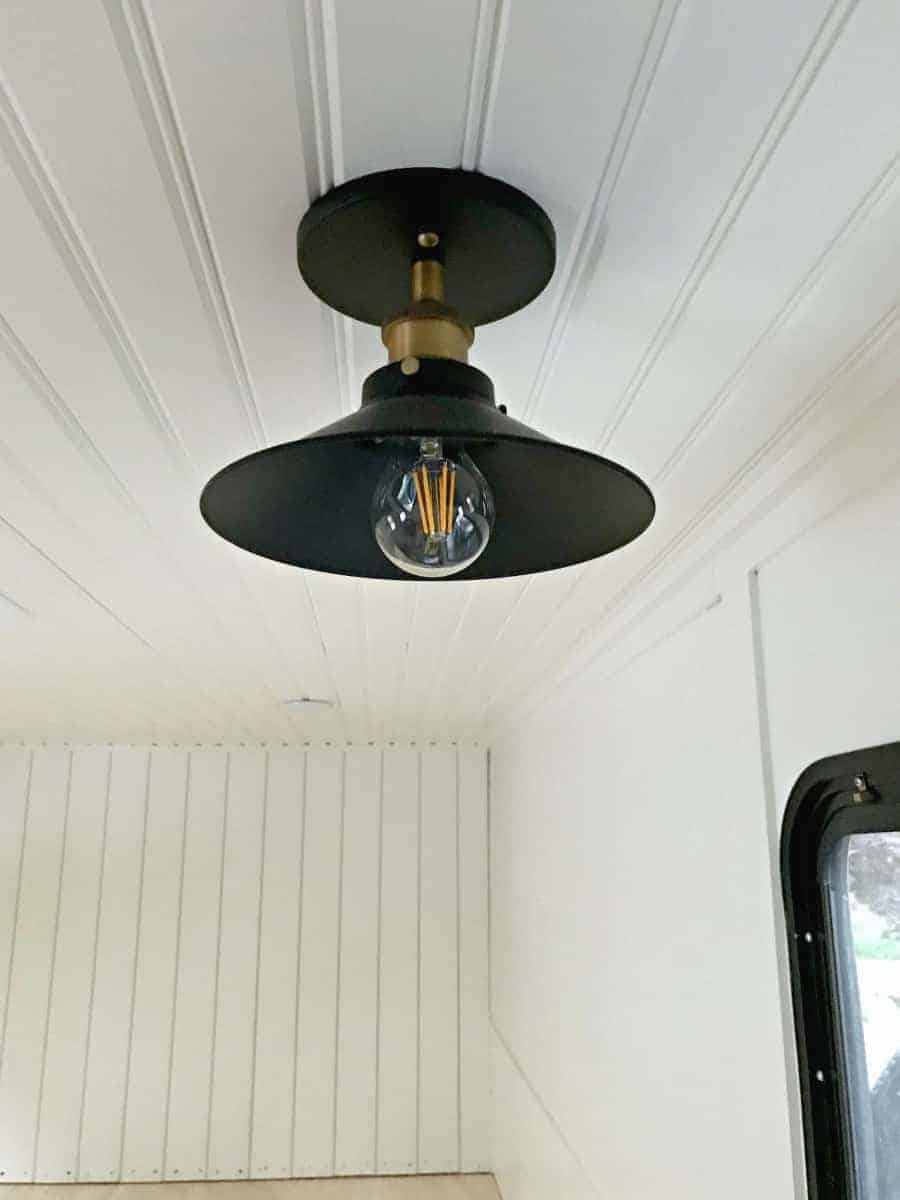 Next project on the list was the floor. I considered painting the plywood, to save some money, but we ended up going with laminate planks. Finding the right flooring wasn't easy but I think the one we chose will be perfect. We love how it turned out.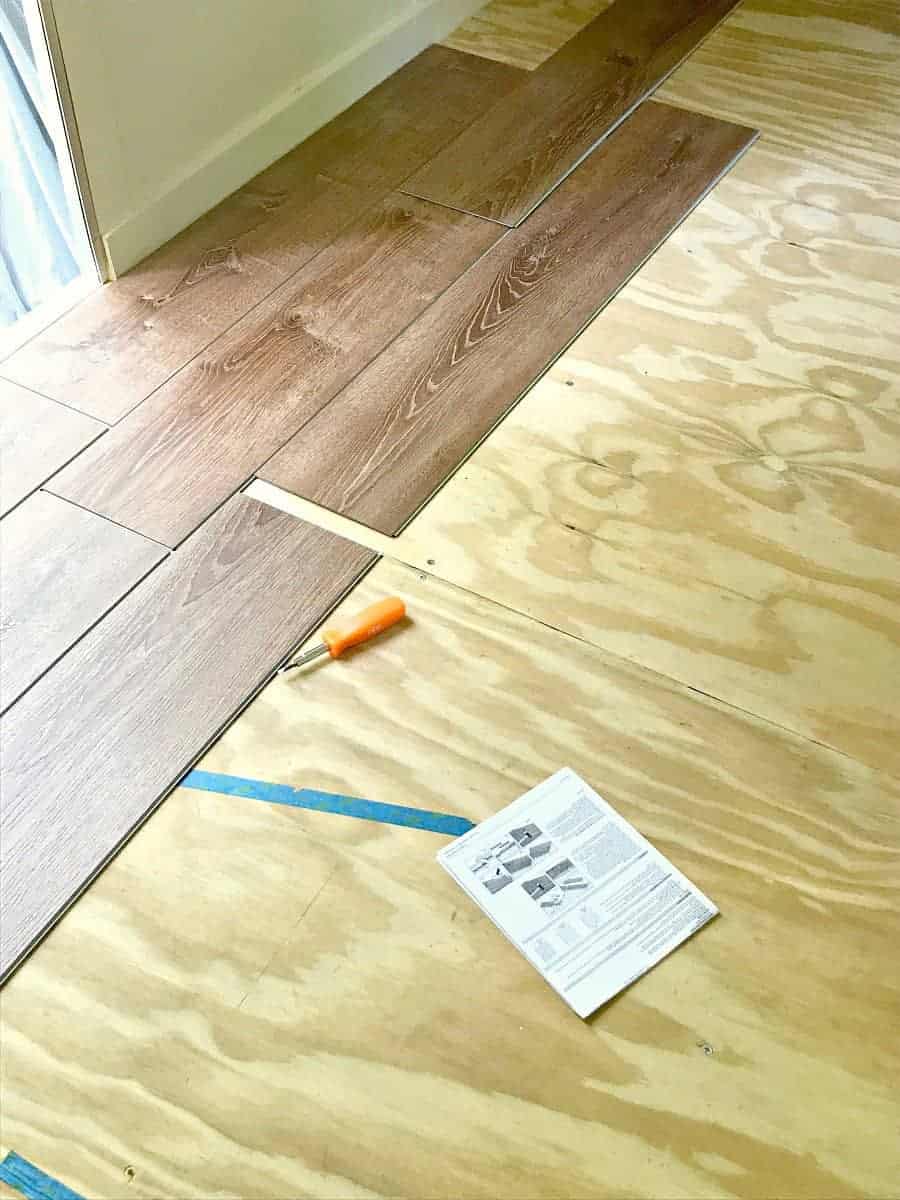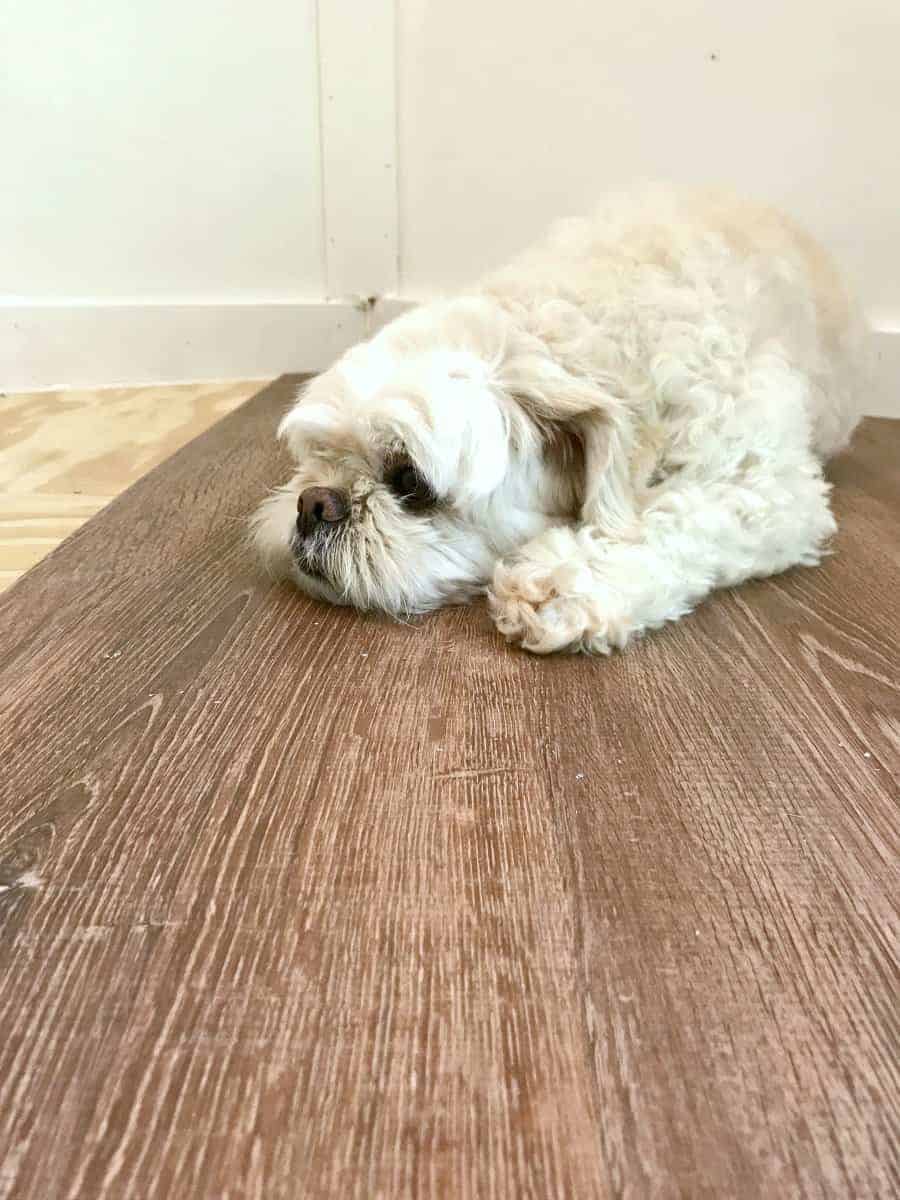 After the flooring we installed the a/c. Actually this was all about the hubs, he did the all the research on this project. After careful consideration we went with a dual hose portable a/c. He didn't want to cut a hole in the ceiling (and risk a leaky roof), so he cut a hole in the floor and installed the a/c near the door.
Once we got to this point, we took our first trip to the beach. We had a bed, ceiling lights and a/c. Not much, but we survived the rainy weekend.
Taking a weekend off actually did us both some good. We've been spending every weekend since the beginning of March working on Minnie and we were both exhausted. The break was just what we needed to keep plugging away.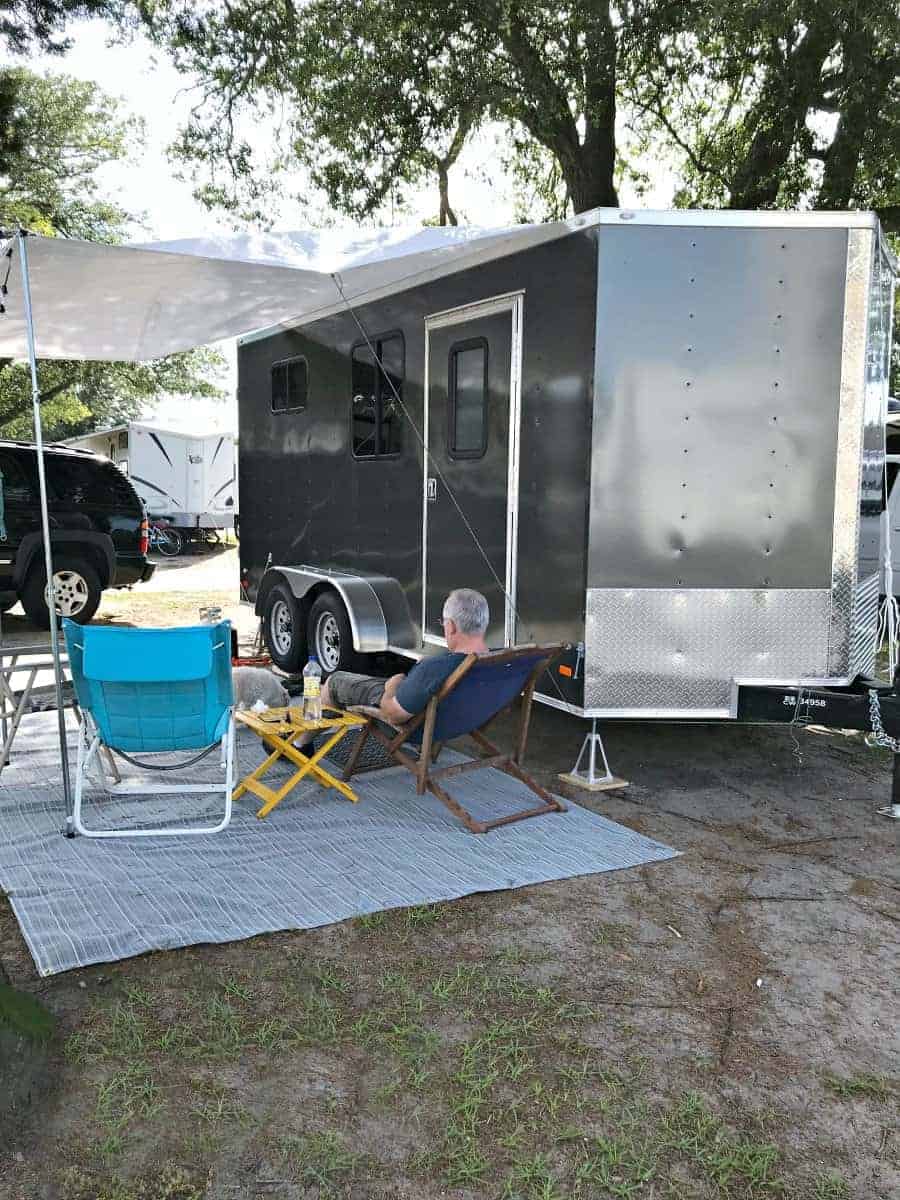 Not only did we get to go away and recharge, we got to see how Minnie worked and if there was anything we needed to work on or tweak. One thing that we needed to rethink was the bed. We wanted to build storage underneath it but we weren't sure what we were going to do.
After we got home, that was the first thing we tackled.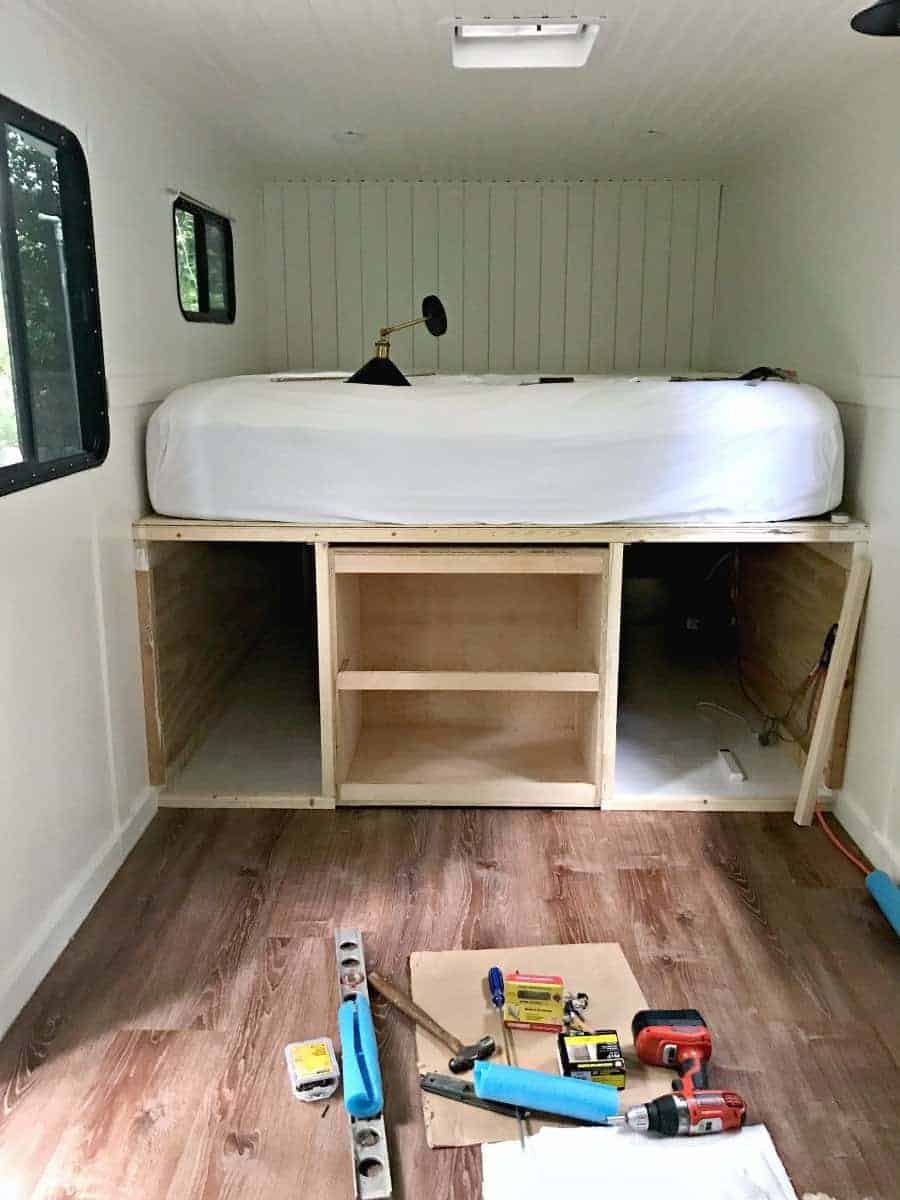 The space on the far right (as you look at the photo) is where the kitchen is going to be so we couldn't put anything there. The little opening on the left will get closed up for now. We haven't decided on the best way to utilize this space yet.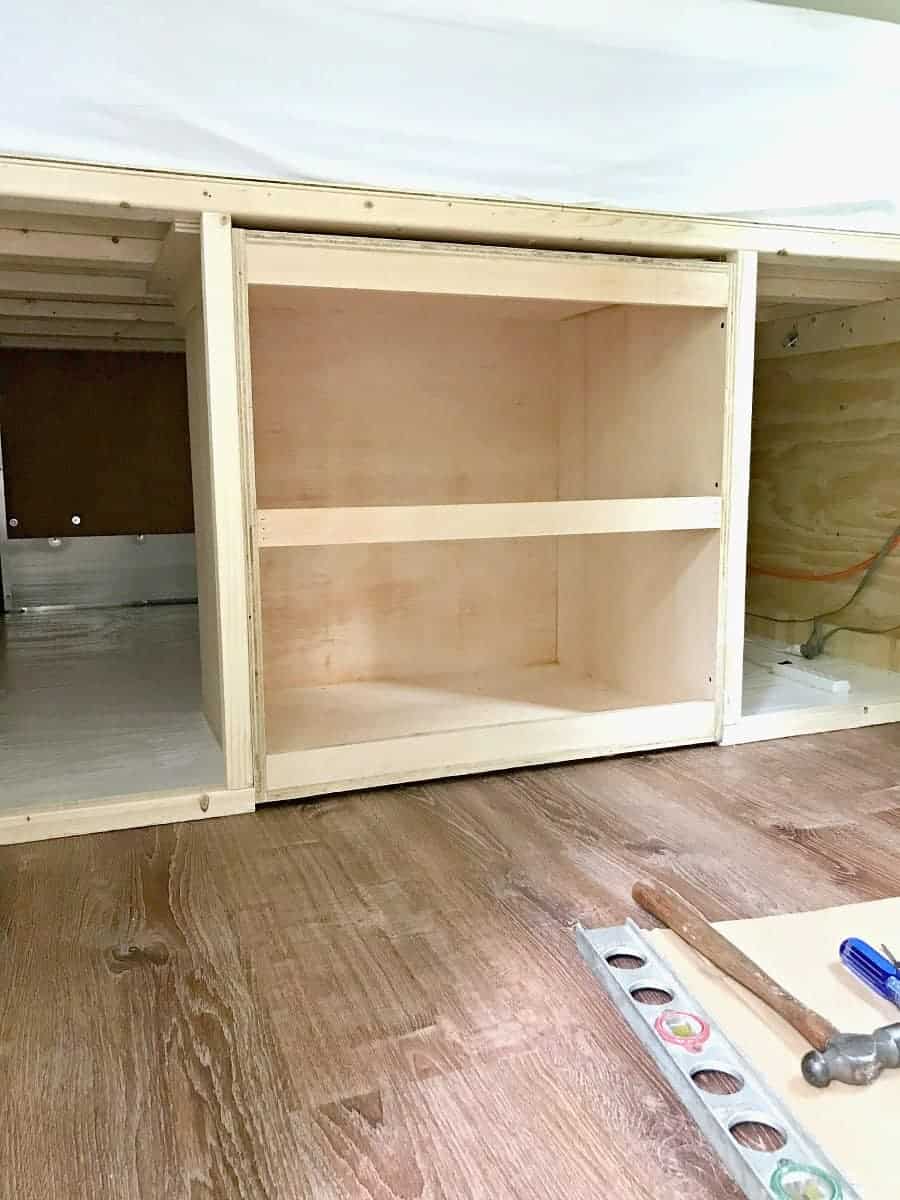 In the middle is our big, deep drawers that go half-way under the bed. All of that empty space you see under the bed will be storage, accessible from the rear, and will also house our hot water heater and electric panel.
Next we built the drawers for the under the bed dresser.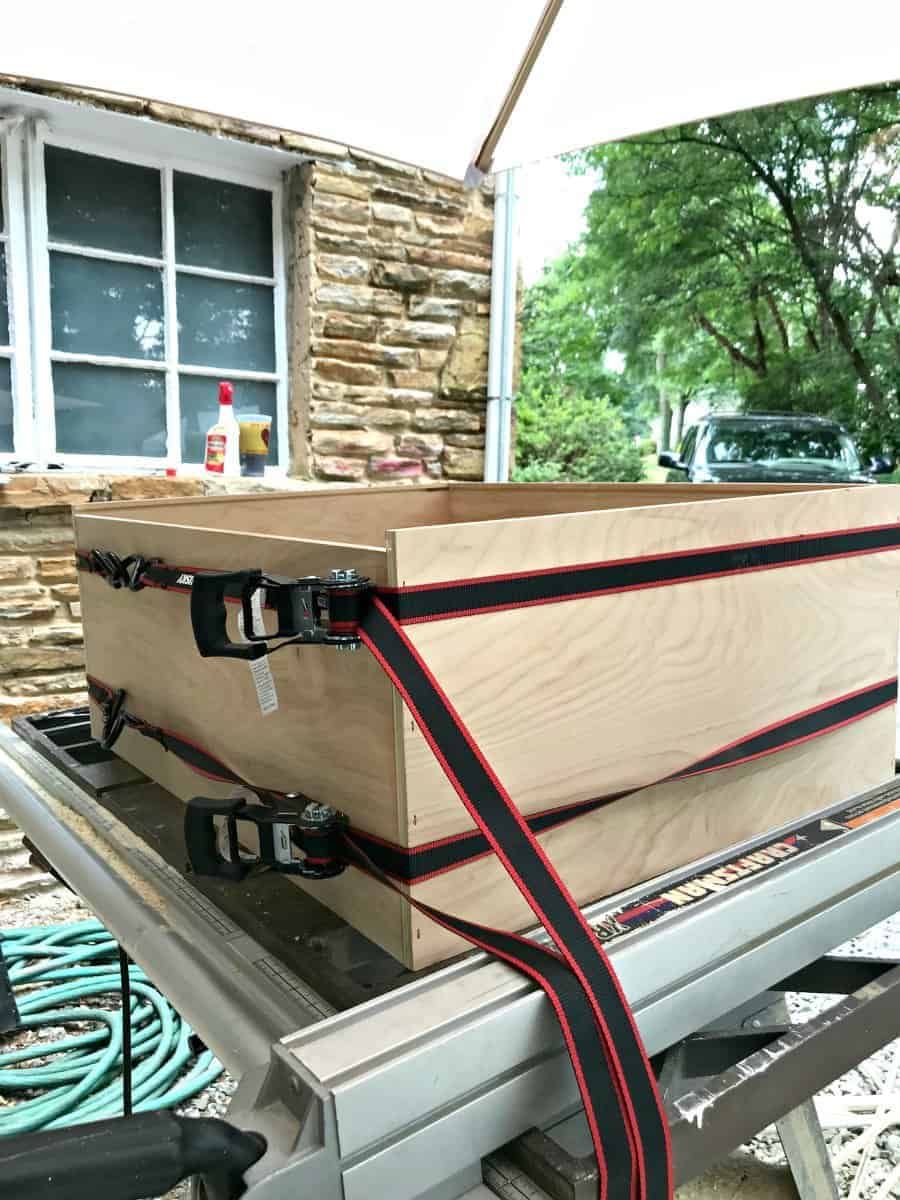 While the glue on the drawers dried, we turned our attention to the kitchen area. First we built a wall that would separate the bathroom from the kitchen.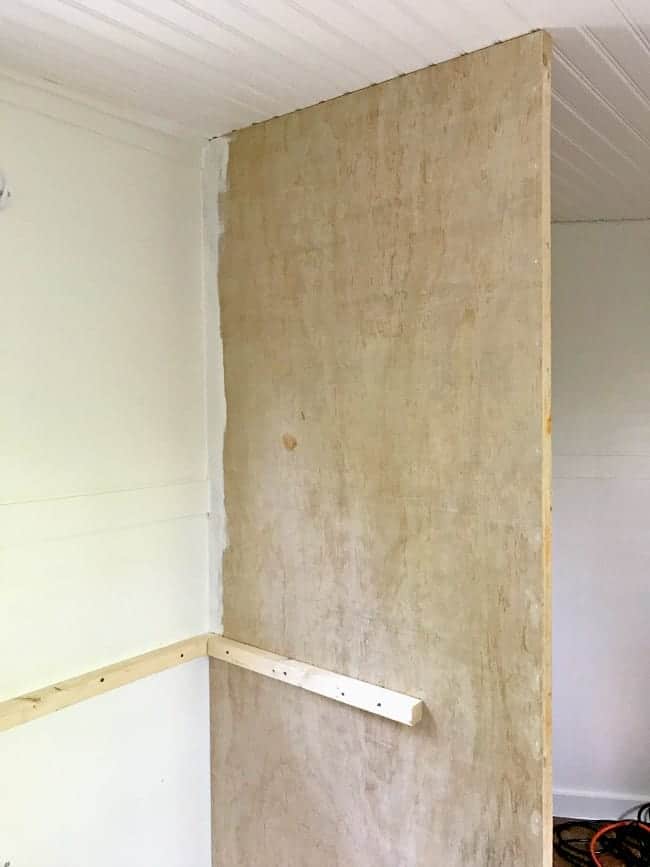 Next we installed the framing for the countertop and kitchen cabinet.
Finally some progress but, as we add more things, the space gets smaller. I had to stand outside, in the driveway, in order to get these photos.
With our cabinets framed out, we could cut our countertop. We found a 12' piece of walnut butcher block for 70% off a few months ago. It had some damage on the end but we were able to work around it. If you saw our IG story last weekend you would have seen how easy it was to cut.
A perfect fit.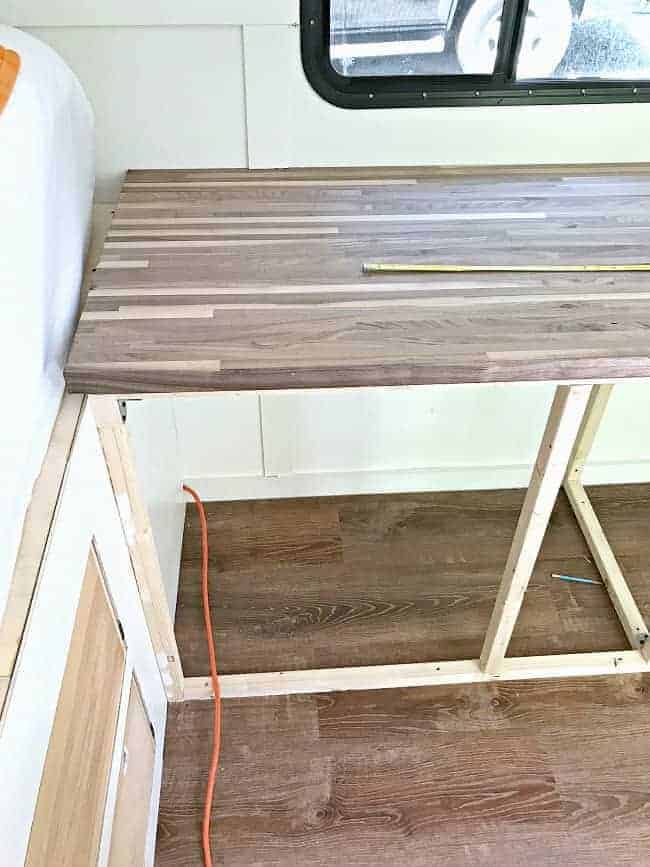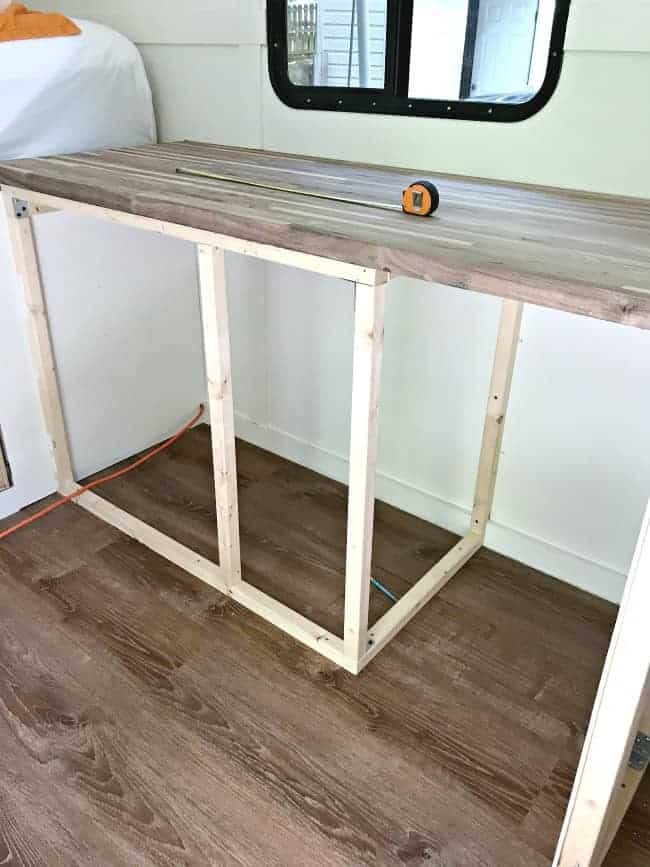 A few more boards went in for the cabinets and we are ready for doors.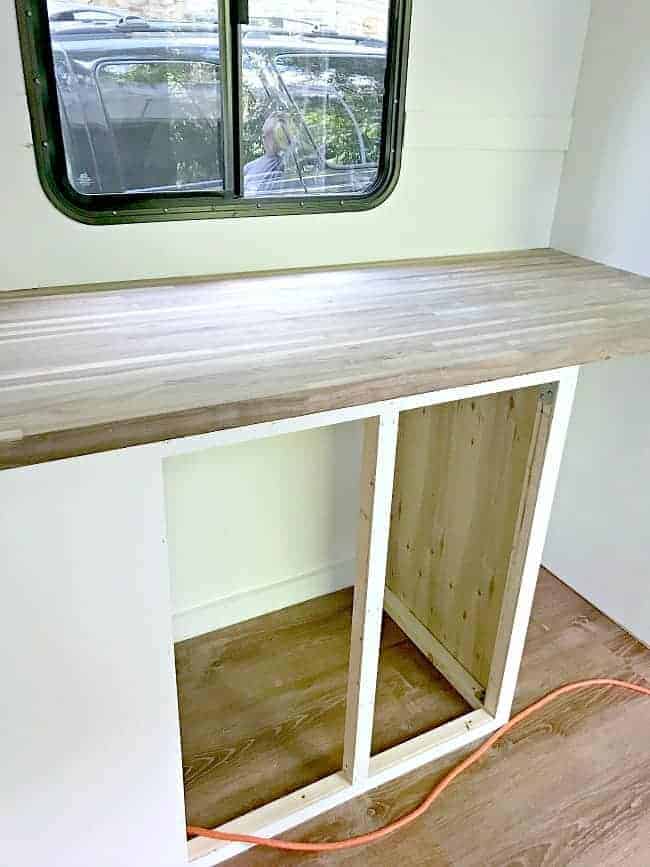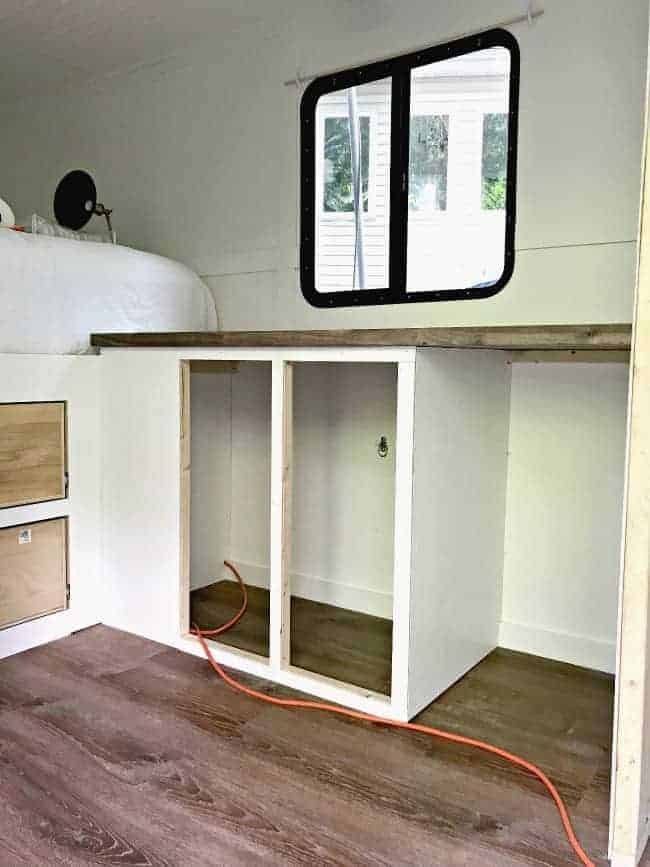 The last project we completed, just this past weekend, was the drawers. We added drawer slides that are soft close and will allow us to pull them out all the way. So much useful storage.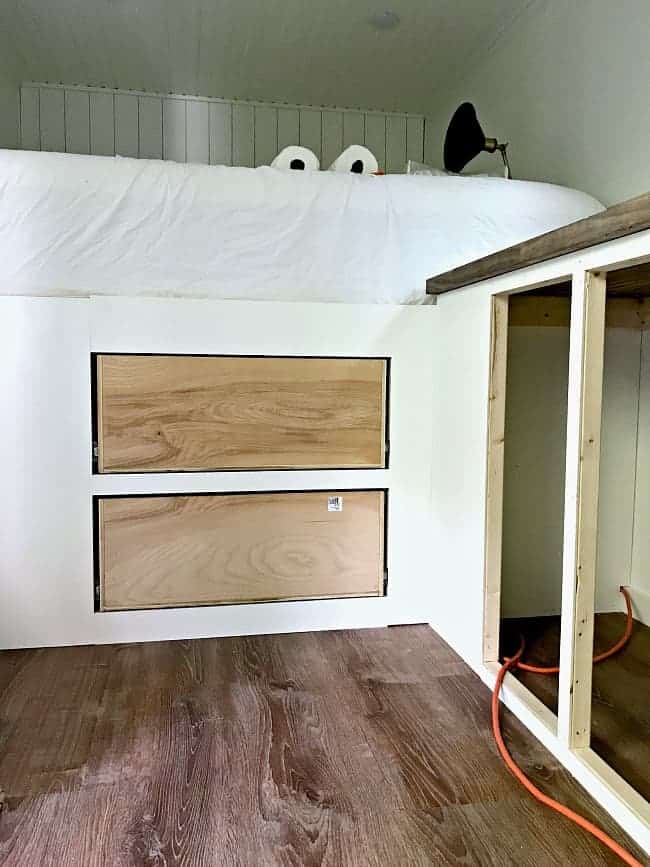 Next up for our RV renovation...
We still have so much to do. We haven't even touched the bathroom area and there's a ton of finish projects that we need to tackle. Next up though, is the electric and the search for the perfect sink.
I'm also still trying to decide on an awning color and blinds for the windows.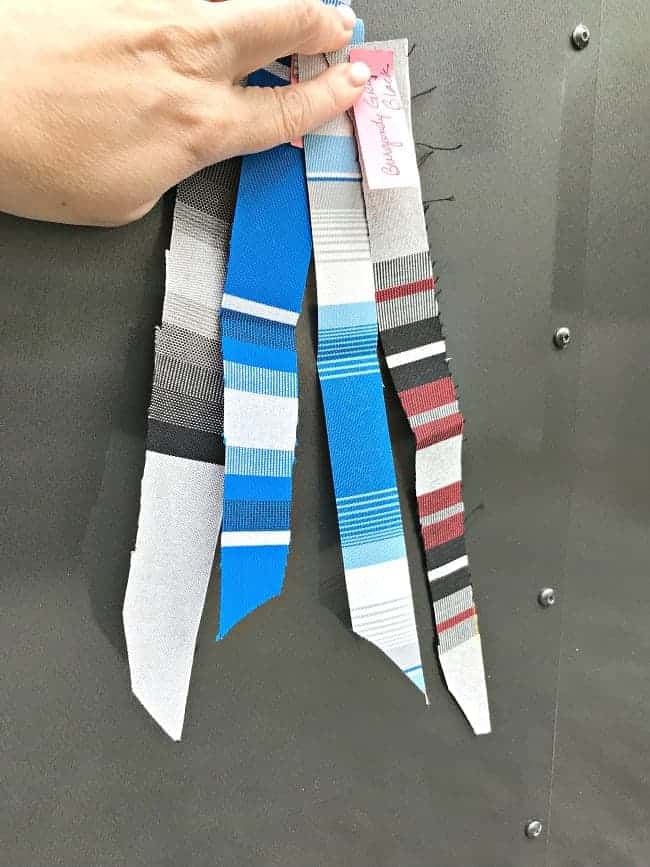 It's been a tough 4 months. Tougher than either one of us thought. Working in such a small space, that isn't level or square, and getting everything to fit just so has been a challenge. Actually, all of the projects that we've tackled has had it's own set of challenges. It's been fun though.
Fun...but we'll definitely need an extended vacation when this is all over.
I, for one, am looking forward to it.
I hope you enjoyed our progress report on our RV remodel. If you want to see what projects we're tackling, as we do them, you can follow us on Instagram.
So...
After 2 ½ long years of hard work we are finally done (almost!) with Minnie. If you want to see the reveal of our finished cargo trailer turned RV, check it out, along with all of our other camping projects.