Rustic Christmas Front Porch – on a Budget
This post may contain affiliate links, please see our policy for details.
How to create a rustic Christmas front porch with touches of navy blue. Easy tips to add seasonal, rustic touches to your front porch.
With all of the houses we've ever lived in (11 and counting), this is the first one that's had a big covered porch to decorate.
Dressing up ours for the holidays has become one of my favorite things to do.
Last year I added simple touches with lots of red.
This year it's all about rustic Christmas decor on a budget, with natural elements and a touch of navy.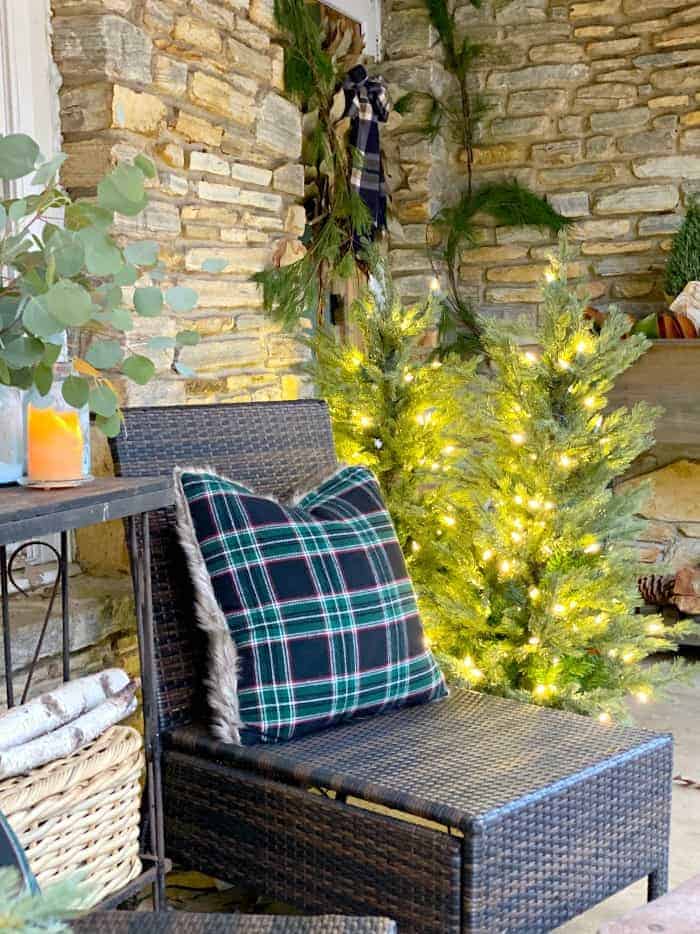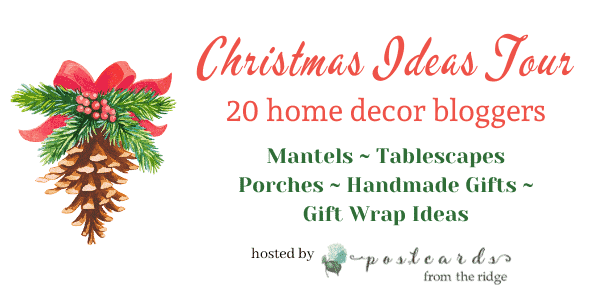 I'm joining in on my last Christmas tour of the season, the Christmas Ideas Tour, hosted by Angie, Postcards from the Ridge.
19 of my blogging friends are sharing their holiday decorating ideas today, so grab a cup of coffee and check out all of the beautiful holiday ideas (links at the bottom of the post).
---
We have a stone cottage that really lends itself to a rustic theme so I worked off of that and started with my vintage $15 wood and wrought iron table.
I added a few birch logs on a basket and blue and green plaid pillows on the woven chairs. A $2 bunch of fresh eucalyptus and beeswax candle round out our rustic seating area.
Of course, you can't have a rustic Christmas front porch without lighted Christmas trees.
I've had ours for a few years and they are perfect on our porch twinkling with warm white lights.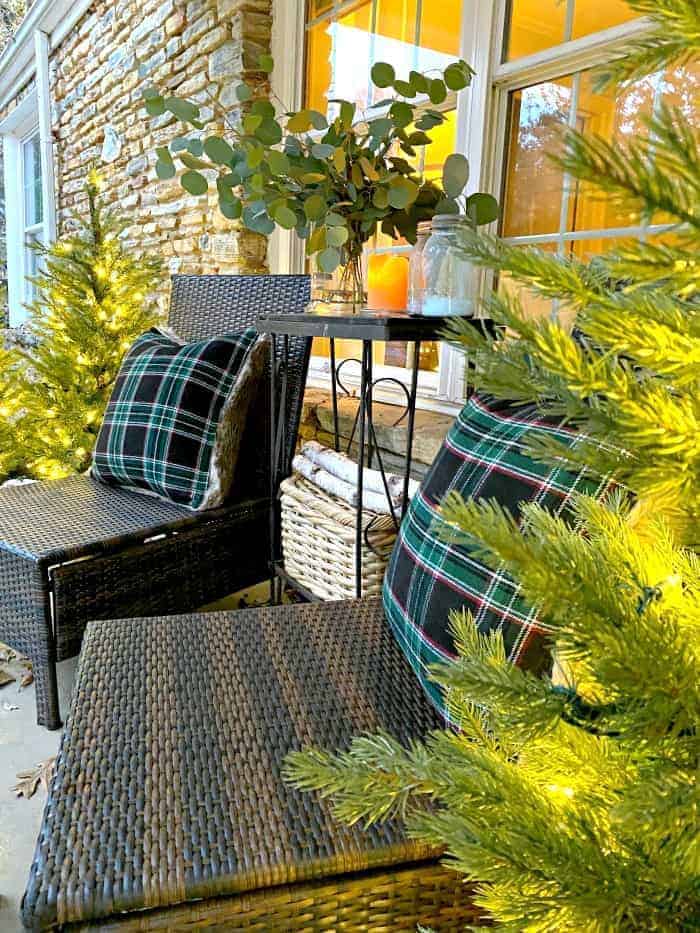 The trees may be faux but I always like to add real garland ($4 from the grocery store) around our blue front door.
The magnolia leaf wreath on the front door is also real, and free since it was recycled from last year.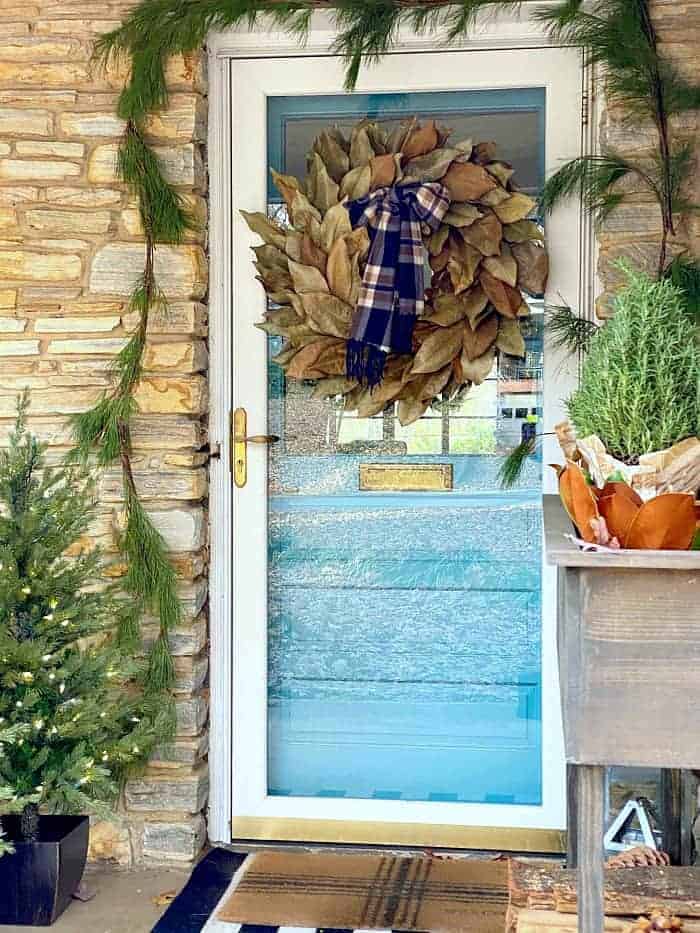 You'll never guess what I used for the bow for the wreath.
It's actually a $1 fleece scarf from the Dollar Store.
It had the touch of navy that I used in our Christmas dining room in the cottage so I thought it would be perfect.
Not bad for a buck!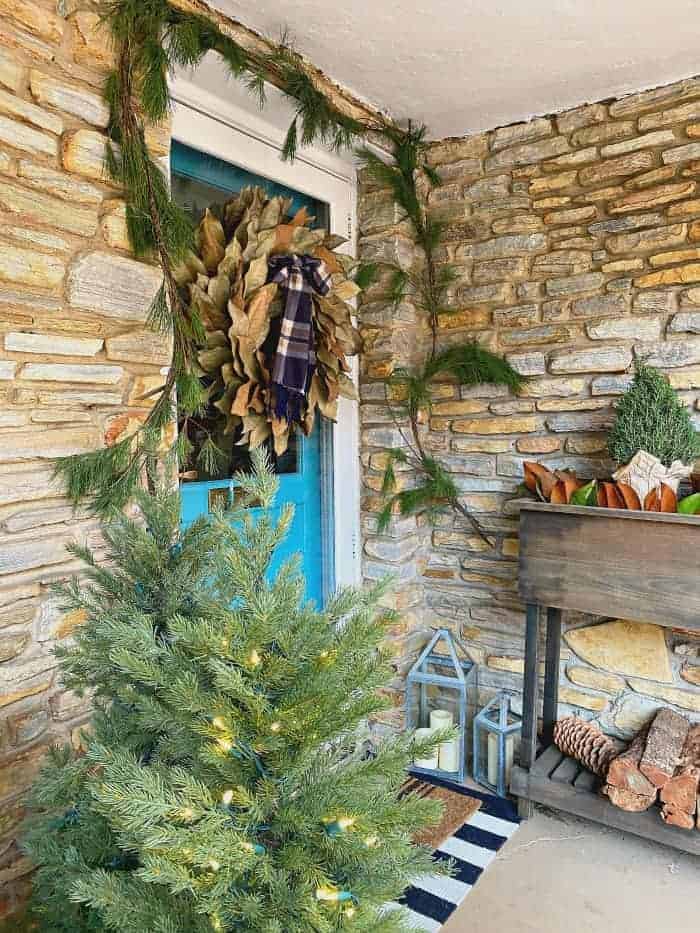 I dressed up the planter box that I built last year with fresh magnolia leaves (free from our neighbor's tree), mini rosemary bushes and homemade DIY orange pomanders.
A stack of firewood and extra large pinecones on the bottom shelf add to the rustic look of the front porch.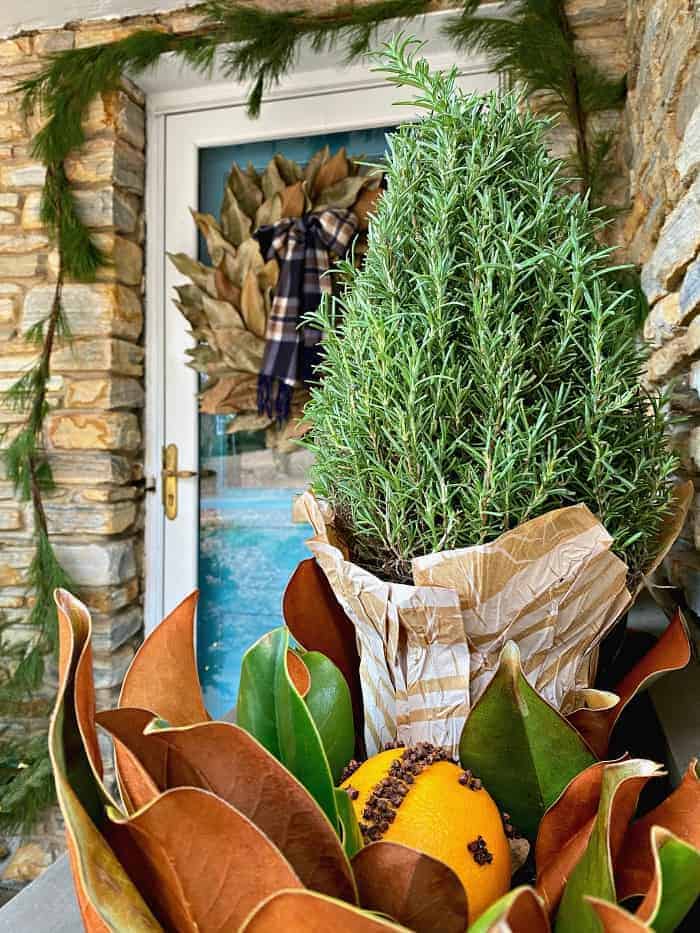 Have you ever made orange pomanders?
They are so easy to do and I love the smell of orange and cloves!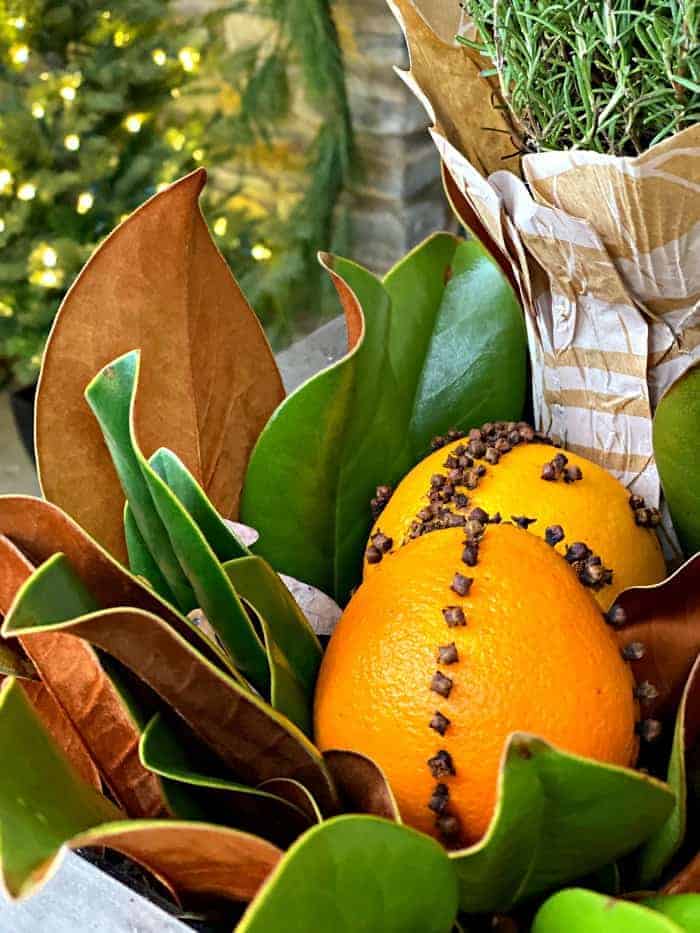 My personal assistants (aka Finn and Cooper) wanted to get in on the fun so they put on their navy Christmas bow ties and struck a pose.
They aren't free but they're awfully cute!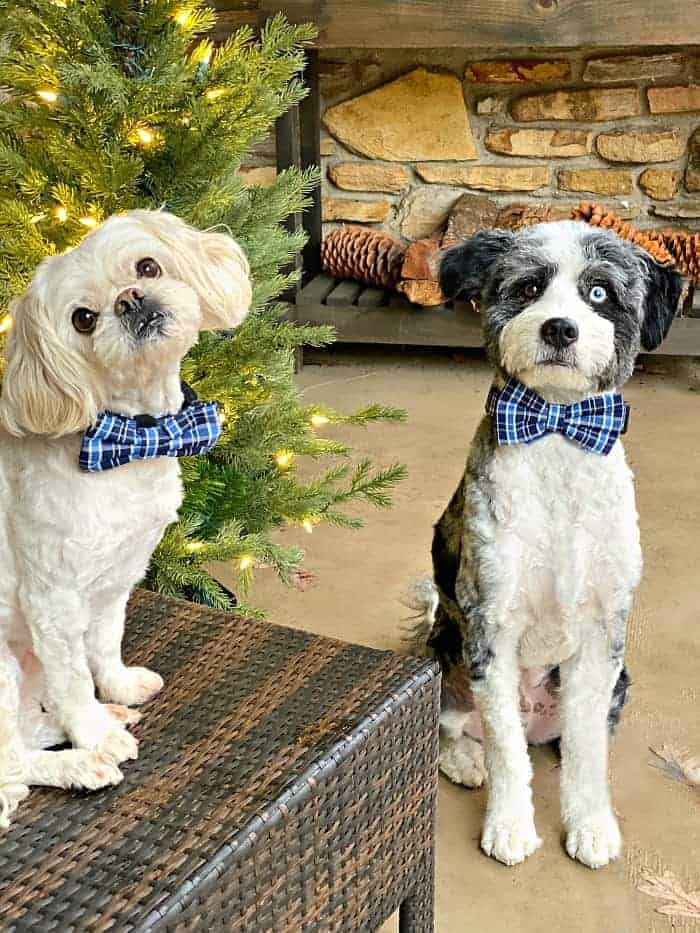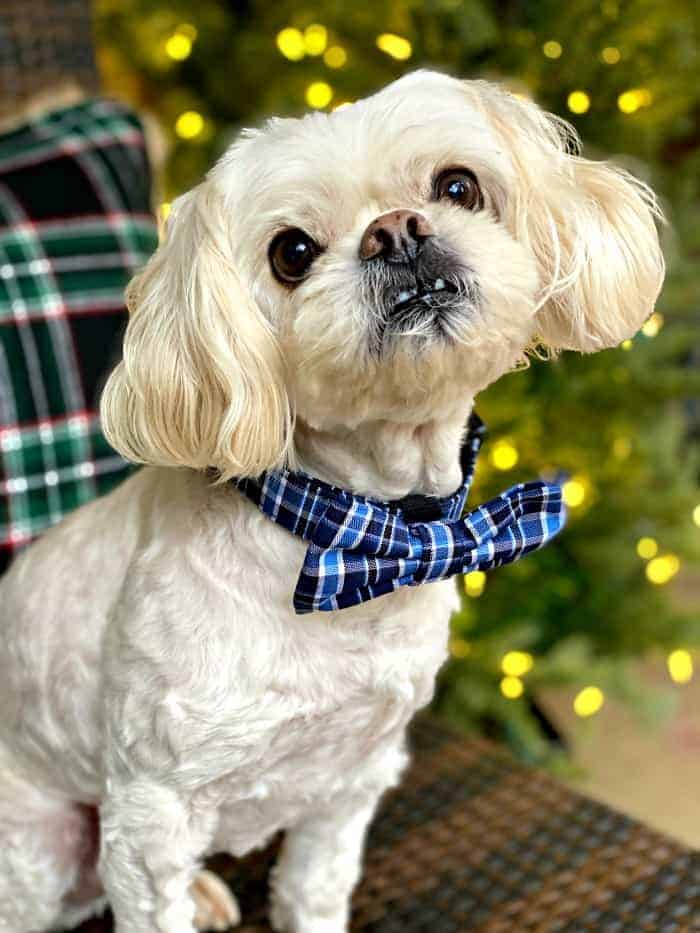 Cooper traded his bow tie for the fleece navy scarf from the Dollar Store.
Because he's a puppy, he's not always a willing model. I had to bribe him with Goldfish crackers and carrots.
Believe it or not he'd choose a carrot over Goldfish any day.
Cheap labor.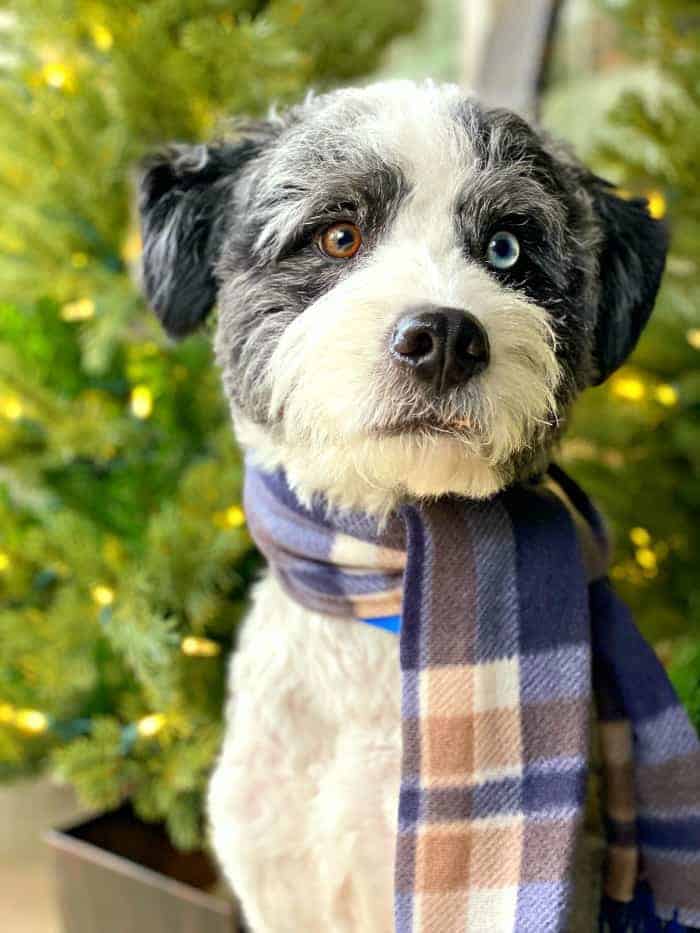 I'm loving the Christmas front porch this year, it's probably my favorite ever, and it was easy and inexpensive to put together.
We still have more of our holiday cottage to share so make sure you come back to check it out.
If you sign up for our newsletter you'll get an email notification when we share it (and you'll find out stuff about us that I don't share on the blog).
Happy Holidays!
---
Are you ready for more ideas? Here are some great ones for your mantel, porch, table, plus handmade gift ideas and gift wrap ideas. Be sure to visit everyone to see all the details.
Mantels
Porches & Decks
Tablescape Ideas
Handmade Gift Ideas
Gift Wrap Ideas