Navy Blue Christmas Decor
*As an Amazon Associate and member of other affiliate programs, I earn from qualifying purchases.
Decorating with navy blue Christmas decor in our holiday cottage sunroom kitchen and living room. A departure from traditional red and green.
I've already shared the dining room with our Christmas tree, so let's take a tour through the rest of our cottage rooms decorated for the holidays. My theme this year was navy velvet and I used it throughout the whole cottage. I'm loving the change from the red and green that I usually do.
The Sunroom Decorated in Navy and Green
This is one of our favorite spaces in the cottage and I'll give you eight guesses why.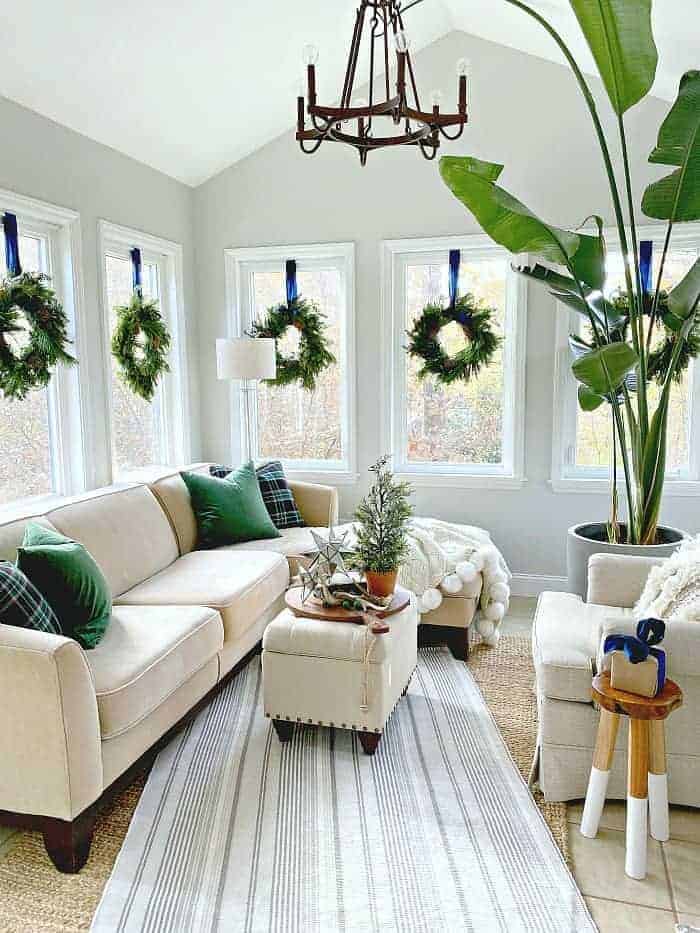 It's the 8 big windows in this room. They give us a beautiful view of our back yard and it feels like you are in a treehouse.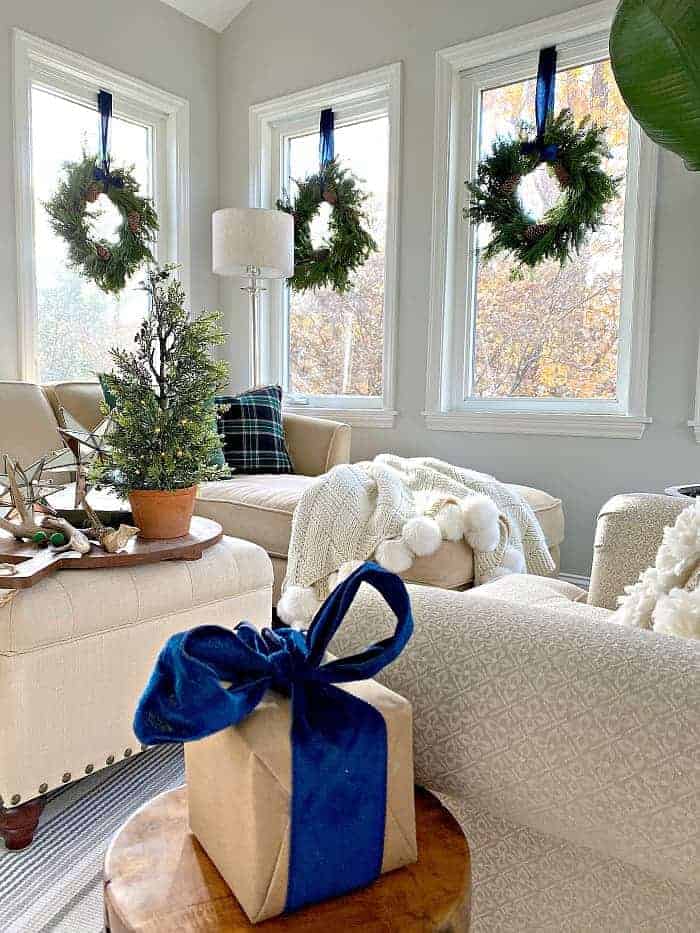 I kept it simple in this small room with a live wreath on each window, hanging by the beautiful navy velvet ribbon. The only other additions are the velvet green and blue plaid pillows and a potted faux tree.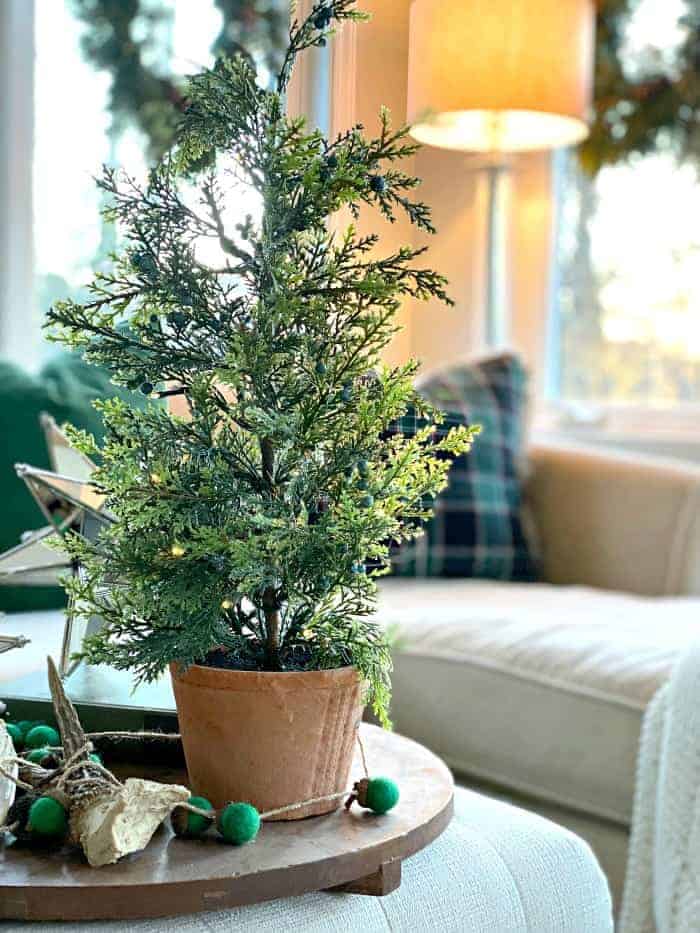 We don't have enough room in this space for a big tree so our Ethel, a bird of paradise, serves as a tropical Christmas plant. There isn't a tree around that could compare to her anyway (that's what I keep telling her).
Navy Blue Christmas Decor in the Kitchen and Dining Room
Moving on to the Christmas kitchen…
This is a small room but the big window over the sink makes it feel more spacious. It's become a fun spot for me to decorate during the holidays.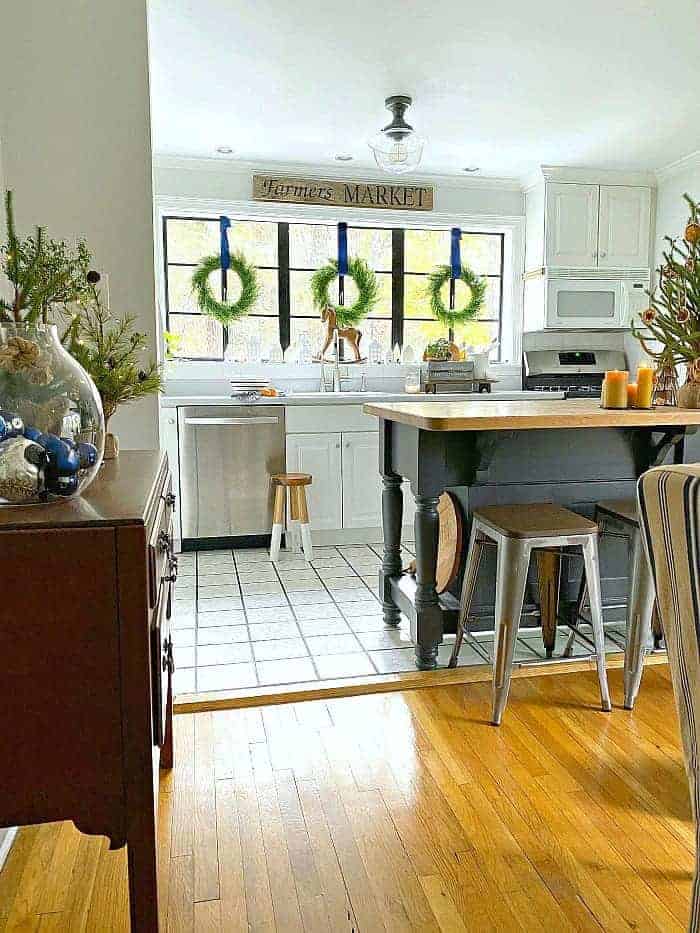 Last year I went with an orange slice garland and the year before that I made my own magnolia leaf garland.
This year I wanted to try something different so I hung 3 wreaths with the navy velvet ribbon. Oh, and the wreaths are faux so I can use them again next year.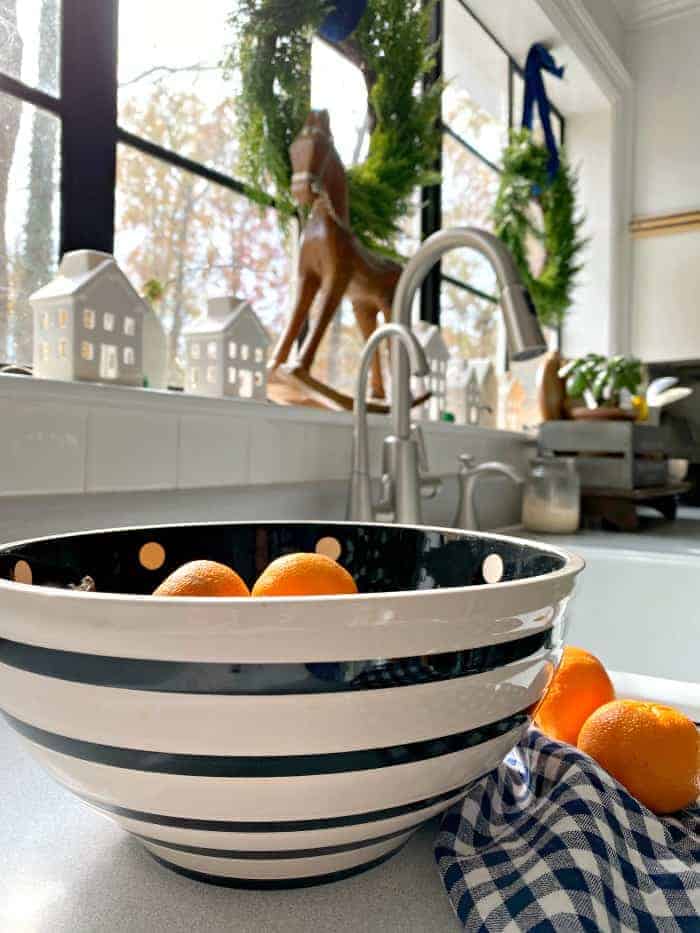 On the windowsill I did a grouping of my white houses and added a wooden rocking horse.
Simple but I love it!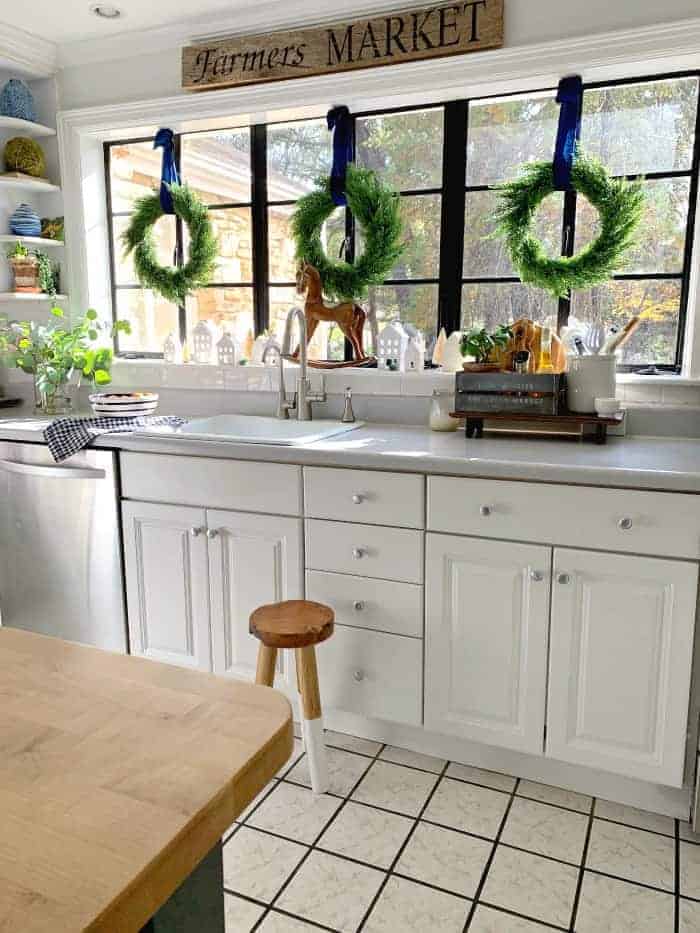 The only other surfaces that get the holiday treatment in the kitchen are the island and the barn wood shelves. I just added a couple of faux trees, a mini wreath and beeswax candles.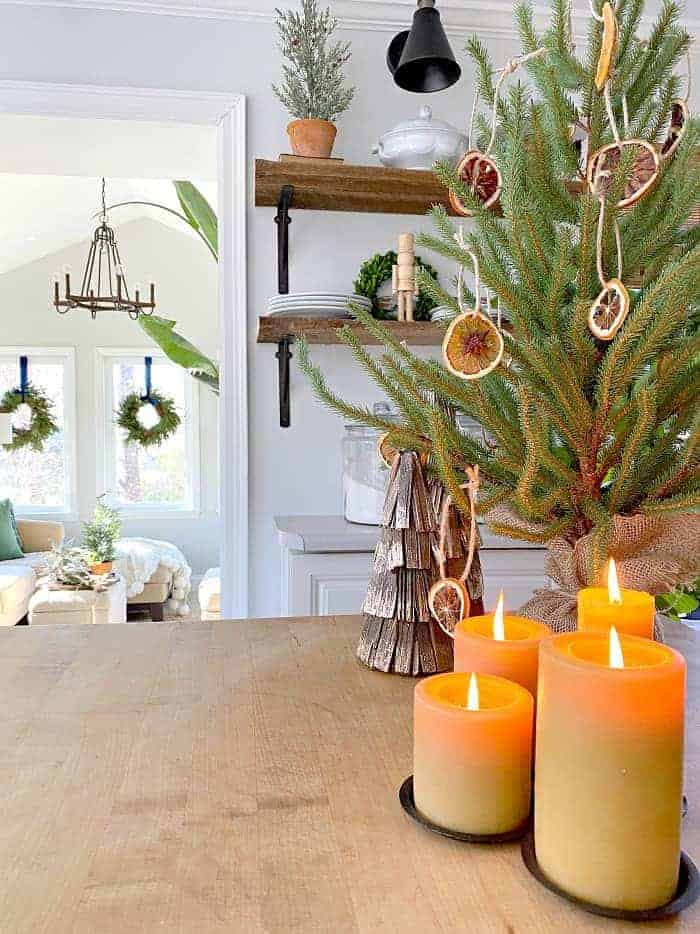 The dining room is part of our kitchen so we're able to see the beautiful tree lights when we're making dinner at night.
Not a bad view.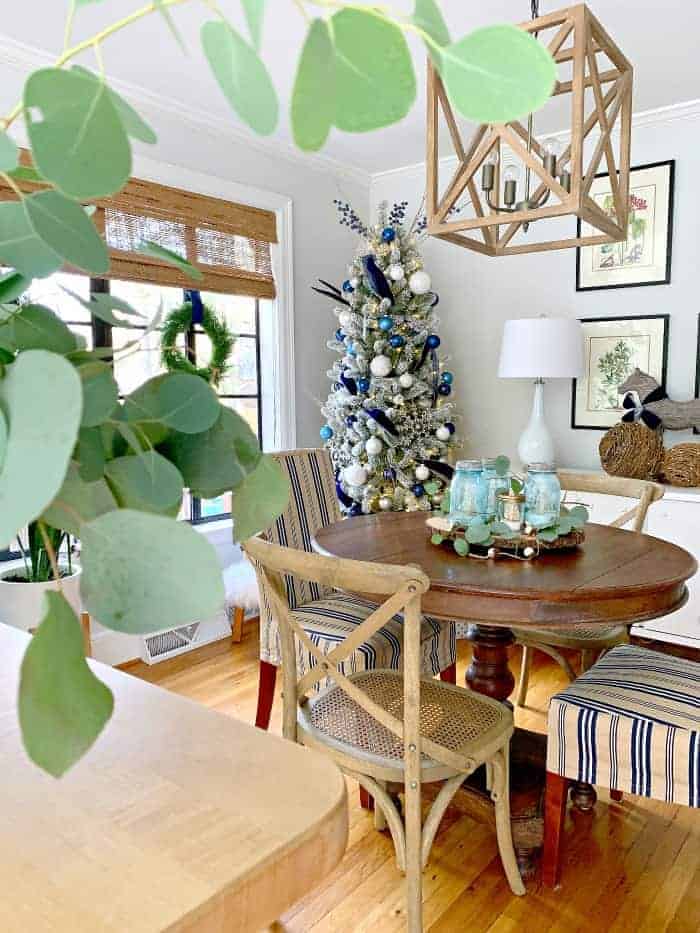 I hung 2 more wreaths on the dining room casement window to tie in with the kitchen. The flocked tree with all of the navy is the star in this room, though.
Have I mentioned how much I'm loving the navy?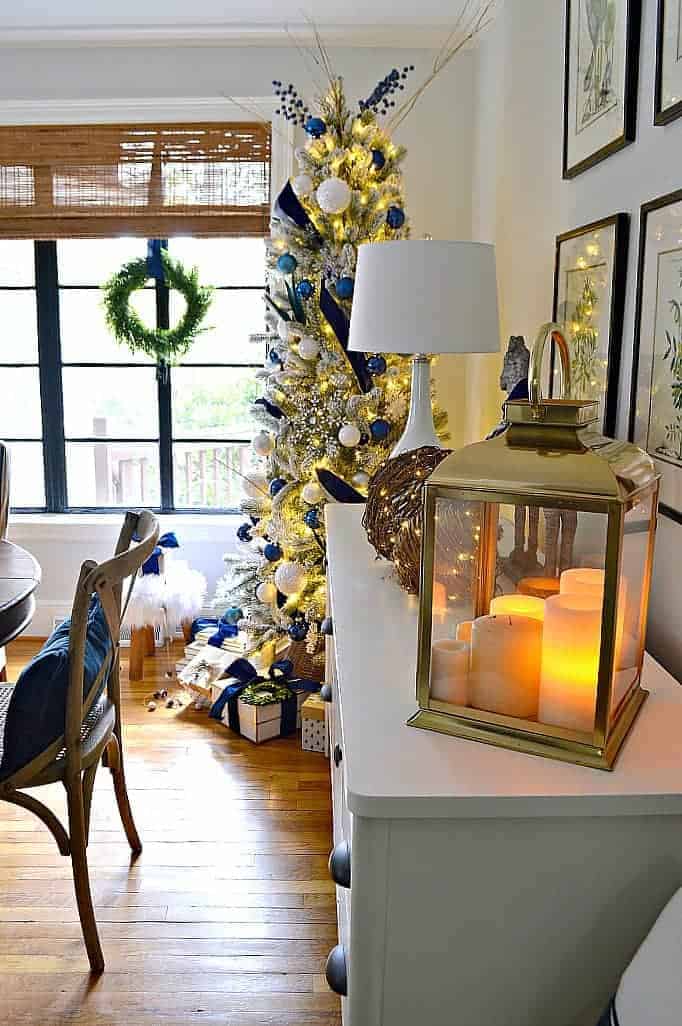 A Navy Christmas Living Room
The living room is actually one of the smallest spaces but it's where we spend most of our time together. We can't fit a big tree in here but I found a cute mini tree a few years ago and it works well next to the fireplace. Just enough twinkle lights to brighten up the room.
The TV sits on the mantel so the holiday decor is kept to a minimum. This year I added candlesticks and a garland, with real magnolia leaves tucked in here and there.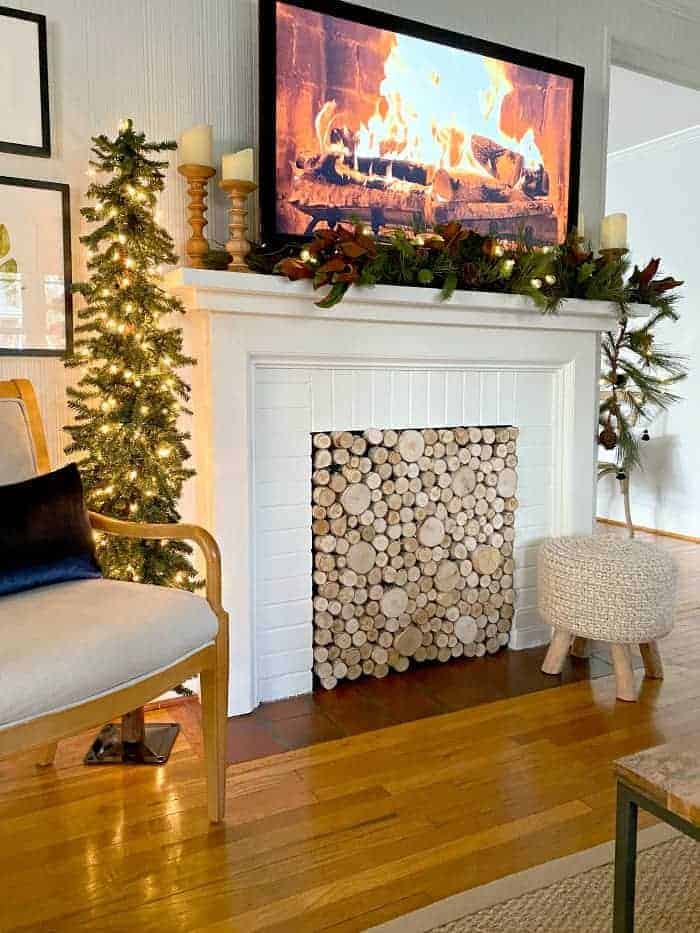 The fireplace doesn't work right now so I came up with a solution to cover it. Actually Cooper wouldn't stay out of it so I had to do something.
I made a birch log fireplace screen and it easy to do, and practically free. I love how it turned out.
The opposite side of the room is where we sit so I just added a few navy pillows and a wooden bowl full of navy, white and silver ornaments on the coffee table. Again…very simple.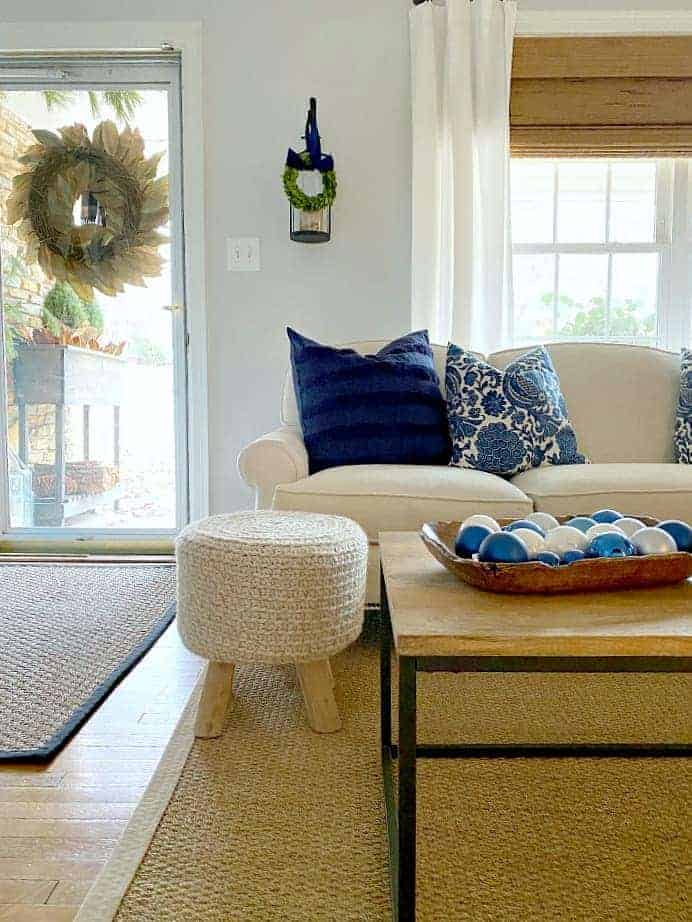 And that's a wrap for our Christmas cottage in navy. I really wasn't in the mood to decorate this year but once I started putting the navy out, I just kept going. I'm so glad that I did because I love how festive and cozy the cottage feels.
Maybe it's the navy…or maybe it's the roaring fire playing on the TV. 😉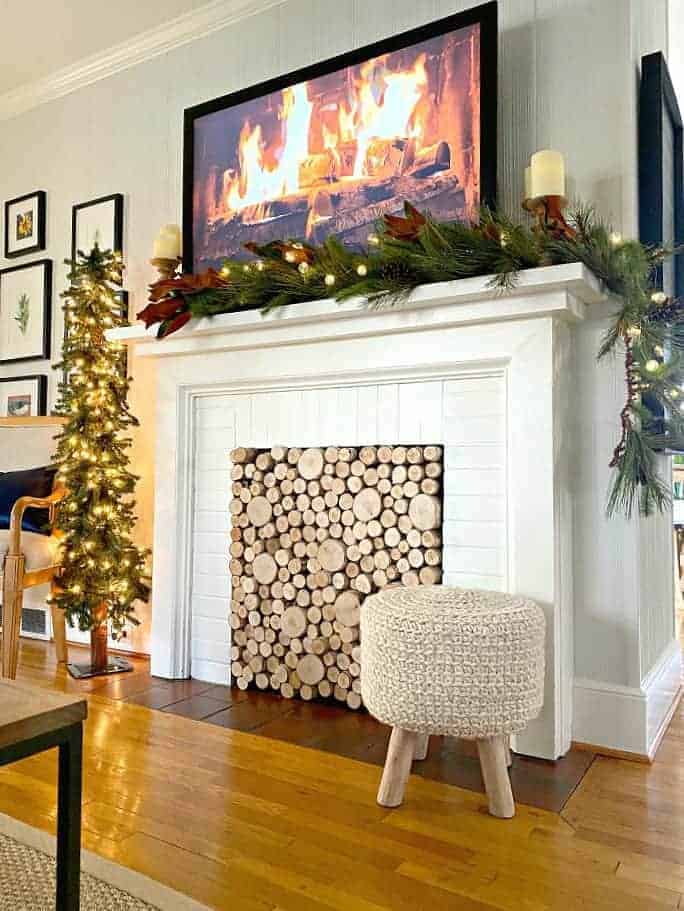 Thanks for taking a tour of our Christmas cottage.
Roger and I wish you all a happy holiday season!
We have more holiday decor to share so don't forget to check out our rustic Christmas front porch on a budget. The pups both make a cameo…in bow ties. I know, I got you at bow ties. We've also decorated Minnie, our tiny cargo trailer conversion, for the holidays. A lesson in tiny space holiday decorating.