DIY Mason Jar Christmas Centerpiece
This post may contain affiliate links, please see our policy for details.
How to create a DIY mason jar Christmas centerpiece with free and thrifted mason jars, bottle brush trees and faux snow.
There's nothing like an easy, and thrifty project during the Christmas holidays. In my world at least.
I needed a simple but festive centerpiece for our dining room table so I grabbed the box of old mason jars that I had stored in the basement and made it happen.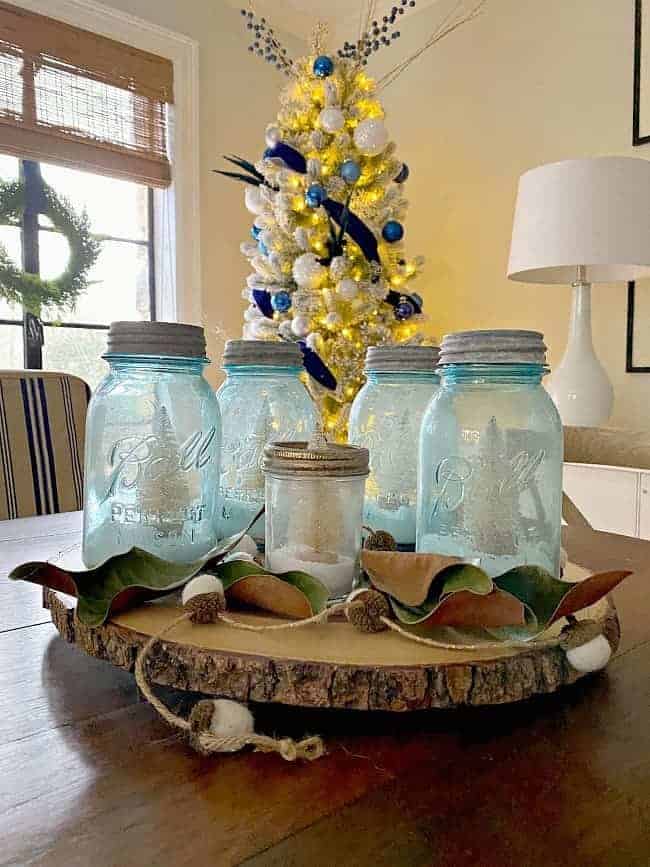 ---
Pssst..don't forget to check out our How-To card for this project at the end of the post.
---
Believe it or not my centerpiece is made up of free, and very cheaply acquired mason jars.
Two were found at a yard sale for a couple of bucks and the others were free from neighbors.
Free? Yes totally…through our local Nextdoor.com website.
In case you haven't heard of Nextdoor.com, it's a website that allows you to connect with neighbors in your area.
You can sign on and learn about local events, recommendations for a Dr., report a lost dog or sell an unwanted item.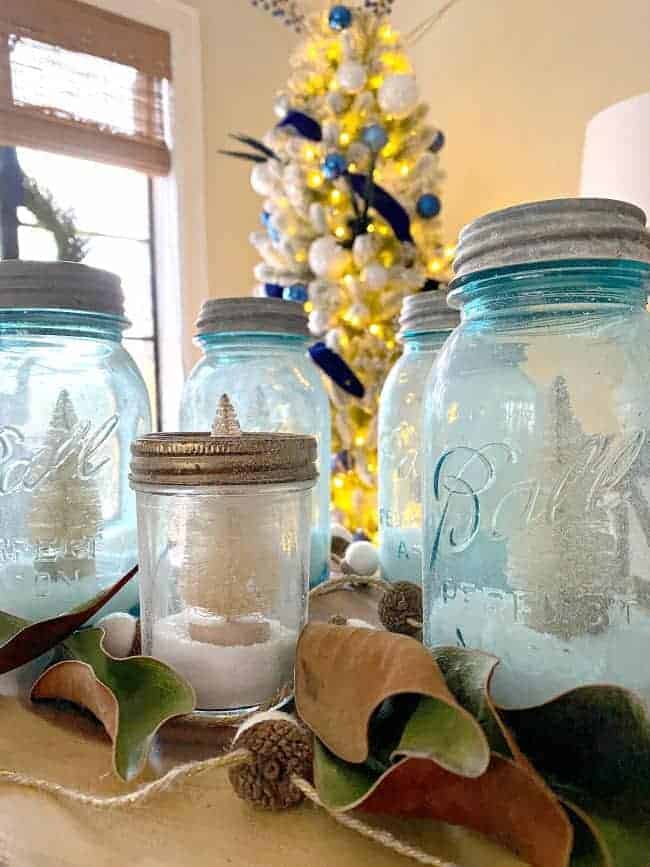 It's where I've found our vet, several of our Drs. and even a few awesomely old mason jars.
So, I put a call out for old jars and several generous neighbors answered.
I was even lucky enough to find a blue mason jar to match the rest, and it was free for the asking.
---
To create my DIY mason jar Christmas centerpiece
Now that we have our mason jars, let's make this super simple holiday centerpiece.
The first step was to clean and dry my jars.
I wanted them to have a snow-y appearance so I grabbed my can of fake snow and lightly sprayed each jar.
I got the best result from spraying at a distance of about 18-24 inches with quick little bursts.
After the jars were dry I poured a bit of epsom salt into each one and added a bottle brush tree (I got mine for about .50 apiece).
I used a dry towel to clean the rim and screwed the lids back the jars. The littlest jar didn't have a lid (it was free after all) but I used it anyway. I know…I'm a rebel.
That's it!
I arranged my jars on a lazy susan wood round and added a few magnolia leaves and a string of my DIY acorn garland.
Voila! An easy and almost instant holiday table centerpiece. I think they sort of resemble snow globes…uh, without the liquid of course.
They also go perfectly with my navy Christmas decor, a totally happy accident. I can even keep it out after the holidays with my other my winter decor.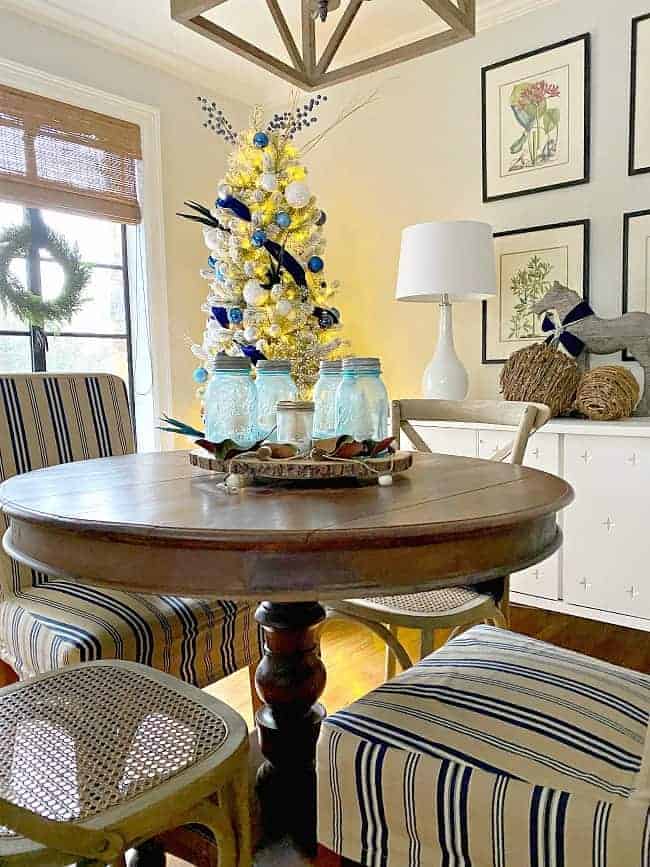 So what if you can't find blue mason jars? I say use whatever you have…mix and match your jars.
There are no rules with a thrifty Christmas craft like this.
Check out the rest of our Christmas decor posts: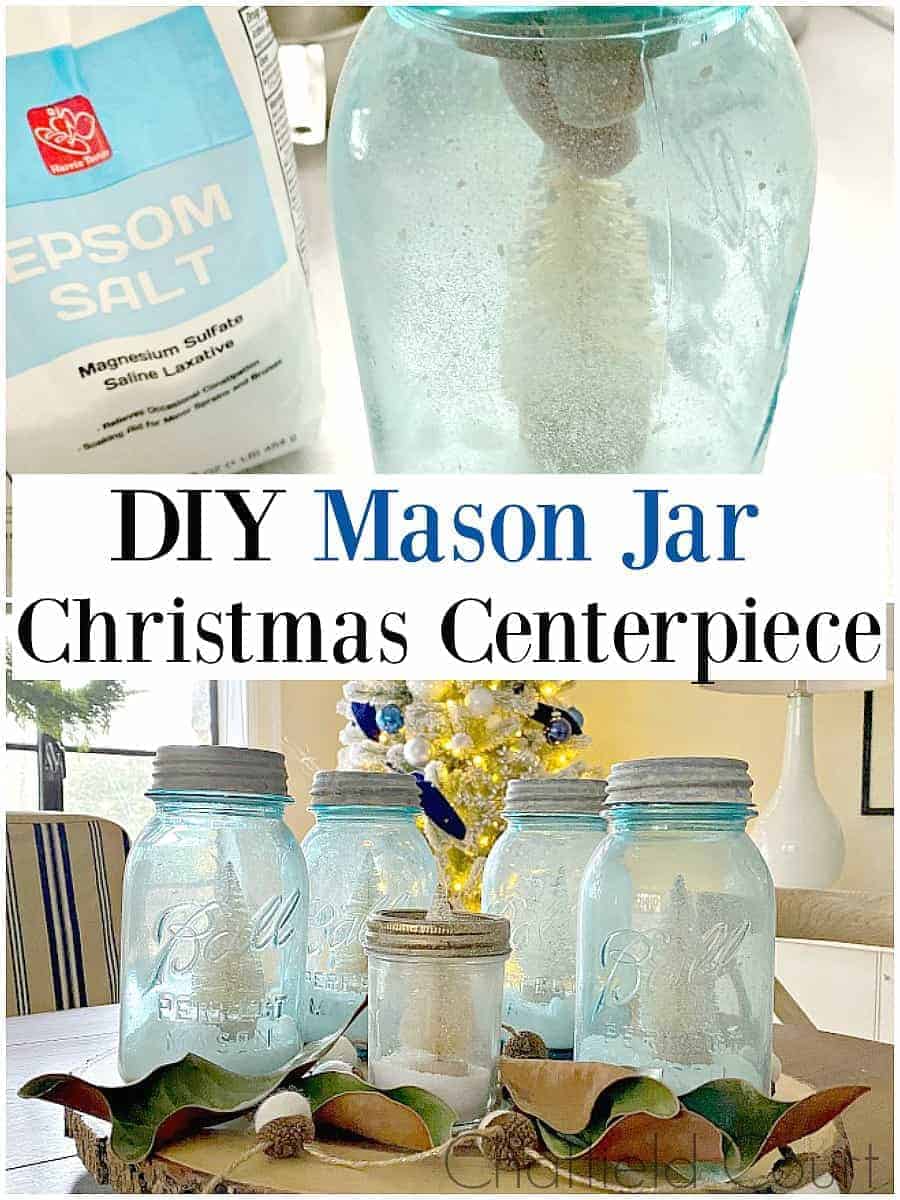 ---