*As an Amazon Associate and member of other affiliate programs, I earn from qualifying purchases.
A DIY ceiling light update for the guest bedroom (that got 2 makeovers!), using a thrift store find and a rusty orb.
Now that the recessed lights were taken painted in the guest bedroom, it was time for the ceiling light to come down (the last one to go in this house…yay!).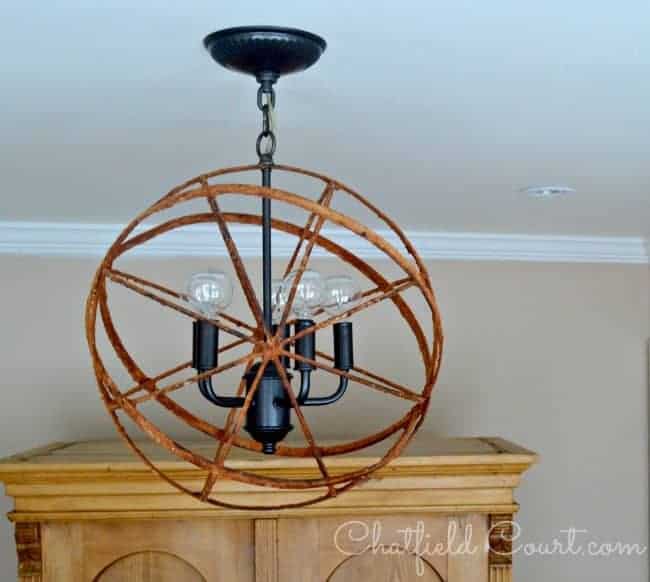 I looked at lots of different styles but all of the ones I really liked were expensive, so I decided to try to make my own. I had a rusty orb thingy (yes that is its technical name) that I bought last year for around $20.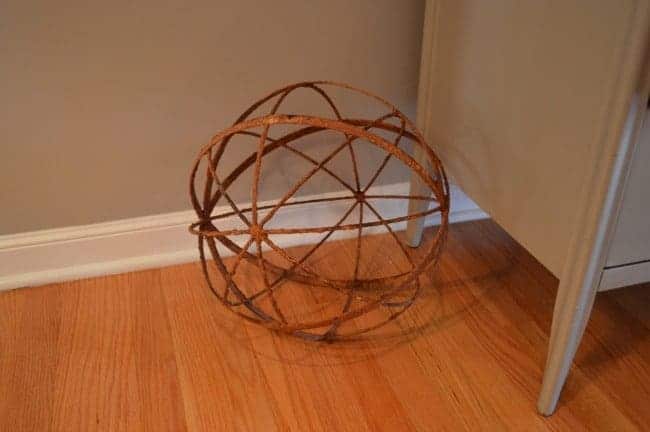 My idea was to try to make some kind of hanging light with it, like this one (which costs $169)…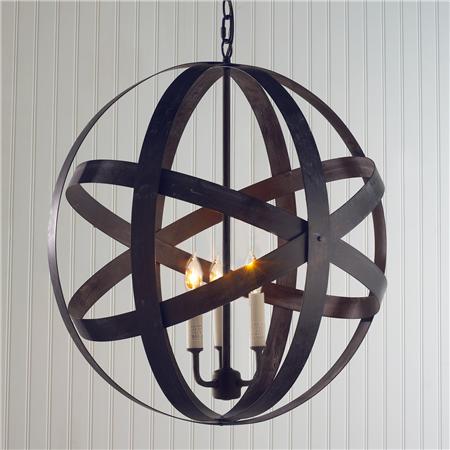 I wasn't sure that I would get a three bulb piece in it like the inspiration but I could always just buy a hanging light kit and use a single bulb. Fast forward a few days and a trip to the thrift store.
I don't always have great luck thrifting, but on this trip I just happened to find an old brass hanging light for $4.99. I was hoping that it would fit in the orb and felt that the price tag was worth a gamble so I brought it home.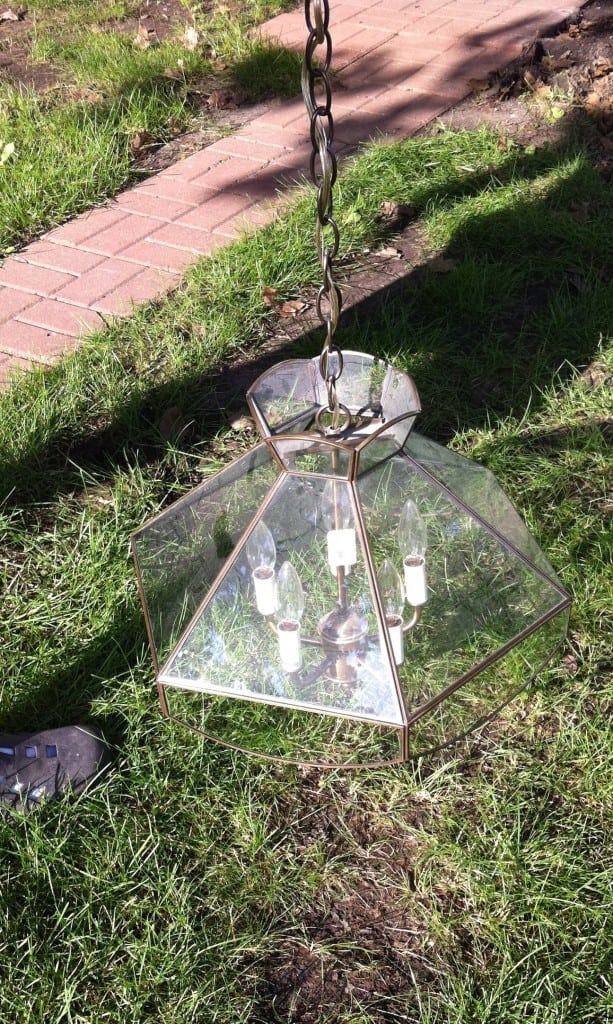 We took the light apart and carefully tried to fit it into the orb. I had my doubts but it ended up fitting! We took it back out, I cleaned it all up and threw a coat of oil rubbed bronze spray paint on it.
I also painted the old and discolored plastic candle sleeves, with the same bronze spray paint.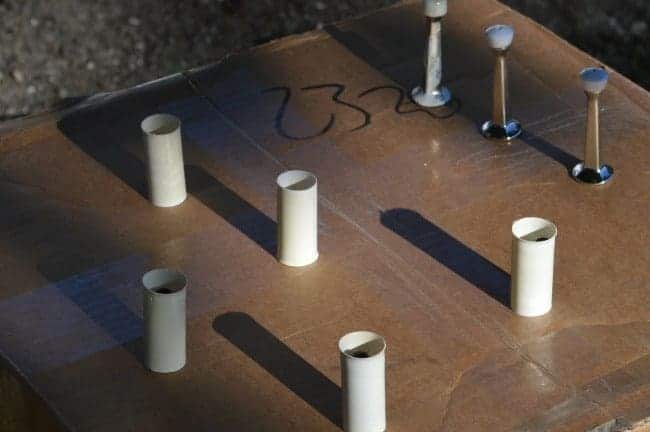 The hubs drilled a hole in the orb so that I could attach the rod to the light.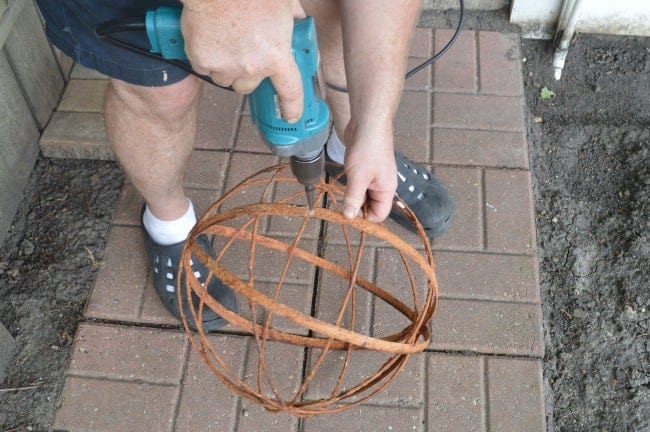 We carefully tucked the light back into the orb and hung it up. It is perfect for the room, just the right scale and I love how it looked.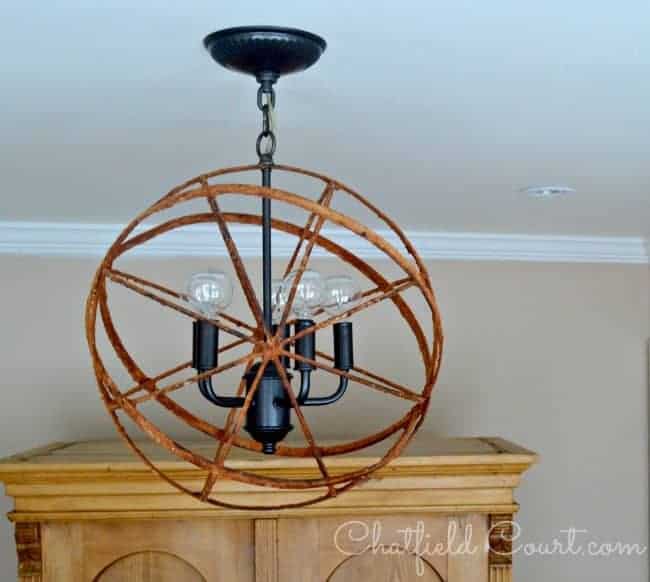 I think that it'll look great with my antique armoire and the wall planking. I could always knock of the rust and paint it but I'm really loving it as it is. Plus it only cost me a total of $24.99! 🙂
Ok, so sometimes projects don't work out like you planned.
After we finished the makeover on the room my DIY hanging light fixture didn't go with the rest of my new space.
Instead of ditching it and starting over, I grabbed some spray paint and gave it anther makeover. A little paint and it fits right in with the new look of the room.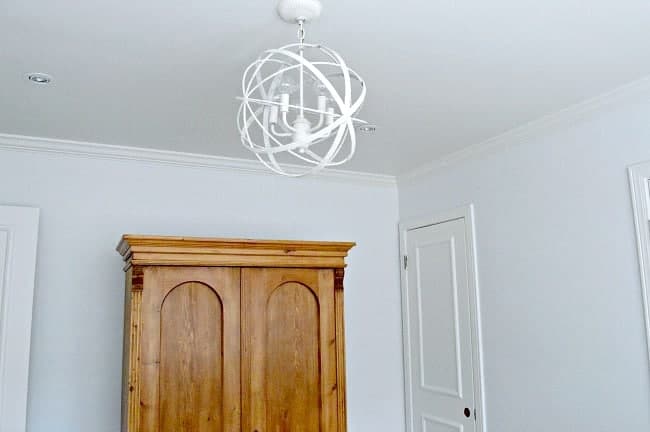 Now I can really say that I love how it turned out. Second time's the charm!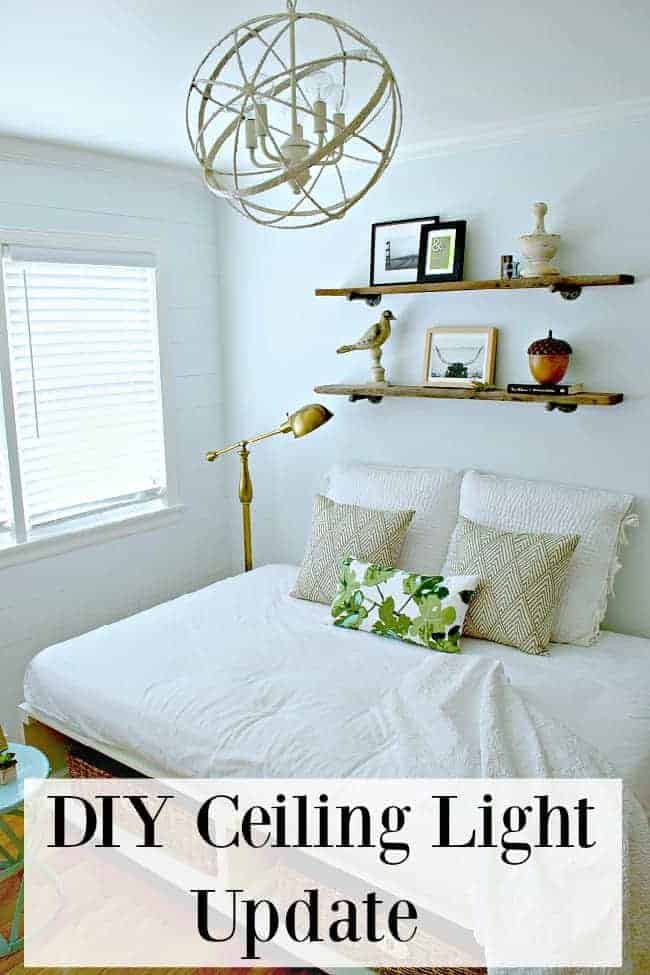 Check out more of DIY lighting ideas like my wireless wall sconce and the recessed lighting that we added during our kitchen renovation.