Easy Tuna Pasta Salad Recipe
*As an Amazon Associate and member of other affiliate programs, I earn from qualifying purchases.
An easy tuna pasta salad recipe featuring sweet pickles for a quick and delicious lunch for one or a for family get-together.
You all know that when it comes to cooking, I'm all for easy. Remember my baked tomatoes and mozzarella and skinny broccoli alfredo? So easy but so delicious! The same goes for lunch.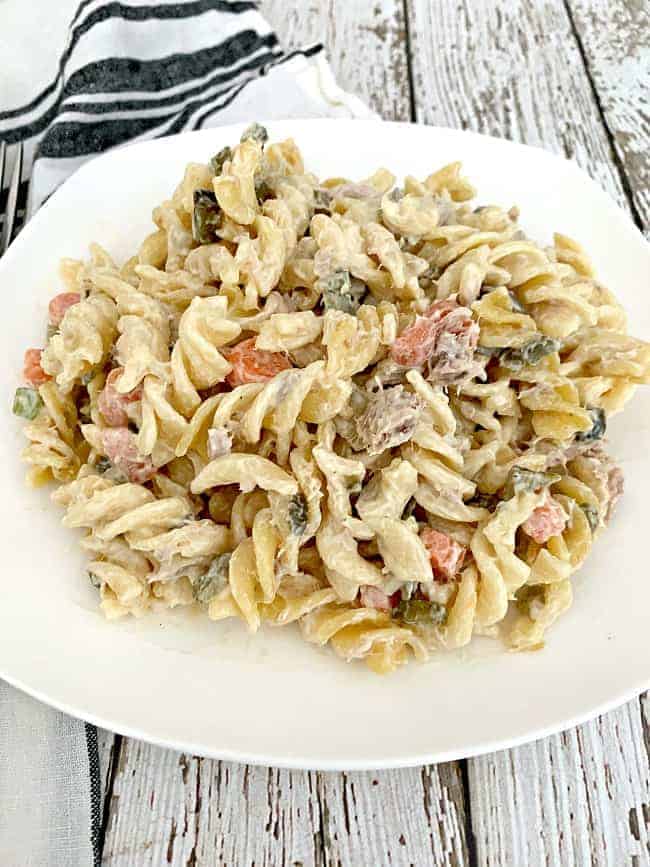 I work from home every day, and run around the house chasing our 10 month old puppy, so by the time lunch rolls around I'm pretty hungry. Because I'm so busy I like to make my lunches ahead of time so I can just throw it in a bowl and not worry about cooking.
This pasta salad recipe is perfect for that.
Making tuna pasta salad
I only use a few ingredients in this yummy pasta salad, tuna, carrots, celery, salt, pepper and mayo. The star of this salad though, is the sweet pickles and pickle juice.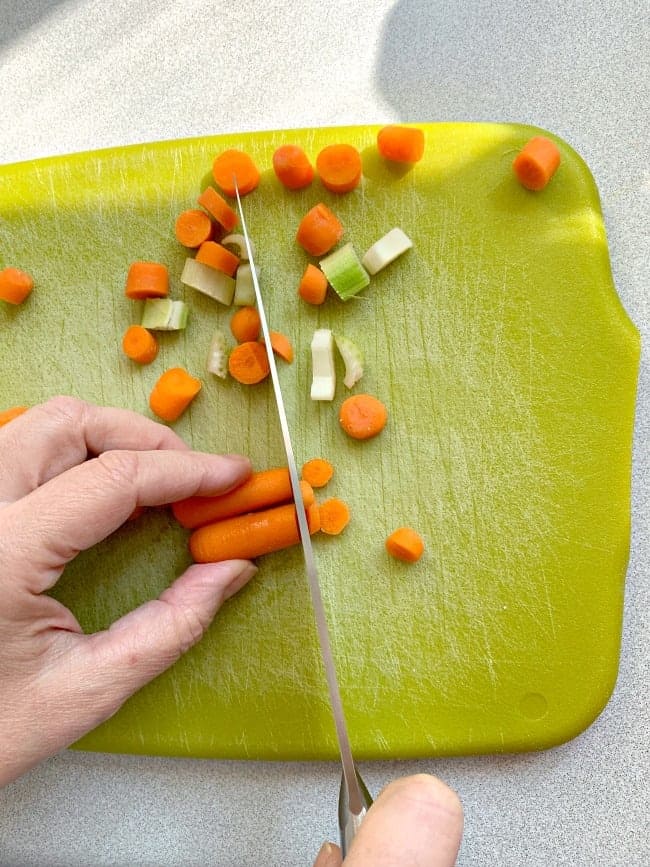 While the pasta is cooking I quickly chop up my carrots, celery and sweet pickles. You could add onion or pepper but I'm not a fan so they aren't invited to my pasta salad party.
After the pasta is drained and rinsed I put it in a bowl. I add all of the chopped veggies and pickles, a sprinkling of salt and pepper and a cup of mayo. Then I mix it all up and then add a 1/4 cup of magic…the sweet pickle juice. Just a little to give it that sweetness.
Next I add the tuna, and mix it all well.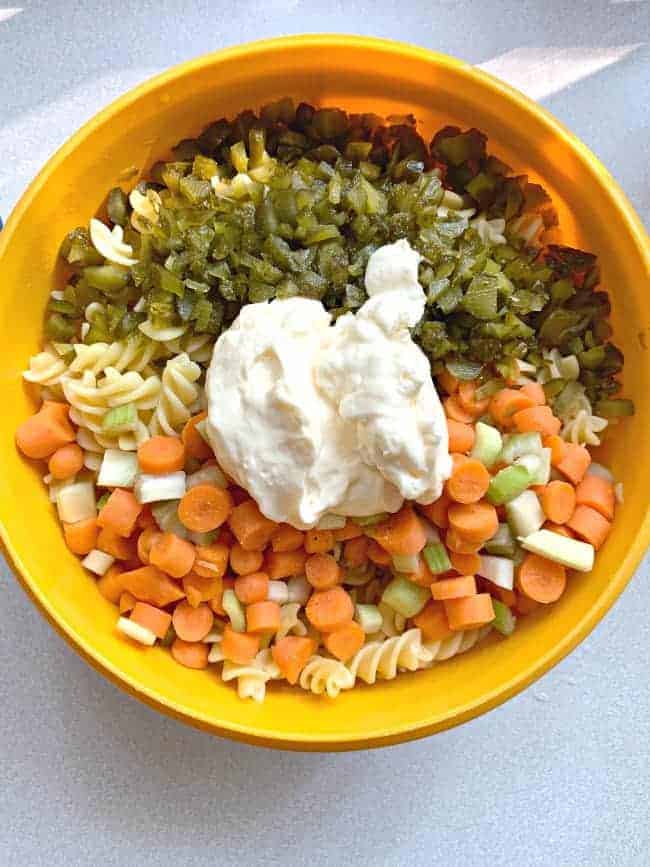 I like my salad to be nice and cold so I'll stick it in the fridge for an hour or two before I serve it. When I'm ready to eat I just give it a good stir and spoon some on a plate.
A quick and delicious lunch, and you have several days worth just waiting in the fridge for you. It's also great for picnics and family get-togethers.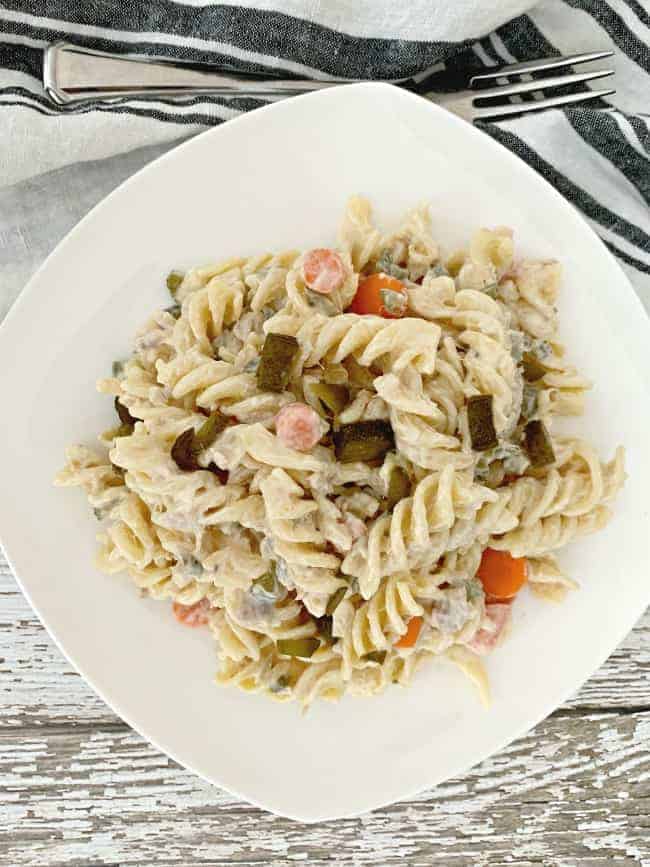 It's turned out to be a perfect meal for camping, too. We've actually been taking it on our trips this summer. I make it a day ahead of our departure and put it in the RV fridge. Our lunch is all ready for us whenever we get hungry, and we don't have to cook.
Who wants to cook when you're having fun?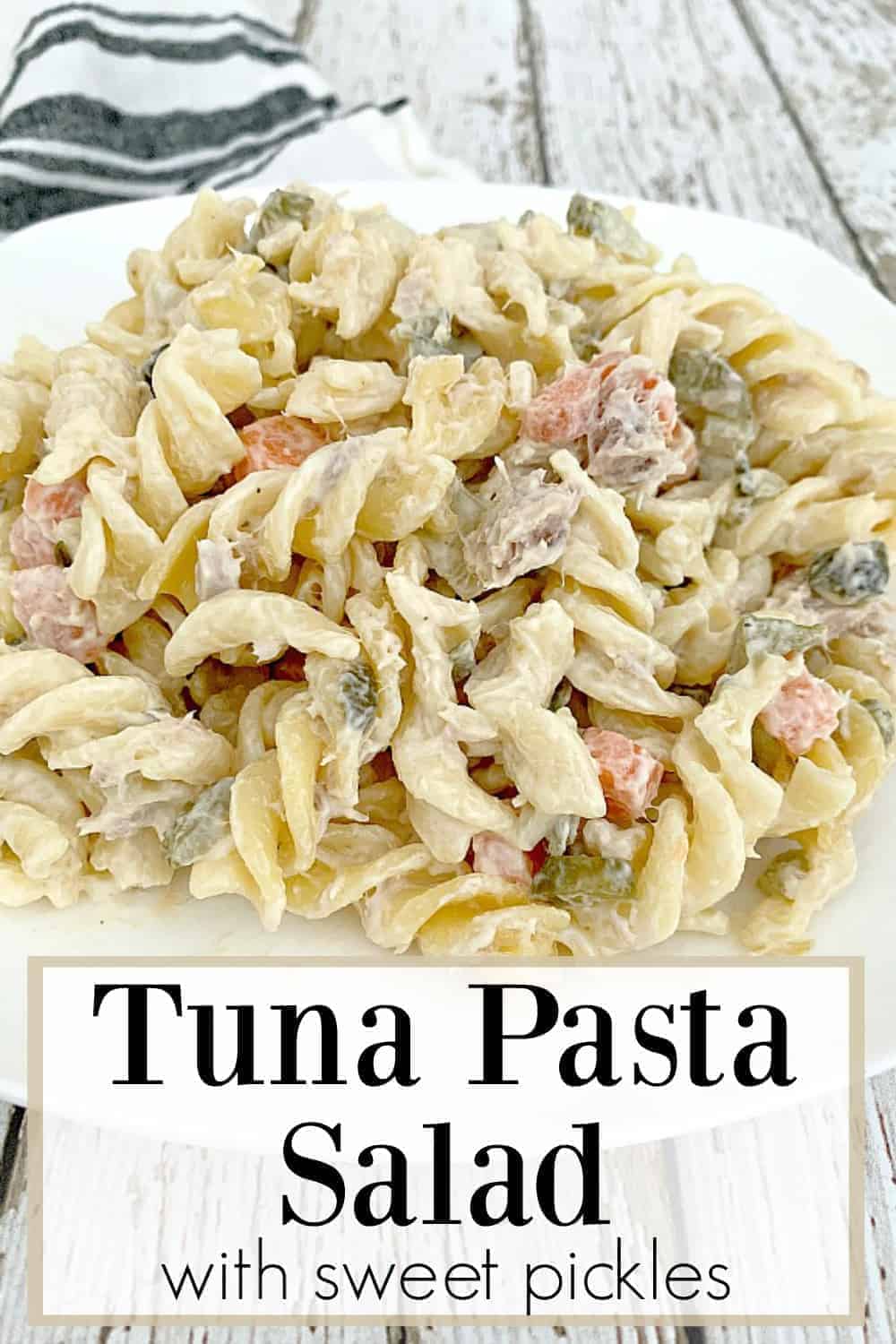 ---
My friend Julie is sharing one of her favorite lunch recipes, the most delicious-looking wrap. Keep scrolling to see for yourself.
Avocado Shrimp Wrap from Redhead Can Decorate