Fun Halloween Candy Centerpiece DIY
This post may contain affiliate links, please see our policy for details.
A super easy and fun halloween candy centerpiece DIY using marshmallow Peeps, candy corn and beautiful sunflowers.
I'm always looking for affordable fall decor so when I saw pumpkin marshmallow Peeps in the store (bought with a coupon), I decided to put together a fun and thrifty halloween candy centerpiece with them.
A couple of years ago I made an easy Fall centerpiece with a $2 vintage mirror (a happy decorating accident).
The year before that I did a fun mini pumpkin craft with Dollar Store pumpkins and plaid tissue paper, one of my favorite crafts ever.
This year I wanted to keep the thrifty streak going so I pulled out a couple of my many glass vases, the pumpkin Peeps that I bought and a $1 bag of candy corn.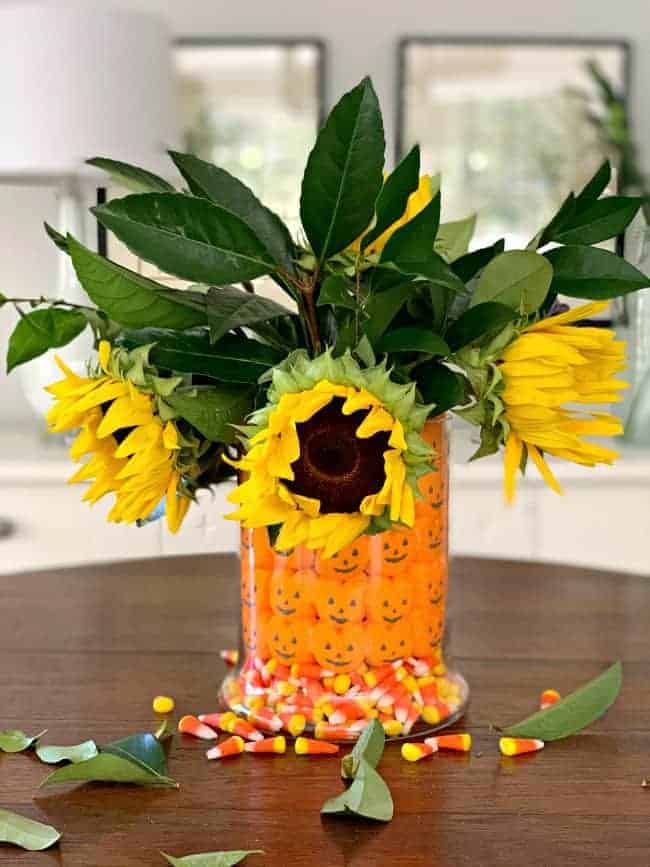 In 10 minutes I had a fun Fall centerpiece that's also edible, if Peeps and candy corn are on your diet.
If you don't have a big stash of glass vases you can always check out Dollar Tree.
I spied several different styles and sizes when I was there picking up some candy corn. You can't go wrong for a buck.
Anyway…
How to make a Halloween candy centerpiece
The idea that I had was to fit a smaller vase (which would hold flowers) into a larger vase (which would hold Peeps and candy corn).
I quickly learned that I needed to give myself enough space to fit the Peeps in the larger vase, around the inner (small) vase.
No one will see the smaller vase inside the bigger vase so there's no need to worry how it looks.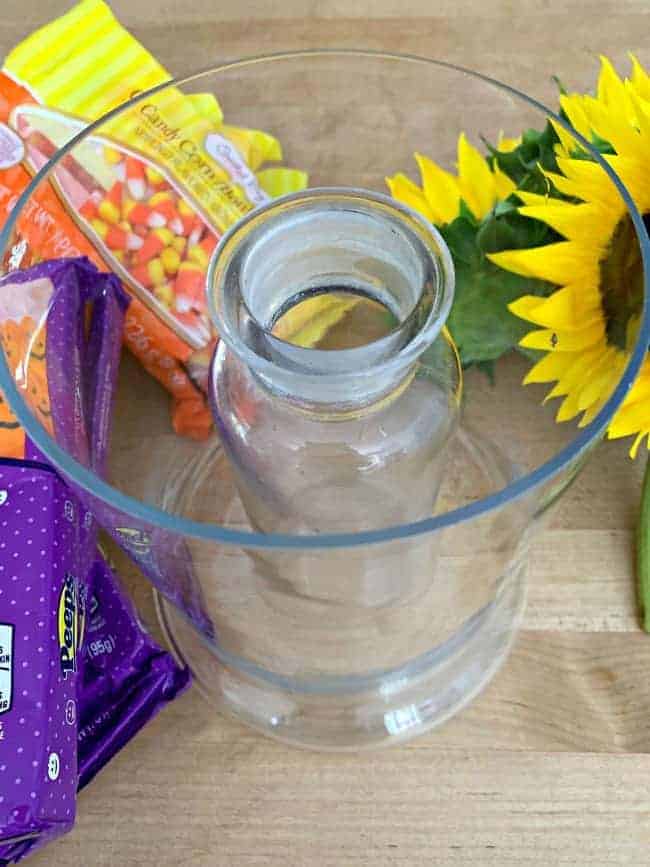 With my vases set I added several handfuls of candy corn in the bottom of the larger vase.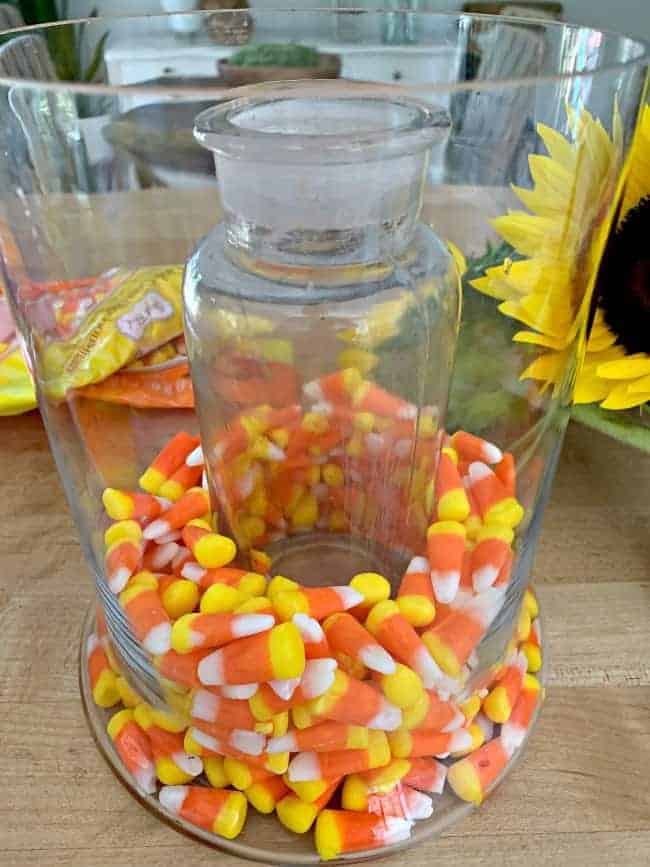 Next, I started adding the pumpkin Peeps.
The large glass vase is only 7 inches high so I only had to use three rows.
The top row was going to be too high so I ended up cutting them in half to fill the vase all the way to the top.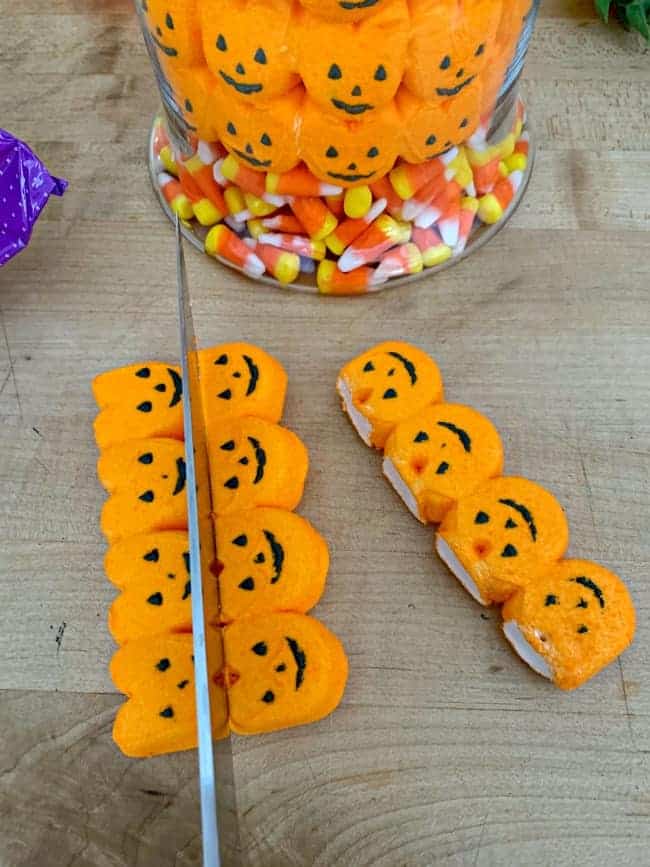 A perfect fit and they stayed in place. I was going to add candy corn behind the Peeps but there was no need, and no one would see them anyway.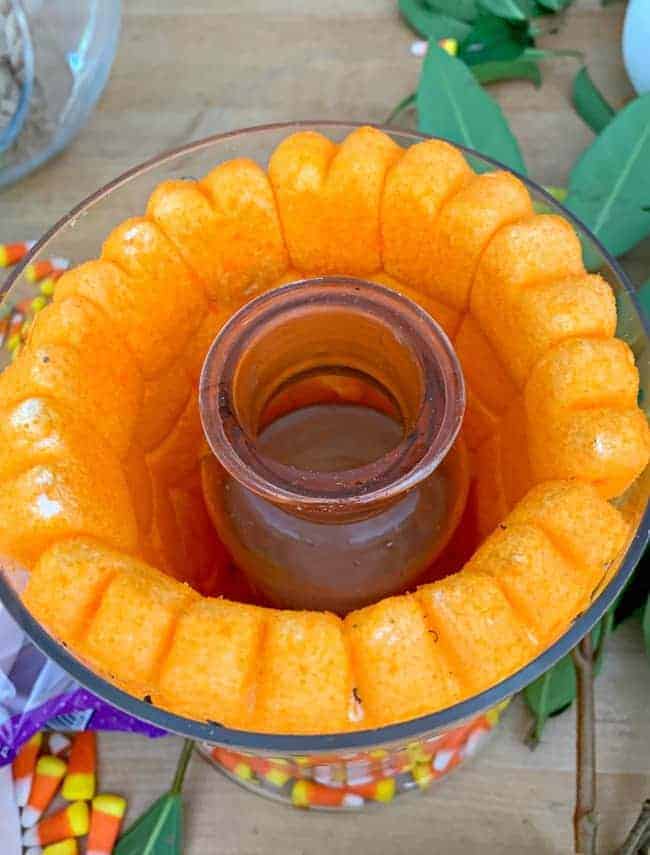 Next, I poured fresh water into the inner (small) vase and added my sunflowers.
You could add faux or any other kind of Fall flower, but I wanted sunflowers.
The sunflowers ended up looking a little lost when I tried them so I went out in my yard and clipped some foliage from the trees. Yay for free!
There you have it…a cute and fun halloween candy centerpiece that's inexpensive and easy enough for the kids to do.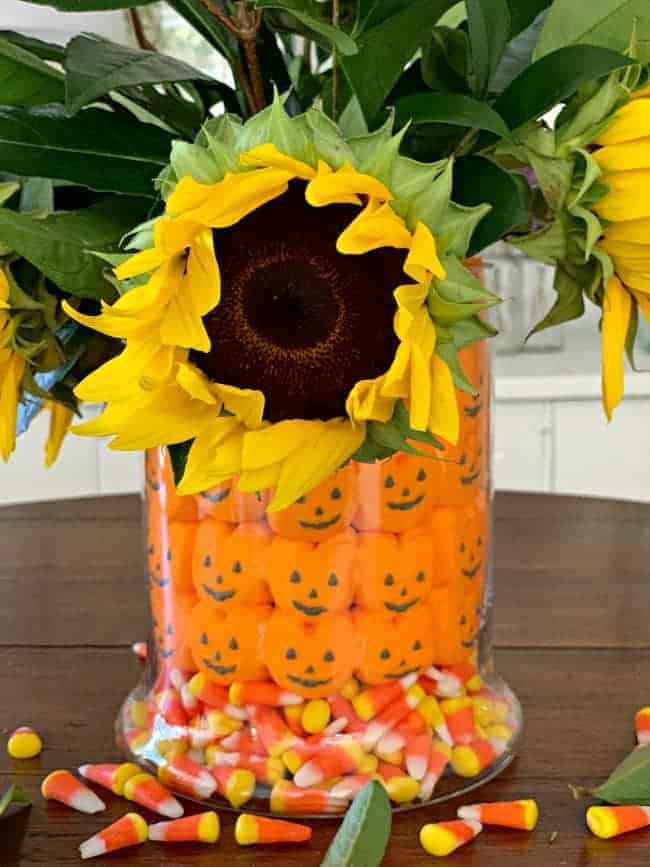 Speaking of kids…now I just need to keep an eye on Roger, my big kid, to make sure he doesn't eat it up.