I teased you last week with talk of lights for my guest bedroom makeover. Well, I was able to finish it up this past weekend, so I thought I would share with you what I did. This is what I started with…4 recessed lights and 1 very unattractive ceiling light.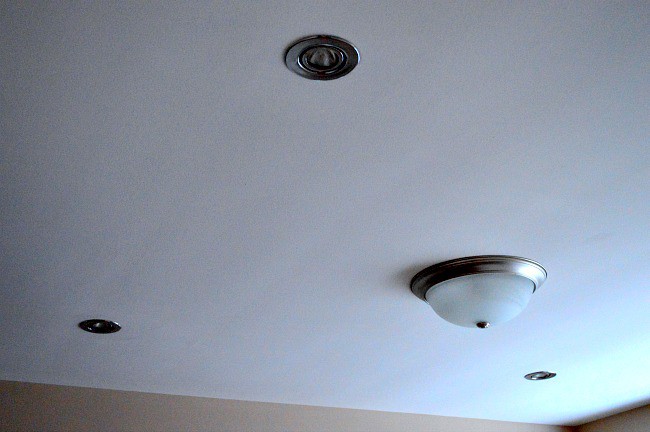 I shared a post in March on some lighting styles that I was considering for this room to replace the center ceiling fixture (commonly referred to as a boob light). I did know that I wanted to get rid of the silver around the recessed lights but I wasn't sure what I should do about the ceiling light.
While considering what to do with the ceiling light, I went about changing the recessed lights. I tried to find lights in white to switch out with the silver but finding the right size was really difficult and parts were expensive, so I decided to paint them. I just removed the silver ring and the silver cap that frames the bulb and sprayed them with 2 coats of white High Heat spray paint.
I used this because the bulbs burn hot, plus our attic gets really warm in the summer and you can feel the heat come from the light openings. It's not a glossy finish but it does blend in with my newly painted ceiling better.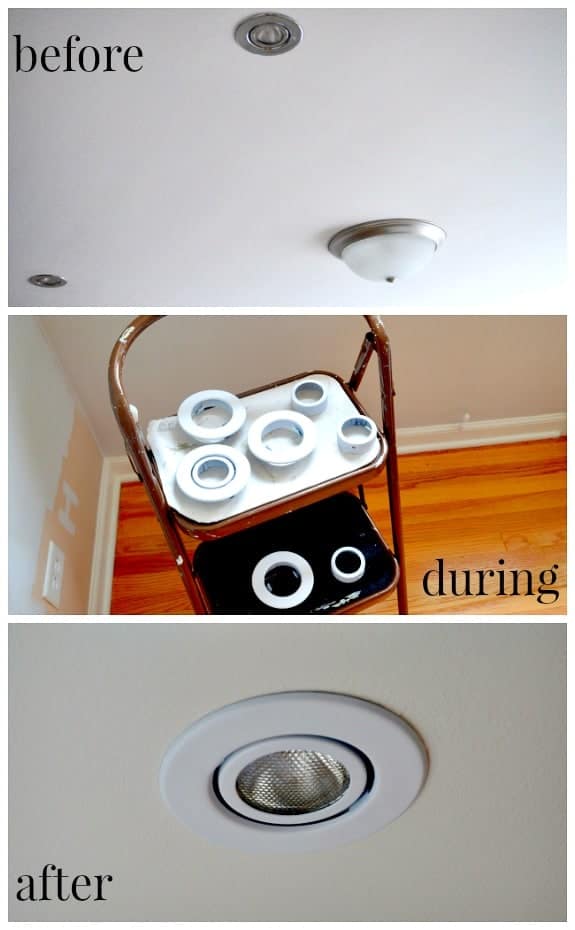 Now that the recessed lights were taken care of, it was time for the ceiling light to come down (the last one to go in this house…yay!). I looked at lots of different styles but all of the ones I really liked were expensive, so I decided to try to make my own. I had a rusty orb thingy (yes that is its technical name) that I bought last year for around $20.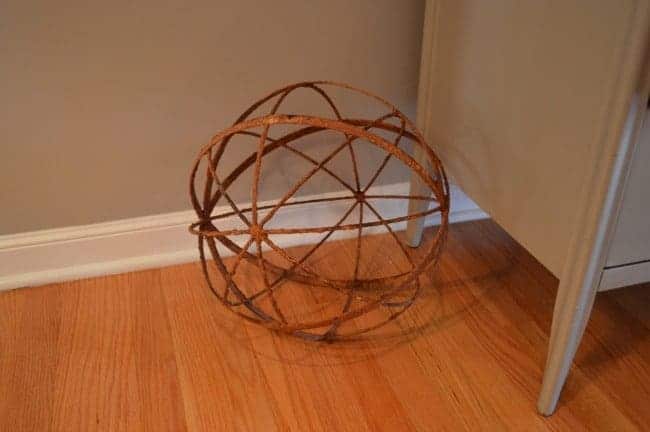 I thought I could try to make some kind of hanging light with it, like this one (which costs $169)…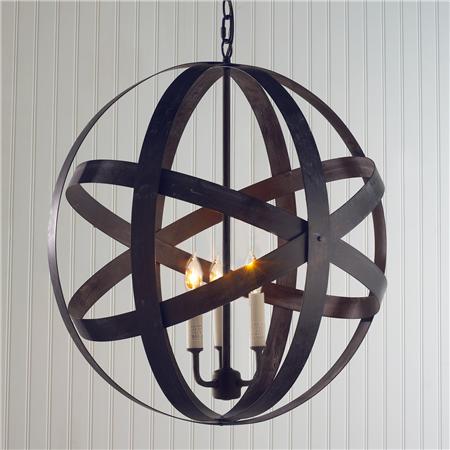 I wasn't sure that I would get a three bulb piece in it like the inspiration but I could always just buy a hanging light kit and use a single bulb. I usually don't have great luck thrifting, but on a trip to Goodwill one day I just happened to find this old brass hanging light and thought that it was worth the $4.99 price tag to see if we could get it to fit.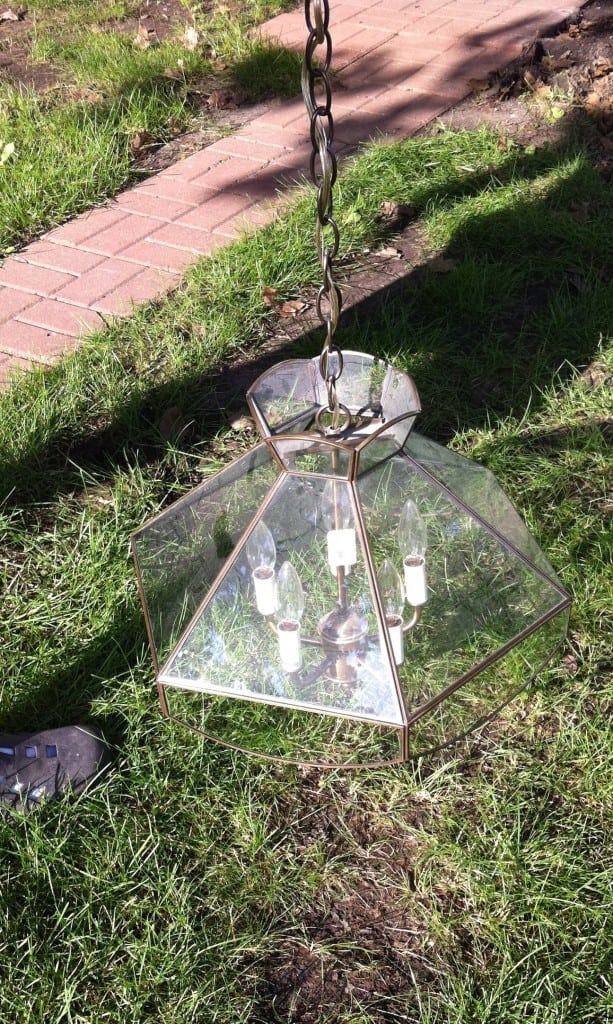 We took the light apart and carefully tried to fit it into the orb. I had my doubts but, wouldn't you know, it fit! We took it back out, I cleaned it all up and spray painted it.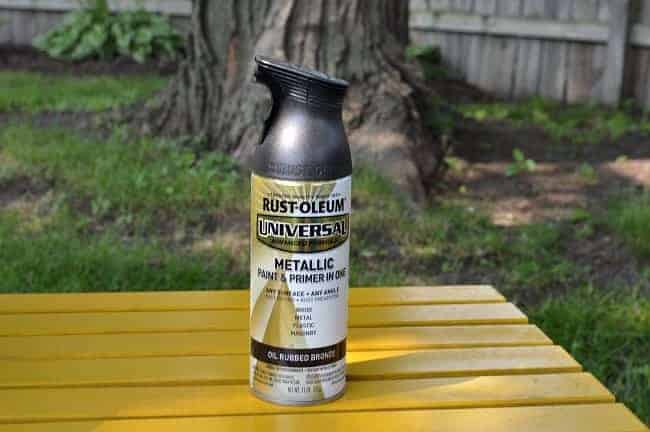 I also threw a coat of spray paint on the old and discolored plastic candle sleeves.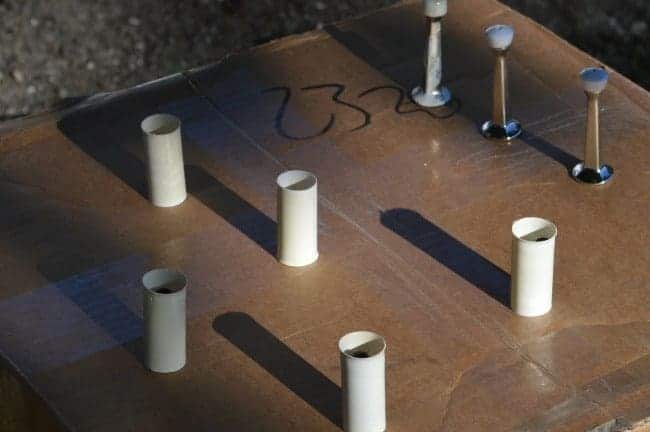 Mr. C² drilled a hole in the orb so that the rod to the light could be attached.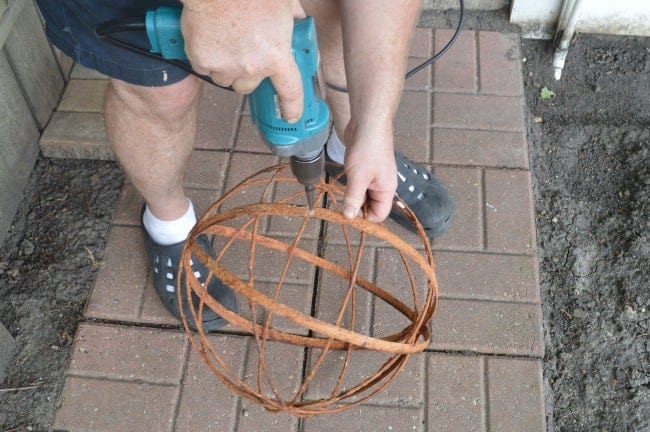 We carefully tucked the light back into the orb and hung it up. It is perfect for the room, just the right scale and I love how it looks.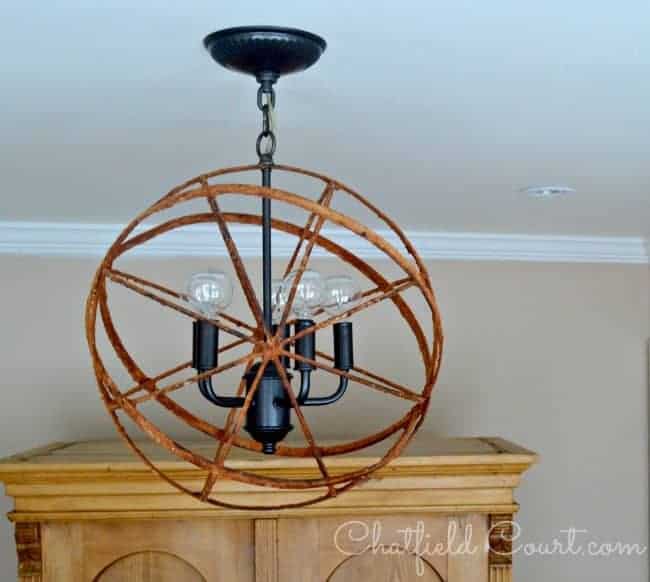 I think that it will look great with my antique armoire and the wall planking. I could always knock of the rust and paint it but I'm really loving it as it is. Plus it only cost me a total of $24.99! 🙂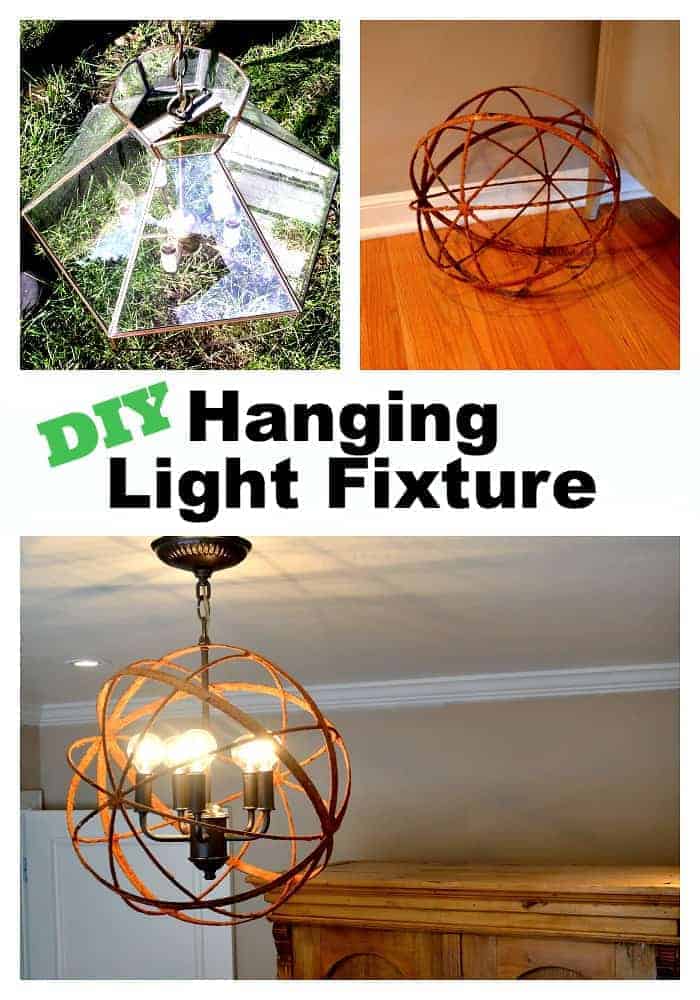 I've had my fair share of trouble with projects lately but everything in this one just fell effortlessly into place. Have you ever done a project that just went right from the beginning? Have you ever made a light fixture out of random stuff before?
My little DIY light fixture got another makeover. See how it looks now.