*As an Amazon Associate and member of other affiliate programs, I earn from qualifying purchases.
How to make a DIY glass bottle lamp for your living room for under $50.
I have been looking at glass lamps for a while now and knew that I wanted one for the new house. I especially like the Clift lamp from Pottery Barn, but I didn't want to spend that much money.
I made a DIY mason jar lamp for the kitchen but I really needed a lamp for the living room. It's a very long room and, although it does have can lights, it needed a few reading lamps.
Most of the lights that I like seemed pretty pricey and I knew that I would rather spend that money on something more substantial, like a rug or the armoire I need for the kitchen, so I started to look for something a little less expensive.
I went to some of the big box stores and saw glass lamps, but they seemed like they were made out of really thin, fragile glass, which I didn't like. Besides the quality, I couldn't find the blue color that I was looking for.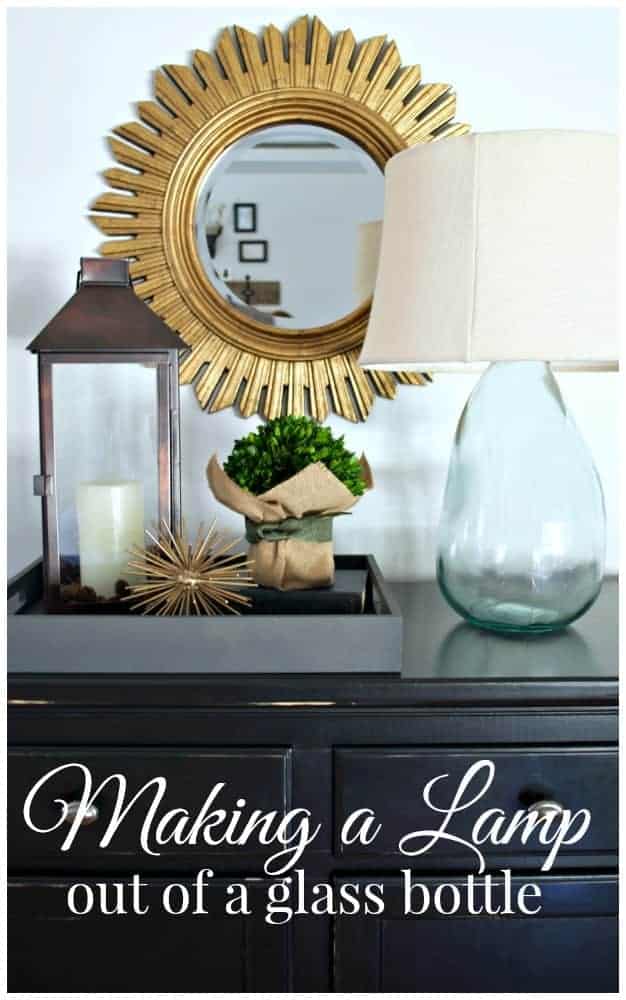 While browsing around World Market, and looking at their lamps, I saw this cool blue jar/bottle(?) that could work as a lamp.
I bought the bottle and a lamp shade and bought a lamp kit from Home Depot, you can find them in the lighting section, and brought them home to make my own glass lamp.
Making a lamp isn't difficult, but my husband does work with electricity, so he told me what to do supervised. The supplies you will need to do this project are a bottle or other vessel for the body of your lamp, a lamp kit, a wooden dowel that is small enough to fit in the hole (but not too small), plastic weld, a screwdriver, a lightbulb, a lampshade, a lampshade adapter (if you don't use a harp), and a finial.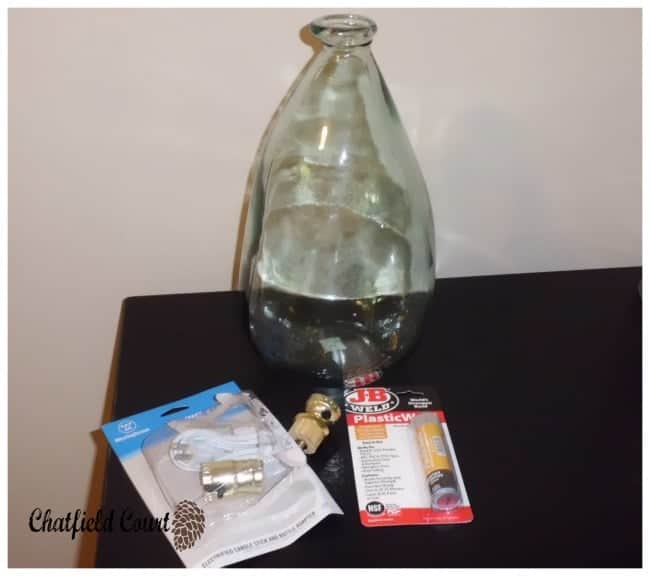 First and foremost, you want to make sure that you clean your jar and check that nothing is in it because once you put the lamp assembly base on, you can't get it back off easily (um, I failed to do this and now I can see some dirt and dust in my jar).
Next, I needed a way to attach the lamp kit to the bottle so I used a wooden closet rod that I had. My husband drilled a hole about 2 inches deep into one end of the rod and then cut a 1 1/2 inch piece of the rod off the end. (It is easier to drill your hole before you cut the rod so that you have something to hold onto while you are drilling).
Next we mounted the lamp socket base into the hole in the dowel.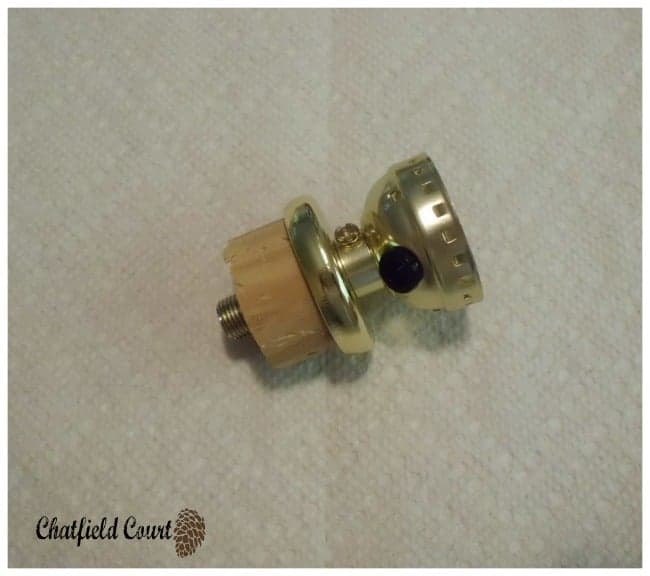 After we mounted the lamp assembly base, we cut off an inch long piece of the plastic weld and kneaded it together.
A word of caution…this stuff really stinks so you should wear gloves to work with it and you must work quickly as it will start to harden within 3 minutes.
My husband didn't use gloves because he thinks that it is easier to work with when you aren't wearing them. (Another word of caution…do not work with this stuff over a rug of any kind. We got some stuck in our jute rug and I had a hard time getting it out).
Once it is mixed well, you need to roll it into a piece the diameter of your index finger, which may be 6 or 8 inches long and wrap it around the wooden dowel and then stick the dowel, with the lamp assembly base in it, into the jar.
Push the excess plastic weld in and around the jar, you won't really see it once the lamp shade is on, but you should be able to make it look good. If there is a lot of extra, you can take a razor blade and trim it off before it starts to harden.
Now you need to let the plastic weld dry and harden. Although it takes 3 minutes to start to harden, it may take a couple hours to set up completely.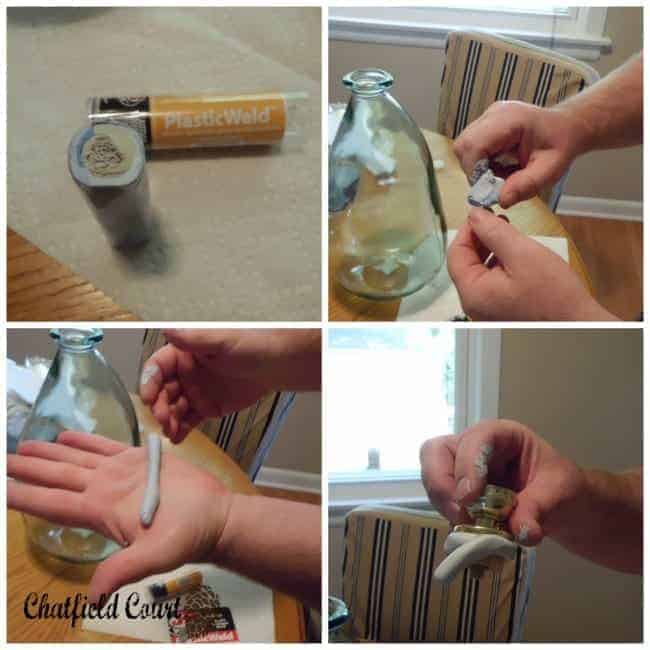 Once it is dry, you can install the wire into your lamp socket.
My kit has a side mount electric cord, so I installed the wire through the hole with the grommet and tied a knot in the wire to prevent it from pulling back out (there are good directions on the package of the lamp kit).
I used a side mount kit because I didn't want to drill a hole in my bottle. If you have no problem drilling, you can use a bottom mount light kit.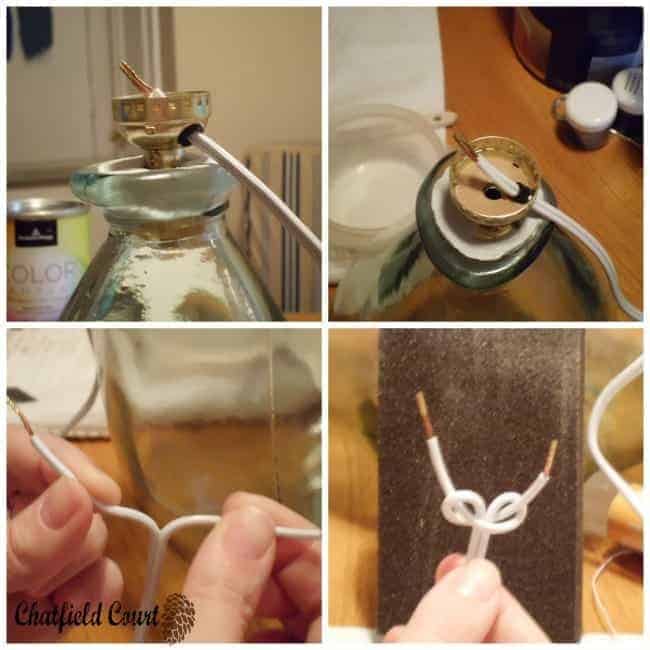 Next you have to attach the wires to the screws on the socket. There are two different color screws, the silver screw gets the part of the lamp cord that has the ribs on the outside of it.
The other screw looks like it is brass, just attach the smooth side of the cord to it. Make sure you wrap the bare wire securely around each screw and then tighten the screw.
Note: do not pinch the insulation of the wire in the screw or you will have a bad connection.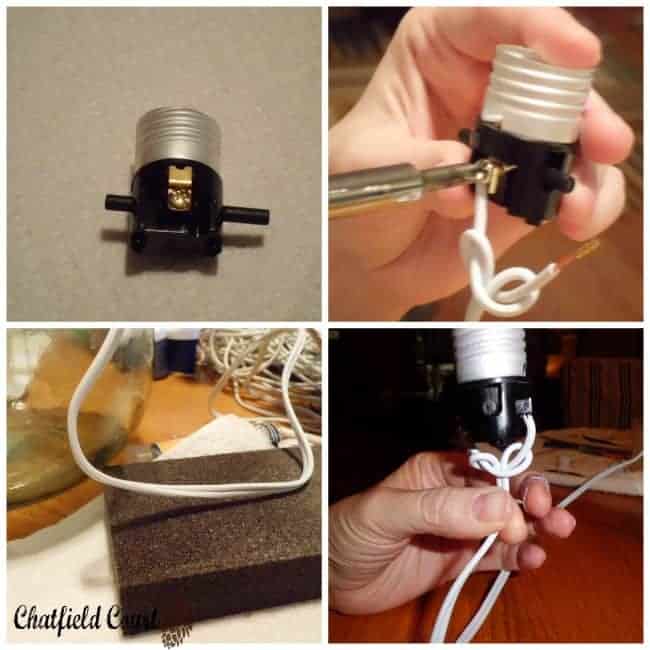 Now you have to assemble the socket. Clip the socket into the base of the lamp. Make sure that you don't pinch any wires when doing this.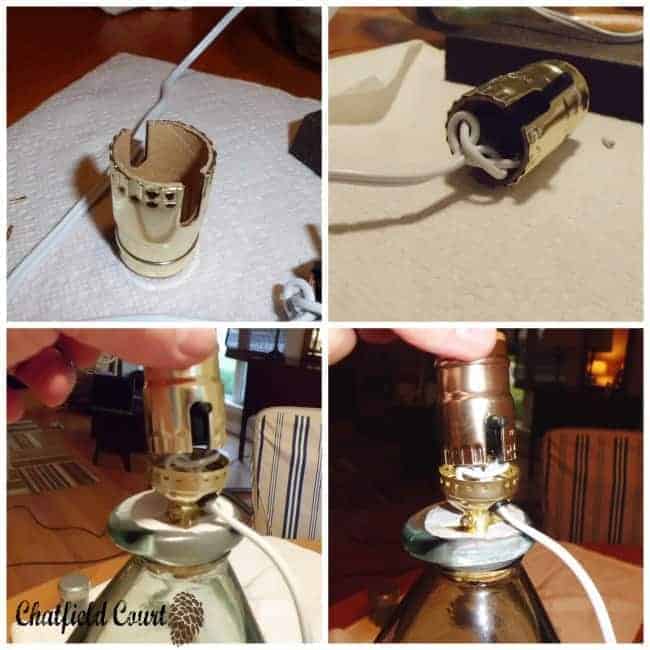 That's it. Put in your light bulb, put on your lamp shade, plug it in and you are done.
I didn't attach a harp to my socket, but if you need to use a harp, you have to attach it to the base before you put the plastic weld on the assembly.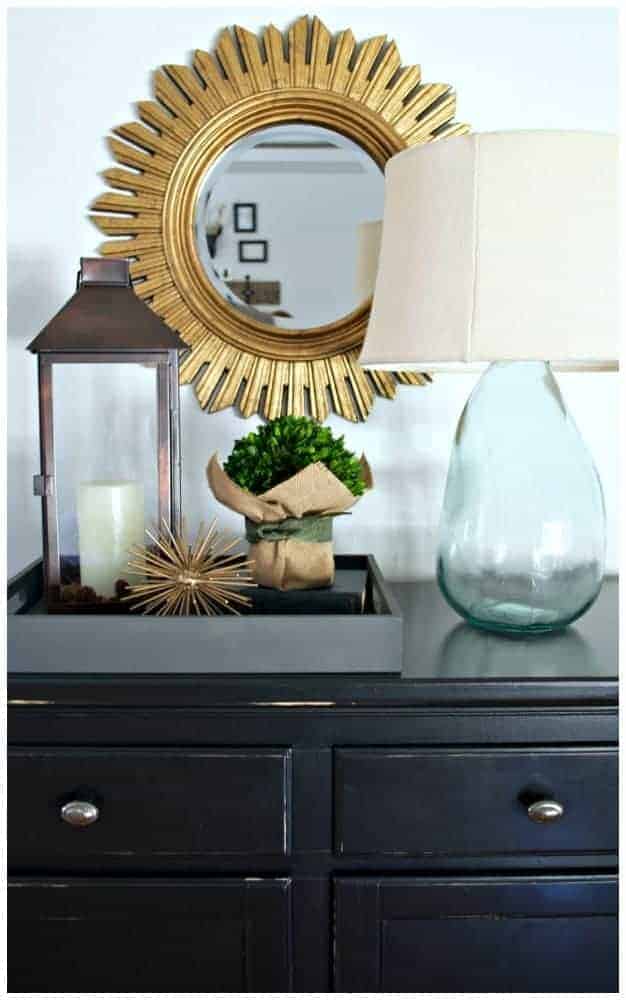 If you decide you want to use a lampshade that uses a harp, but you didn't put one on, you can buy an adapter that slips over your light bulb and uses a finial to hold the lampshade on the adapter.
Be aware though, that if you use the adapter, the shade is not the sturdiest. It will stay on but if you knock it at all it will slip around on the bulb.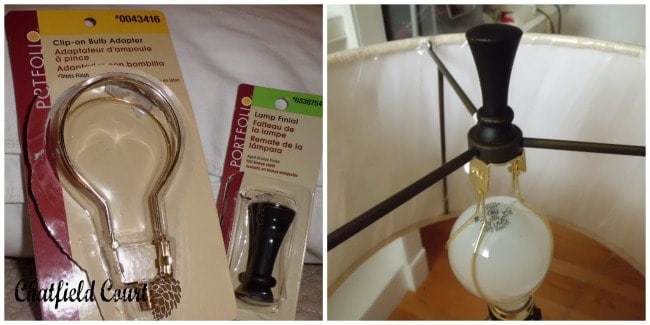 Although it sounds like it was difficult, this was an easy project. My very cautious husband, however, wanted to give a few words on electrical safety.
He says to be careful when you plug in your lamp for the first time…don't look at the plug and don't look at the socket when turning it on. The reason for this is because if something was wired wrong, it could flash in your face and cause damage.
The Pottery Barn lamp that I liked cost around $200, for the lamp and shade, and my homemade glass lamp cost around $50.
The bottle that I used is not a perfect shape but that is what I like about it…that and it is the color that I wanted.
Have you ever made a lamp? Did my tutorial scare you off from making your own lamp?