Disclosure: As an Amazon Associate and member of other affiliate programs, I earn from qualifying purchases.
A quick dining room makeover on a budget.
We have been in our stone cottage for 9 months now and, although none of the rooms are complete, our small dining area is as put together as it's going to get (at least for now).
The kitchen and dining area are attached but the kitchen isn't quite ready for its photo op, so we'll just tour the new and improved dining area.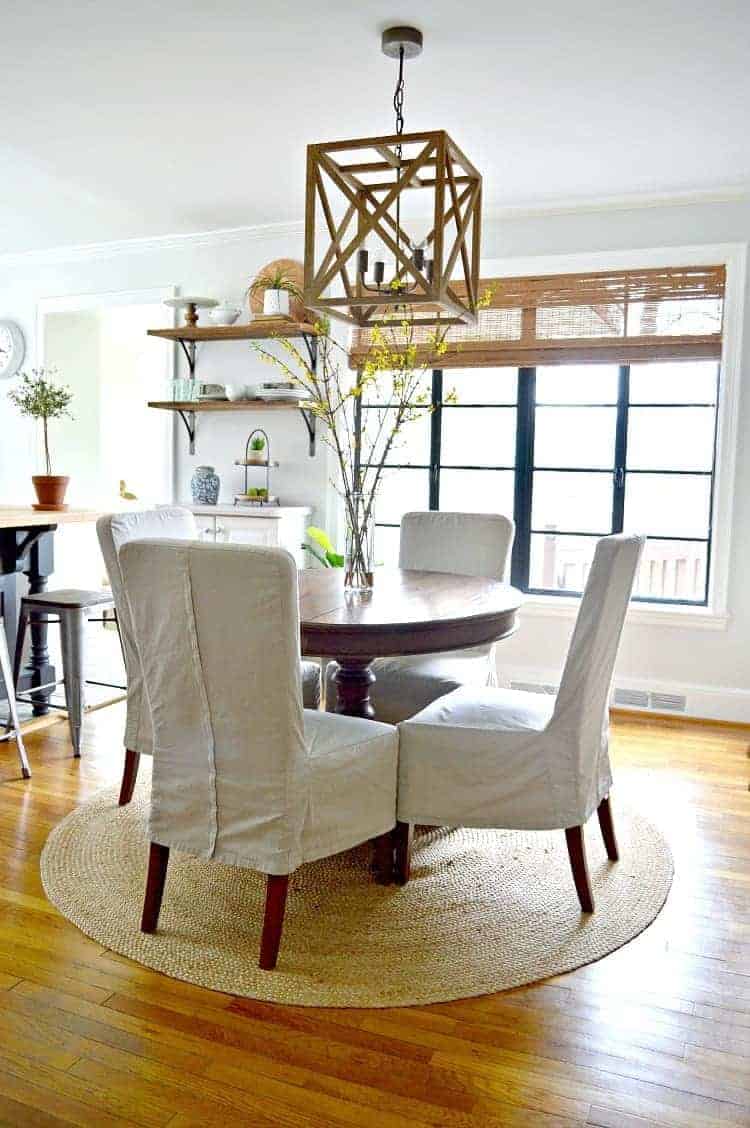 This is how the space looked before we moved our stuff in. Pale yellow walls and a light fixture that was barely hanging on, literally.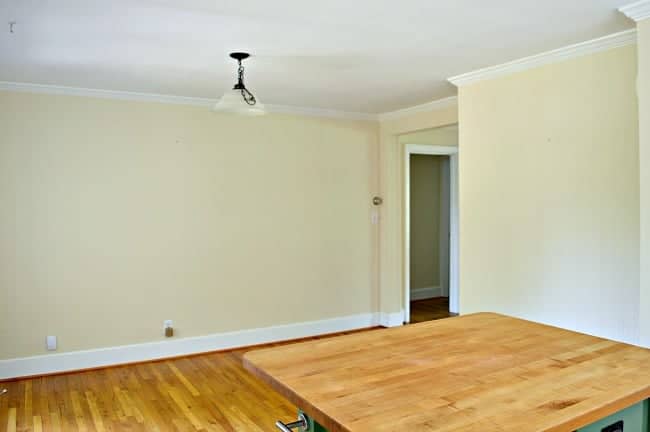 The previous owner had window blinds in every window of the house, and they were all in rough shape. Can you see that little hook in the ceiling by the big window? Yeah, they were all over the house too.
In every room...
Some of the rooms had several.
Not a huge deal but they were unsightly, in my eyes anyway, and kind of a pain to fix. (Clearly they were a huge deal to me. 😉 )
The room had great bones. There's nice crown molding and the walls were freshly painted before the previous owners put the house on the market. It was in decent shape, but it needed a bit of updating and a new coat of paint (something other than yellow).
The first thing I did was to fix and paint the walls. Our house is 70 years old with plaster walls which means that every time you want to hang something, or remove it, you end up with a pretty big, nasty hole. Once the holes were fixed, I moved on to paint. I used Benjamin Moore Paper White, which is a very pale gray.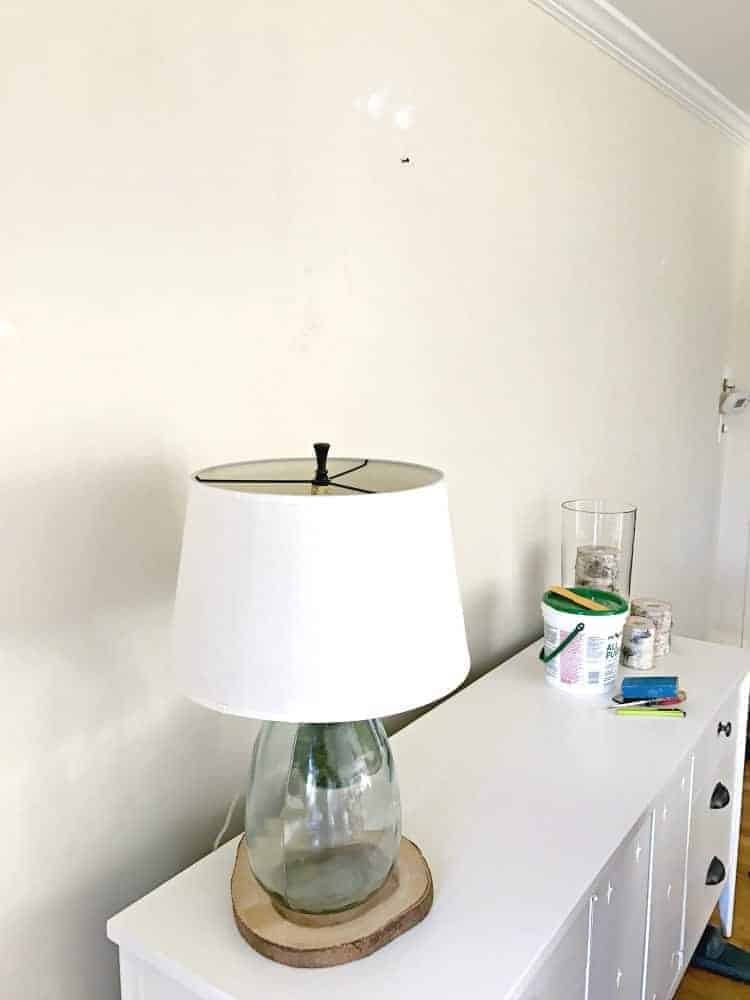 All of the walls in the house are smooth except for the ones around the fireplace. Not sure why they used these textured wall boards but someone thought they were a good idea. I'm not a fan and, besides my major dislike, they are tough to paint. I'm so glad they didn't use it throughout the whole house.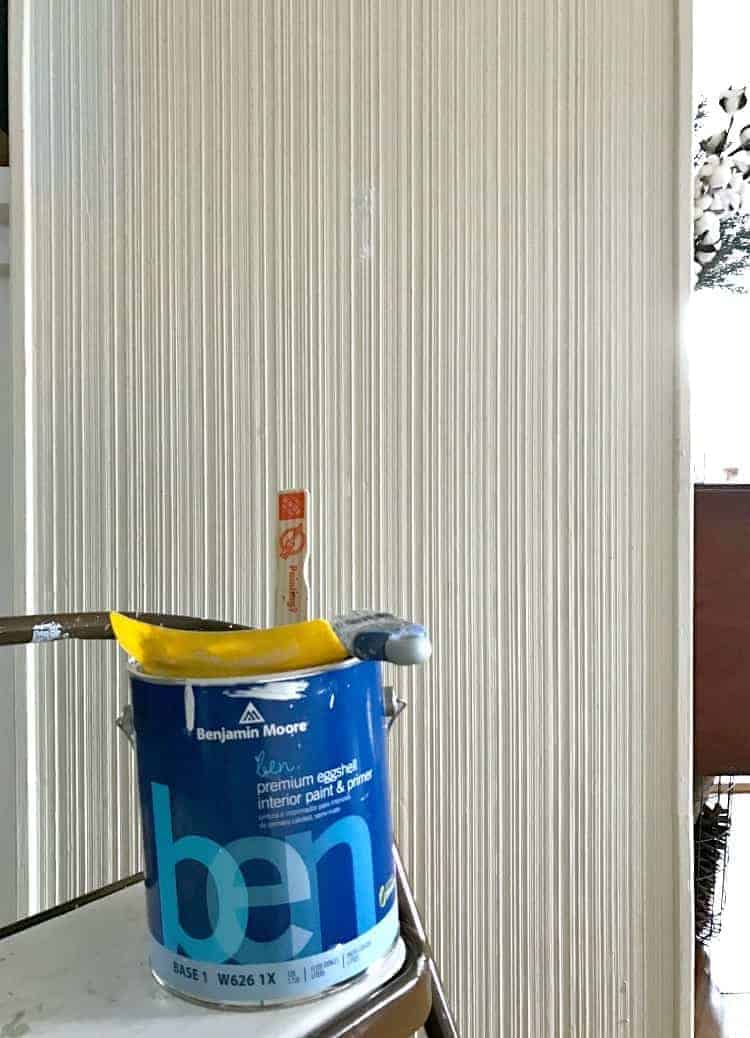 I didn't have a huge block of time to paint the whole room (dining and kitchen) at once so I did one wall at a time. We also worked on electrical outlets and light switches when we did each wall. With this old house came some pretty grungy looking switches. They were dirty and painted over in the whole house so, as we do a room, they also get changed (and checked to make sure they are safe).
Another fix was the old door bell box. It was a real eyesore. We haven't been able to get the old door bell to work since we moved in so we ended up buying a wireless one. The old box was still attached in the dining area so I removed it, fixed the giant-sized holes, and painted the wall. It's so nice to sit down to eat and not look up at that old, ugly box.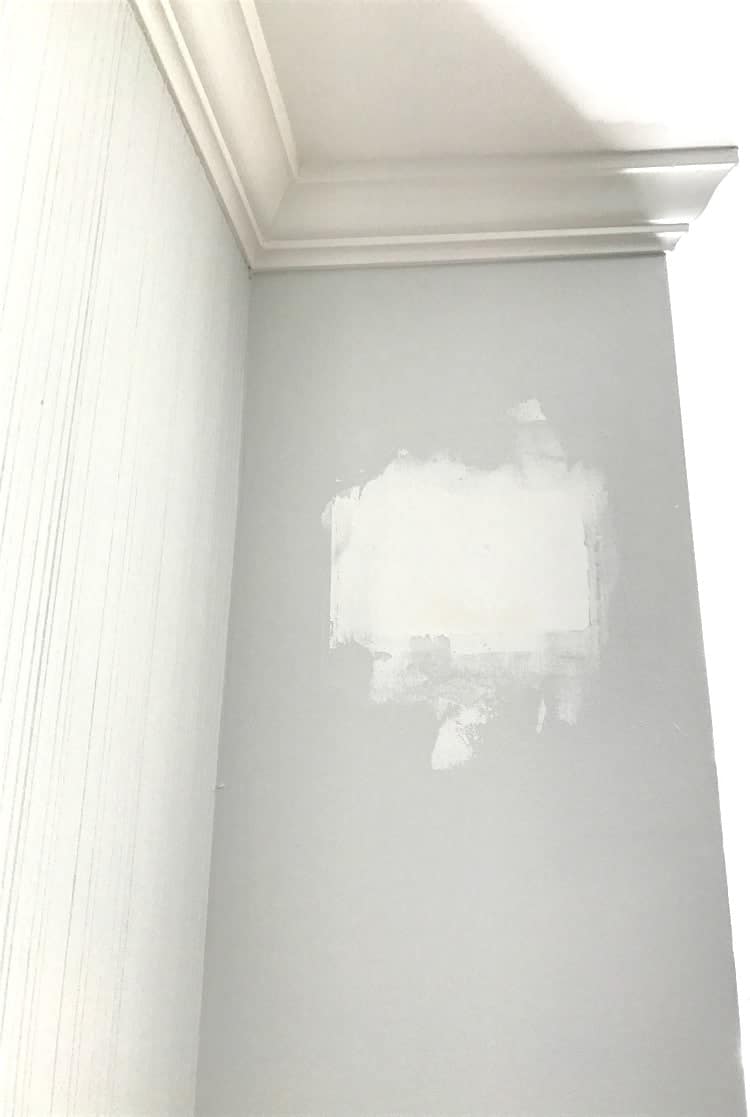 Another change we made to the room was the hanging light fixture. The one that we adopted when we moved in was ok but not my style. It was also barely hanging on so this was a project we tackled right after we moved in.
I found this beauty in a little boutique on a trip to the coast. The hubs wasn't sold on it but I loved it right away. In my book, that usually means it's the right choice. The reclaimed barn wood shelves on the far wall are a new addition to this room too. I shared all the details about how we made them, and what was there before in another post.
Once the walls were painted, I moved to the old casement windows. I just recently finished painting them black and I love them! You can check out the before and after, here.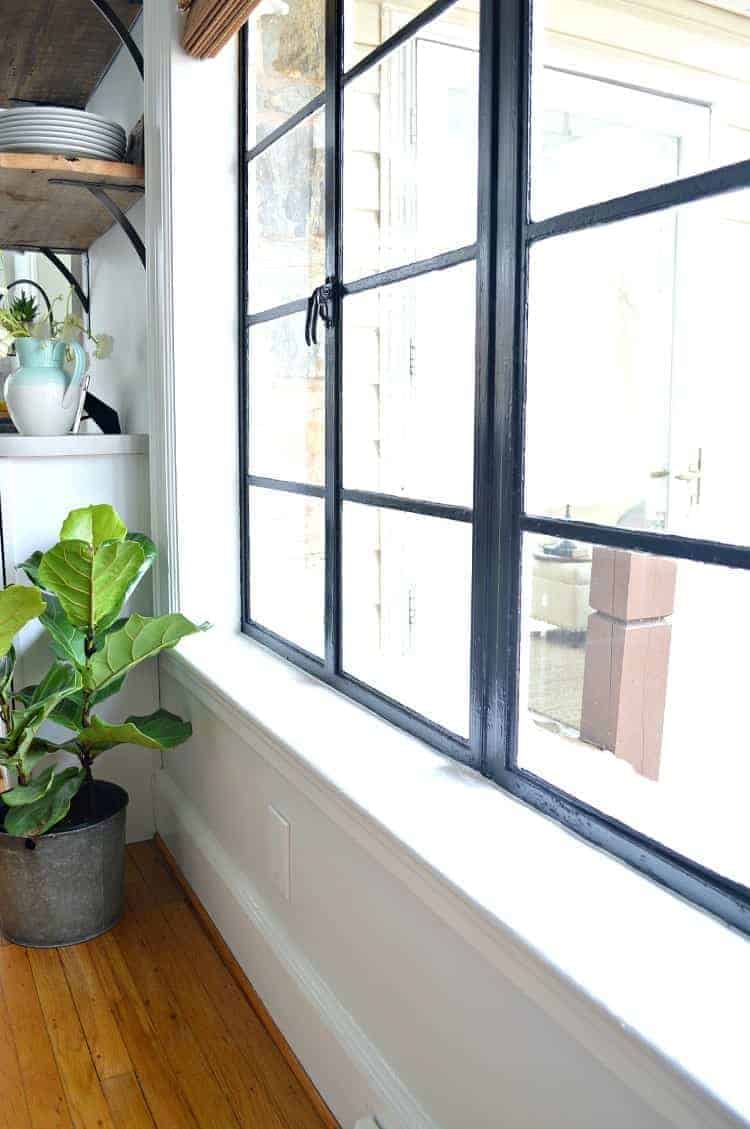 The dirty, old blinds were also replaced with a gorgeous woven shade. It doesn't block the view or the light but it does add texture and warmth to the window.
The vintage dresser turned storage cabinet stayed in it's original spot and I hung my tobacco basket back up. I did get 2 new lamps and added an old wooden bowl that I found at a thrift store.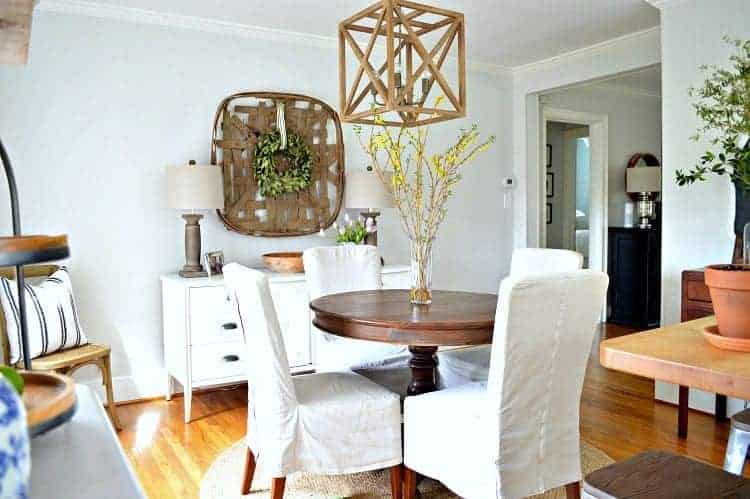 A recent addition to this space is the pedestal dining table. I had a solid oak table in here, that I've had for years, and I was just getting ready to refinish it when I found this one for $50. It's a vintage solid teak table that was brought over from Indonesia with the woman who owned it. It has a some issues but the wood is gorgeous and it really is a better fit. The chairs seem a bit big compared to the table so they may get changed down the road, but they're ok for right now.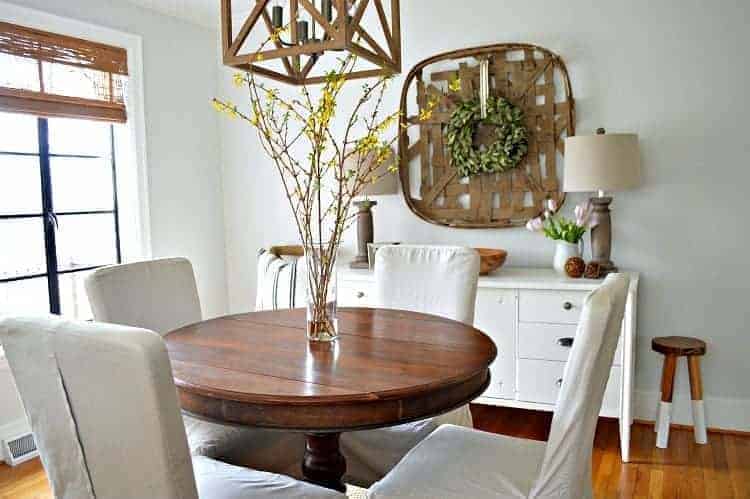 This corner of the room has stayed the same since we moved in. I putz around with the decor on the buffet a lot and I've been having fun changing the chalkboard art. Don't worry, I am under no illusions that I am a great artist. 😉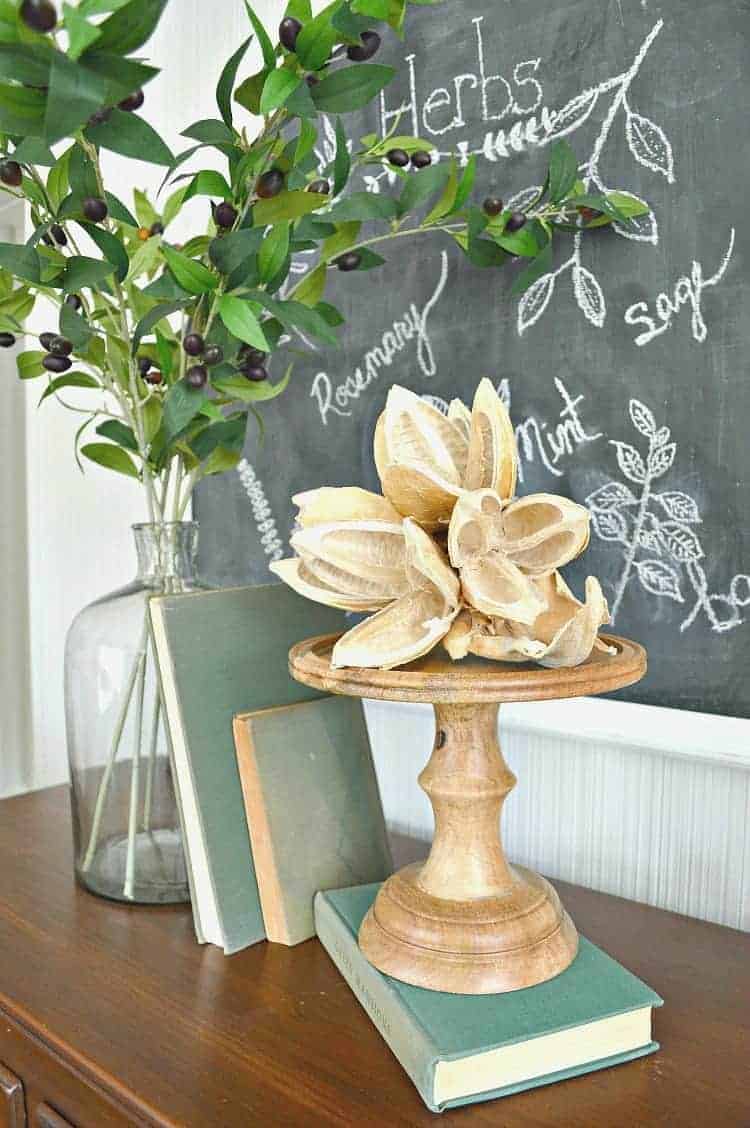 I think we've covered every inch of the dining room. It feels good to finally have a space done. There's still a few things I need to address, like the chairs and fixing the table, but I love this space and I'm thrilled with the way it turned out.
Thanks for stopping by. Hope you have a great week!
Dining Room Sources
White cabinet - bought from local seller in Illinois; painted with BM White Dove
Wooden lamps - Pier 1 (affiliate link) no longer on their website
Wooden bowl - thrift store
Ironstone pitcher - Etsy
Tobacco basket - antique/flea market
White and black striped pillow cover - Etsy
Small wooden stool with dipped legs - Serena and Lily (affiliate link)
2 tiered tray - World Market (affiliate link)
Bar stools - Target (affiliate link)
Pedestal dining table - bought from local online seller
Pendant light - boutique in North Carolina
Round jute rug - Overstock (affiliate link)
Dining chairs - Pottery Barn (years ago)
Dried seed pod - Terrain (affiliate link)
Chalkboard - DIY by me (made from old dresser mirror)
Large glass jar - Ballard Designs
Wooden buffet - bought years ago from furniture store in Georgia
Fiddle leaf fig - Home Depot
Woven shades - Blinds.com
Check out a few dining room DIY projects