Details of my Living/Dining/Entry Redo
This post may contain affiliate links, please see our policy for details.
I am just finished with my Christmas decorations and I'll share that in a few days, but I wanted to share the details of my living/dining/entry redo. This is a big room with lots of projects, so grab a cup of tea or coffee, this is a long one.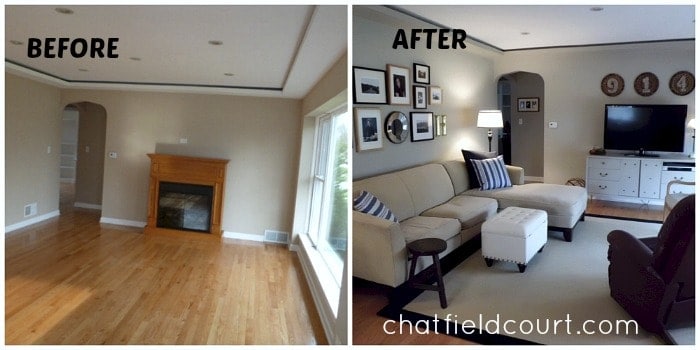 As we work our way around the room, we start with the big picture window that is dressed with the woven shades that I bought online from Blinds.com. I also put one up on the dining area window.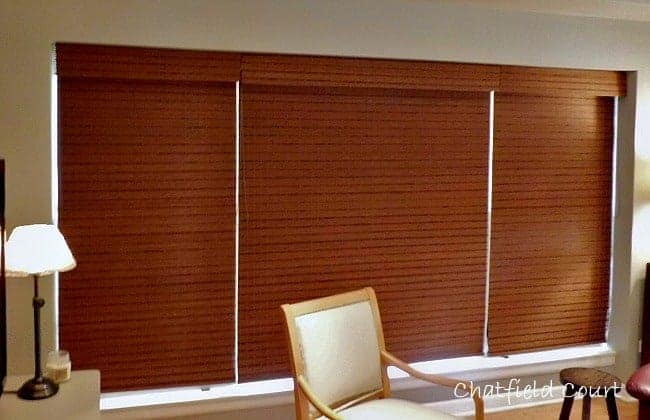 I painted our front door and dressed it up with painted faux crown molding. Such an easy project to do and it made a huge difference with our plain front door.
I also made the coat rack out of an old piece of wood and hooks that I bought at Pottery Barn.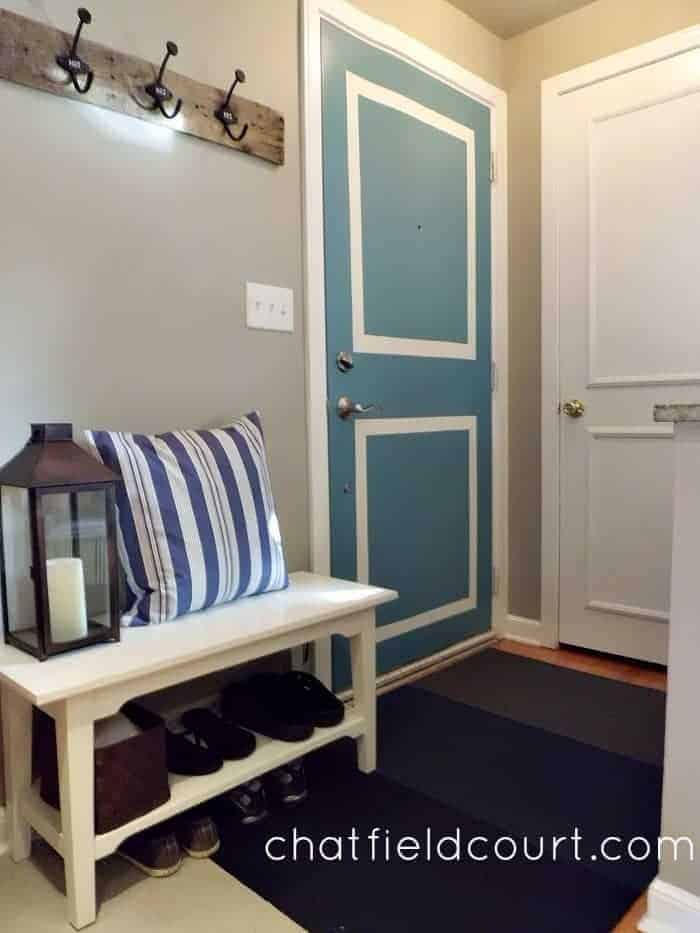 My husband built, and I painted, a cap for the knee wall that separates the entryway from the dining room. The wall had a green piece of marble covering it that did not match the color scheme in the room.
We put the cap on so that we can remove it without any damage, if we ever want to.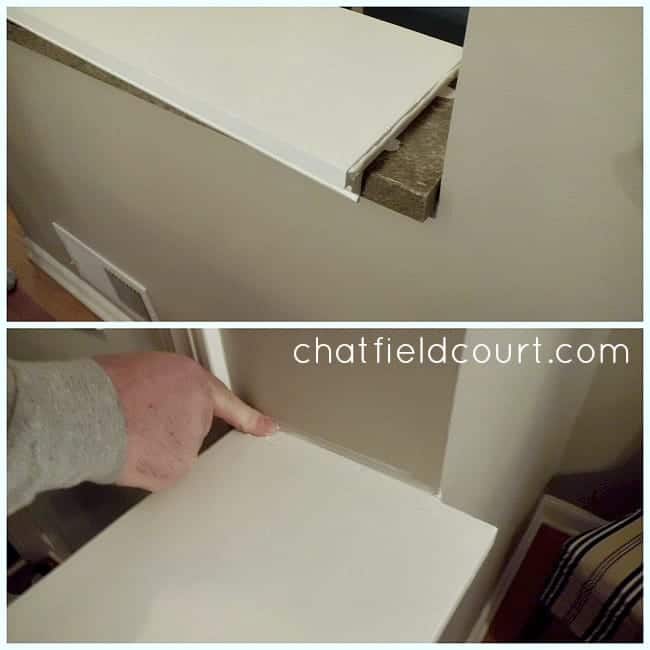 The biggest difference in this room is the painted walls and molding. It went from a swine beige to a soothing gray, using Benjamin Moore Thunder on the walls and Benjamin Moore White Dove on the molding.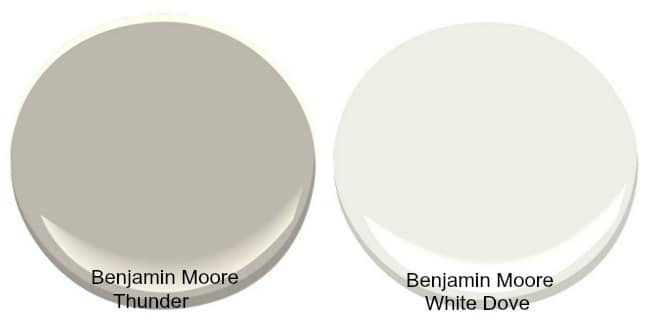 Picking a paint color for this room was especially difficult because it is a north facing room. I must have put 15 samples up on the walls in all different locations and BM Thunder was the only one that didn't have any noticeable red or blue undertones, just a really clear gray. It does seem like it would be dark, but it's not.
This, and my bathroom that I finished before this room, is the first time I have ever used gray and I am loving it. I did make one huge mistake with the paint and ended up repainting half of my room. I bought one gallon of paint and started the room (for some unknown reason, I thought I wouldn't need more than that in this 16×30 room….um, duh), only getting halfway done before I ran out. I got a second gallon and continued, thinking that it would match with the color from the first gallon.
Well, I'm sure by now you figured out what happened. One color was darker than the other…by a lot…as in really noticeable. I ended up going back to Benjamin Moore and getting another gallon, they gave it to me for free because they said it should have matched perfectly, and repainted half of the room…again. This time it matched! Lesson learned, if you are sure that you will need more than a gallon of paint, buy a 5 gallon bucket and mix the paint together in it so you have consistent paint color throughout your room.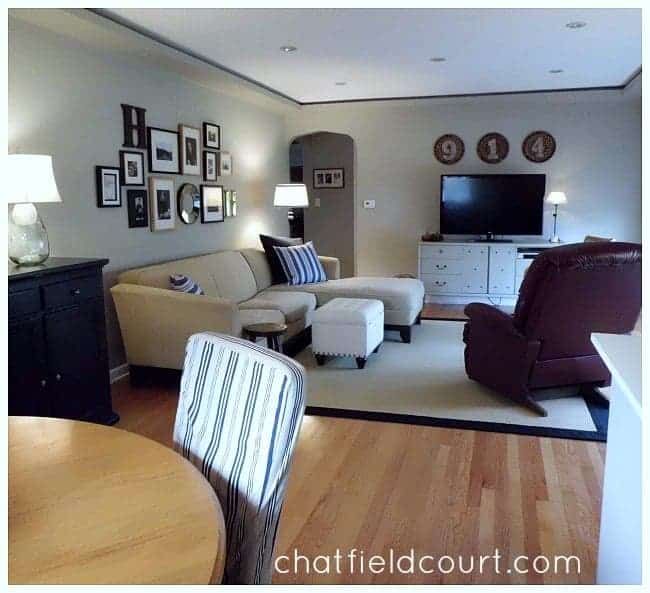 I bought a new rug for the seating area, at Home Depot for under $200, and I replaced the electric fireplace with a painted dresser made into a media cabinet. The artwork above the tv is just woven chargers that I painted numbers on. Such an easy project to do.
I also put up a gallery wall, I used the wrapping paper from moving as my templates. Besides the media cabinet, no new furniture was bought for this room, I reused everything I already had.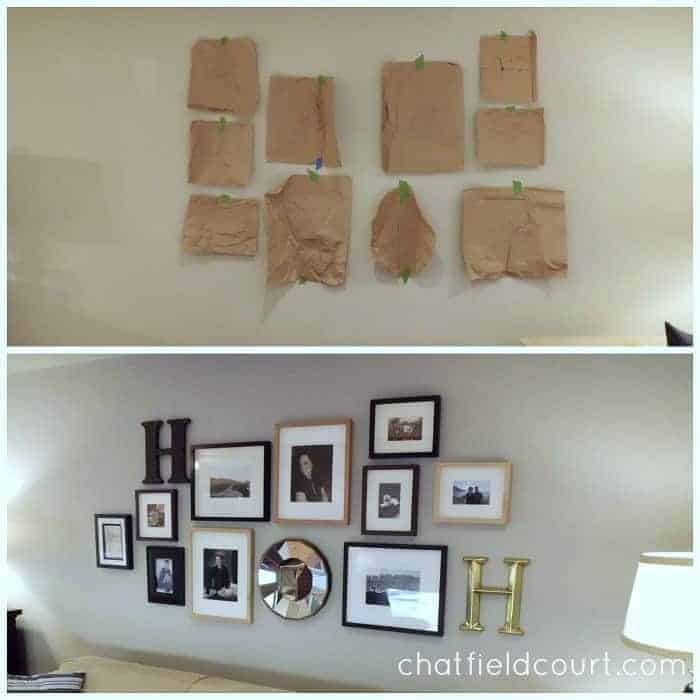 Another project I tackled reupholstering a chair that I've had for years. It wasn't an easy project but I did get through it.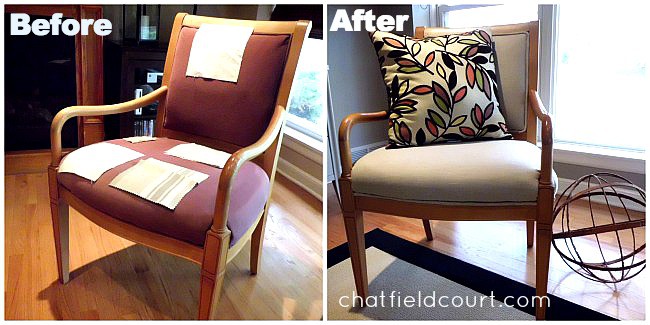 We also put in two new light fixtures in this room, the boob light in the dining area and the light over the front door. There was actually no light above the door in the entryway, just wires and a hole with a plate over it. It was an awkward spot for a light because of the ledge that was built-in around the ceiling, but I ended up finding a light Lowes that was just the right size for the spot. The boob light over the dining table was replaced with a lantern type fixture from Overstock, that I used oil rubbed bronze spay paint to change it up a bit.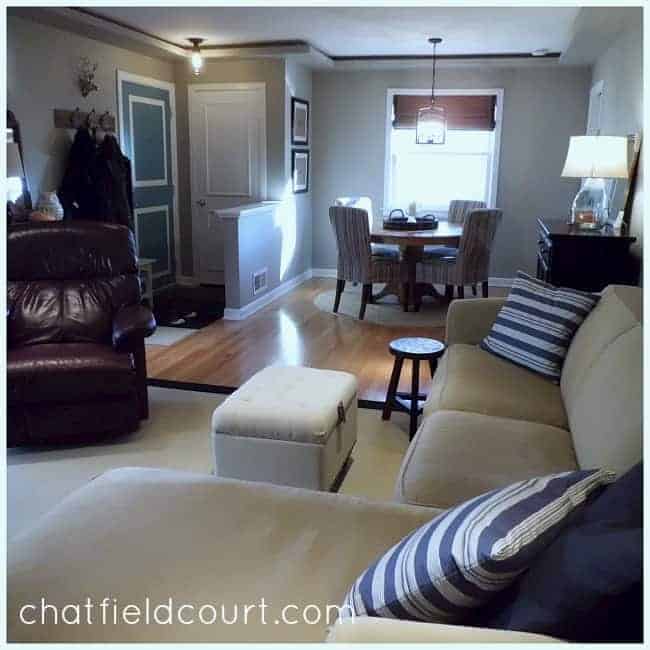 That's about it for this room right now. All included, it took me about 5 weeks to do everything.
There are a few projects that I still want to do like:
crown molding around the ceiling, where the ledge meets the ceiling
new front door with a window in it (to bring some more light into the room)
refinish my dining table (will do that in the spring)
What projects are you doing now?