DIY Mason Jar Sconces on a Barn Wood Door
*As an Amazon Associate and member of other affiliate programs, I earn from qualifying purchases.
How to make DIY mason jar sconces on a barn wood door for your outdoor deck or porch.
Several weeks ago I went to the Kane County Flea Market and left with an old, chippy paint barn door. I had the perfect outdoor project in mind for this great find.
We have a small(ish) deck that has limited decorating space. I've wanted to hang things on the house to decorate a bit but the walls are brick.
The hubs won't let me drill into them (not that I blame him), so this old door will be the perfect hanging spot.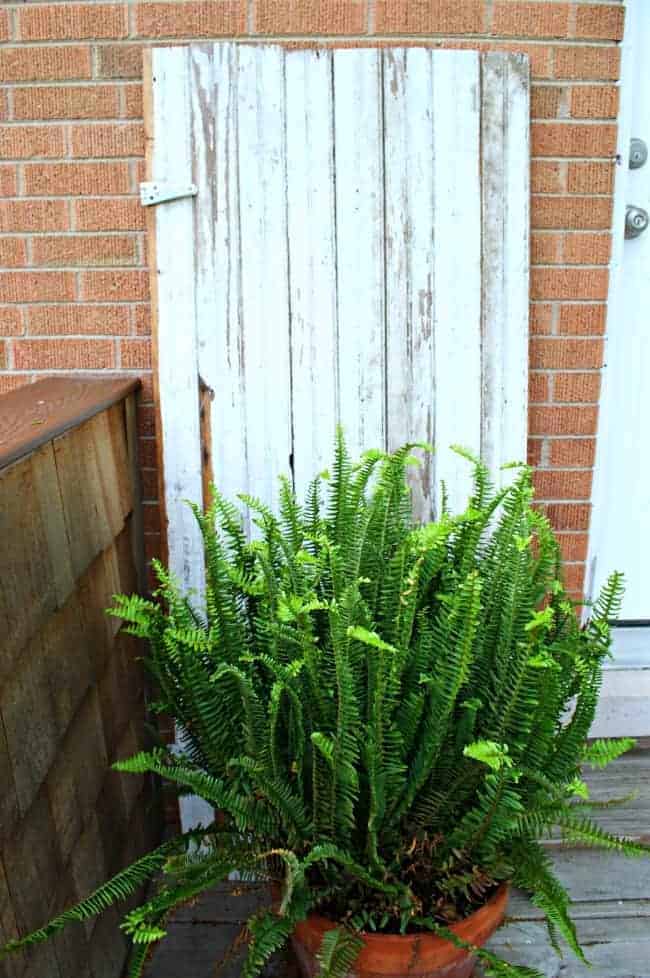 I would have liked to have found an inexpensive tall door but that didn't happen so I added some height with copper rods the hubs got from work.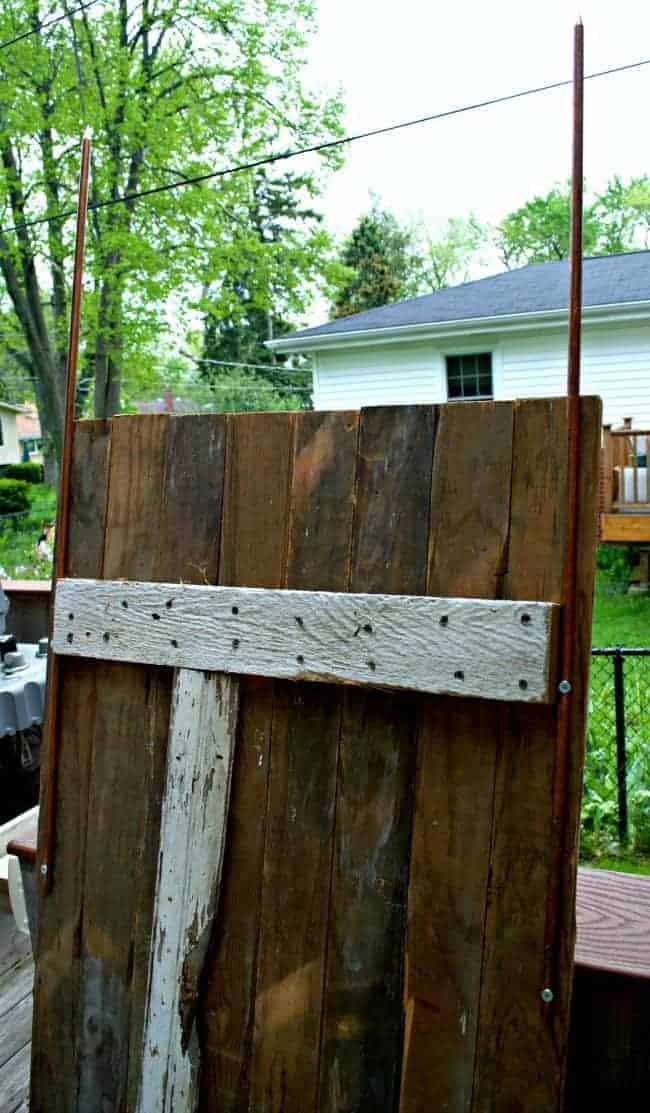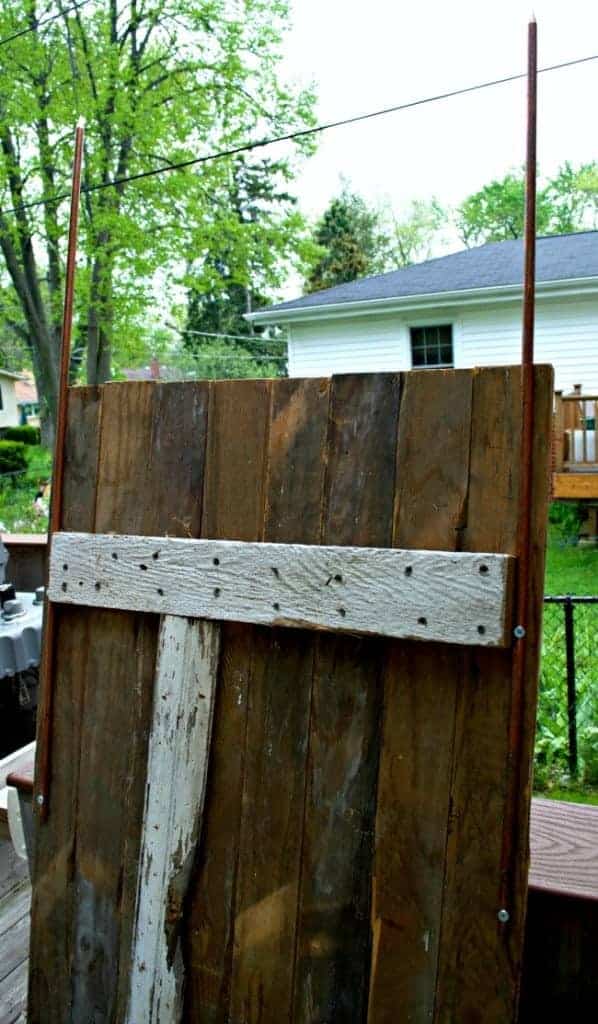 I just drilled 2 holes in each pole and screwed them to the door.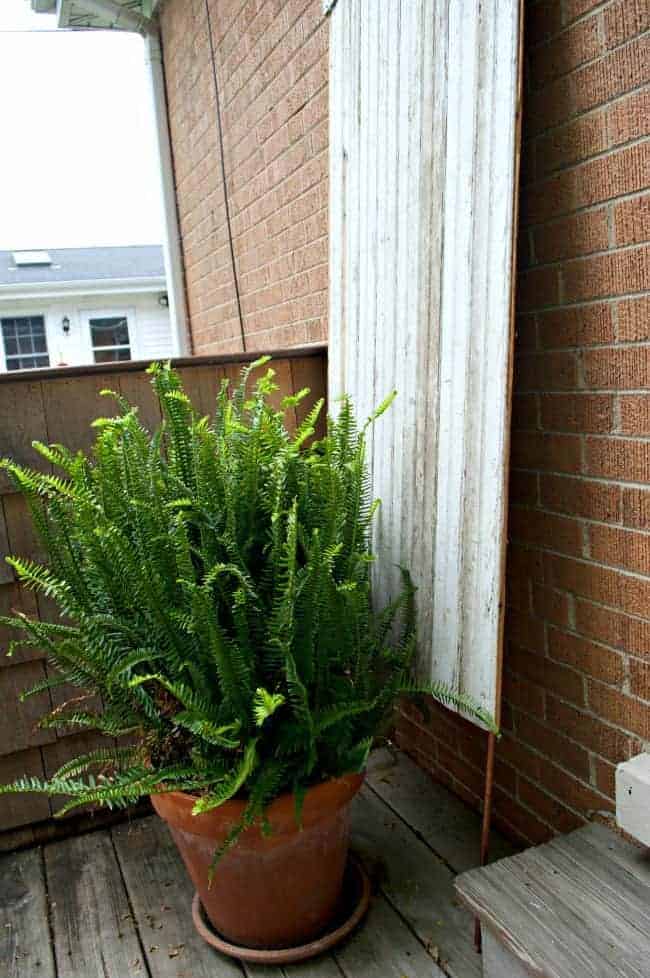 Now it was time to figure out what to put on my tall beauty.
My first thought was to hang candles using some kind of jar. I've seen all of the hanging candle jars in the stores but I wanted to try to do something different and make my own so I picked up two different sizes of mason jars, gold metallic spray paint and frosted glass spray paint.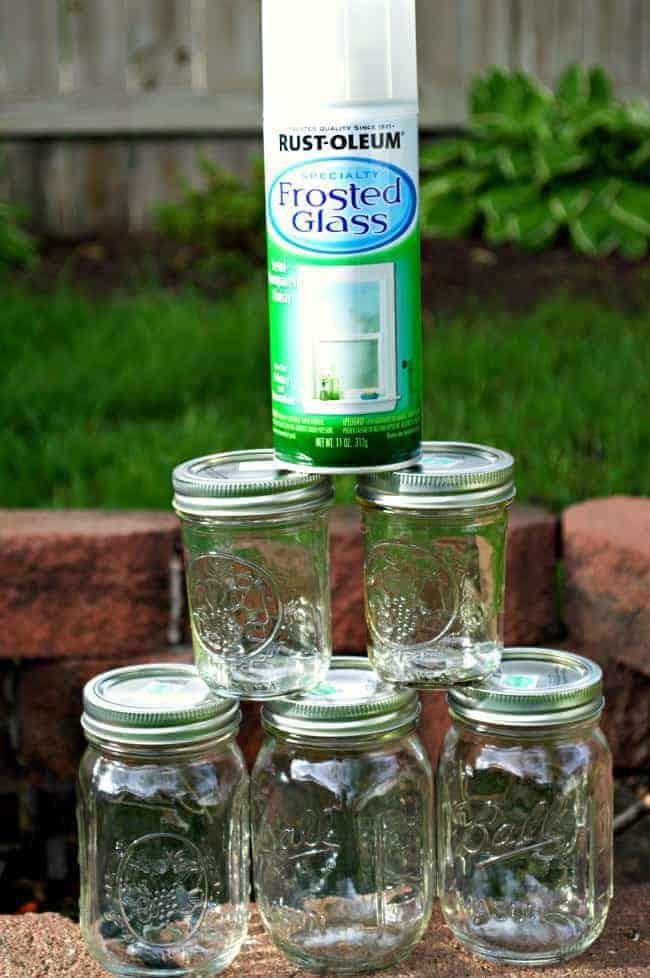 I just taped off the jar so only a portion of the bottom was exposed. Then I sprayed them with the gold metallic paint. To get the crisp line I was looking for, I carefully removed the tape right after I painted it, while the paint was still wet.
Once the gold paint was dry, I sprayed the whole jar with the frosted glass paint.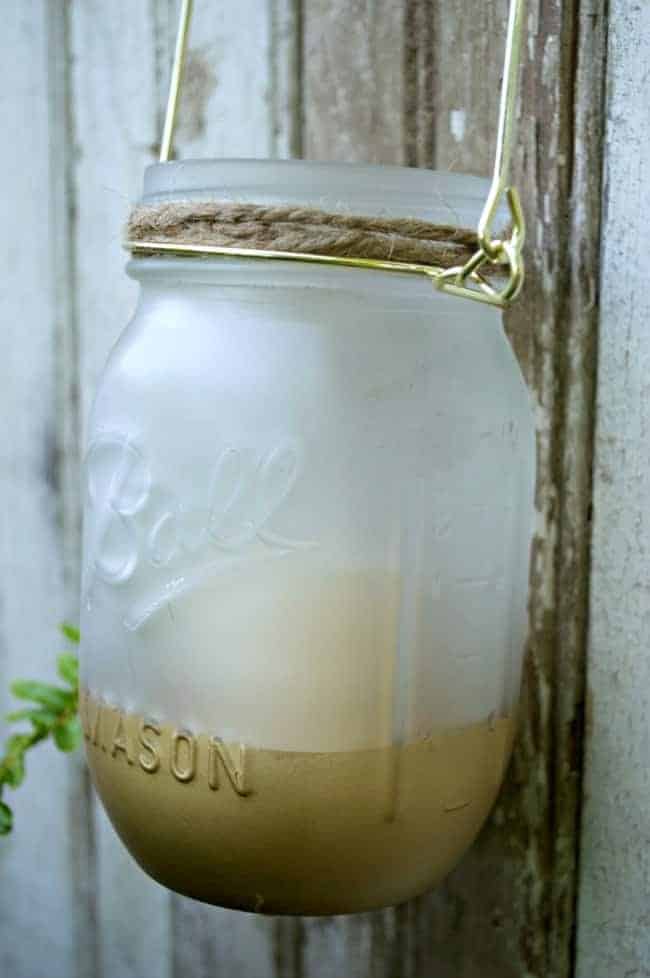 I originally bought wire to make my own hangers but I saw ready-made ones in gold in the store so it was easier to use them. I also added a bit of jute twine just for an extra touch of rustic texture .
The hooks to hang the jars were a bit harder to find. I wanted something chunky so I searched Home Depot for something to make myself. Home Depot didn't disappoint. I found some 2″ rigid straps for $1.04 each.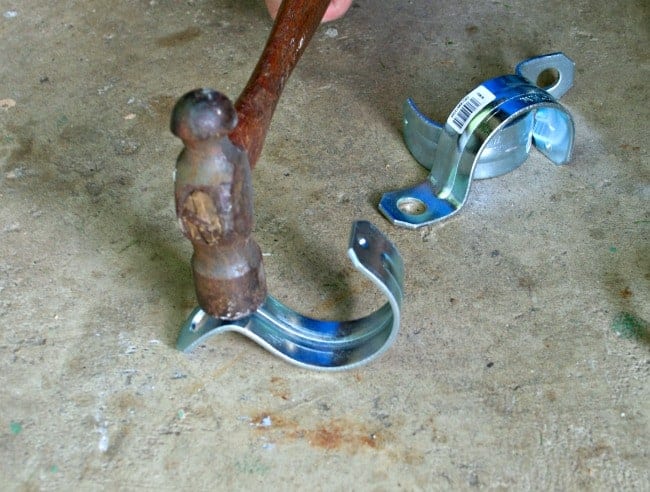 I just hammered the end with the hole so I could hang it flat on the door…instant hooks.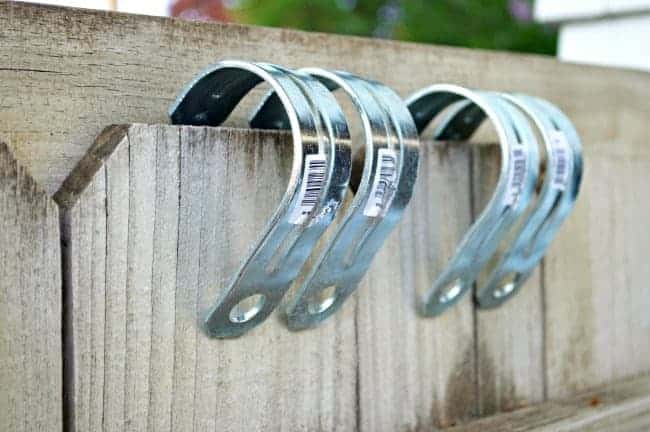 To give them that rusty, rustic look I used a multicolored textured spray paint (after I primed them of course).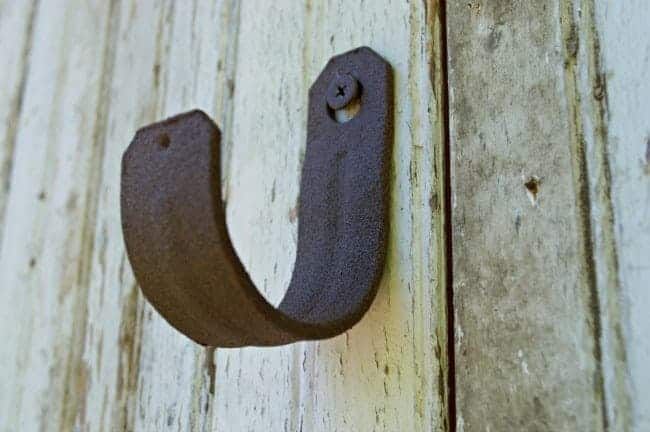 With everything painted, dried and put together, I hung the homemade hooks.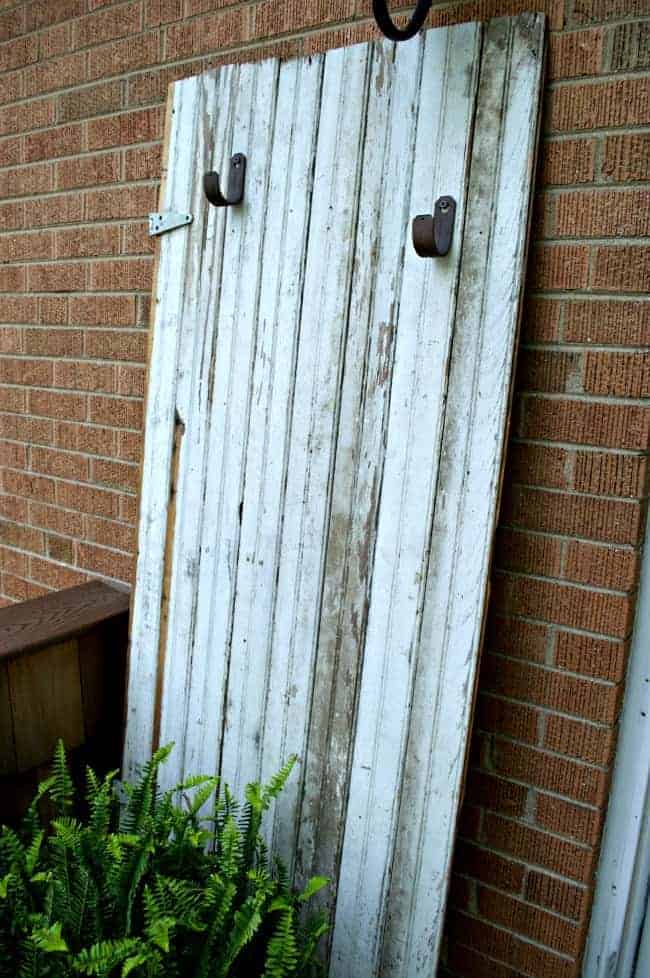 So, while I was putting this all together I had an idea to hang a little something different on the door, to be specific I wanted to use a cactus in a glass ball. Naturally I thought that I wouldn't have any trouble finding what I needed.
Oh was I wrong!
The problem is that once I get an idea it's hard to let go, so I ended up driving to 4 different stores looking for a glass ball until I finally found one, hiding on a shelf behind some fake plants.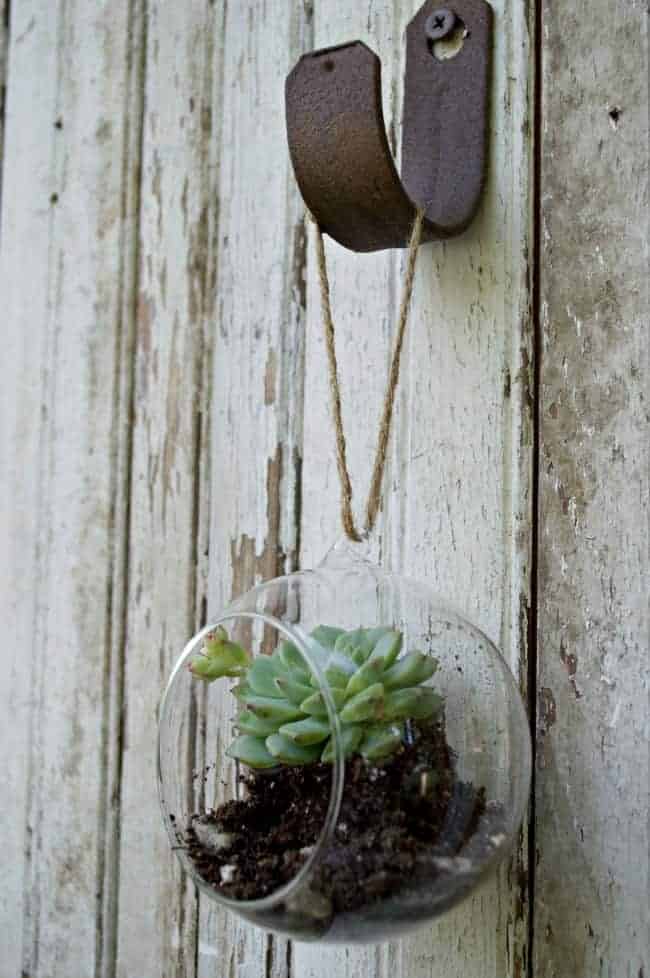 I'm not sure how well the cactus will do but I'm going to try to keep them alive.
Can we talk about those hooks? Don't they look rusty and rustic? Spray paint is amazing!
Instead of using real tealight candles, I chose battery operated outdoor candles. They flicker so with the frosted glass they look like real candles.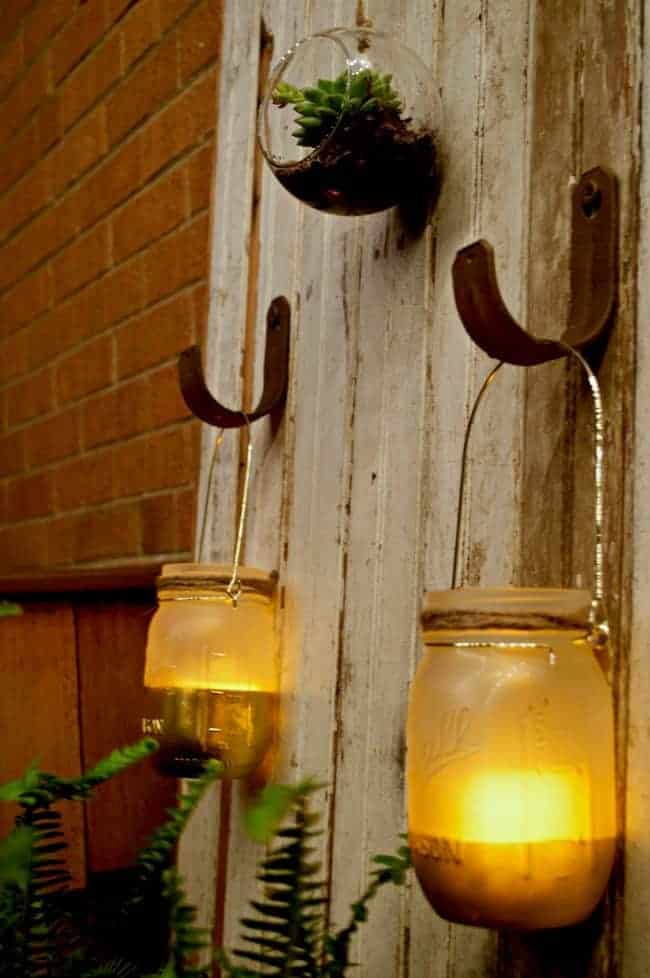 More mason jar projects