Outside (and some inside) Progress
*As an Amazon Associate and member of other affiliate programs, I earn from qualifying purchases.
Outside and some inside progress on our little brick ranch.
I am in the middle of a lot of projects right now and nothing is complete and ready to share, so I thought I would show the progress I am making on my inside projects and on our (extensive) outside to do list.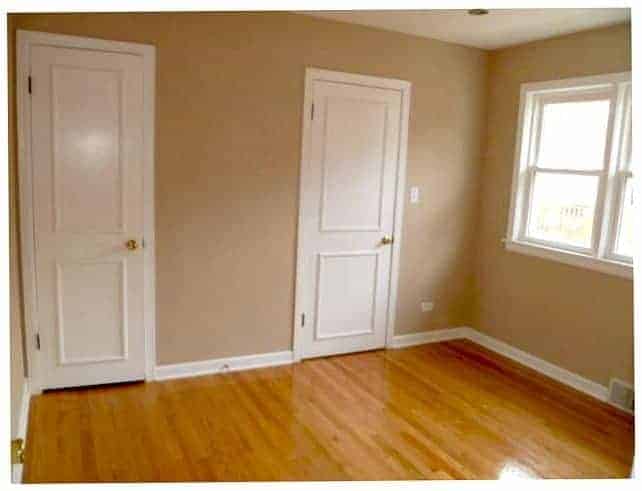 Starting with the inside, I have been working on painting the 2nd guest bedroom doors and trim. I find myself putting off working in there because I'm not sure what color I want on the walls and I need to put some kind of treatment on the wall with the water damage. Not real sure what I want to do there either. Just waiting for some kind of inspiration to hit. You can check out my (tentative) plan for this room here.
I have also been working on a little project in my living room. I just finished repainting my living room for the second time in 6 months and shared the post with a question about my media cabinet. I wasn't loving the color with the new wall color and asked for your opinion. The overall consensus was to paint it and that is exactly what I've been doing. I'm almost done painting and I'm waiting on new hardware so I'll just show you a peek (the pic is from my Iphone so it's not the best quality).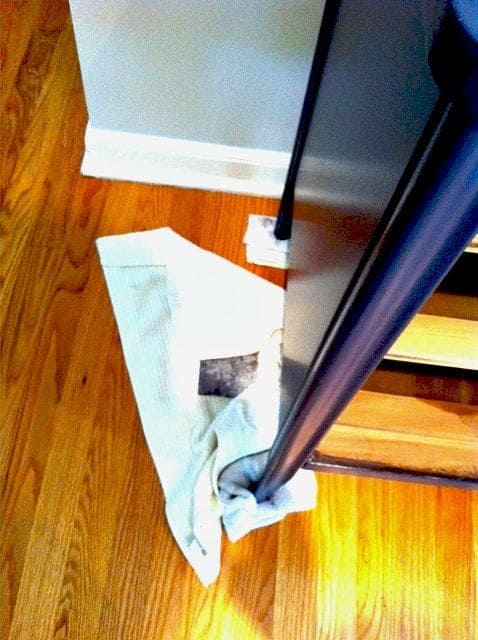 Moving outside, Mr. C² and I have been very busy. The first and most important thing we did was to fix the roof where a possum had chewed a hole and took up residence.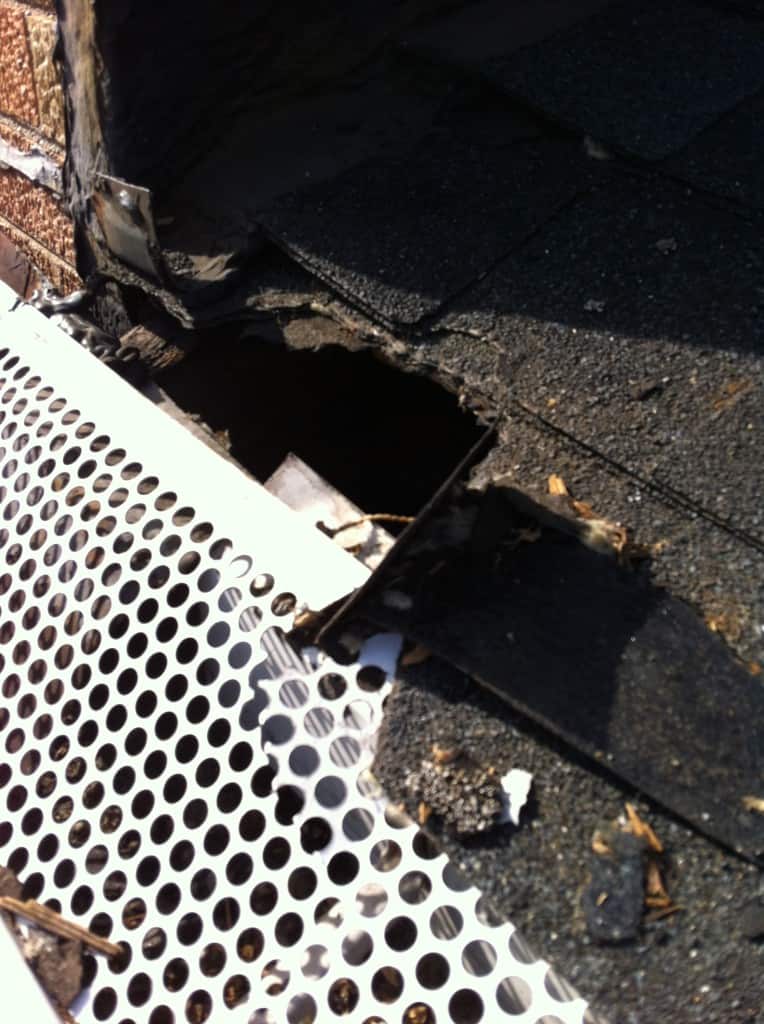 We also spent $15 and got half a yard of top soil to fix all the holes that a skunk dug in our yard. I pulled all of the bricks up that lined the flowerbed (the previous owners had 3 rows of different bricks bordering the flowerbed) and cleaned out all of the disintegrated weed barrier. We planted a few bushes among the hostas that were already there and used some of the brick we removed to build up the fire pit.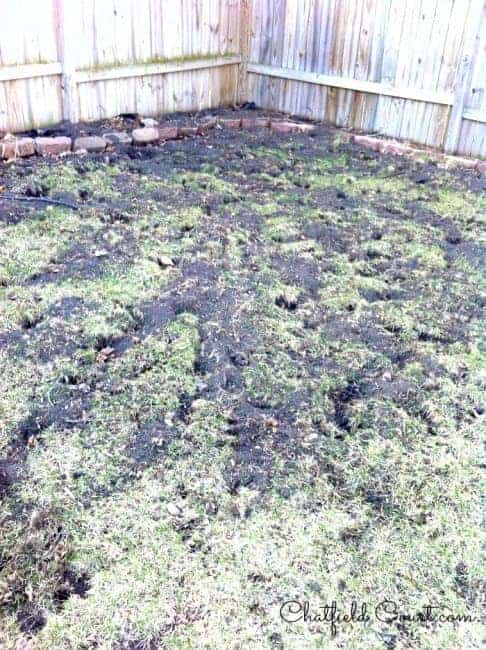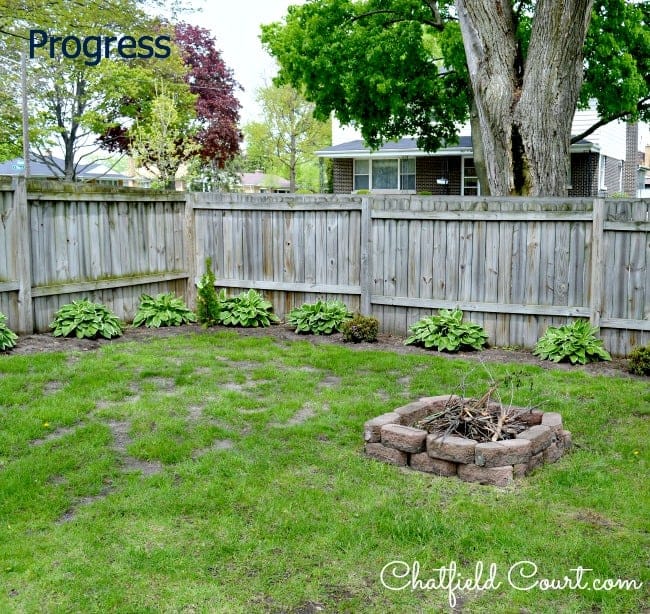 Not all of the grass is grown in but it looks so much better, plus you don't break your ankle in the holes walking across the yard. 😉 The fence needs to be cleaned and treated but we are making progress.
I also knocked down the roof thing that was screwed onto the fence. I was so excited to do it that I didn't take a before pic. Trust me when I say it was ugly. I got so sick of looking at it all winter. The wood won't go to waste because we are going to use it to cover the openings in the deck stairs.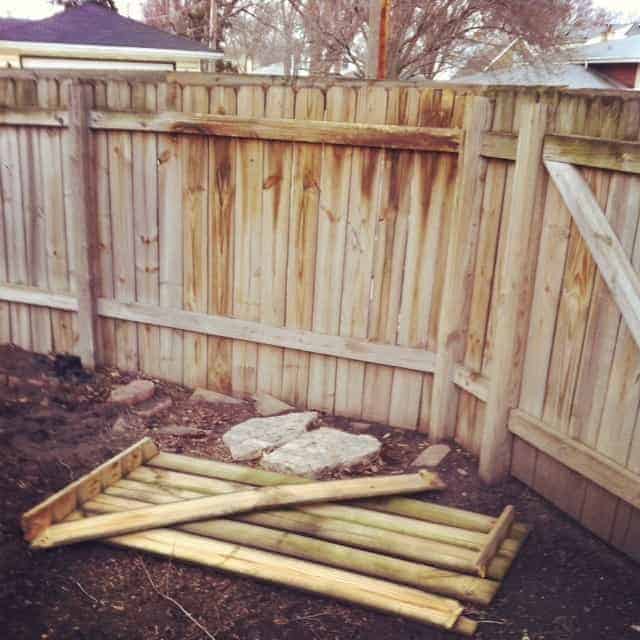 The last project I have been working on is painting the garage door, that's in really bad shape. It had mold on it and some rot on the bottom. I cleaned off the mold with some bleach and water and caulked all of the cracks. With so many projects to pay for, my hope was to fix it enough to get us one more year before we replace it. I figured to make it look a little better, I would paint it nice color and replace the doorknob, which can be used on a new door once we replace this one.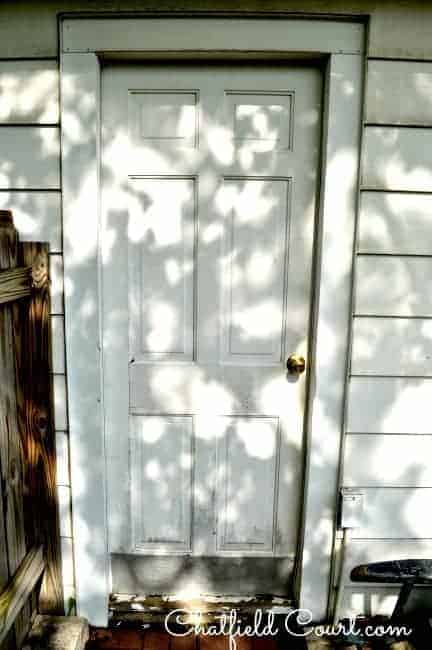 This is my progress after prep and one coat of paint, BM Stem Green. I am really loving the color and it will be nice to look at from the house. I just wish it was that easy to pick a color for my guest bedroom. 😉 I still need to give the door one more coat and then I'll scrape, prime and paint the wooden threshold that is a mess too.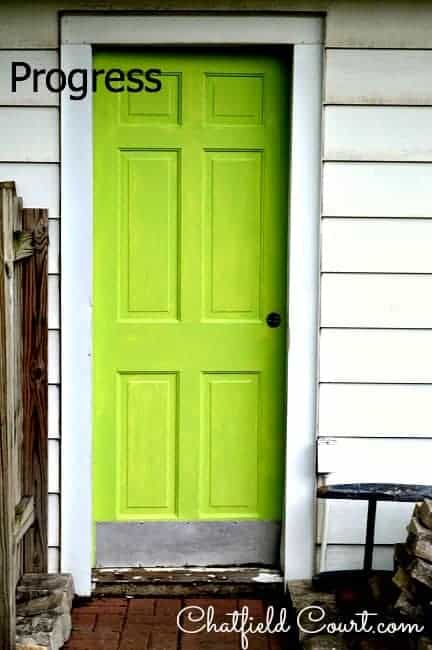 There's still a long list we need to tackle outside. We're planning on cleaning and treating the deck this long holiday weekend so I finally can get my patio furniture out.
Outside To Do List:
front porch wrought iron railing needs to be sanded and painted
the trim around the front door needs to be painted
add a roof over the front door
add house numbers
paint front door
clean up and paint mailbox
replace front light with motion light
remove all of the juniper bushes around house
plant bushes, flowers
remove bricks from around fence flowerbed
clean up flowerbed (old landscape lights and disintegrated weed cloth need to be removed)
plant some perennials in flowerbed
remove odd roof attached to fence (used for trash cans, we think)
clean and treat fence
new sidewalk from garage to house
clean up fire pit
remove old, pine tree
do something with the old shed
put rocks or mulch around a/c
clean up rocks
repair and paint garage door a fun color
add a tree swing or bed to large tree
trim lilacs
replace the driveway, maybe with pavers?
clean (and maybe paint) garage walls
replace garage roof
clean gutters on garage
put up lights on garage
scrape and paint garage door
make and plant a veggie garden
clean and refinish deck
replace warped boards on deck
fix lattice on bottom of deck
close off openings under deck to stop critters from living in there
paint back door
fill holes in yard from skunk damage
fix roof from possum damage
Yay! It feels so good to cross things off the list!
Do you ever have trouble picking paint colors? What projects have you been able to cross off your list lately?