I am ready to move onto my 2nd guest bedroom and I thought I would share our plan for it and a mood board. I only have two more rooms to do in this house, the kitchen and this bedroom. I purposely saved these two rooms for the end because they are going to be the most difficult to do. You can check out my other room reveals here, here, here and here.
This not so good picture was taken on the day we moved in. The door on the right is to the kitchen and the door on the left is the closet. I am standing in the doorway that leads to the bath and other bedrooms.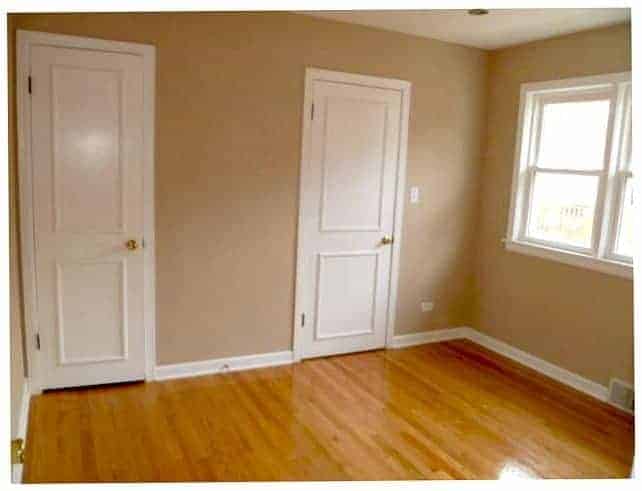 Besides being small, this bedroom has some big challenges. The first problem is that it has 3 windows and 3 doors in it. It is also a walk through room that connects the bathroom and bedrooms to the kitchen. If we had kids living at home this might be a larger problem but since we don't, we just keep both doors open all of the time. Because it is a small room and we do use it as a walk through, there is no room for a standard bed. When we lived in Florida we had a similar type room and ended up getting a futon to use. It worked out well because we used it as a couch, and when we had guests, we could unfold it to make a bed. It is not the most beautiful piece of furniture that I own, but it does serve a purpose and it is very comfortable. I have been looking at daybeds and futons for a long time, and I have yet to find something that I love and that fits our space, so the one I have is staying for now.
The second problem we have is that the window wall has some major water damage to it. The chimney is on this wall and we think that water has seeped through the bricks by the roof and caused efflorescence, which is a chalky white residue, to appear on the wall. It is easy enough to remove with some hot water and a rag, but figuring out exactly where the water is coming in and stopping it is another thing. I have already removed some of the plaster that is damaged to see what  is underneath but that's as far as I got. I think we may need to go all of the way to the studs to make sure there is no mold in there. Ugh.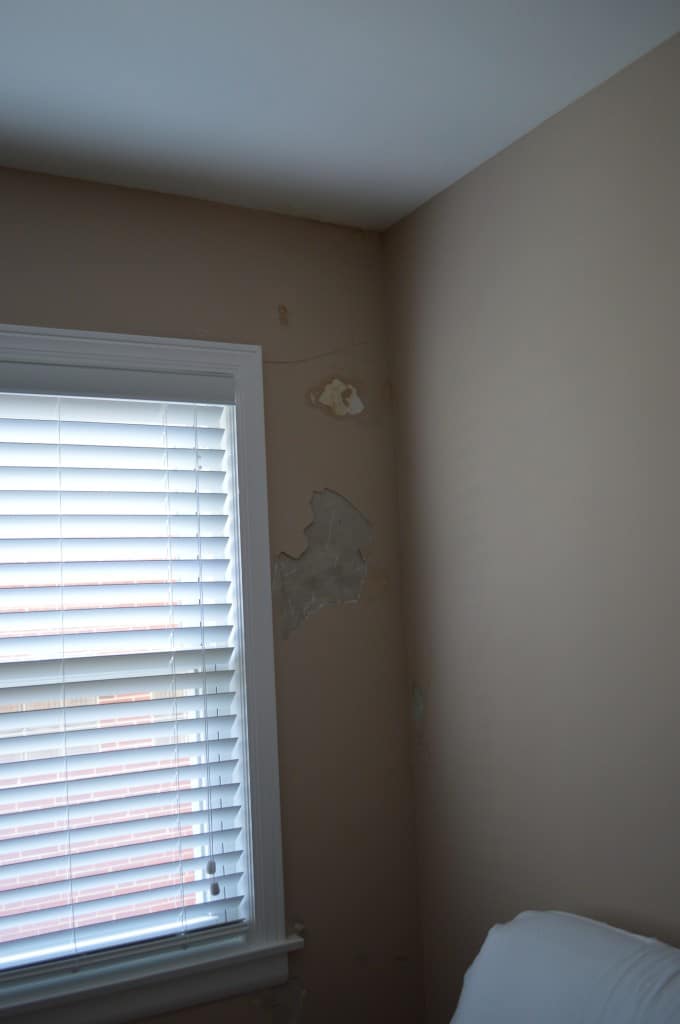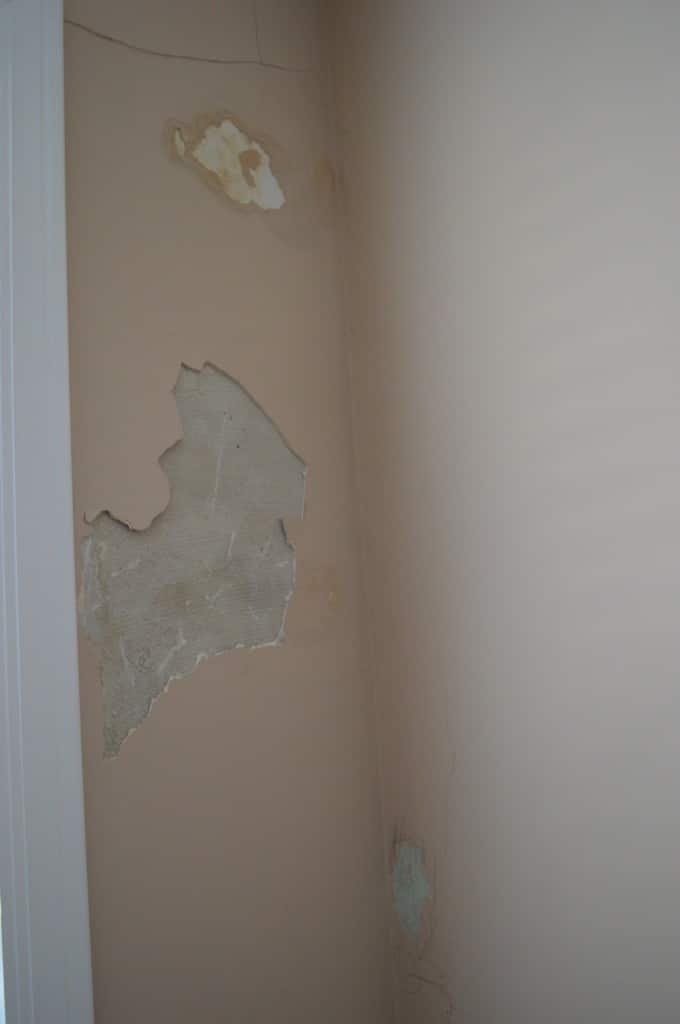 Instead of worrying about patching the wall perfectly, I thought maybe we would try to use wood to make a planked wall. I would probably end up painting it because I have a large antique pine armoire on the opposite wall that is staying and, because the room is so small, I'm afraid that the pine of the armoire and the bare wood of the plank wall would close the room in. I'm still up in the air about the color too. I have a wool rug that I want to put in there and it has green in it so I could go with a pale green or just go with white. Most of the color in the room will come from pillows and accessories.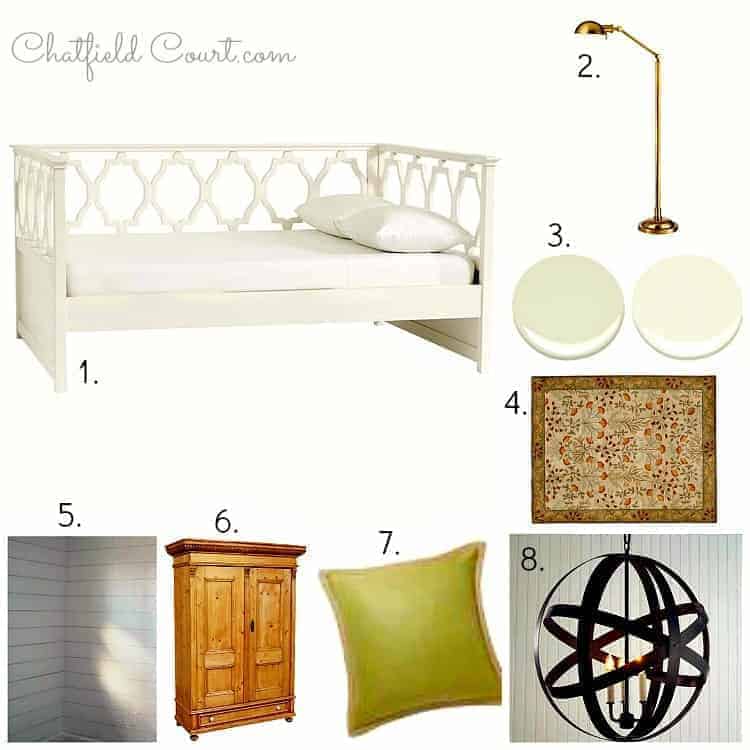 This is not the bed I have but I really like this daybed, unfortunately we need a full size and I think that it will be too big for the space.
There isn't space for end tables or night stands, so I have to do a standing lamp for extra lighting. I'm liking something brass for this room.
The paint colors I have picked out are BM Silken Pine and BM White Dove. I'm not quite sure which one I will choose for the walls. I will paint the trim and doors the same BM White Dove I have painted throughout the house. I may end up painting the walls in White Dove and the ceiling in Silken Pine or vise versa.
The wool rug is the Adeline rug from Pottery Barn (not an affiliate link).
The wood plank wall that I would like to do on the damaged window wall.
I have an antique pine armoire that I bought years ago when we lived in Macon, Ga. Love this piece.
Since the futon cover is white, I want to bring in some color with pillows. I like the Jute Braid Pillow in Citrus from Pottery Barn (not an affiliate link; it is no longer sold in this color).
I have one remaining boob light in this house. I would like to replace it with something like this. (not an affiliate link)
Now I just need to get moving on this room, when all I really want to do is go outside and work in the yard. 😉
I never heard of efflorescence before we bought this house. Have you? For those in the know, any tips?
I hope you all have a very Happy Easter weekend!
I am now on TWITTER.   Come and check it out! You can also see me on FACEBOOK and PINTEREST.