Small Living Room Makeover
*As an Amazon Associate and member of other affiliate programs, I earn from qualifying purchases.
I've lived in a few homes with a small living room before, but the one we're living with now definitely takes the cake.
Not only is it teeny tiny but it has a very awkward layout.
The front door opens up right into it, as well as a guest bedroom and the basement. Really, we only have one "good" wall to put our furniture on but that's being generous.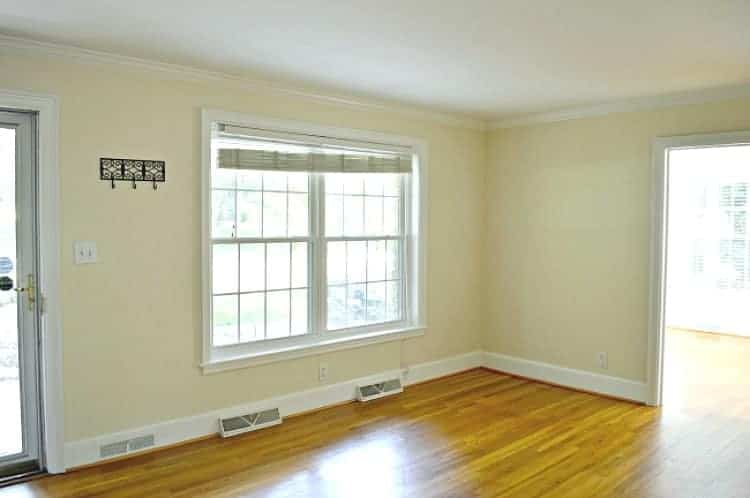 There's not much we can do to change the layout, so we need to make little changes to add comfort and functionality for our family.
Of course by little changes I mean paint and and decor, things that don't require major construction. That's just what we did for this living room makeover.
I've already shared a few of the projects and improvements we've made during the living room makeover. Now that all of the projects are done, it's time for a final reveal.
Before we get to the reveal, let's look back at the improvements we made.
A long overdue improvement was the DIY fireplace mantel. This one was a must-do because it's the only place we could put our behemoth tv.
Men and their tv's.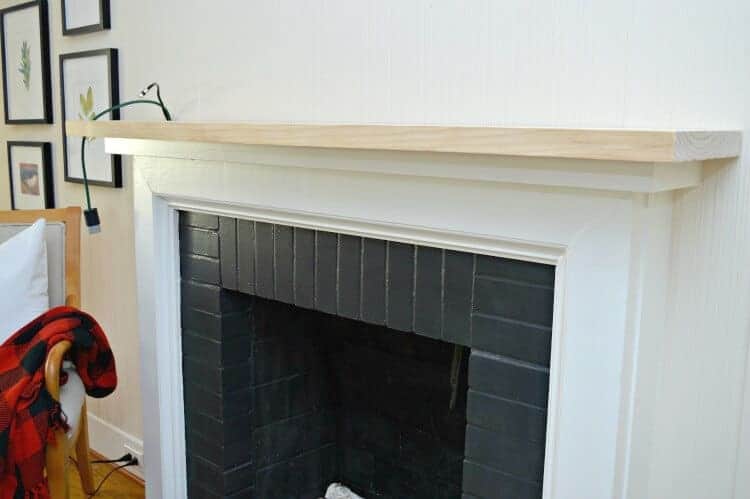 Once we finished the mantel, I did a quick and easy makeover on the fireplace.
Now we just need a thorough cleaning of the chimney and we can actually have a fire in it.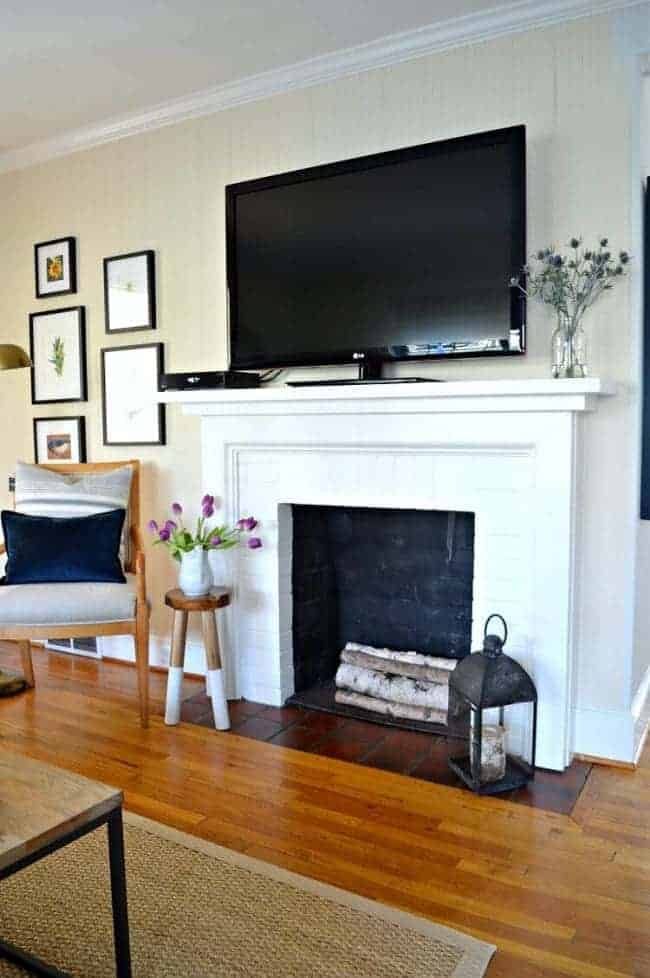 Next, it was time to tackle the disgusting basement door.
We switched it out for a door that we found in the basement and now it looks good as new, especially with the new glass doorknob.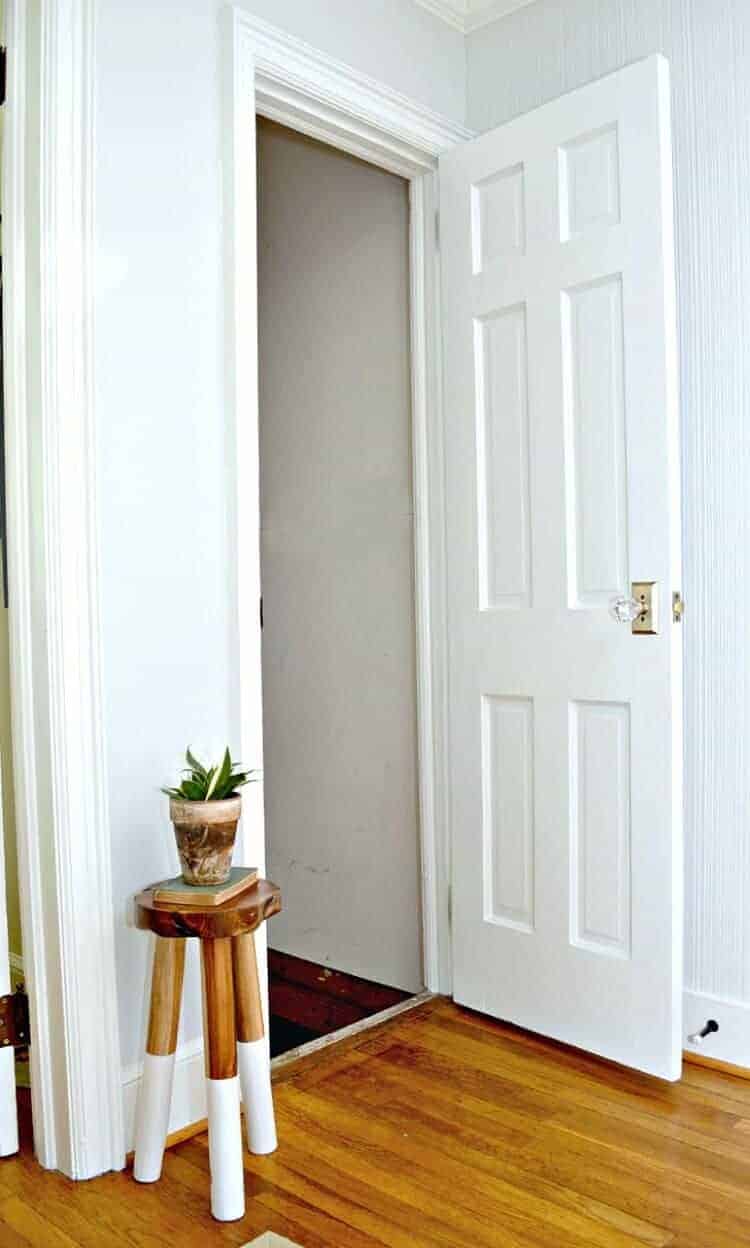 The side of the room with the fireplace was looking pretty good so it was time to move over to the window wall.
After I painted the wall (we'll get to that in a minute) I could see that something was missing. I am so not a curtain girl, but adding the DIY curtain rods and new sheers was the right thing for this space.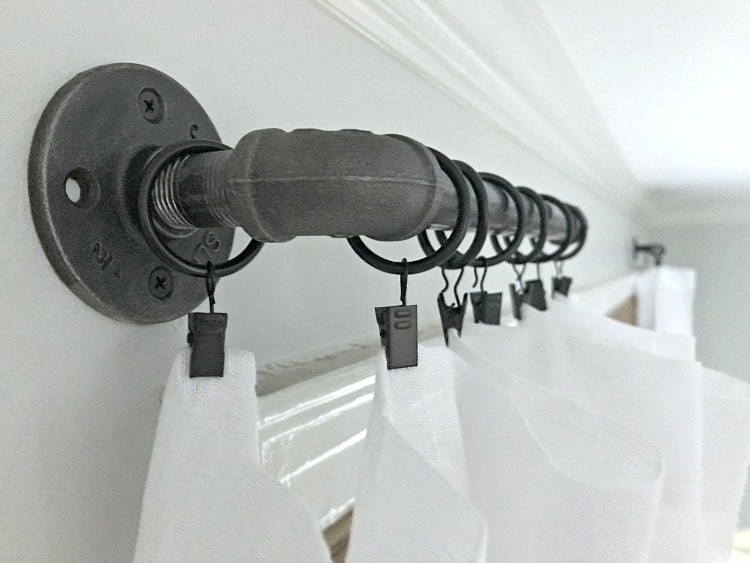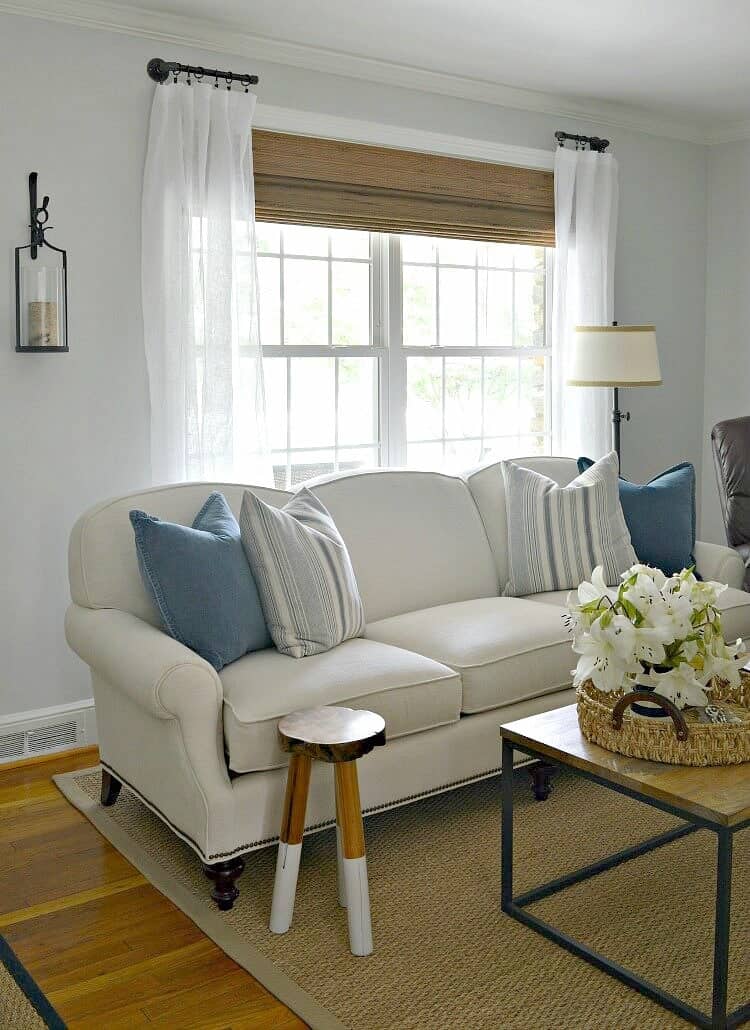 The last project crossed off the list was painting the walls. I ended up painting a wall at a time, when I had time, so it took a while to finish.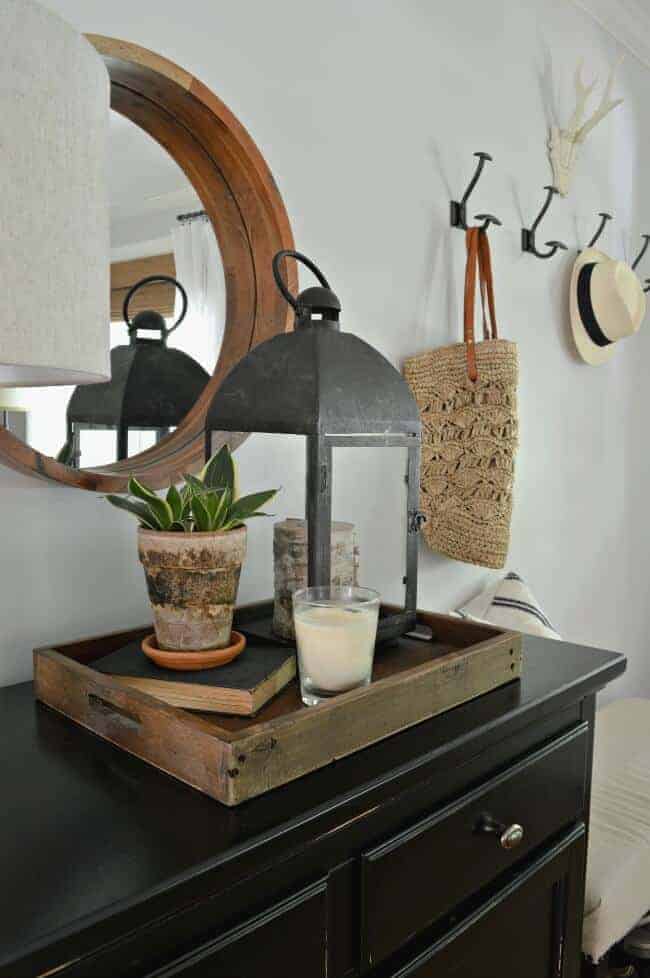 I ended up using the same paint color that's in the kitchen and dining area, Benjamin Moore Paper White.
We did consider trying a different color, but the living and dining room are connected so this made the most sense.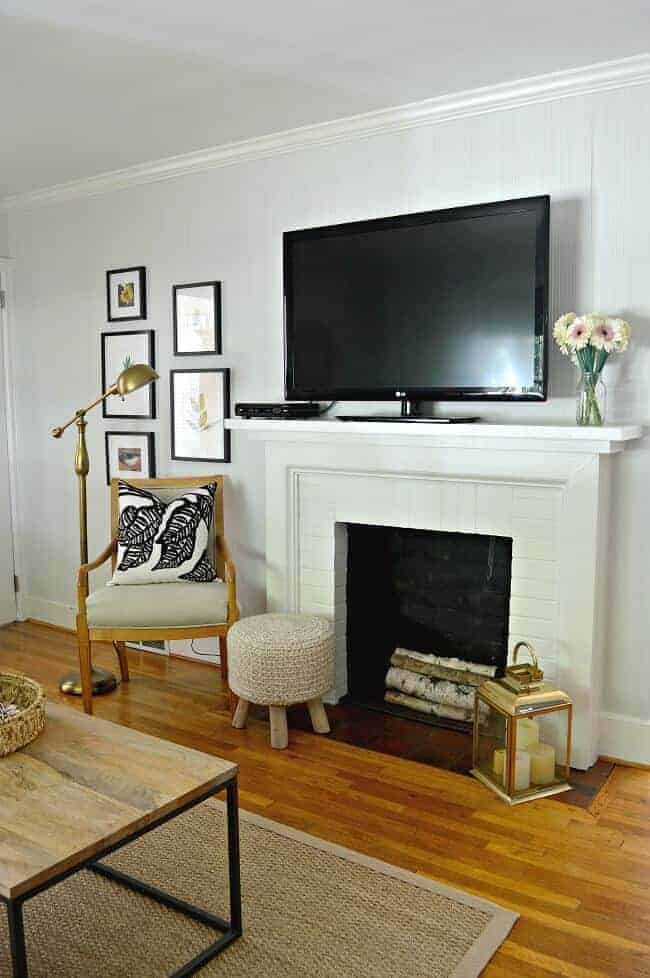 It's amazing what a few changes can do to a room. When we moved in last year there were gaping holes all over the yellow walls and broken window blinds.
Now I feel like we've created a space that is comfortable and cozy…more "us".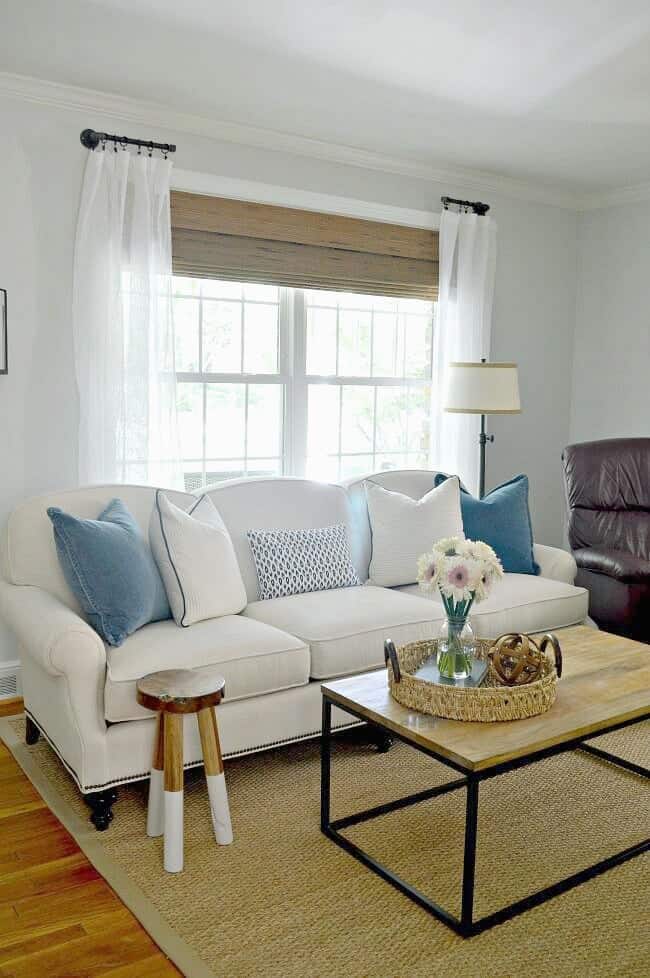 Sometimes it's hard to see what a small, awkward space could look like when there are so many projects to do. I think that this one turned out just fine.
We're onto the next project and it's a big one.
What are you working on now?
Living Room Sources
All black pipe and curtain rings – The Home Depot
Linen sheers – Crate and Barrel
Coffee Table – West Elm
Wooden stool with dipped legs – Serena and Lily
Blue Washed Velvet Pillow Cover – Pottery Barn
Floor lamp – Pottery Barn
Striped Pillows – Etsy
Round woven tray – Target
Woven Shade – Blinds.com
Sunburst mirror – Target (from a few years ago)
Black cabinet in entryway – Pottery Barn (bought years ago)
Round wood mirror – Home Goods
Black Lantern – Terrain
Wall hooks in entryway – Restoration Hardware
Wood tray in entryway – West Elm
Brass floor lamp – Home Goods
Brass lantern – Pottery Barn
Knit ottoman – Grandin Road
Black and white pillow cover – West Elm
Sofa – the Holmes sofa by Taylor King (bought at the Furniture Mart in Hickory, NC)
Make sure you also check out the kitchen and dining area makeovers.