*As an Amazon Associate and member of other affiliate programs, I earn from qualifying purchases.
Cottage summer porch decor and a Summer Festival Blog Hop.
One of the best features of our little stone cottage is our covered front porch.
It's the first house we've ever had with a porch like this and, even though it needs a lot of work, we use it and love it.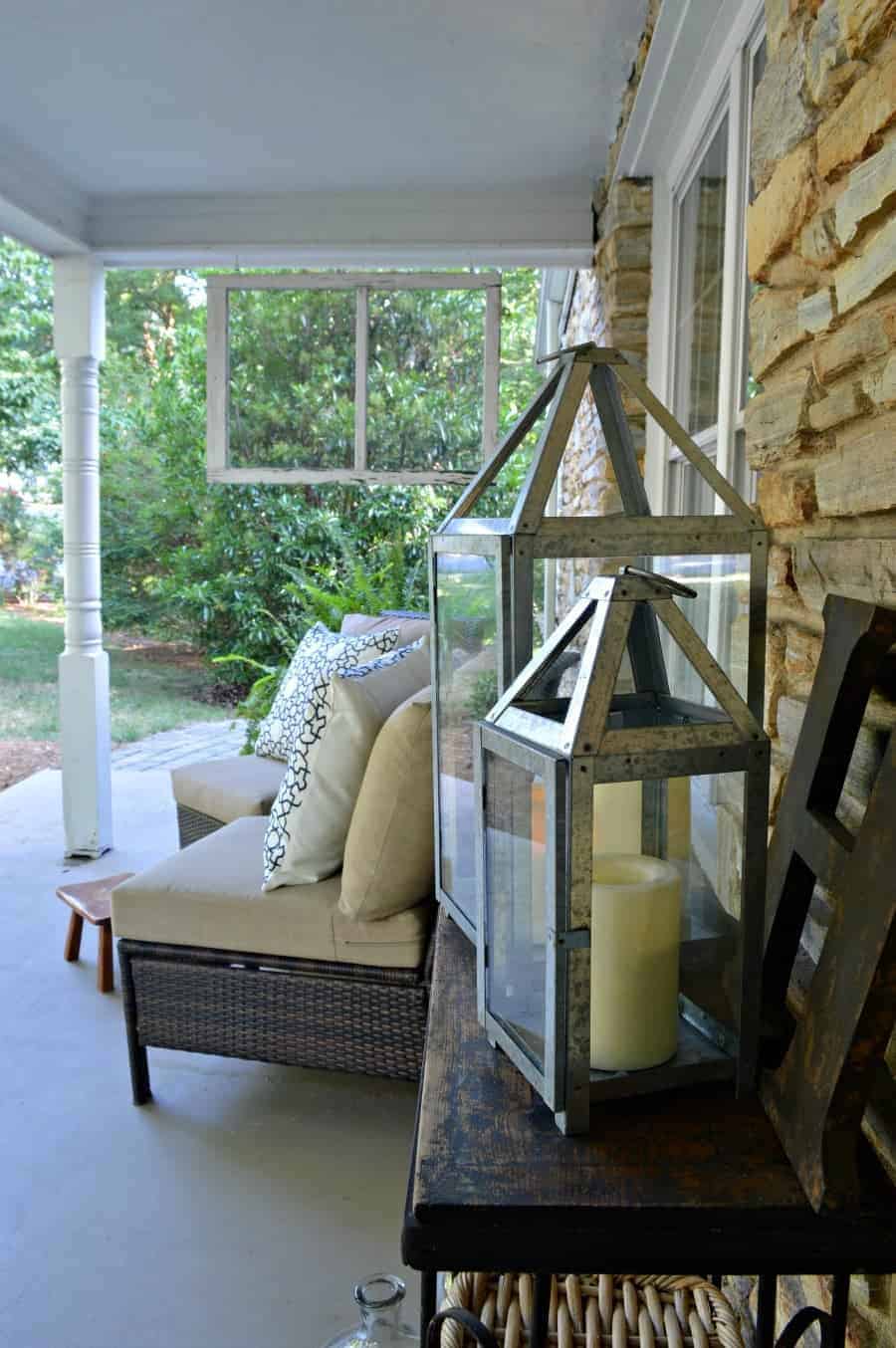 It seems that our 1946 cottage was not well cared for by previous homeowners so there is a ton of rotted wood, that was painted over (so not cool), and a sagging ceiling.
I'm so excited to be joining in with Kendra, Joy in Our Home, today for her Summer Festival Blog Hop. 24 awesome bloggers will be sharing their summer homes, as well as recipes, all week long so make sure you come back to see all of the goodies.
If you're new to Chatfield Court, and even if you're not, welcome! I'm so excited to share my summer porch decor with you today!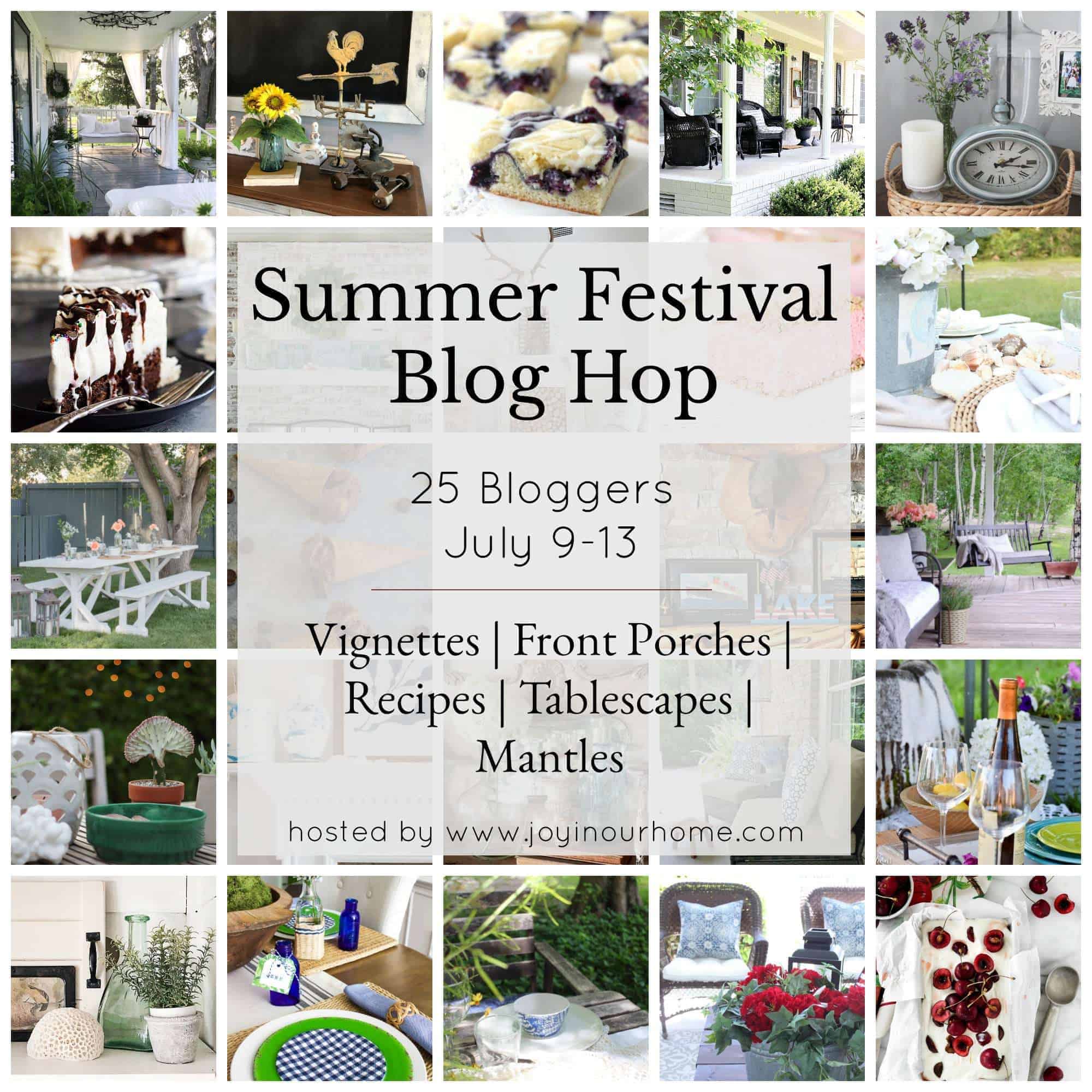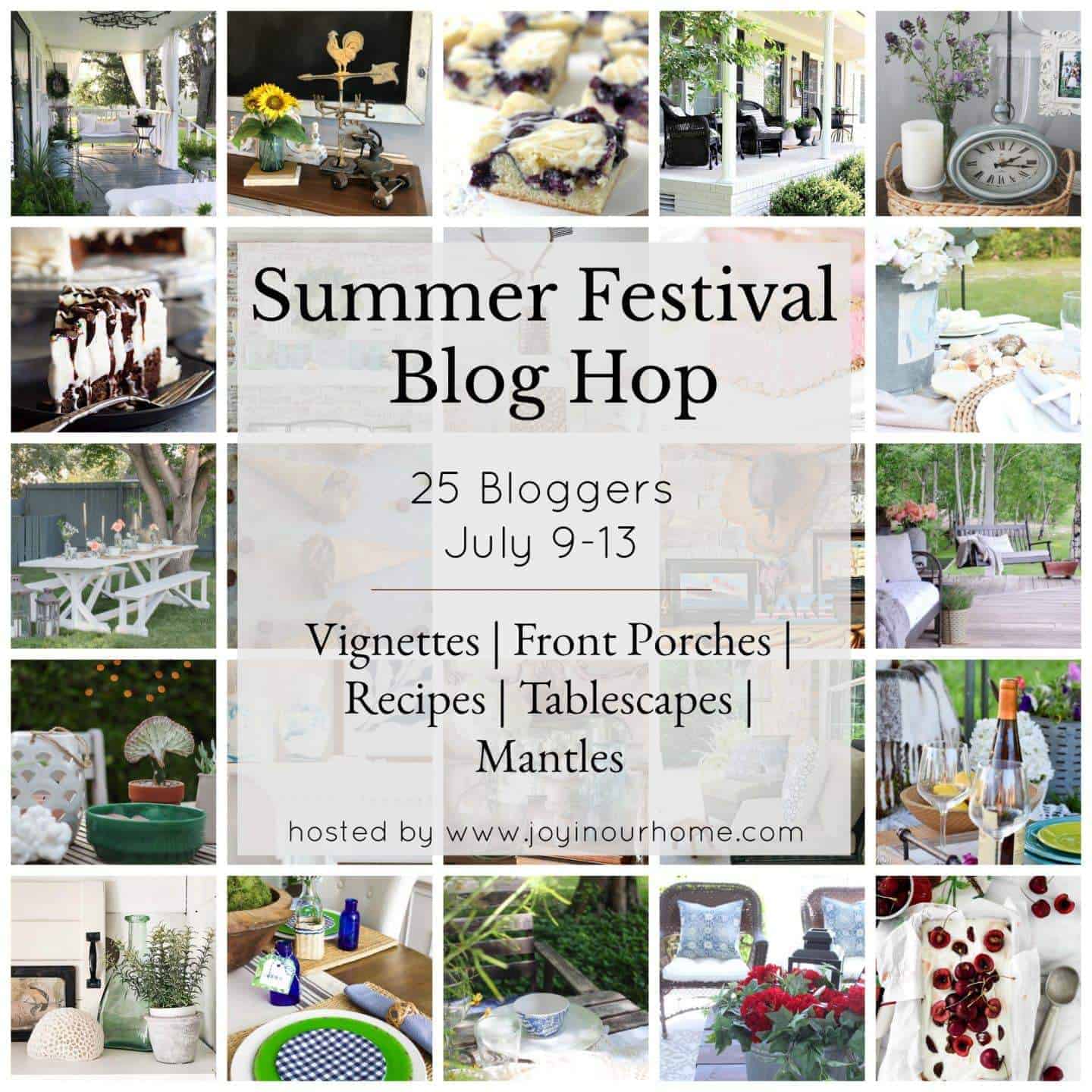 Unfortunately the whole roof will have to eventually come down, hopefully before it collapses.
We have grand plans to build it back up though, and better than ever. Our Minnie project is taking all of our time right now so it'll be awhile before we'll be able get to it.
It's sitting at the top of our list in bold letters, along with some other major fixes.
I swear that it seems like the list is getting longer instead of shorter.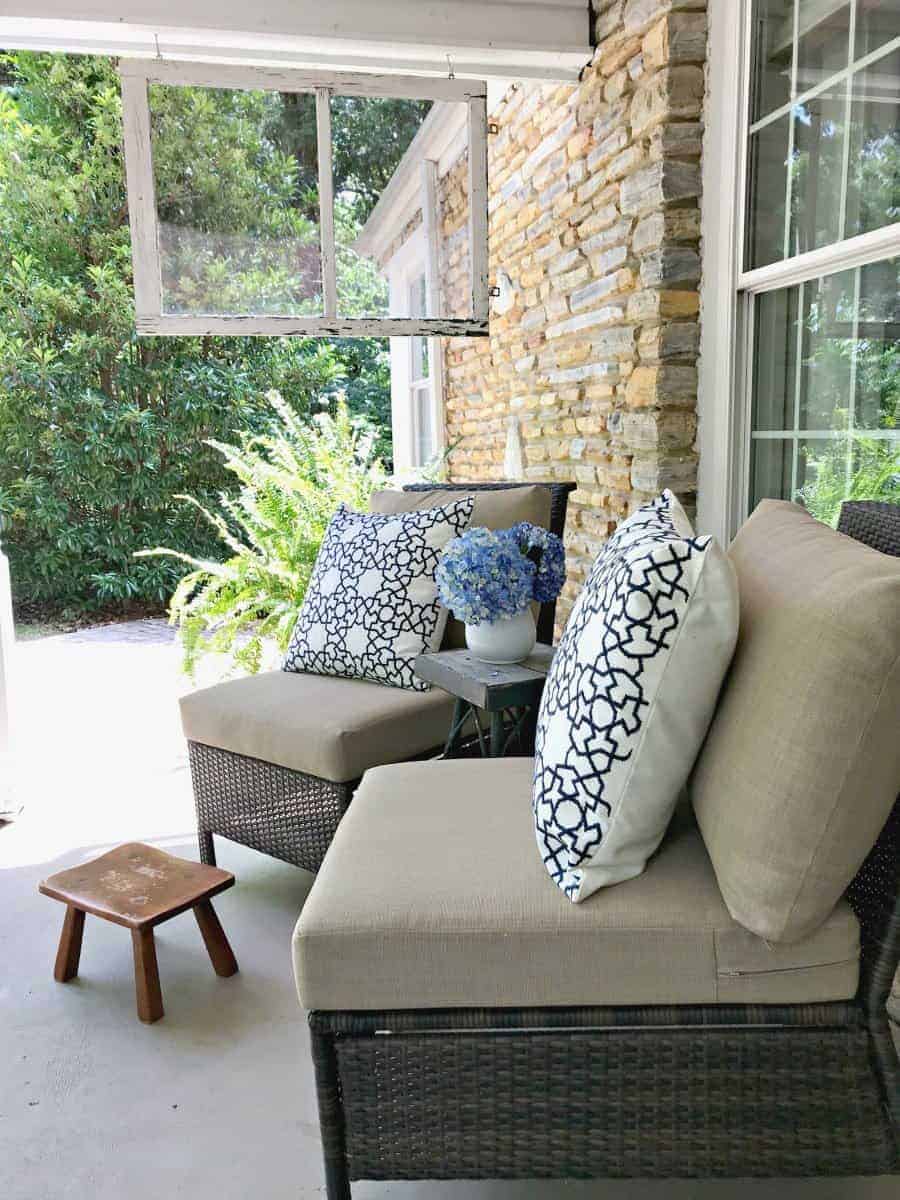 So let's talk porch decor…
The chairs are the same ones that I got when we moved in.
Like the inside of the cottage, I just change the look with outdoor pillows.
I'd really love to put 2 Adirondack chairs out here instead but haven't found any that are sturdy, well-made and at a reasonable price.
If you have any recommendations, I'm all ears.
The old window screen is a $3 find from an antique fair. I love the patina and the way it frames this end of the porch.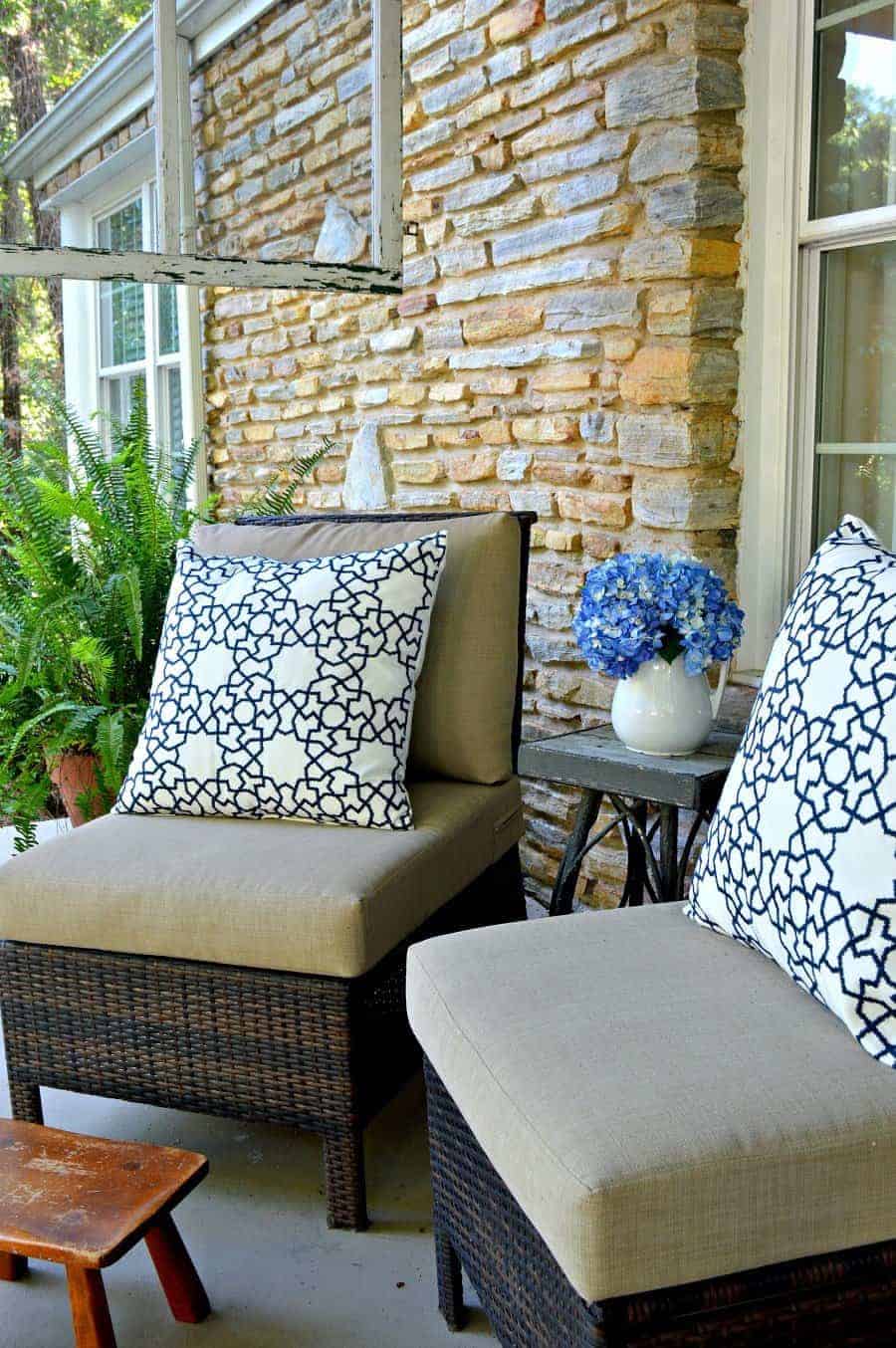 The iron and wood table is an antique that I bought from a neighbor.
It's not a large piece but I can still display a few lanterns and a wicker box for my garden tools.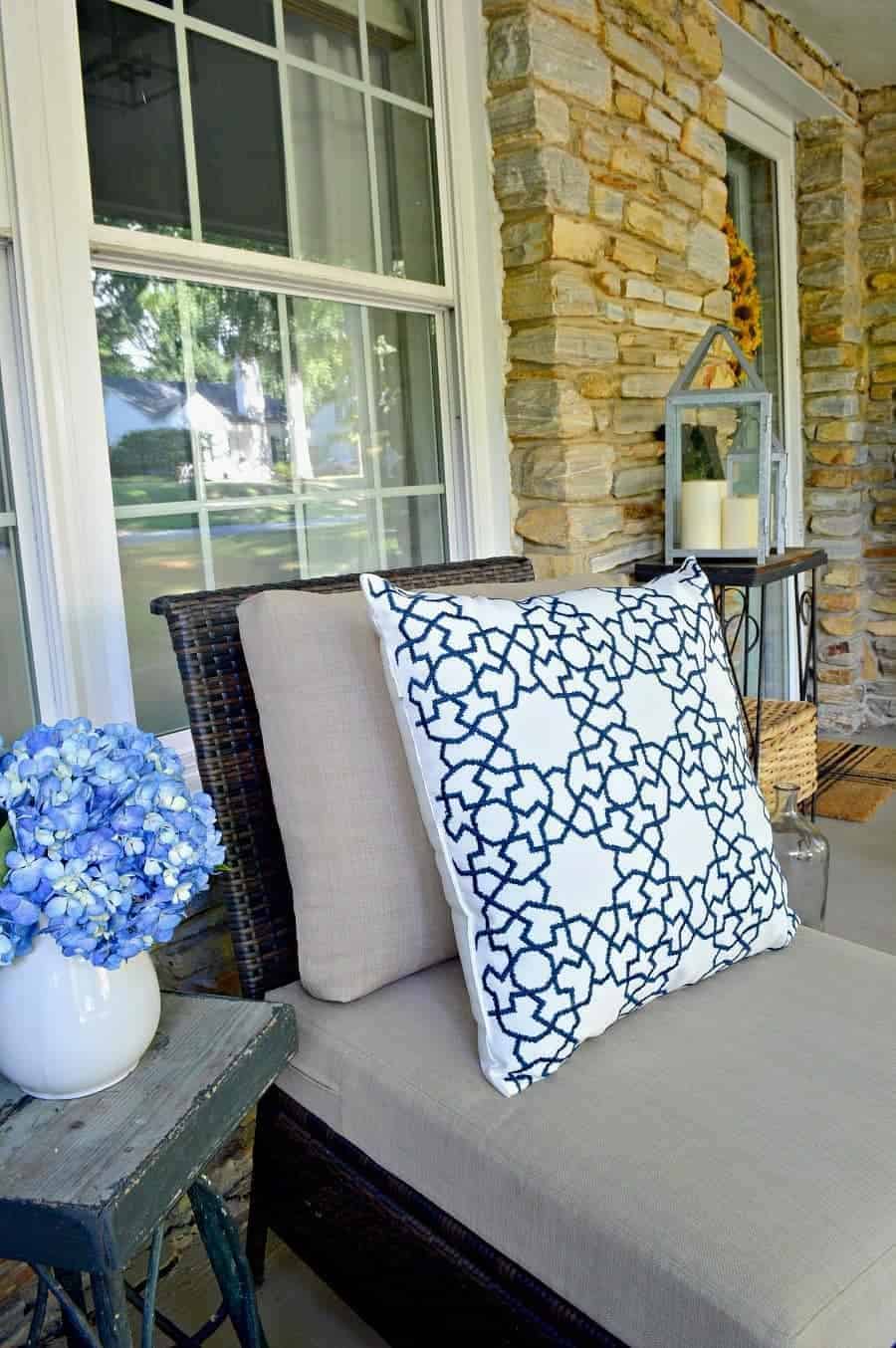 We have an unplanned summer visitor on our porch this year.
A Carolina Wren has made a nest in my planter box and is currently sitting on 4 eggs.
Of course, some of my plants have died because I can't water them and drown the babies. It's a small price to pay for new baby birds.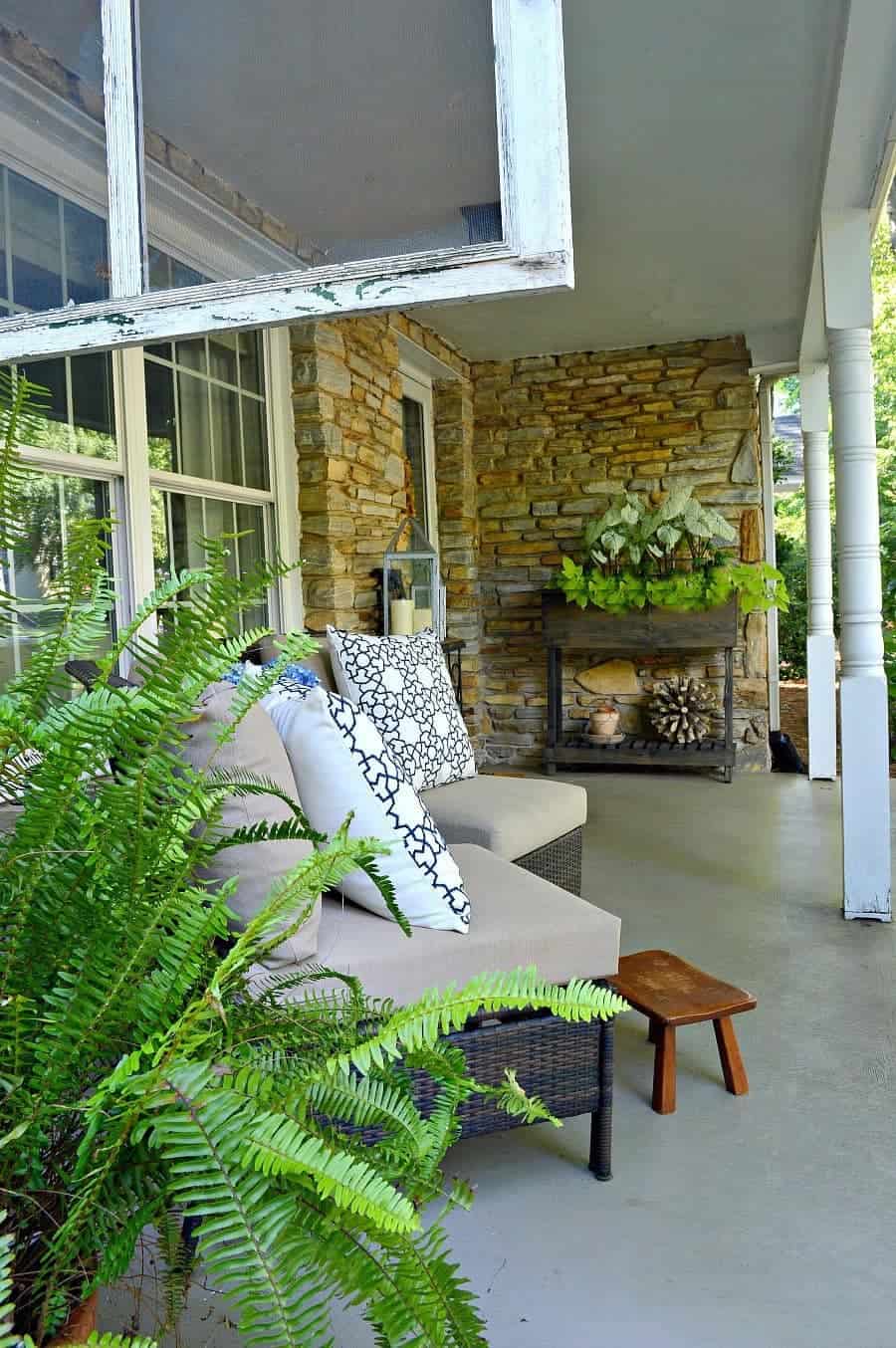 Rounding out my summer porch is my fave summer plant, a Kimberly Queen Fern. This is the same one from last year.
We just stored it in the basement over the winter and brought it back out after the last frost.
I love how full and green they are and they're so easy to take care of.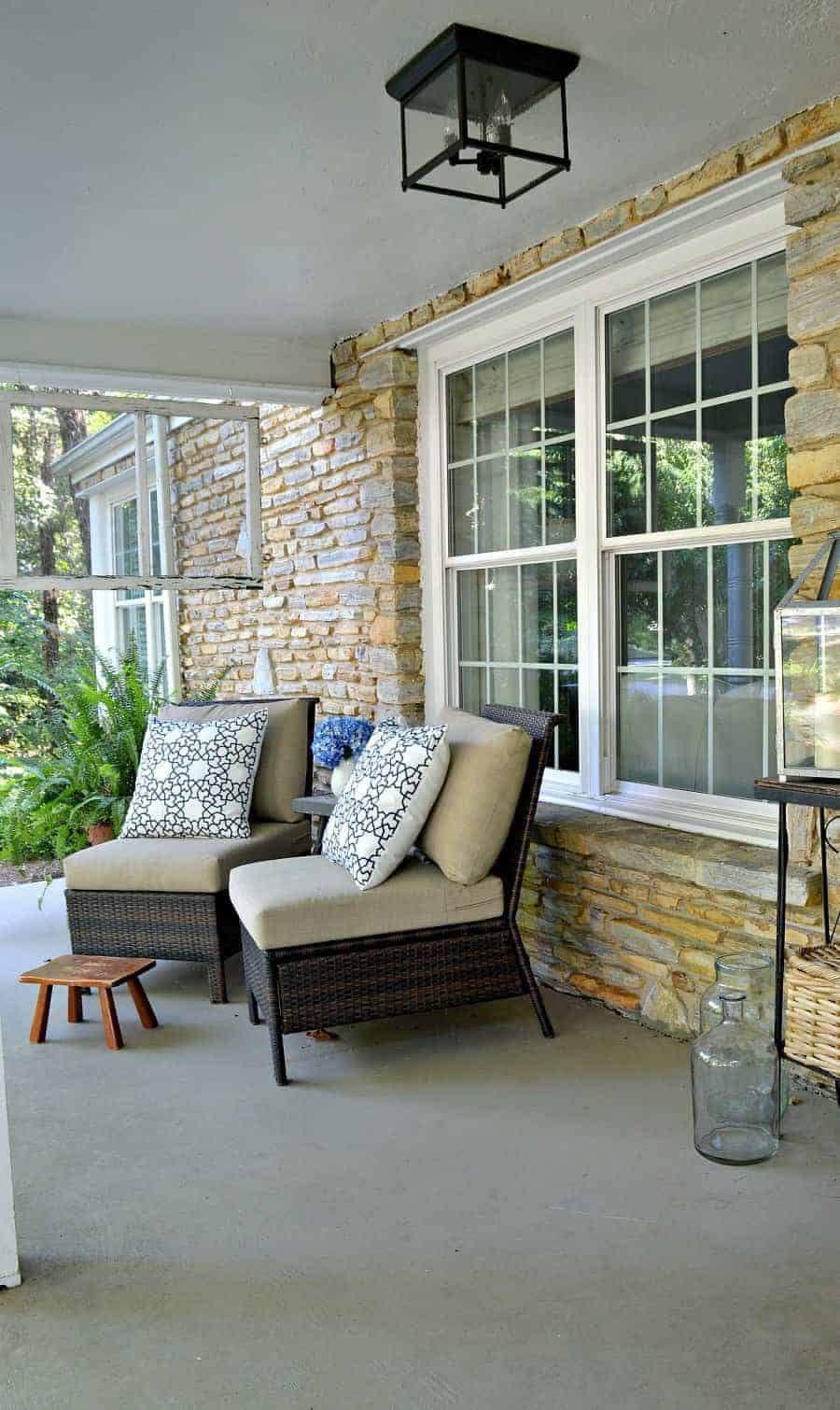 Of course you can't have a summer porch without a welcoming front door.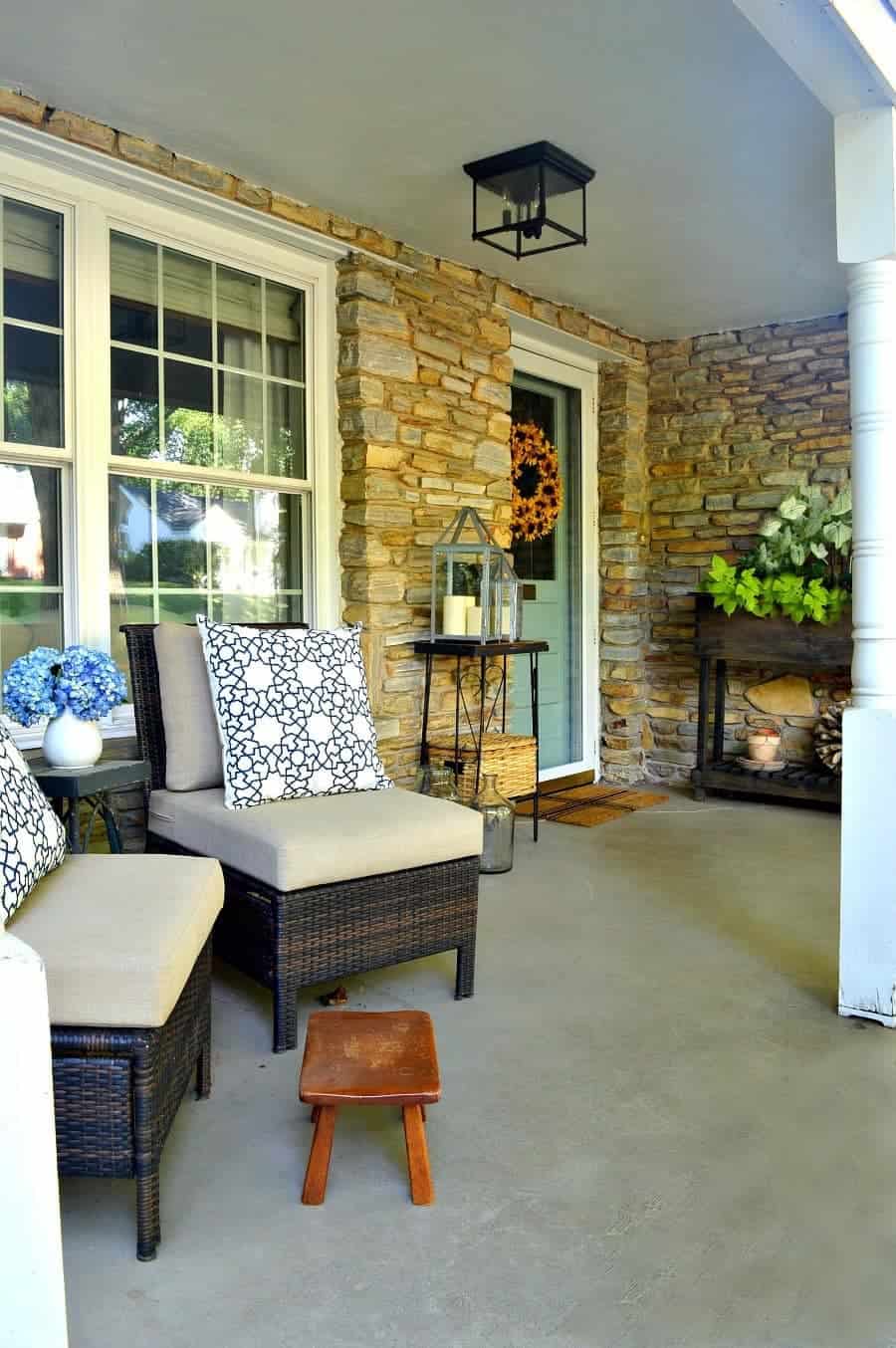 I made an easy DIY sunflower wreath for our new farmhouse front door and it's the perfect summer touch to the entrance of our home.
I'll be sharing a tutorial for this quick craft sometime next week.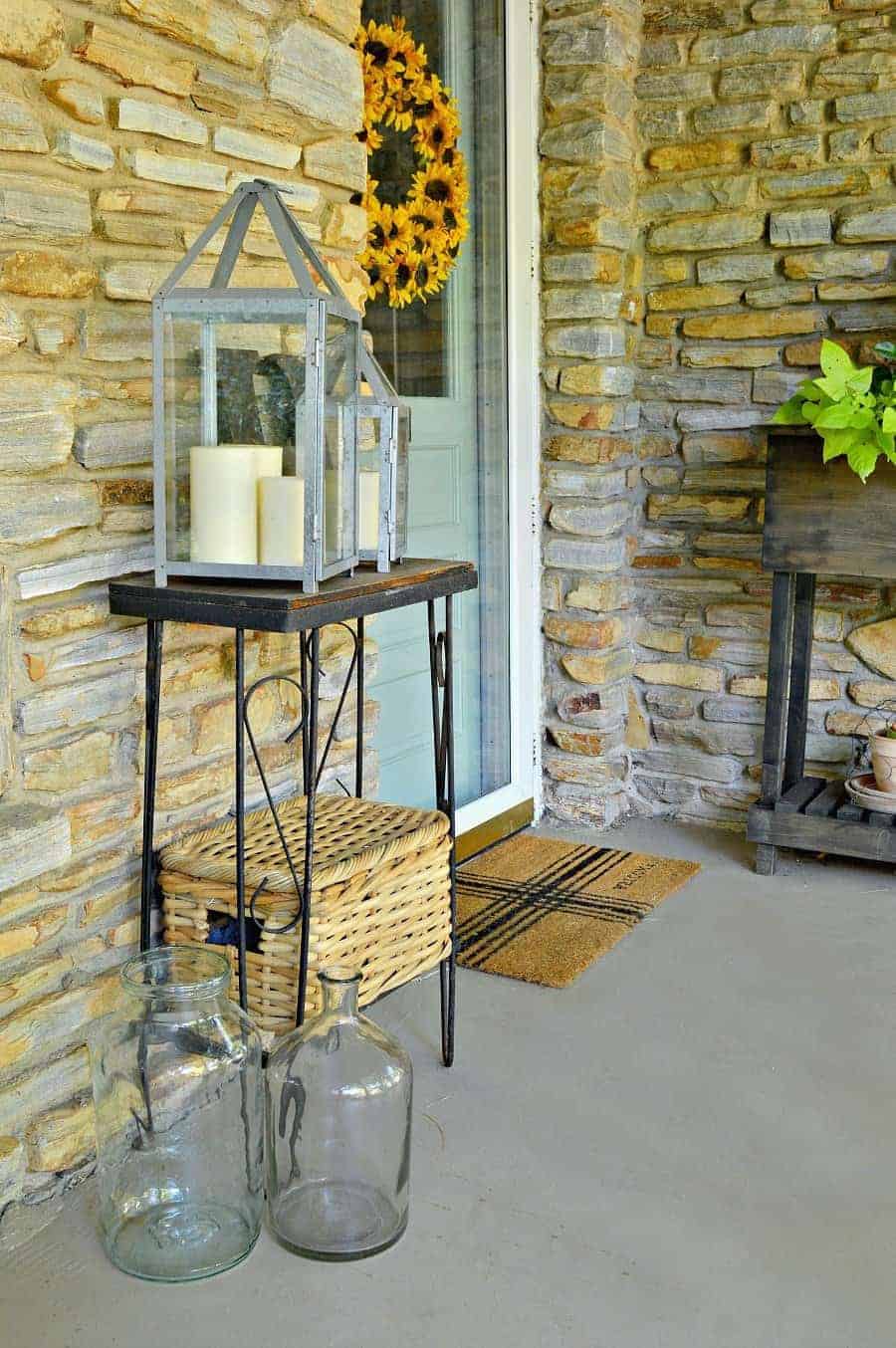 Since we're just past the 4th, and it's a summer holiday, I thought I'd share a peek at our patriotic summer porch.
It's nothing fancy or overly complicated, we just added a few pops of red, white and blue.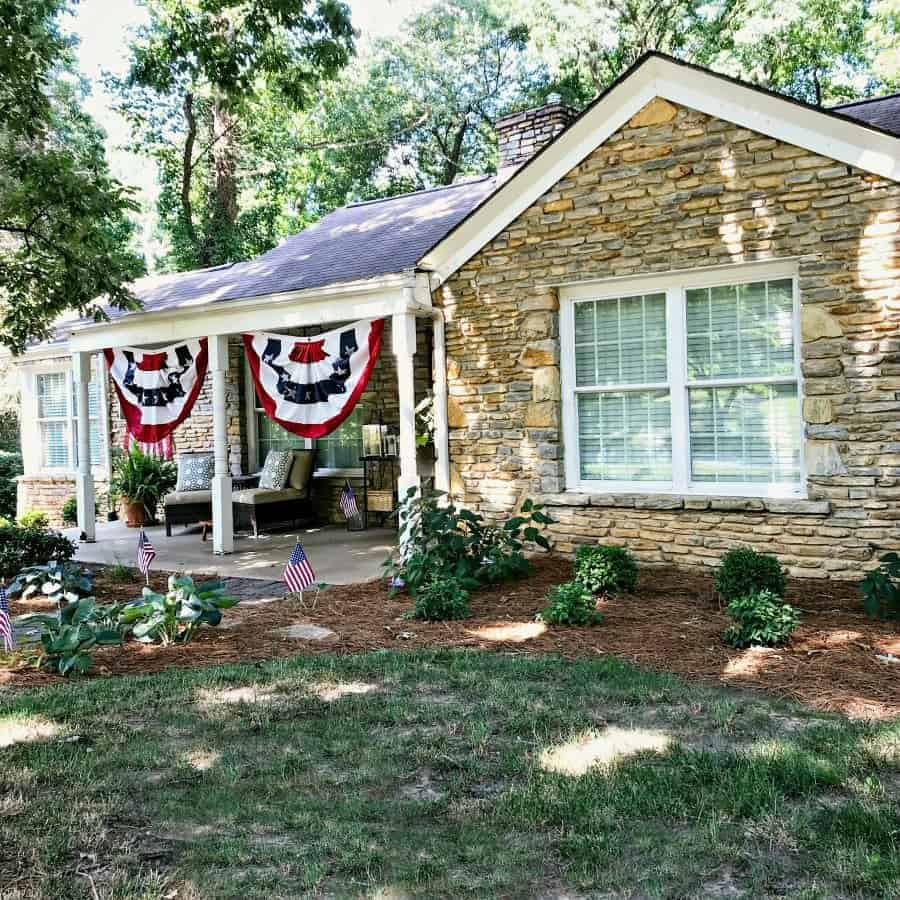 That's the nickel tour of our summer front porch.
If you need me, I'll be sitting out here, sipping my sweet tea and enjoying the summer breeze, as I swat at the mosquitos. 😉
Kristy from Starfish Cottage is ready to share her front porch with y'all, so make sure you head over there next.