6 Best Paint Colors for Low Light Rooms
*As an Amazon Associate and member of other affiliate programs, I earn from qualifying purchases.
Got a room in your house that's gone over to the "dark side"?
Your first inclination might be to paint the whole thing bright white — walls, ceiling, trim, doors…everything!
I mean, a white-out level white reflects the most light, right? So wouldn't stark white be best for a dark room? Hmmmm…actually, no.
So then, what are the best paint colors for low-light rooms?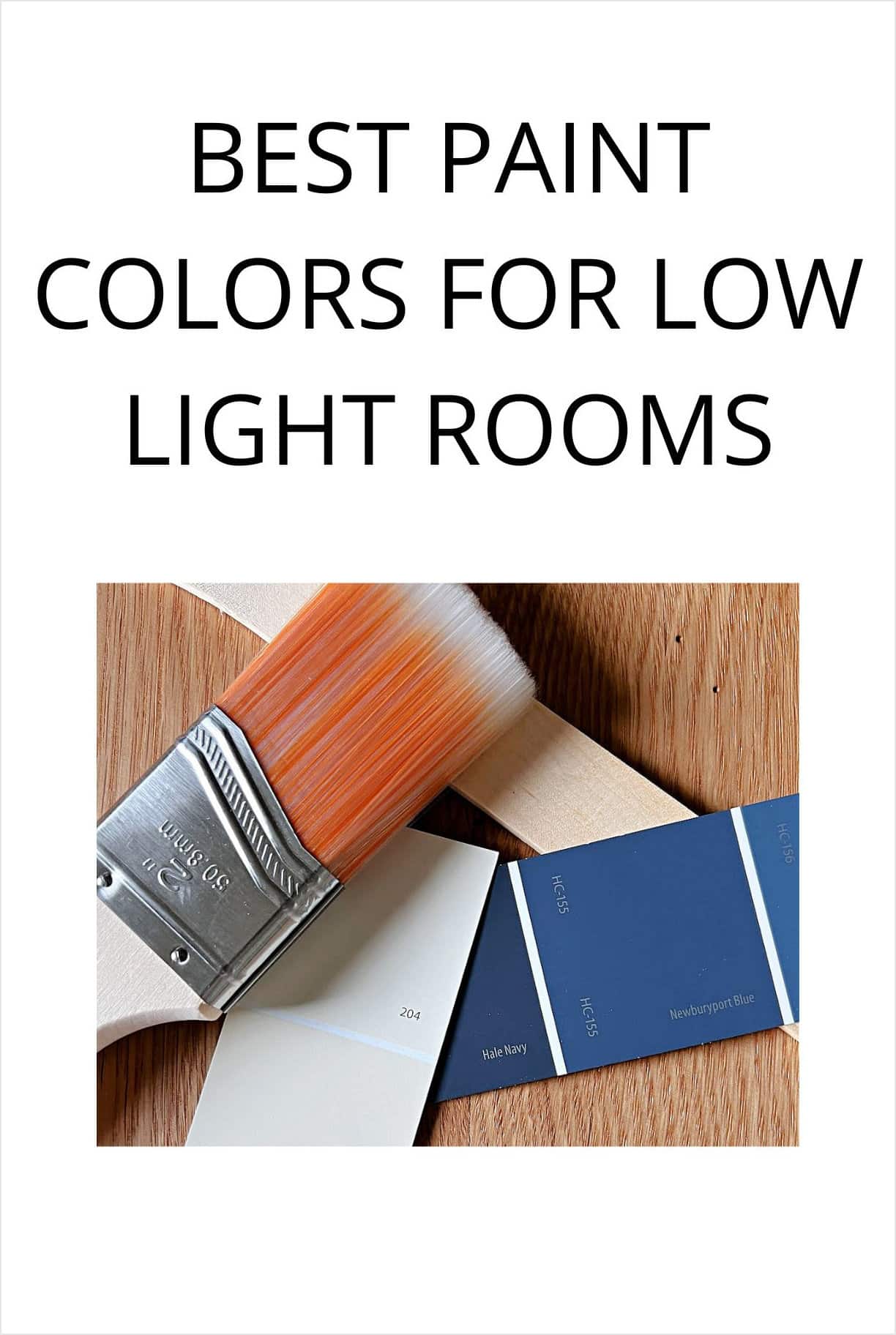 Let's take a quick look at…
Why good ole' white isn't usually the best paint color for a dark room.

A bunch of my personal paint color recommendations that'll make your low-light rooms look brighter and larger!
Why not just paint it all white?
It is true that lighter colors have a higher LRV (light reflectance value) and will reflect more light.
Brighter whites have LRVs closer to 100. So yes, technically they will absorb less of the precious light you have in a dark area.
However, there are two things that happen with pure white.
#1 – Dark rooms have a lot of shadows. Paint the walls pure white and it accentuates the shadows even more and makes the corners look shaded. Add all that together and the walls end up looking kinda gray and dingy.
Not good.
#2 – Bright whites, in addition to being good at reflecting light, are also really good at amplifying random colors reflected on the walls from furnishing, fixtures, and things outside your home.
Got a bunch of lush greenery just outside your windows? Guess what? Your white walls will look green!

Same goes for anything else outside — your neighbor's yellow siding, or that orange building across the street.
Sure, white ceilings and trim are great. But just be careful with using too much crisp, clean white that doesn't have any other undertones.
So if 100% white isn't the best paint for low-light rooms, what is?
What to look for when choosing paint for low-light areas
Ok, so here are a few things to look for when choosing your paint.
Look for warm whites or light neutrals with warm undertones. Yellow is one of the most reflective colors so whites and neutrals with yellow undertones will make the room seem brighter and larger, but without many of the downsides of stark whites.

Try to avoid off-whites with strong blue undertones. Blue absorbs more light so off-whites with blue undertones will seem darker.

Consider the space. You treat a dark powder room differently than a dark living room. You could opt for a darker, bolder paint color with a powder room. But for a living room, you'd probably want to stick with a warm off-white or light neutral.

Off-whites and light neutrals make a space seem brighter and larger but, if not done correctly, can be…shall we say, boring. So spice things up a bit with a bold feature wall, contrasting accent pillows, or other splashes of color around the room.
And one more quick tip!
Don't forget to sample the paint before you buy. I love Samplize for this!
Just head to Samplize.com and choose the paint colors. For $5.95 you get a large paint sample square, hand-painted with the exact paint you want to sample (not just dyed to look like the paint…like the mini swatches you get from the hardware store).
Stick it to a wall, stand back and see how it looks. Then reposition it as needed on different walls or surfaces.
And don't forget to look at it in all kinds of light, both daytime and nighttime.
Ok, now it's time for my personal paint recommendations!
6 paint colors to brighten a room
There are TONS of great paints for dark rooms but here are some of my favorites.
Benjamin Moore Halo
This one's at the top of my list and for good reason — it is my favorite off-white paint color.
It's sophisticated.

It's versatile — use it on trim, walls, and just about anywhere in your home.

It's awesome.
BM Halo is a greige (no, I didn't just make up that word). In some lights, it looks more gray and in others, beige. In most places it's a perfect combination of both, so…"greige".
The beige of Halo is nicely balanced with a touch of green undertones. Just be careful with putting in an area with gray, cold light — like a north-facing room — since that can bring out the greens a little more than you might like.
I used BM Halo in our office and dining room space, an area that doesn't get tons of light. Those warm undertones really came to the rescue!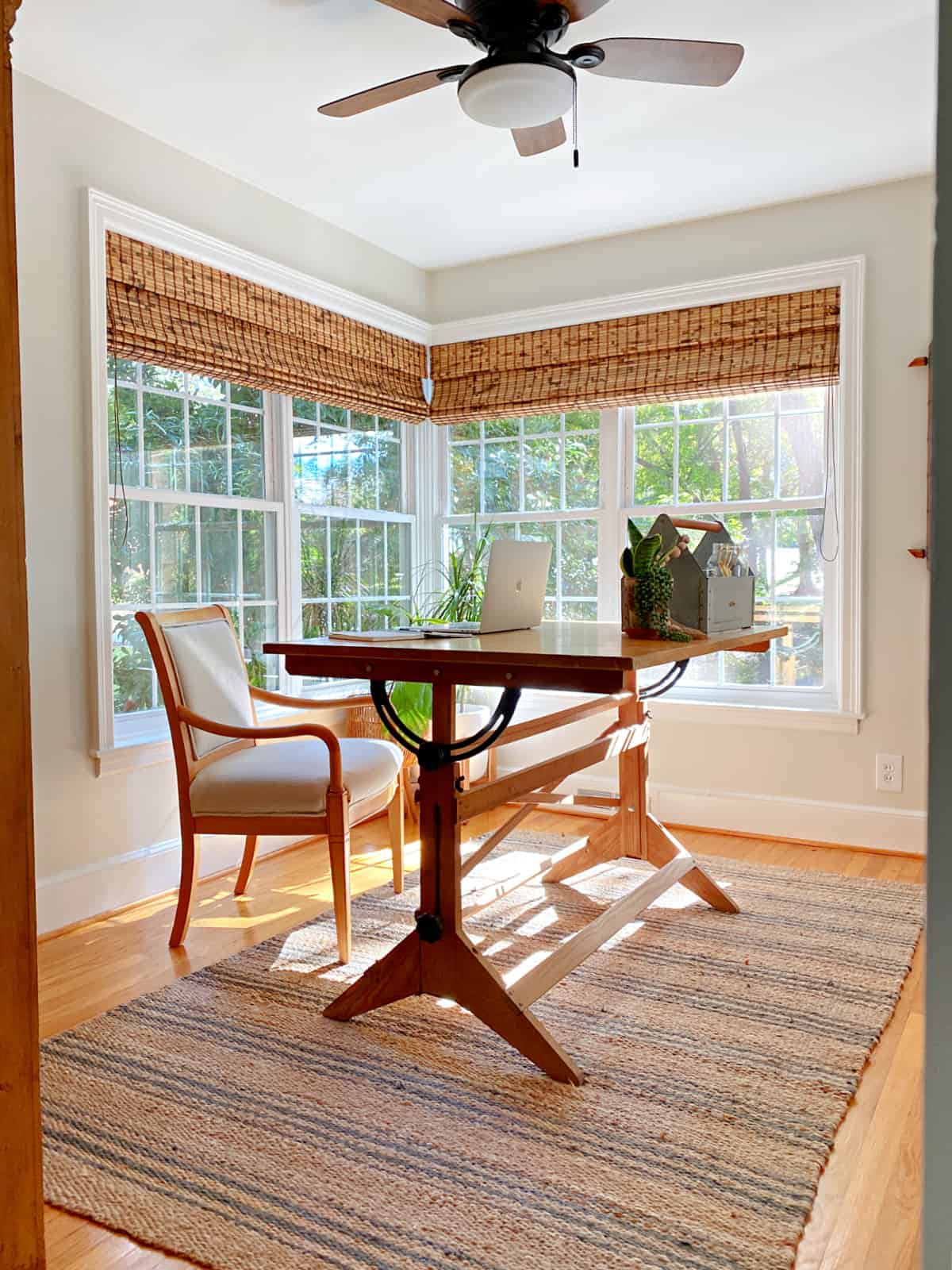 Benjamin Moore White Dove
Small powder rooms are notoriously dark. So when we turned a bedroom closet into a small and dark (no natural light) powder room, paint selection was critical.
BM White Dove it was!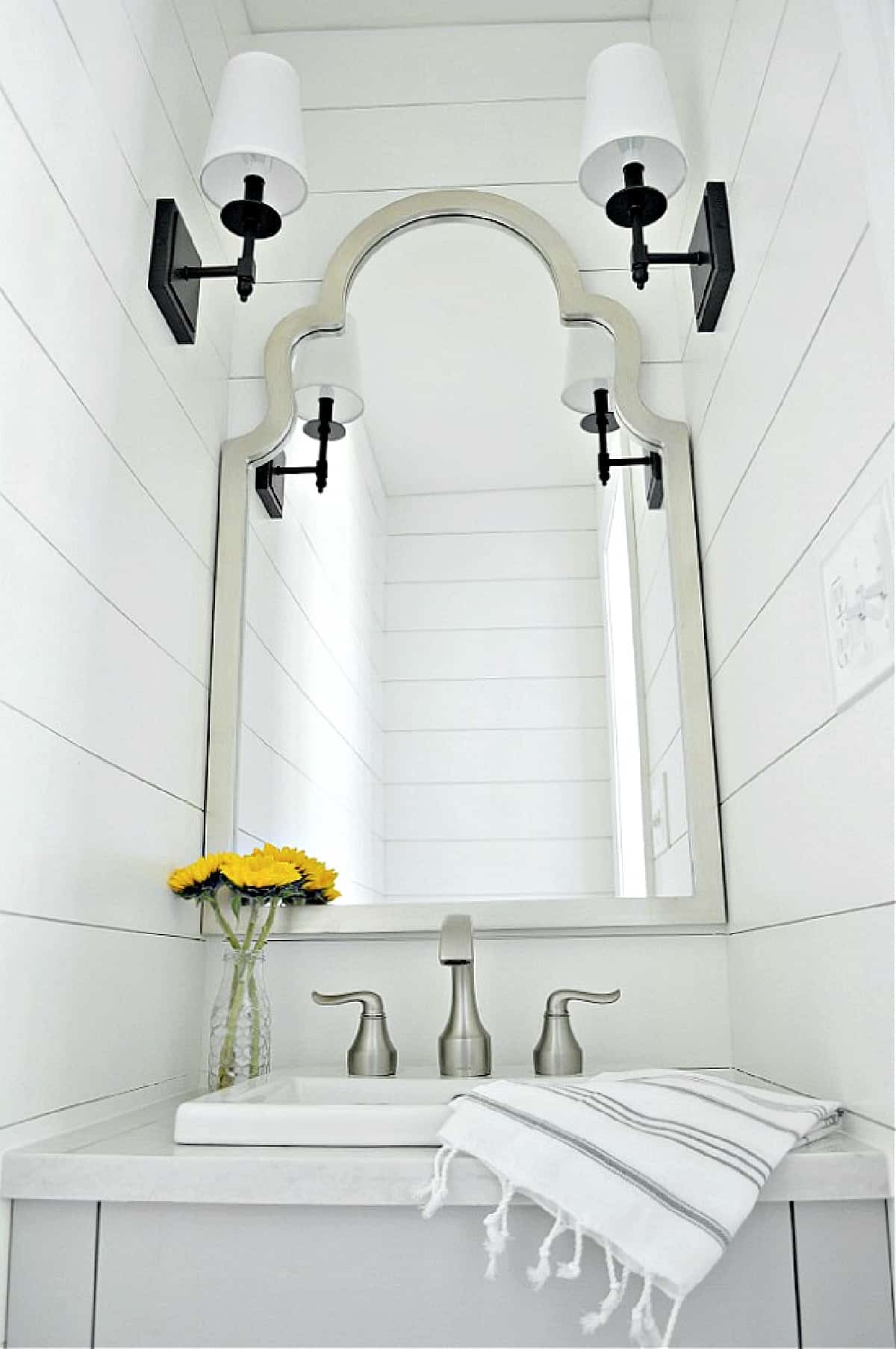 It's a beautiful off-white color with lovely yellow undertones. It's also got a touch of gray pigment, so those cool undertones help balance out the yellow.
If your room is dark with cooler light, you'll definitely notice the grey undertones a bit more, so keep that in mind when you choose your lighting.
*Check out more pictures of the powder room project to see how well White Dove works.
Benjamin Moore Gray Owl
…my go-to gray paint color. No wonder it's already made it onto more than a few walls in the house!
BM Gray Owl is a nice light gray paint for darker rooms. While it's not the warmest of grays, it does have more yellow and green undertones in it than blue. (Remember…yellow undertones are good for low-light rooms.)
Our living room in our Chicago house was on the dim side and Gray Owl at 50% strength definitely lightened and brightened the whole space.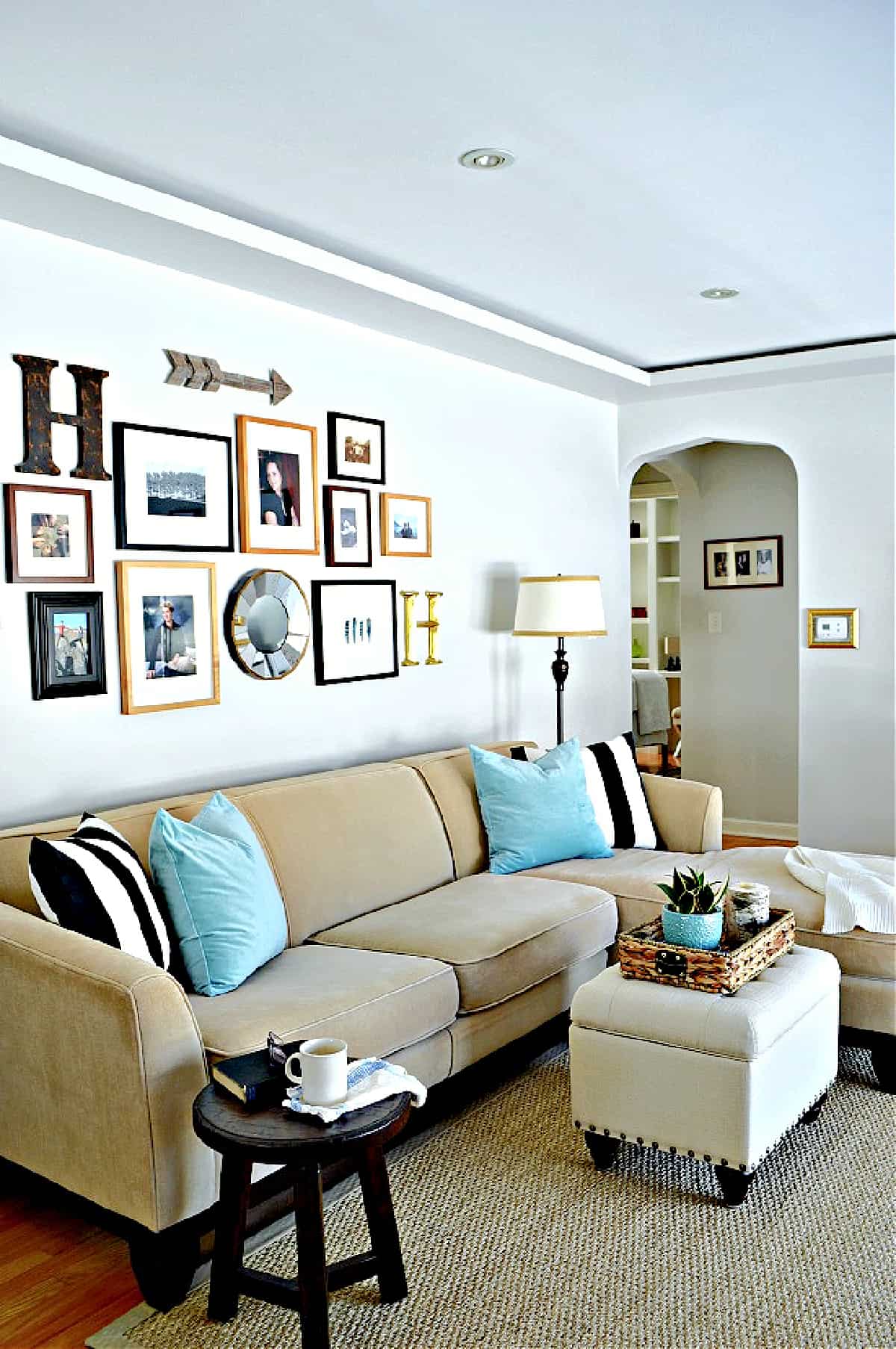 We also used it on the walls for our kitchen remodel next to trim, ceilings, and cabinets painted with BM White Dove.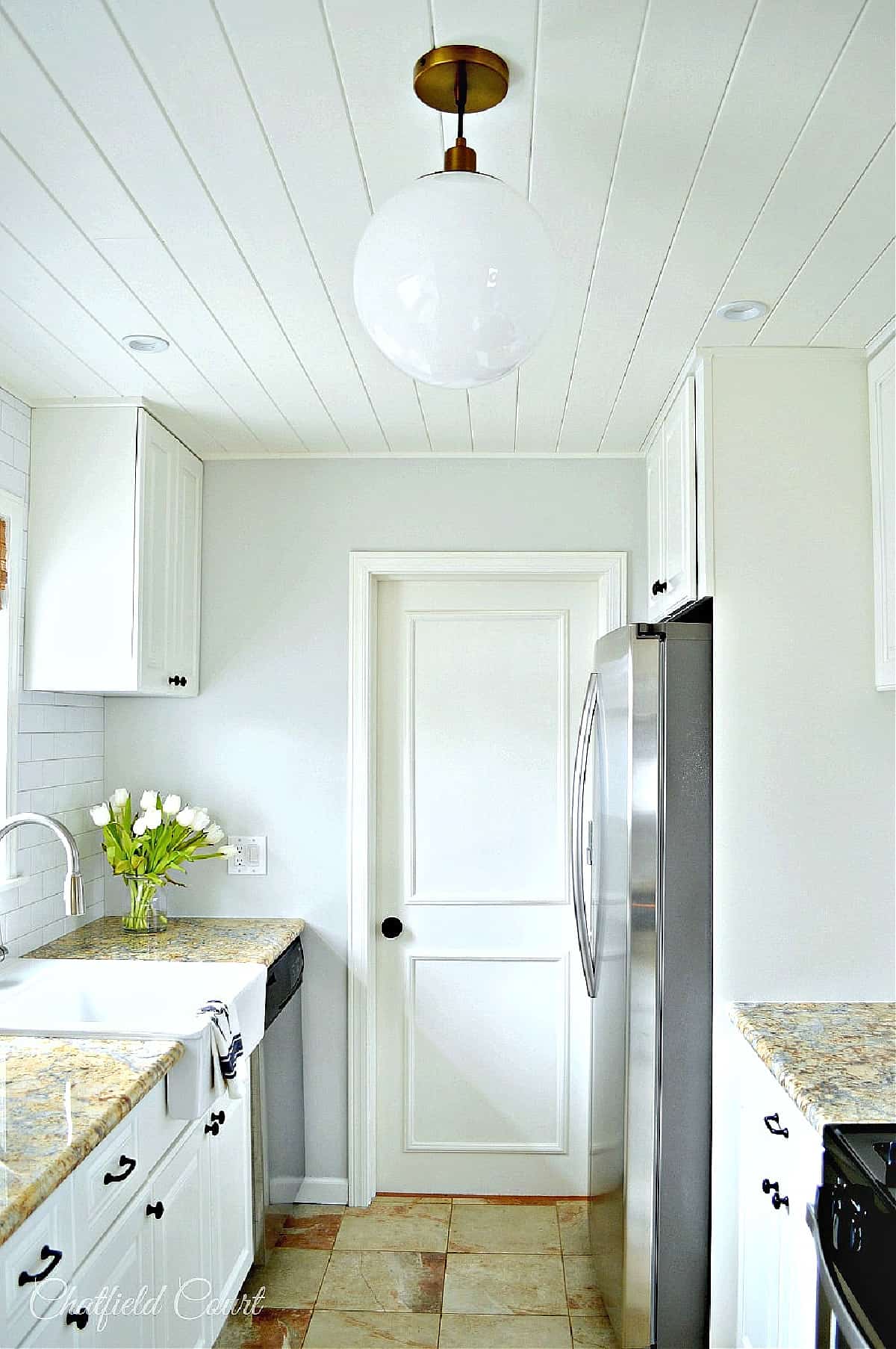 It did a great job at keeping the place cool while being bright enough to lighten up the space and make it feel larger.
Those first three colors are some of my favorites for low-light rooms. Here are a few more options you might want to consider.
Benjamin Moore Classic Gray
BM Classic Gray is bright enough to lighten up a room but still has enough substance that it works in low-light rooms.
If you tried BM Gray Owl, but your lighting accentuated the green and blue undertones more than you wanted, BM Classic Gray might be just right for you.
It's a pale gray with warm purple and sometimes pink undertones. So that makes it similar to BM Gray Owl but a tad brighter and warmer.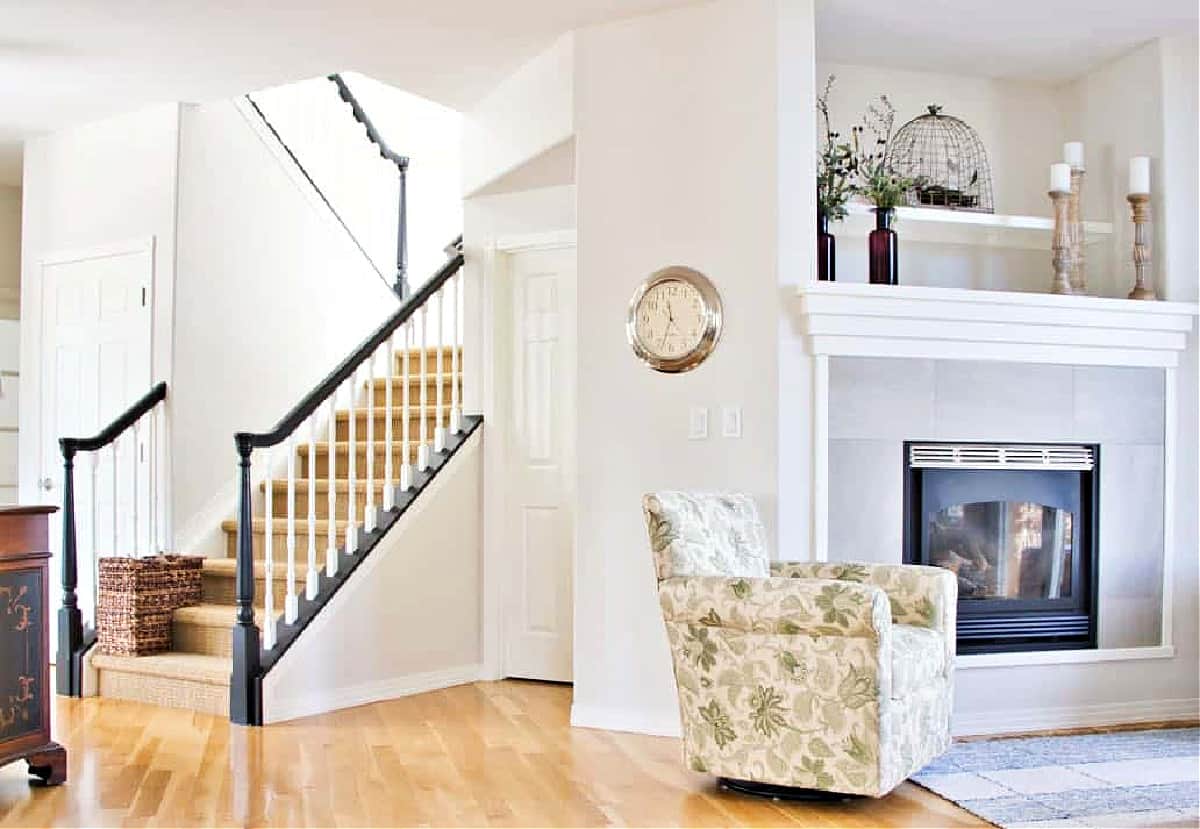 Benjamin Moore Navajo White
Navajo White is light and oh so creamy. It's got plenty of yellow undertones in it so it makes low-light areas feel light and warm.
And with its strong yellow undertones, BM Navajo White is a great choice for warming up north-facing rooms with cool natural light.
Fortunately, its neutral undertones do help calm it down a bit so it doesn't look too "yellowy" in warmer light.
Sherwin Williams Colonnade Gray
Colonnade Gray is one of the darker colors on this list. However, it's still a nice option for low-light areas where you want a paint color with some substance that doesn't suck up a ton of light.
It's got a nice mix of undertones so it's perfect for those areas where you don't want it to look too cool or too warm.
However, the warm beige and brown undertones do win out, making it more of a warm gray than a cool gray.
It's got an LRV of 53 so technically, it is considered a light color. But with its extra depth (compared to other options on this list), it's great for creating a contrast between it and lighter colors.
Go with bright white trim or cabinets next to Colonnade Gray and it'll really pop!
Which paint is right for your low-light room?
Are you gonna go with BM Halo? (It's hard to miss with that one!)
Or maybe you want a tad more "substance" so you go with BM Gray Owl?
Whichever you choose, don't forget…
Try to stick with off-whites and light neutrals with warm undertones — they'll make the space look larger and brighter.

Get some samples from Samplize to accurately compare how colors will look on your walls.
Got a dark room in your house? What are your favorite colors for low-light rooms?