Almond Horn Cookies Dipped in Chocolate
This post may contain affiliate links, please see our policy for details.
How to make these super easy almond horn cookies for the holidays. Not only are they delicious but they're also gluten-free.
Let's talk cookies!
I say this every time I share a sweet recipe but I'm not really into sweets, I'm more of a salty and savory kind of girl.
Give me something that has almonds in it though, and I sing a different tune.
Every time we go into a bakery or coffee shop, no matter where we are, the only treats I ever look for are almond cookies. Without fail.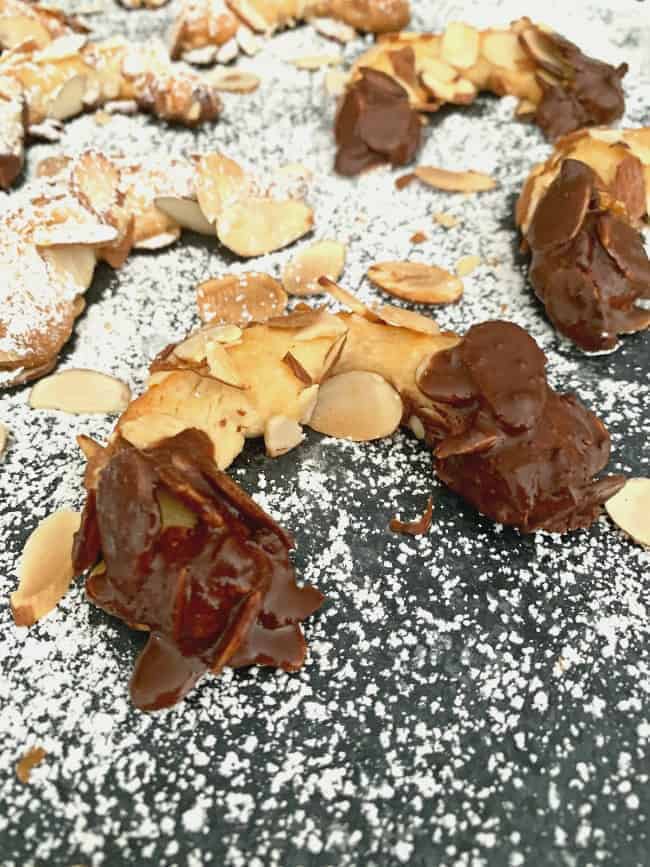 ---
I'm so excited to start the holiday baking season with a fun cookie recipe blog hop, hosted by Maryann from Domestically Speaking. Every day this week my blogging friends will be sharing some of their favorite Christmas cookie recipes for you to try. Make sure you check out all 4 recipes that are being shared today (at the bottom of the post) and come back each day this week to check out the others. Happy baking!
I used to love them when I was a kid growing up in New Jersey. We had great bakeries in our area in those days and I could always find a delicious almond cookie. My favorite ones are soft and a little chewy with tons of almond flavor. Yum!
I haven't had a lot of luck finding really good ones lately, the kind I remember from my childhood, so I started making my own. If I'd known how easy they were to make, I would have started making them years ago.
The recipe I have been making is really similar to most that you can find online. Almond horns are generally made with just a few ingredients so it's easy to see why there are so many similar similar. Our recipe though, has been tweaked here and there to suit our tastes.
Oh yes, the hubs loves these cookies too, especially when they're dipped in some kind of ooey, gooey chocolate.
Almond Horn Cookie Ingredients
see the printable recipe card at the bottom of the post for measurements and complete instructions
granulated sugar
egg white
almond extract
sliced almonds
semi-sweet chocolate and/or powdered sugar
For my almond cookies I buy almond paste online. You can find it in stores or you can even make your own. I like my recipes to be quick and easy so I just buy ready-made almond paste.
Making almond horns…
I put the sugar, almond flour and almond paste in a mixing bowl. The almond paste is sticky and in one big clump, so I take a minute and tear pieces off so that's easier to mix with the other ingredients. I used a stand mixer to make my cookie dough but you could use a hand mixer.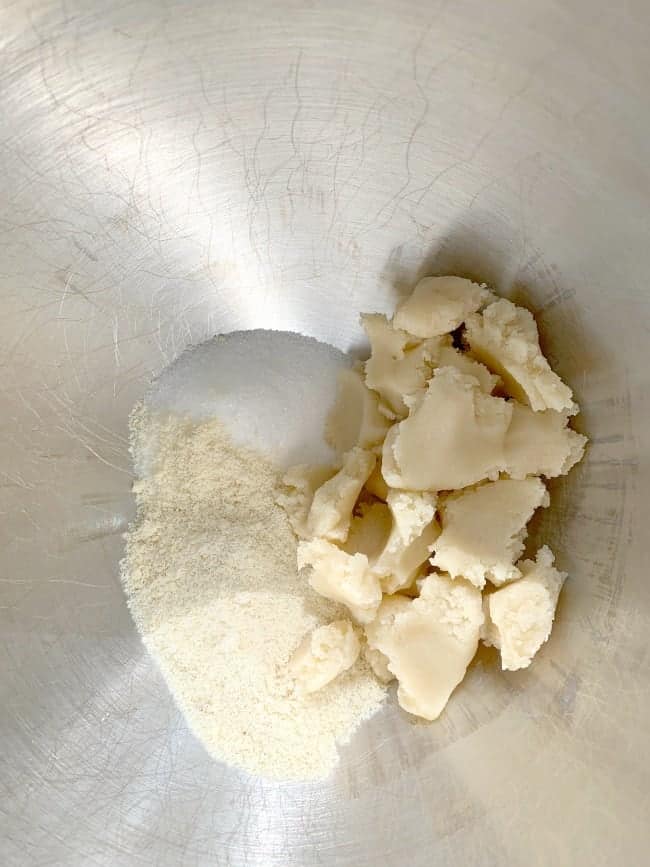 While mixing the sugar, flour and paste, I added the almond extract and the egg white (a little at a time). The egg white really brings the dough together nicely.
Just a word of warning…it's a sticky dough. To help with that I like to keep a bowl of warm water nearby to wet my hands as I'm forming the almond horns.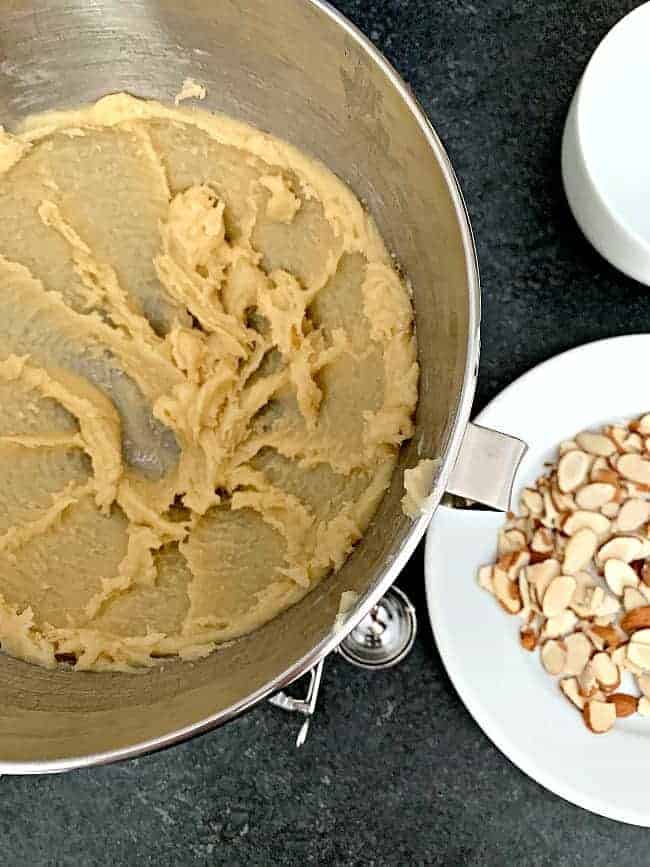 Now that the dough is ready, and we have a bowl of water for sticky fingers, I started to form the almond horns. I used a cookie scooper, or you could use a tablespoon, to scoop the dough out. Then I rolled it in my hands to form a 3-4″ log.
Next, I rolled the dough log in the sliced almonds, that are in a shallow dish. I placed the almond filled log on a cookie sheet covered with parchment paper and formed it into a horn, or crescent shape.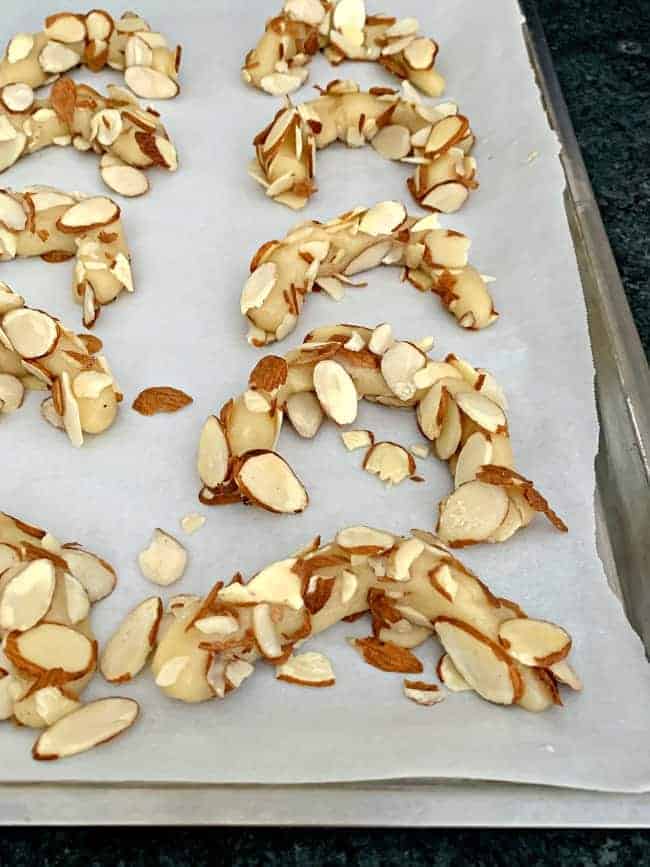 Once all the cookies are prepared, I popped them in the oven to bake for about 15 minutes. I like my cookies to be chewy so I try not to over bake them.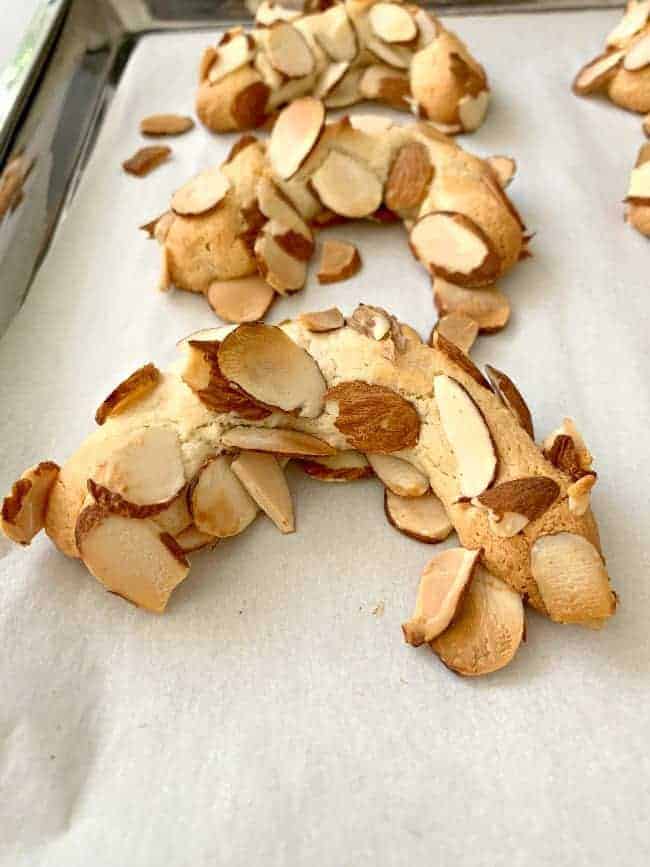 Making the chocolate dipping sauce…
While the cookies are cooling, I prepared the chocolate for dipping, which is totally optional. I am a purist and love my almond cookies sans chocolate or powdered sugar. Roger on the other hand, loves them dipped in chocolate so I make a few for him to enjoy.
I just poured some semi-sweet chocolate pieces in a bowl with a tablespoon of coconut oil and popped it in the microwave for a minute or two. After the cookies were cool, I dipped them in the melted chocolate.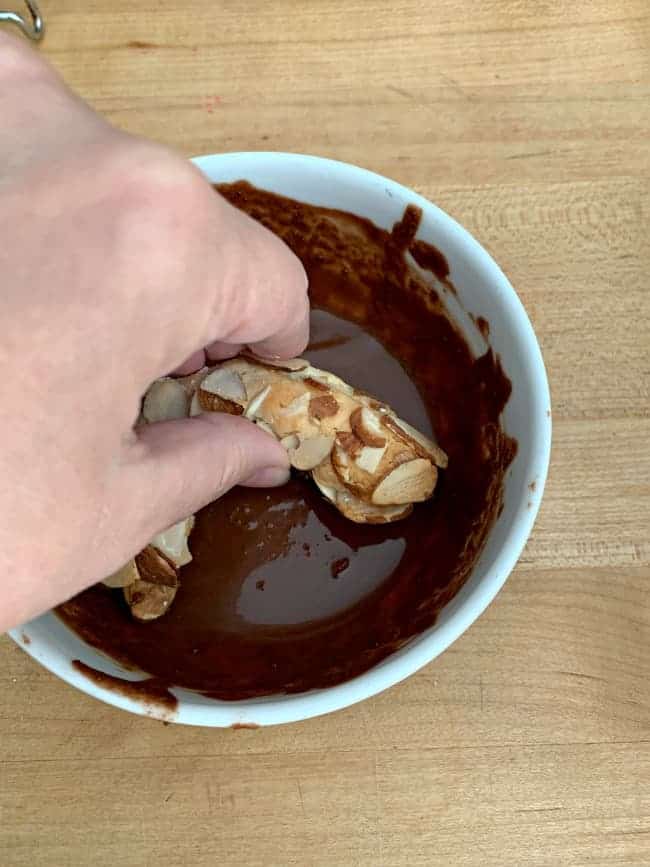 If chocolate isn't your thing but you want to add a bit more sweetness, you could also dust your almond cookies with powdered sugar.
Powdered sugar, chocolate or plain…there's no way you and your guests won't enjoy these classic almond cookies.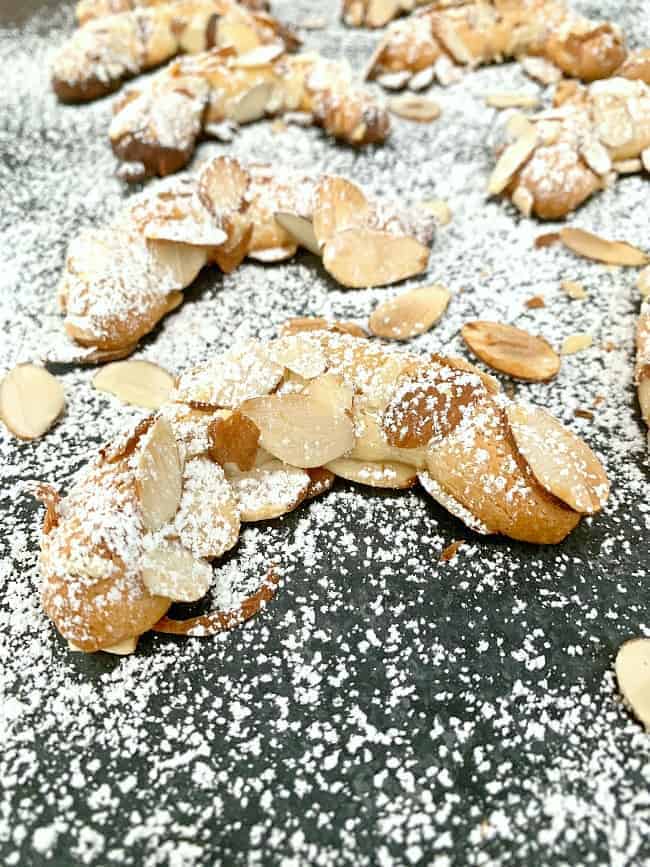 I have shared a few more cookie recipes like my flourless peanut butter cookies and Roger's famous toffee bars if you want to check them out. Both are so easy to make and so good to eat.
All this talk of cookies makes me want to whip up a batch…pronto.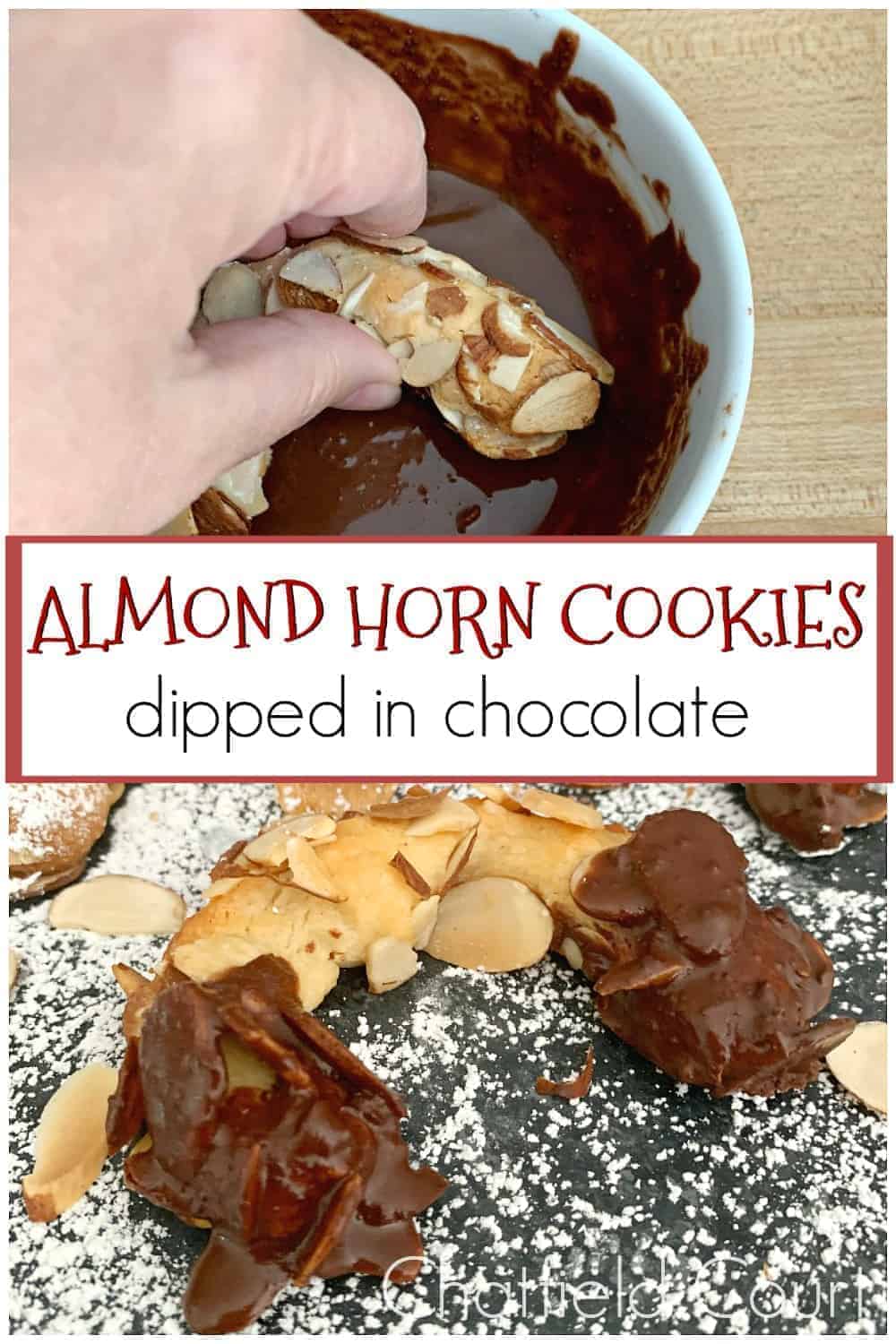 Make sure you check out the other fab holiday cookie recipes that my blogging friends are sharing!
Monday's Cookies
Christmas M&M Peanut Butter Cookie Bars
Santa's Whiskers Christmas Cookies
Tuesday's Cookies
4 Ingredient Peanut Butter Cookie
Wednesday's Cookies
Easy No Bake Peppermint Gingersnap Cookies
Easy Spritz Cookies (not pictured)
Thursday's Cookies
Christmas Surprise Cookie Recipe
White Chocolate Cranberry Cookies
Friday's Cookies
Pin this for later!!!