*As an Amazon Associate and member of other affiliate programs, I earn from qualifying purchases.
So I need to put a disclaimer here. If you stopped by expecting to see a beautiful grand porch you will be bitterly disappointed. Well, maybe not bitterly but you will be disappointed. You see, we have more of a, for lack of a better word, stoop. Just a small little spot to wipe your feet before you go into the house. We plan on working on this area some day but for now, I do what I can with it. There is enough room for one pot so I gathered all the fixins to fill it up with greens and birch logs and lights to make my Christmas front porch. It was a pretty easy project but I thought I'd show you how I began.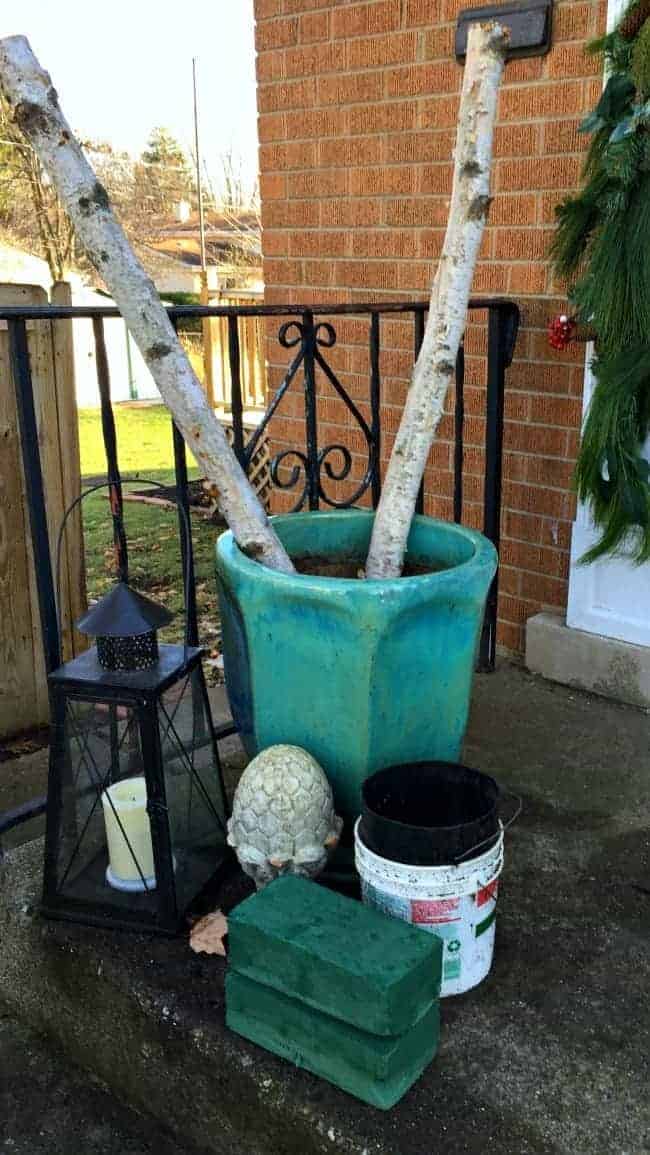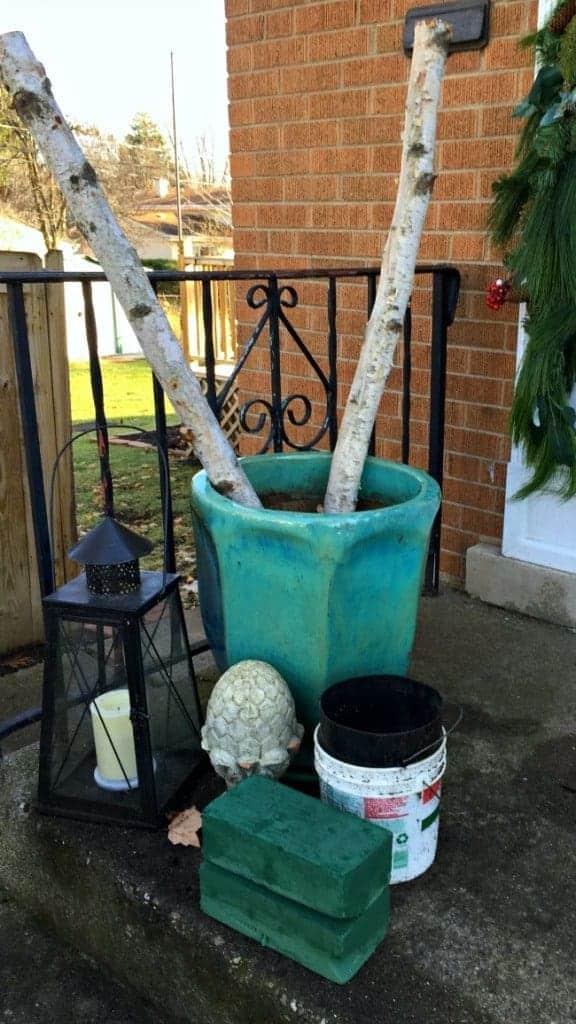 We did remove all the dirt and I put my birch logs in. I then stuffed in two blocks of wet florist foam (I needed something to keep the white-painted willow sticks in). Then I just started putting in my greens. So simple. I used mostly evergreens that I got for free from Lowes and a few others that I picked up from the nursery. Next came the jumbo ornaments. I found a few inexpensive plastic ones at Home Depot. The only problem was that they were very lightweight and we have some really windy days here, so we tied an old hinge to it and hid it in the greens. Problem solved!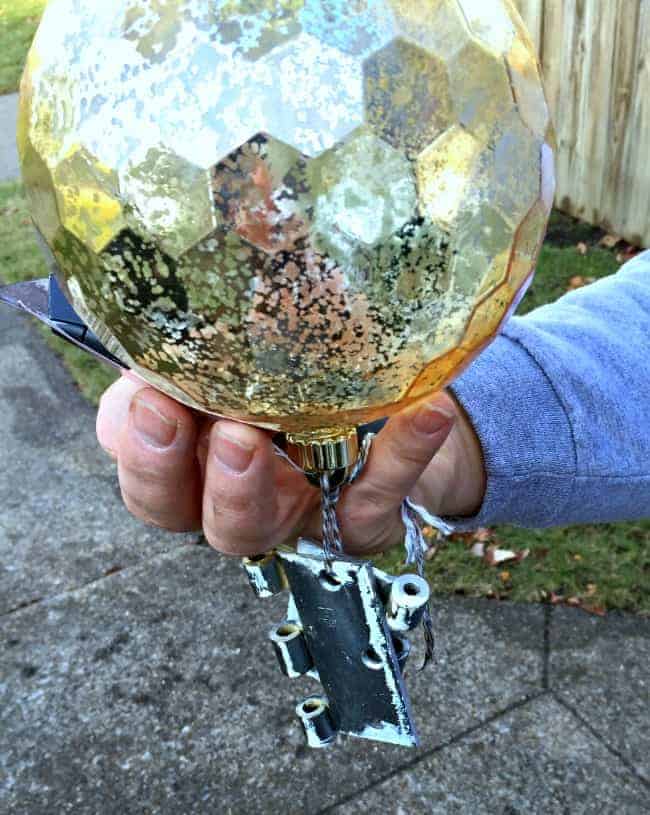 Next I just layered some white lights around the greens and called it done. We added the garland from Hobby Lobby over the door last year and I put white lights in it this year.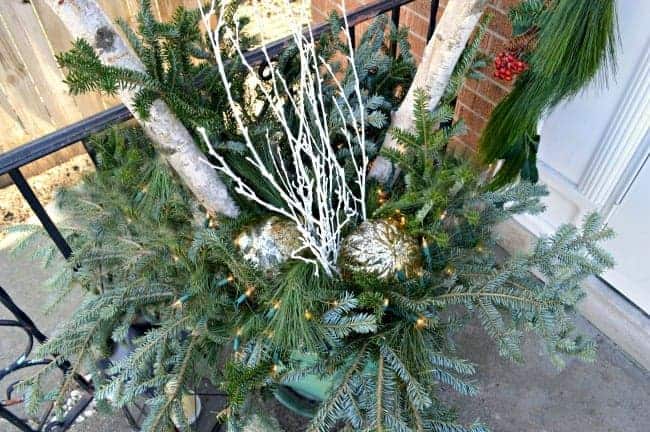 Let's look at Finn in his dapper bow tie and not my dirty porch. 😉 Besides the fact that it's always wet during the winter because the sun never hits it, it needs a major power washing.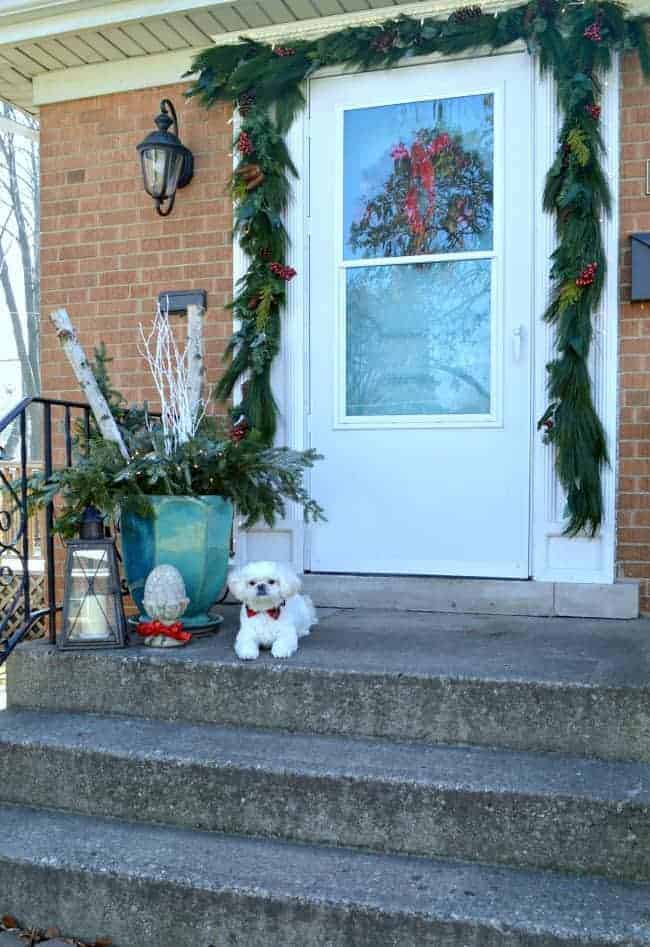 My front door wreath was a mess this year with the ribbon faded from sun and the berries losing their color. I didn't want to buy a new one so I just removed the bow and the berries and added a few stems of Ilex I got for $5 from Trader Joe's. I added a piece of ribbon, that apparently needs to be retied ;), and I have a new wreath.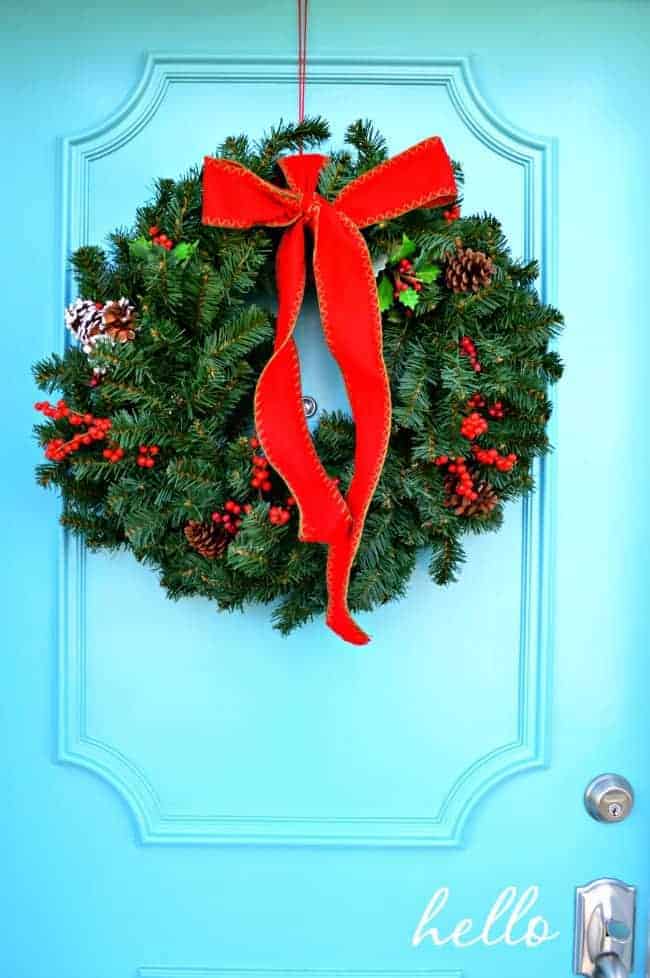 That's my front porch, small and simple. Once we get the porch fixed up and the flowerbeds planted, it will look so much better. There's always something to do.
What do you have, a stoop or a porch? Do you go all out with decorations or are you into more simple decor?
I hope you have a great weekend. Thanks for stopping by.
More Christmas front porch ideas