Christmas Cottage Home Tour
*As an Amazon Associate and member of other affiliate programs, I earn from qualifying purchases.
A little stone Christmas cottage home tour with tons of Christmas decor ideas for decorating your own home for the holidays.
Decorating for Christmas is serious business in our house.
All of the decorations are hauled out of the basement the first week of November and the madness begins.
There's boxes and greenery and ornaments all over the cottage for a good 10 days before I'm satisfied with the look I'm going for.
But you have to live with a mess in order to enjoy the pretty, right?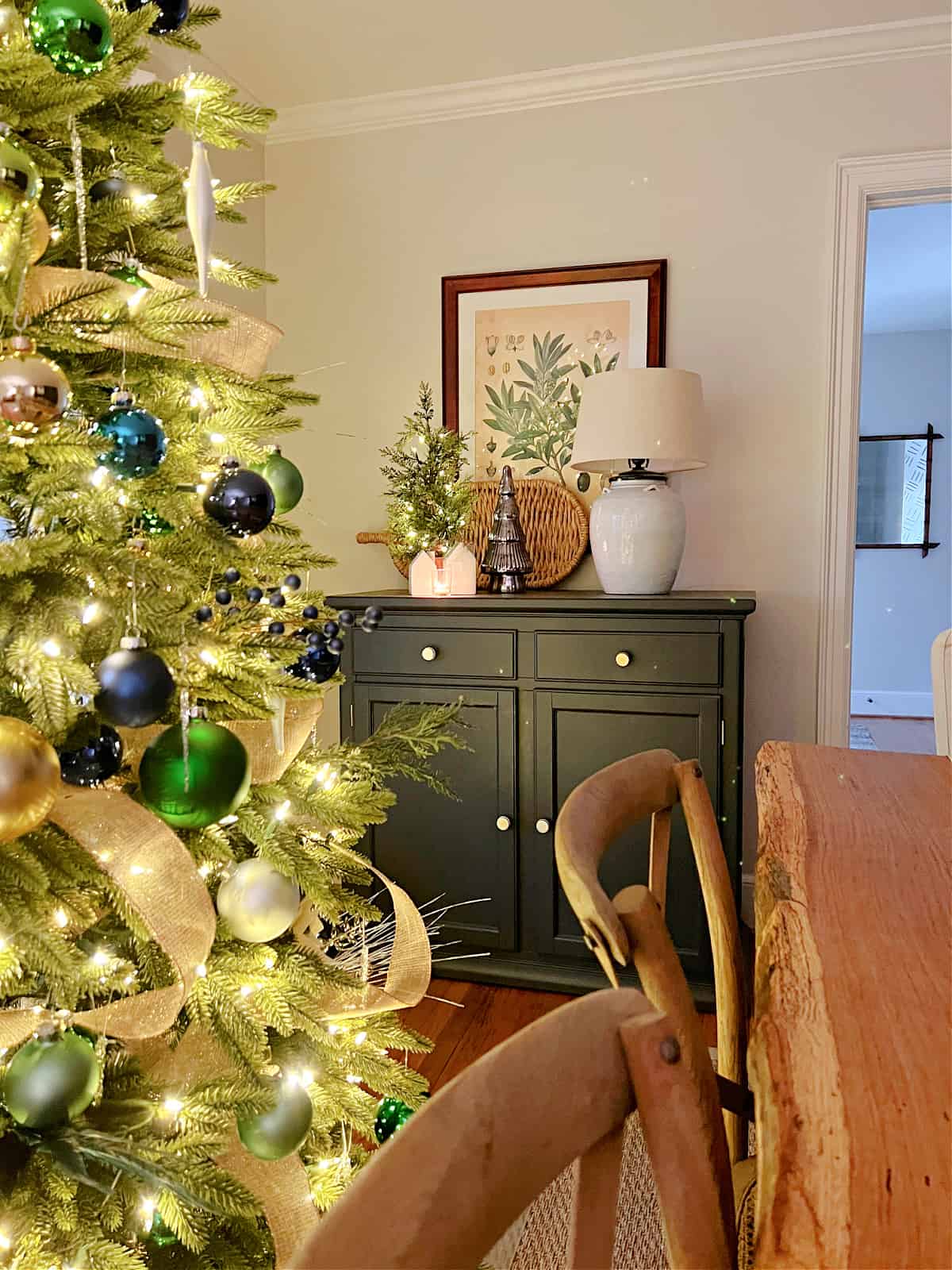 So this year's decorating spree was a bit different than in year's past.
Earlier this year I switched the living room and dining room so it was like I had 2 new spaces to figure out and decorate.
So how did it turn out? Let's start the Christmas decor tour in the entryway.
Christmas Entryway Ideas
If you've visited with us before then you know our entryway is small but mighty. It's really the hardest working space in our home.
How can I decorate my Christmas entrance?
I always go with simple holiday decor in our small space entryway.
The antique pine chest gets into the holiday spirit with a lighted Christmas tree and a pair of reindeer, while the mirror gets a treatment of faux garland (this is where I like to get mine).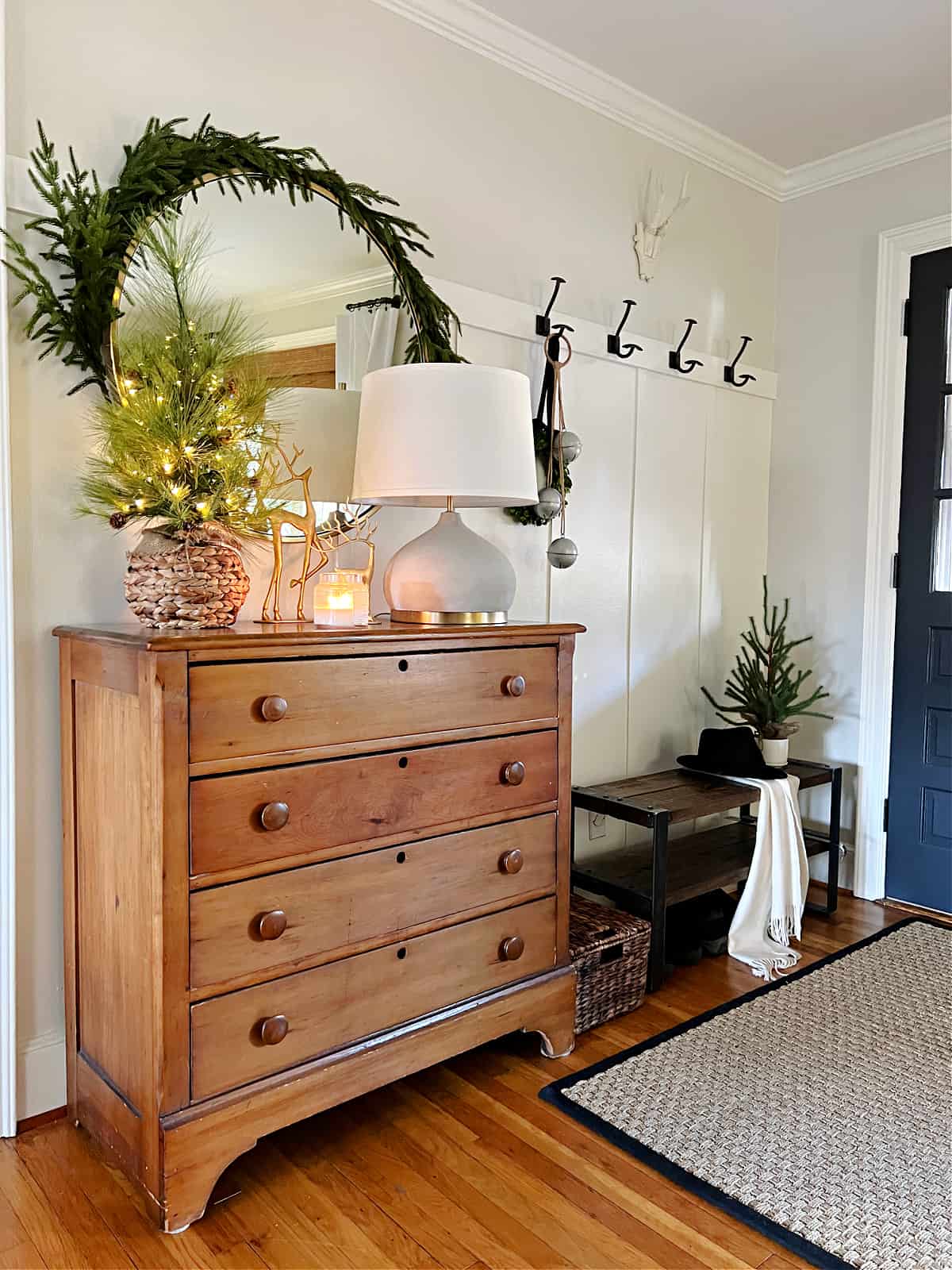 The coat hooks are usually filled with winter coats, hats and dog leashes so a simple preserved boxwood wreath and jumbo jingle bells are enough to add some festive charm.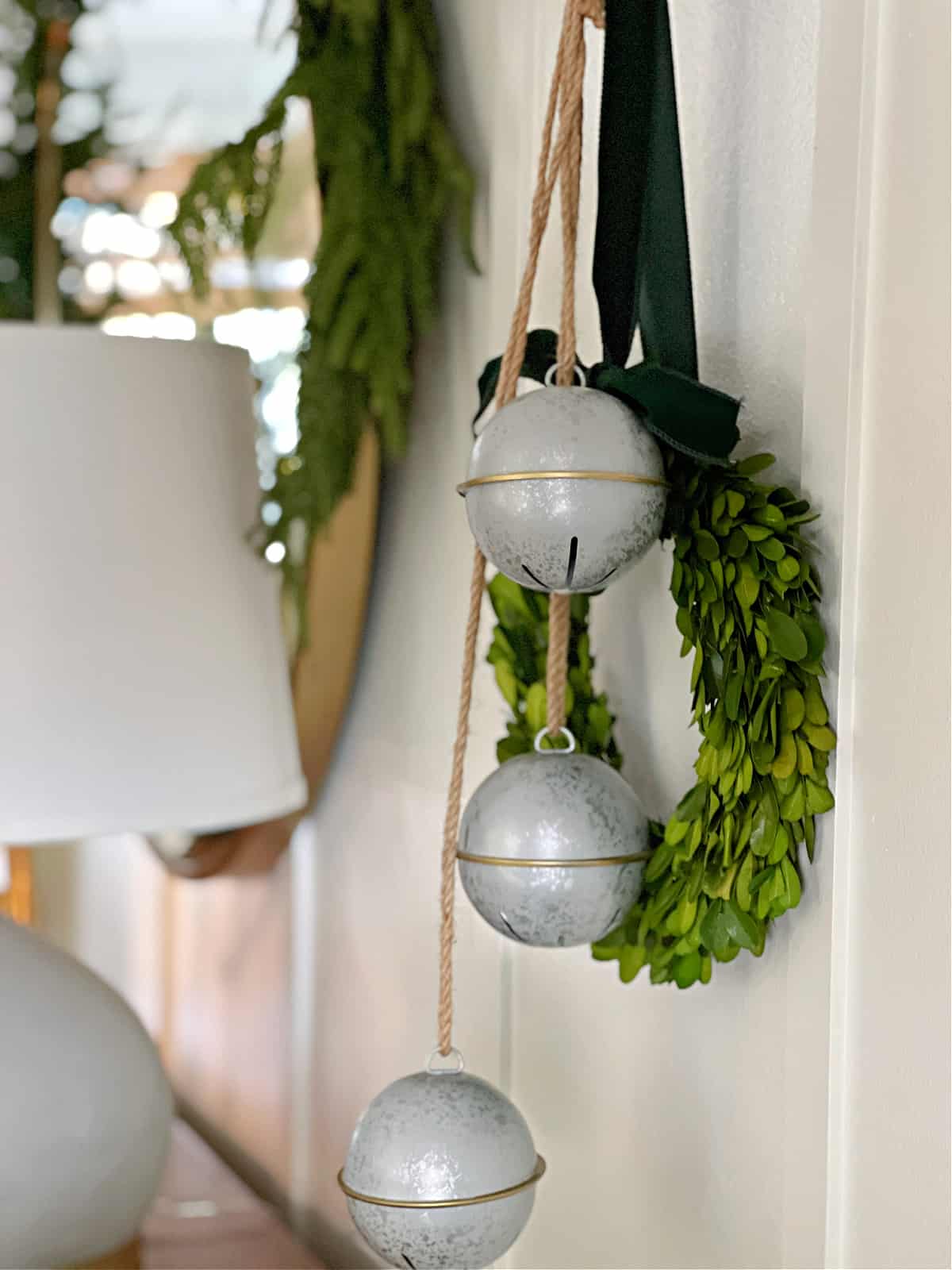 My favorite things to spread around the cottage are candles. I think I have at least one on every surface.
So easy to do and nothing adds a cozy holiday vibe like a flickering softly scented candle. These have been my favorites lately.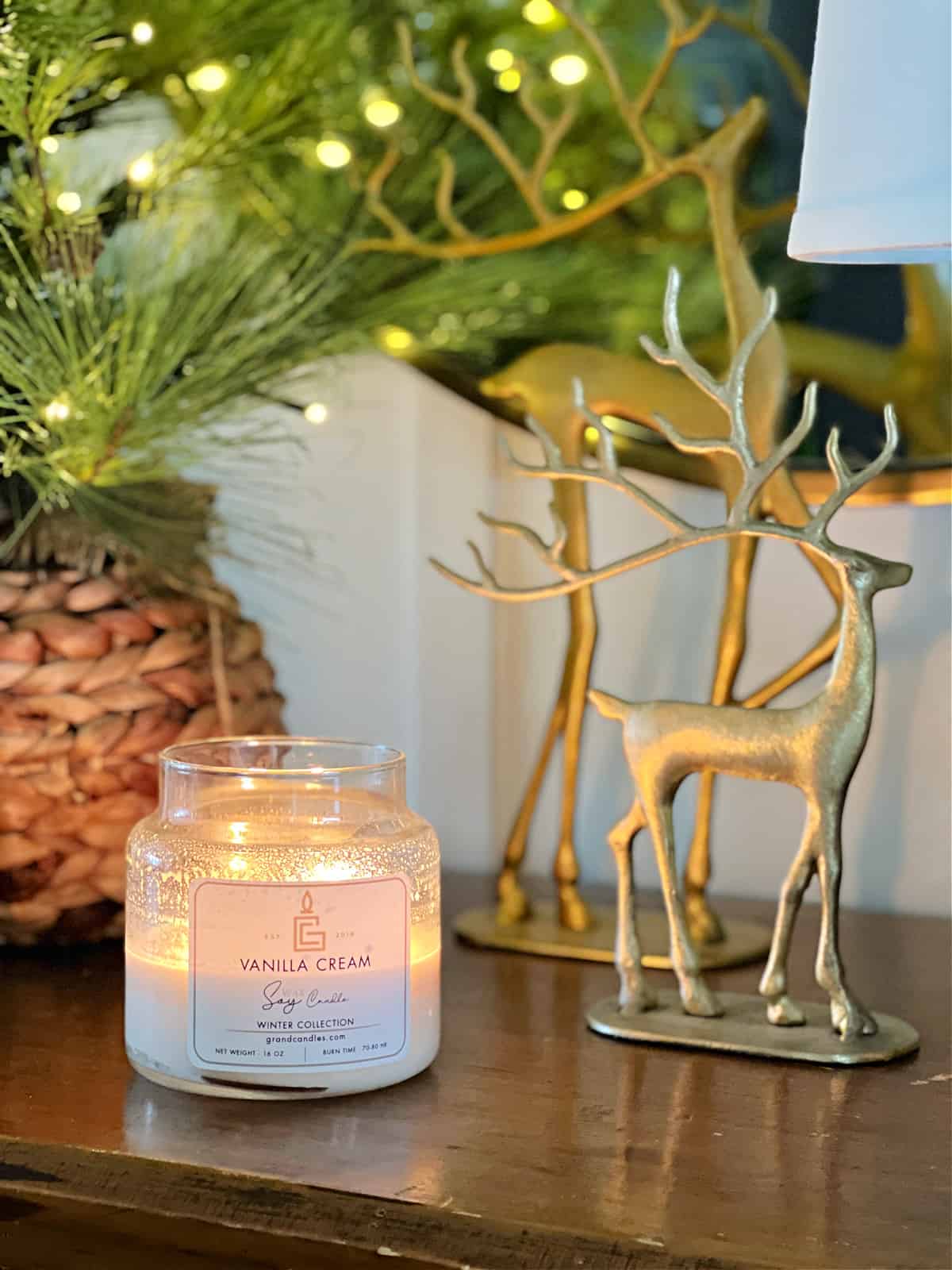 Christmas Dining Room
This was my favorite space to decorate this year!
It was the first time decorating the dining room in its new location and it was so fun figuring it all out.
I started with the star of the show (no pun intended), the Christmas tree! It's the first Christmas in our cottage that I was able to set the tree up in the front window so I was very excited.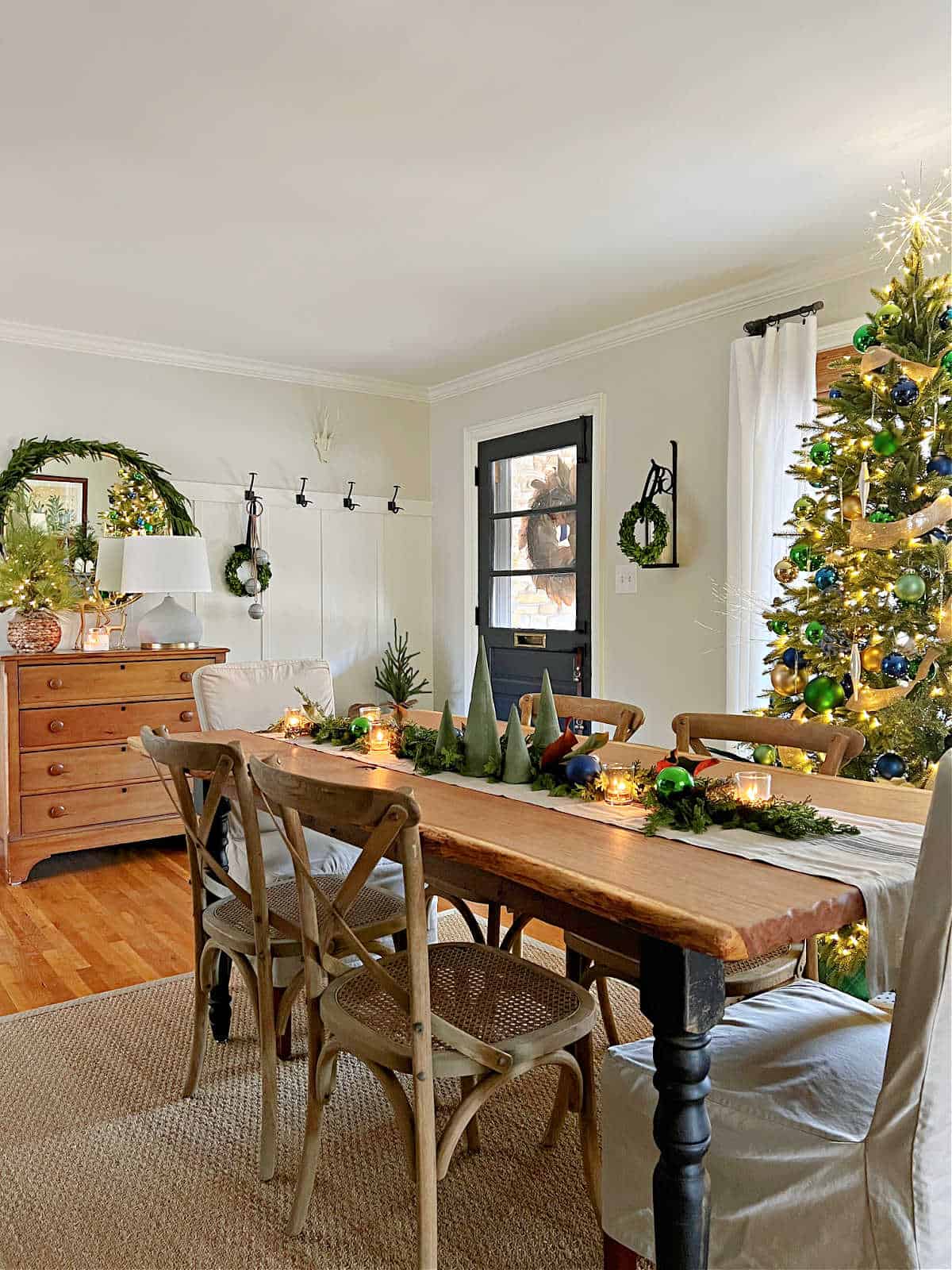 This year I went with a green and navy theme with touches of gold and tried to spread it throughout the cottage.
As for the tree, it was decorated simply, as per usual for me.
It's a good thing too, because it was tough to find any kind of Christmas decor in our area, and I started looking in September.
Because I couldn't find the Christmas decor for the tree that I wanted, almost everything I used was from my stash. Which really isn't a bad thing.
Besides the glass ornaments, feather picks and glass icicles that I reused, I tucked in a few felt poinsettias, that I bought way back in September. They are so cute!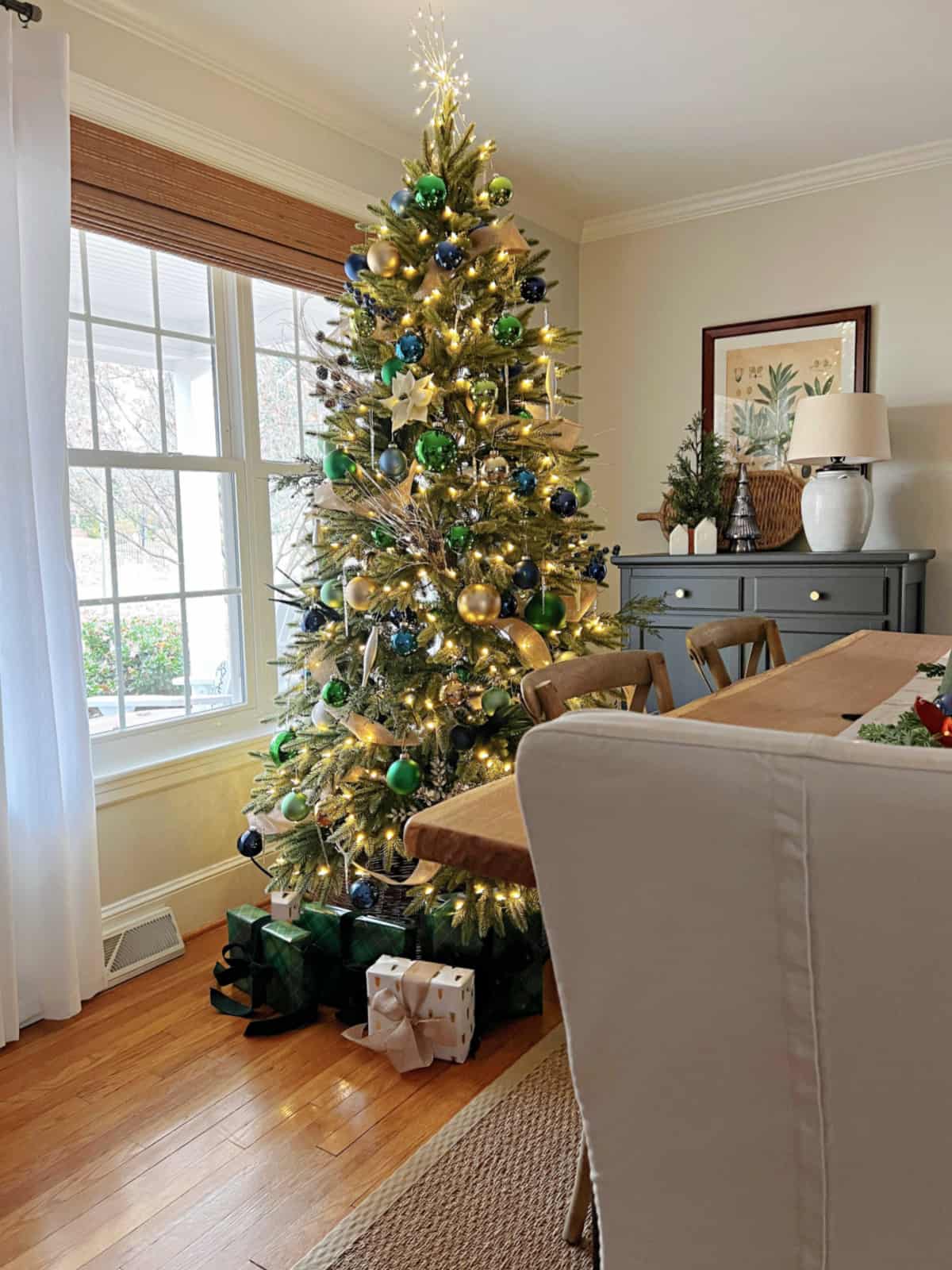 I also gave ribbon another shot.
A couple Christmases ago I tried tucking ribbon in the tree and it turned out to be a disaster. I thought I'd try again this year and I really like the way it turned out.
I probably could have used more but I like that it weaves in and out of the tree and fills in some of the bare spots.
The gifts under the tree were wrapped in the one roll of green plaid wrapping paper that I was able to find.
They were topped off with a pretty dark green velvet ribbon (the reason I went with green this year).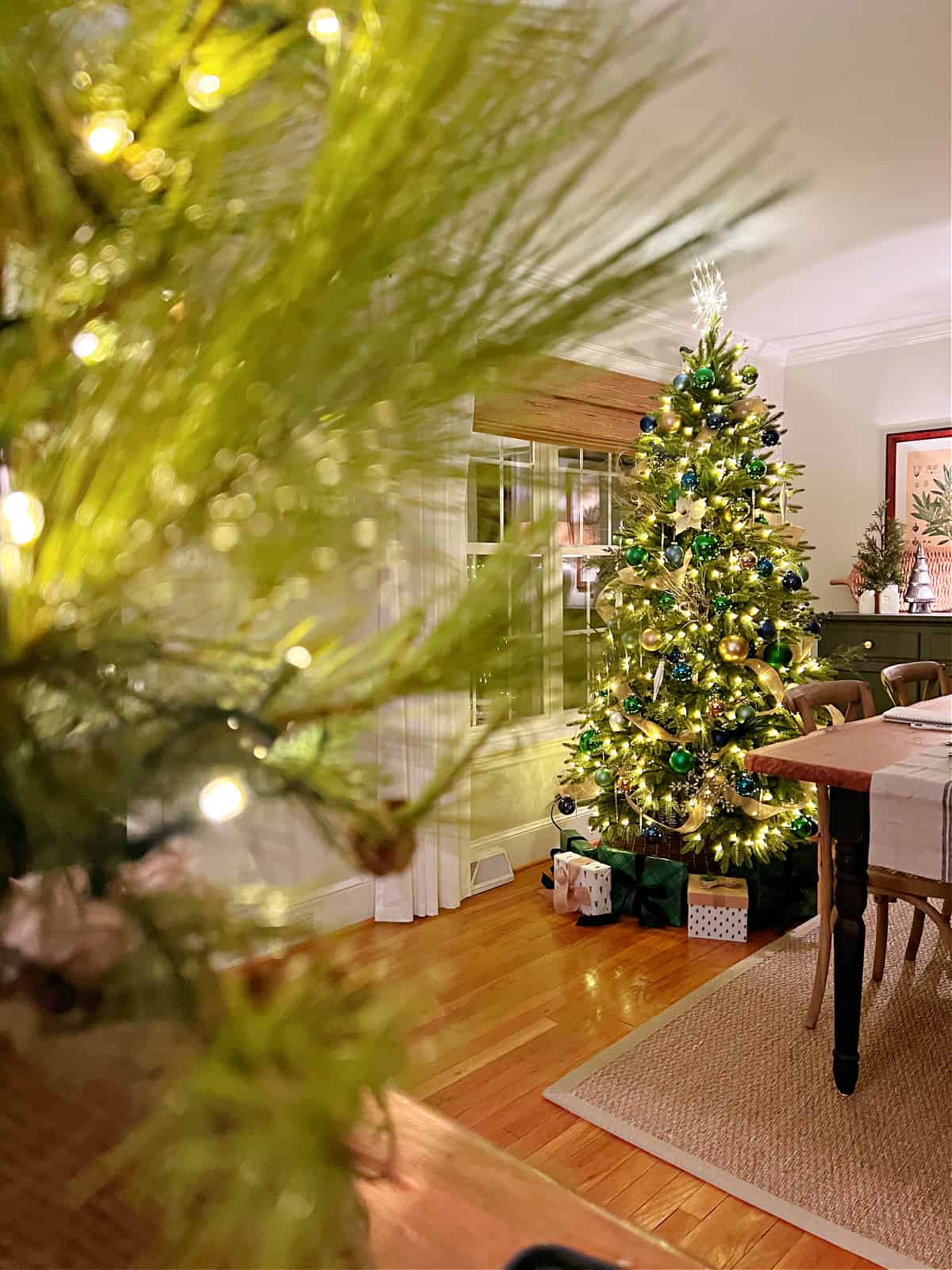 The fireplace was another fun spot to decorate. A week before I started decorating I decided to paint the whole wall and fireplace with Benjamin Moore Wrought Iron.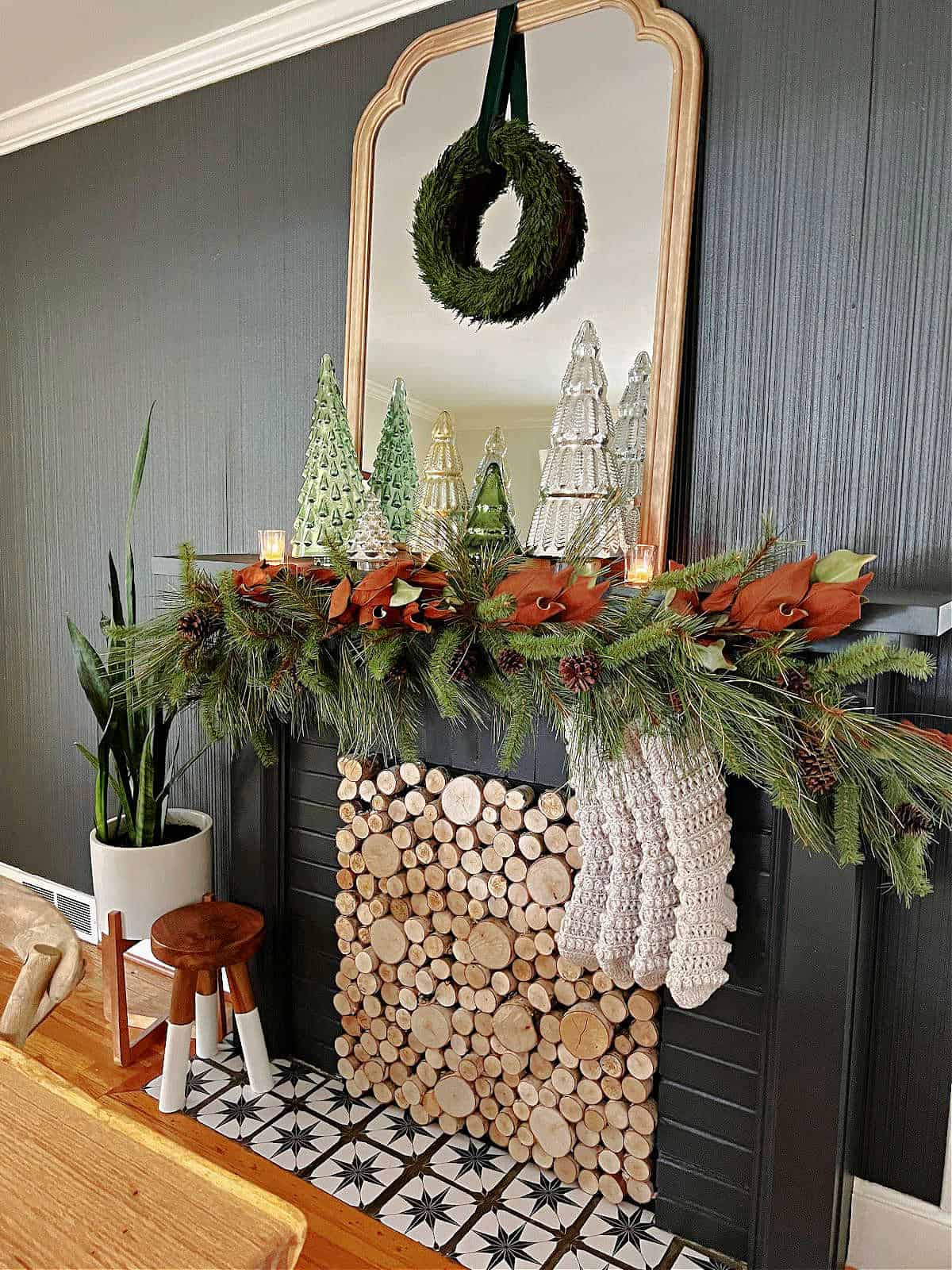 I also added vinyl tile stickers to the fireplace hearth to jazz it up a bit.
The paint barely had time to dry before I arranged my collection of mercury Christmas trees on the mantle and hung the garland and stockings.
The new paint color certainly adds a dramatic touch to our Christmas dining room and I'm really loving it.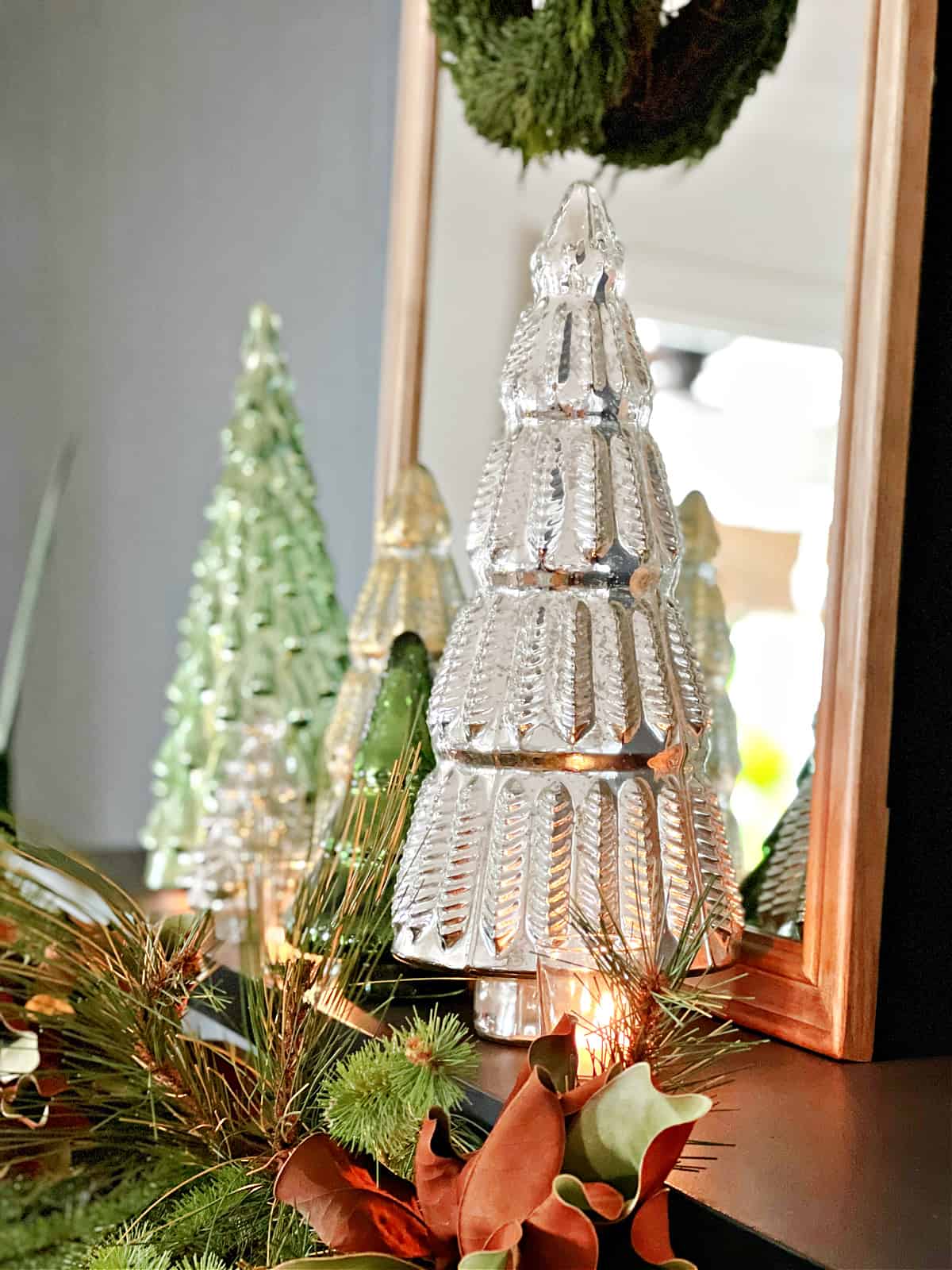 Christmas Cottage Living Room
The "new" living room, that looks into the kitchen, is definitely a cozy spot.
I was able to add a couple of lighted alpine trees and navy velvet pillows, bringing the green and navy theme from the Christmas tree into this space.
It may be small but moving the living room was the best decision ever. I only wish I had done it sooner.
Cottage Christmas Kitchen
Moving into the kitchen, which is usually decorated simply for the holidays, the first thing you notice is the big window.
Because it's the focal point in this space, it always gets the Christmas royal treatment (like the year I made a DIY magnolia leaf garland and hung it up).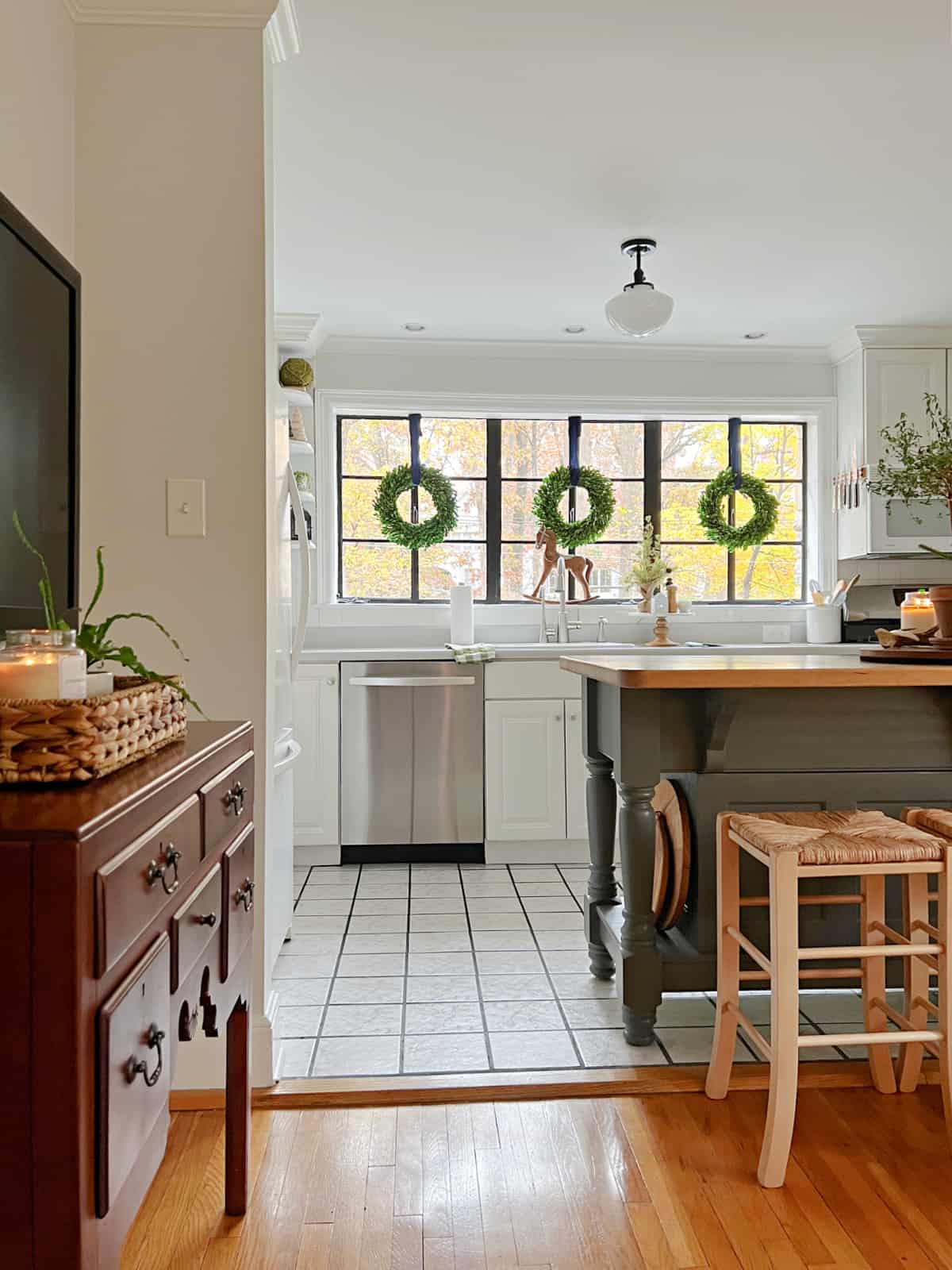 This year I went with wreaths hung with navy velvet ribbon and a wooden rocking horse.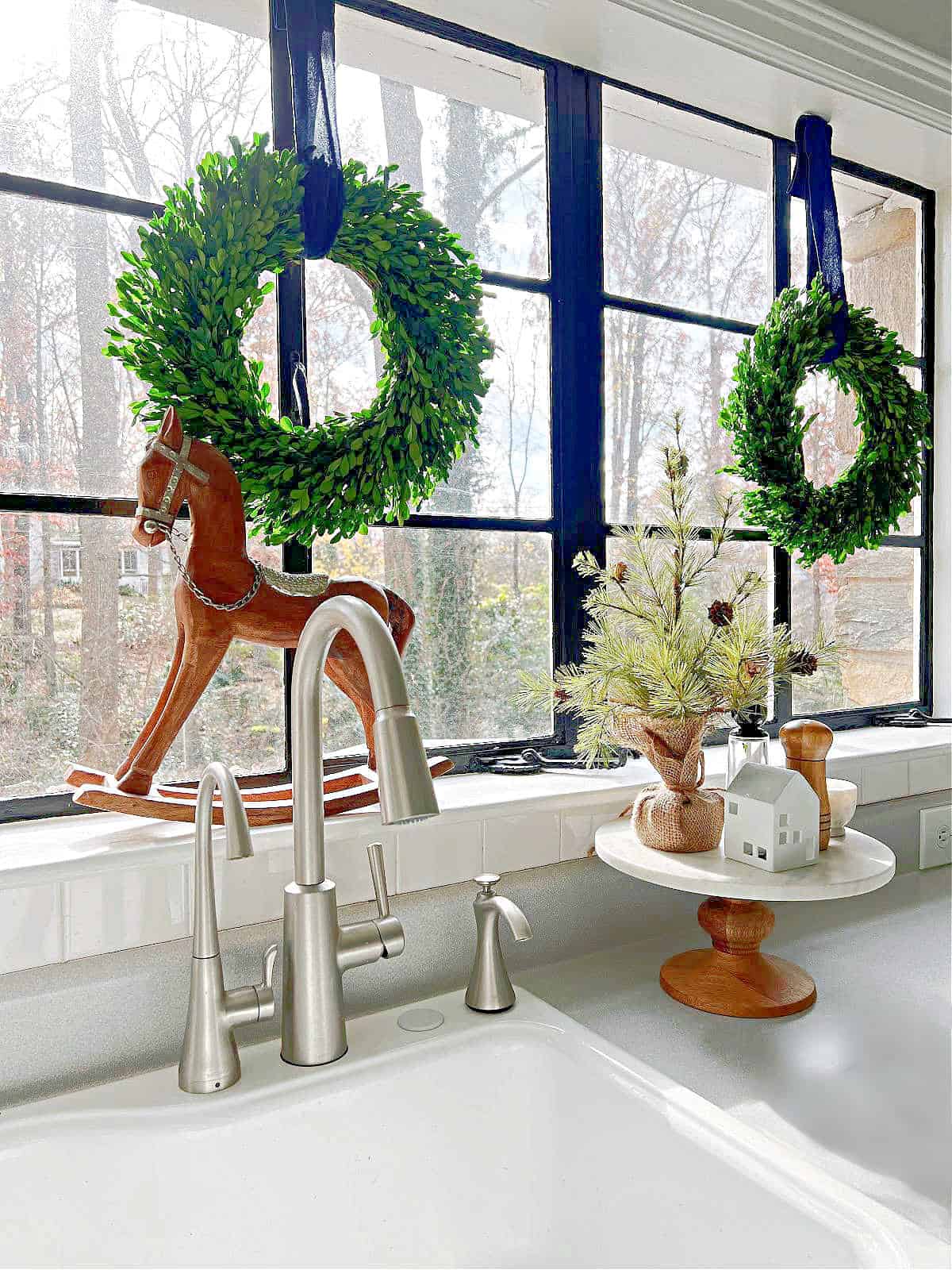 The kitchen island is a fun spot to add some Christmas color. A candle, of course, a small tree and antlers are all that was needed.
The views outside are the main attraction in this space anyway.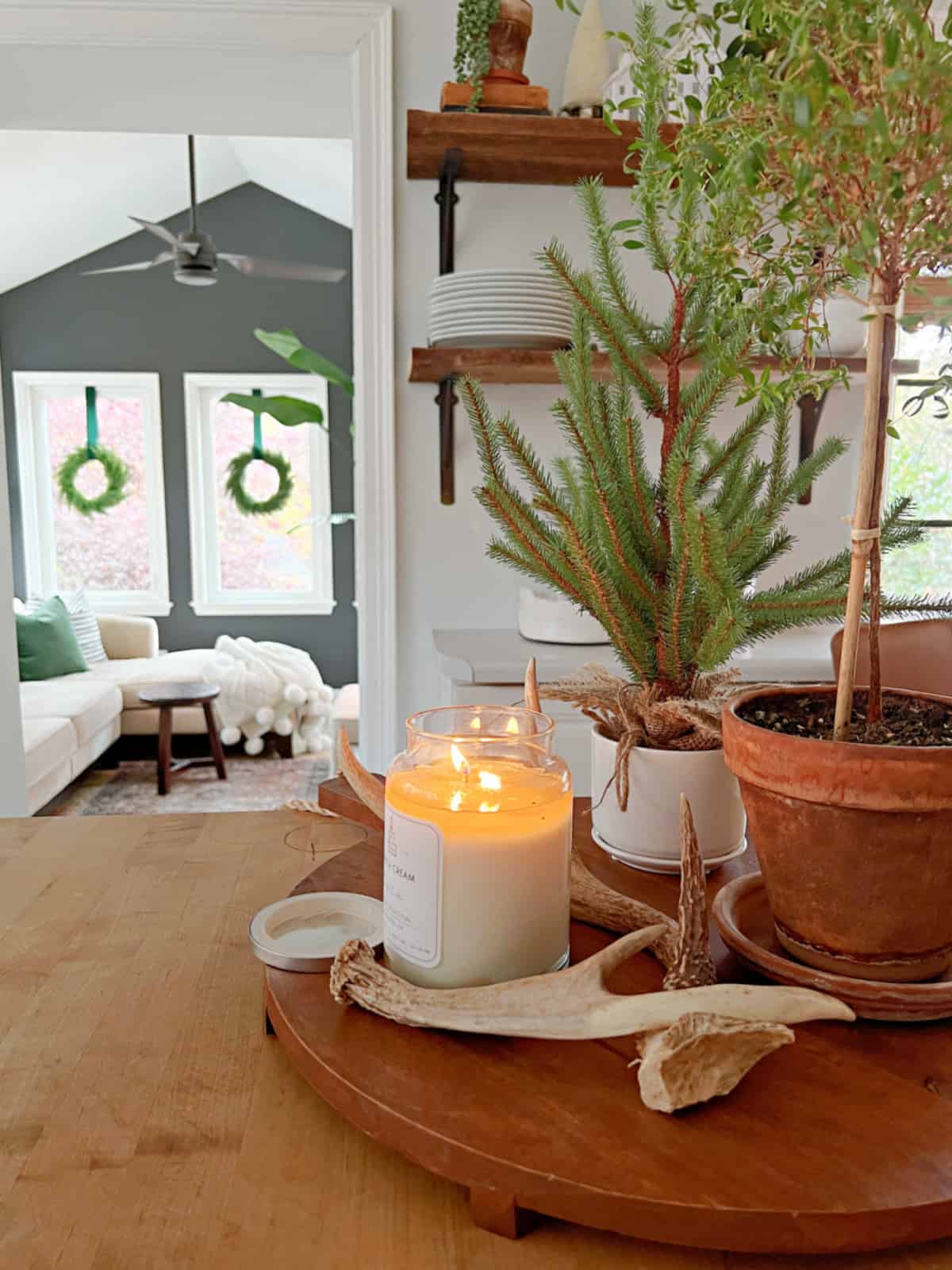 I've collected quite a few ceramic houses so I spread them around the kitchen, with several on the shelves as well as by the kitchen window.
Christmas in the Sunroom
Rounding off our Christmas home tour is our sunroom with it's beautiful treetop views.
Our Japanese maple tree is the best decoration for the holidays. Each December the leaves change to a beautiful vibrant red.
It's the perfect Christmas touch to our indoor holiday decor provided by Mother Nature herself.
As usual I hung a wreath in each window, 8 in total, with the same green velvet ribbon I used in the dining room. Check out my genius trick for hanging indoor wreaths.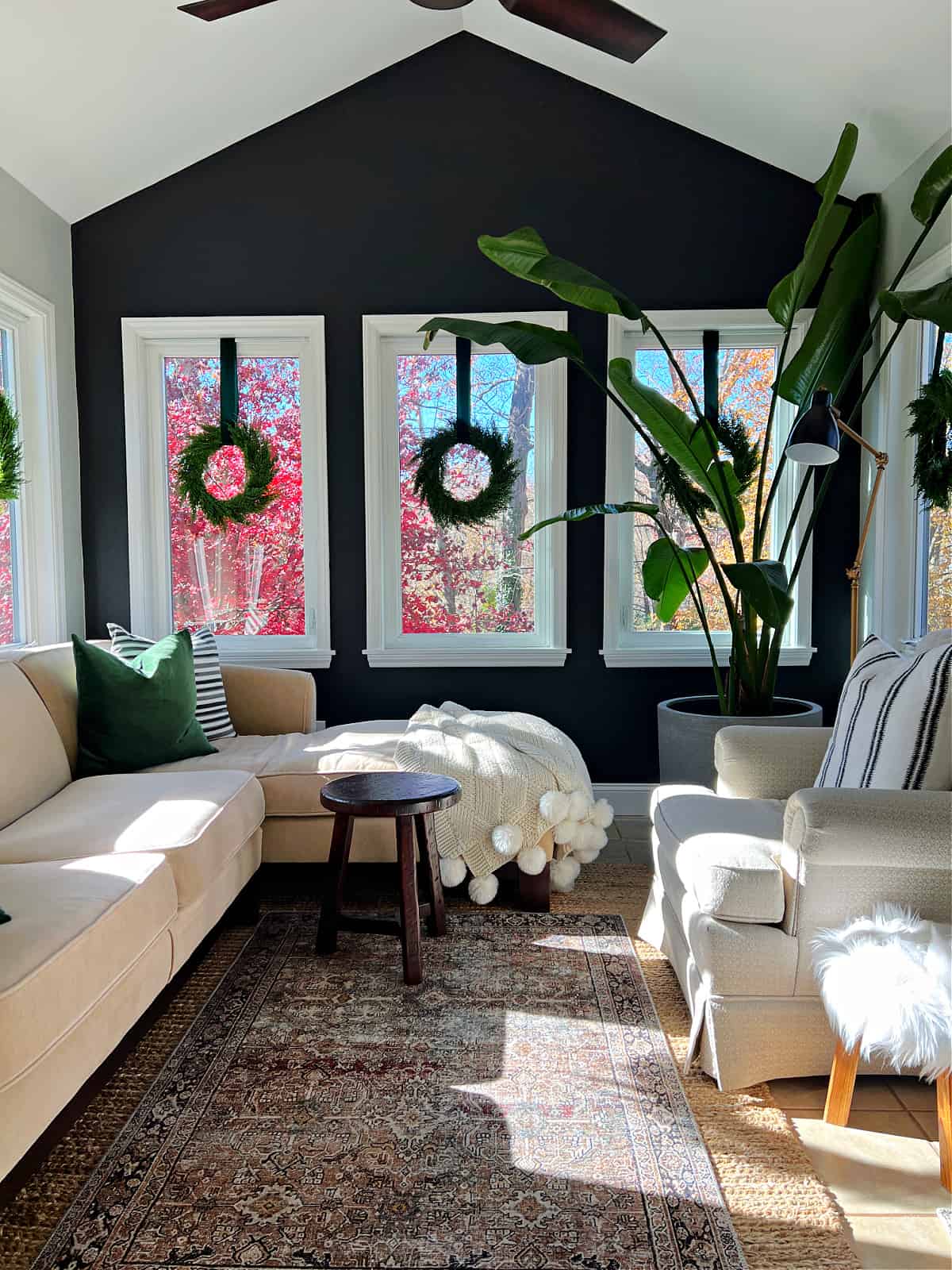 A pompom throw and a couple of green velvet pillows make this sunny space feel Christmas cozy.
This room is small so decor is kept to a minimum but I was able to add a small tree with dried orange slice ornaments and a family of reindeer.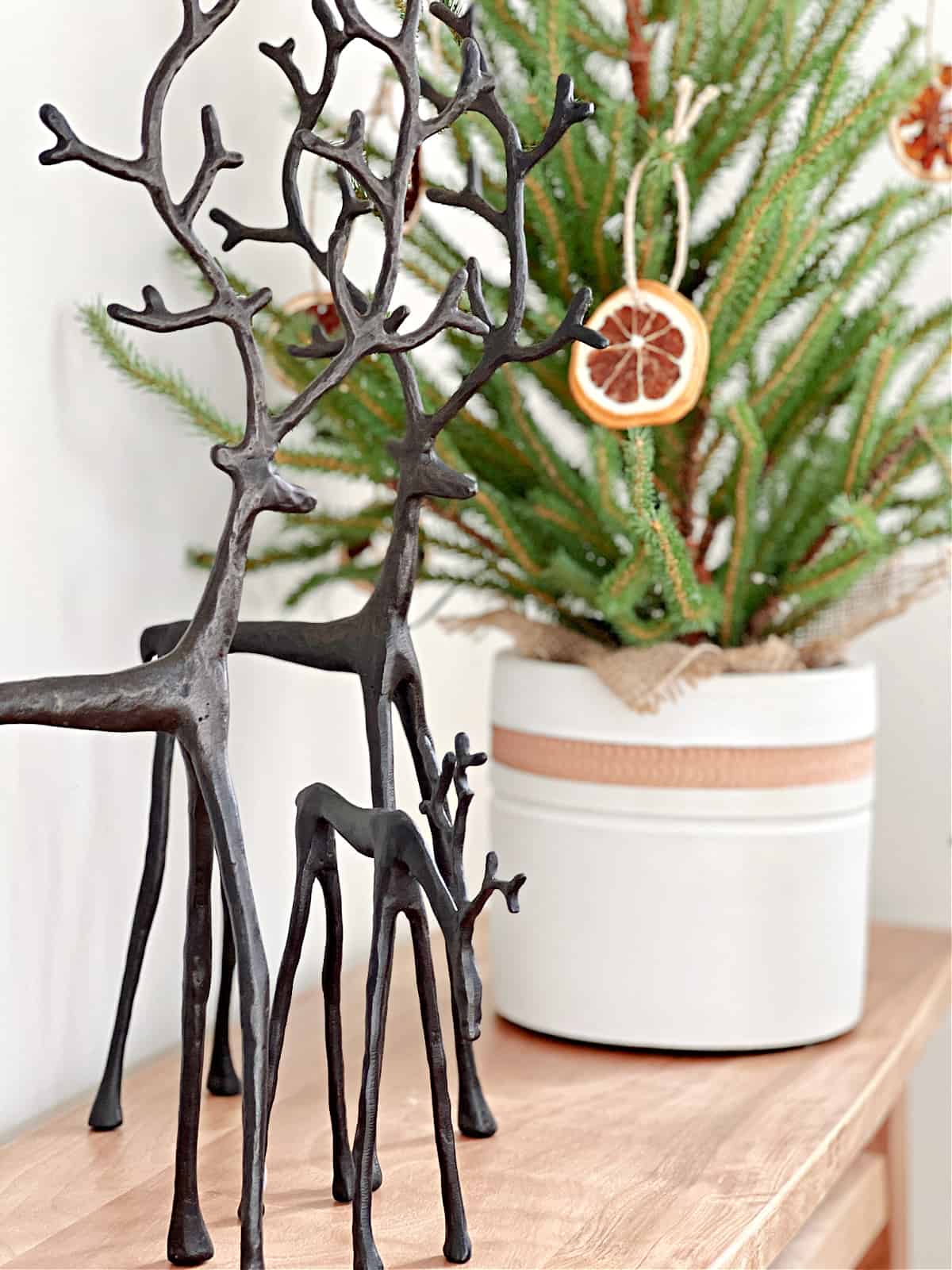 We are really enjoying our little Christmas cottage this year. Well actually we were enjoying it until I had to pack everything away.
We sold our house and will be moving right after New Year's so this will be our last Christmas in our wee stone cottage. I'll catch you up on all the details soon.
In the meantime… happy holidays to you from Roger and me!!!