This post may contain affiliate links, please see our policy for details.
A fall decor must…an easy DIY Indian corn wreath with mini corn cobs to add a touch of fall color and texture to your front door.
I've had these mini Indian corn cobs sitting in a closet for a whole year waiting to become my next fall wreath.
It's one of those crafts that I thought was going to be hard to do but it was really super easy, and only took about 20 minutes to complete.
It's similar to my Spring tulip wreath but this one, of course, is all about fall (make sure you check out my video).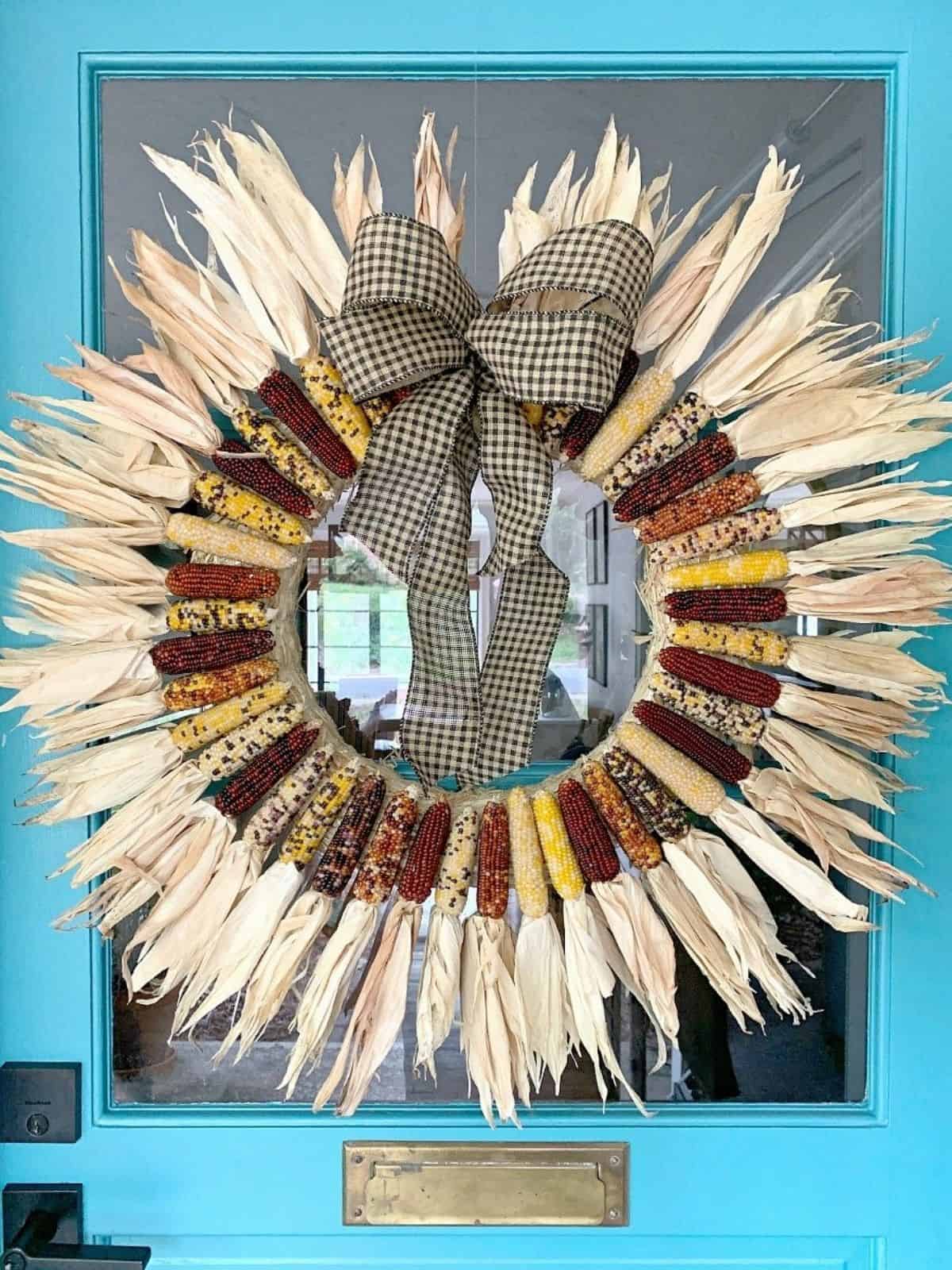 I remember Indian corn from my youth. We lived in a small town surrounded by corn fields so we would go out every fall, pick up the leftover corn cobs and take them home.
Then we would strip the dried corn of the cob and but it in a bag. When we had enough, we would go out at night with our bag of dried corn and corn cobs and tic-tack peoples houses.
I know…not very nice but the corn wouldn't break windows and we would only throw the corn cobs at the metal doors. It was a fall tradition in our neck of the woods.
Hey, we lived in the country and had to find a way to have fun!
---
There's also How-to card at the end of the post, and a video, so make sure you check them out as well.
---
So what can you do with Indian corn…besides going tic-tacking and annoying your neighbors?
You can make a beautiful fall wreath for your front door
Indian corn wreath supplies
mini corn cobs with husks
Making your DIY Fall Wreath
I gathered all of my supplies, which consisted of my hot glue gun, an 18″ wreath form and mini corn cobs with husks.
Just for reference, my corn cobs were all in the 3-5″ range and I ended up using about 42 for the whole wreath.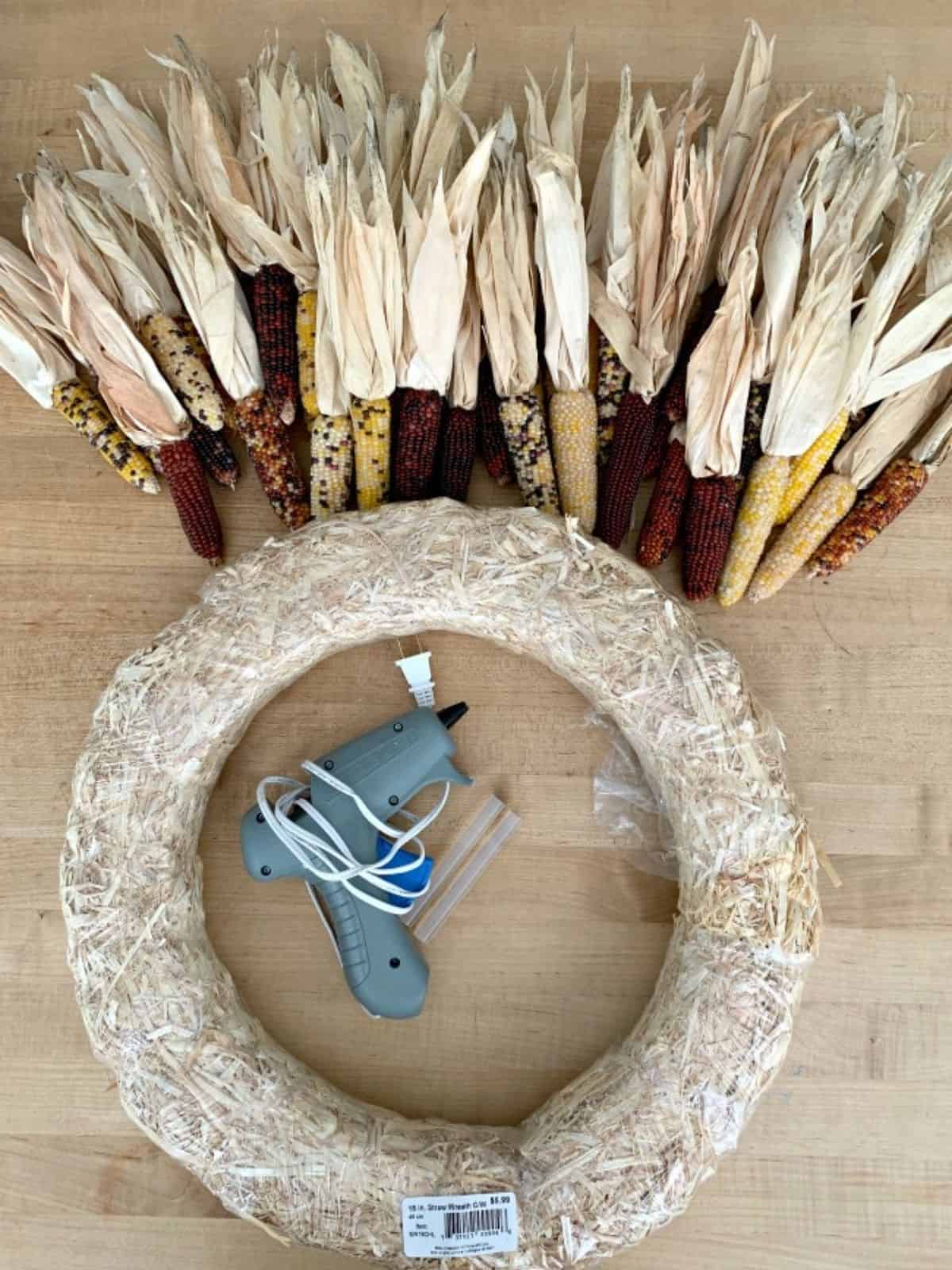 The very first thing that I did was to lay out all of the mini corn cobs on the wreath form.
I wanted to make sure I had enough to fill out the whole wreath.
By some stroke of good luck I had just enough to cover the whole wreath form. I couldn't have planned it better if I tried.
Next, I removed the plastic wrap from the wreath form.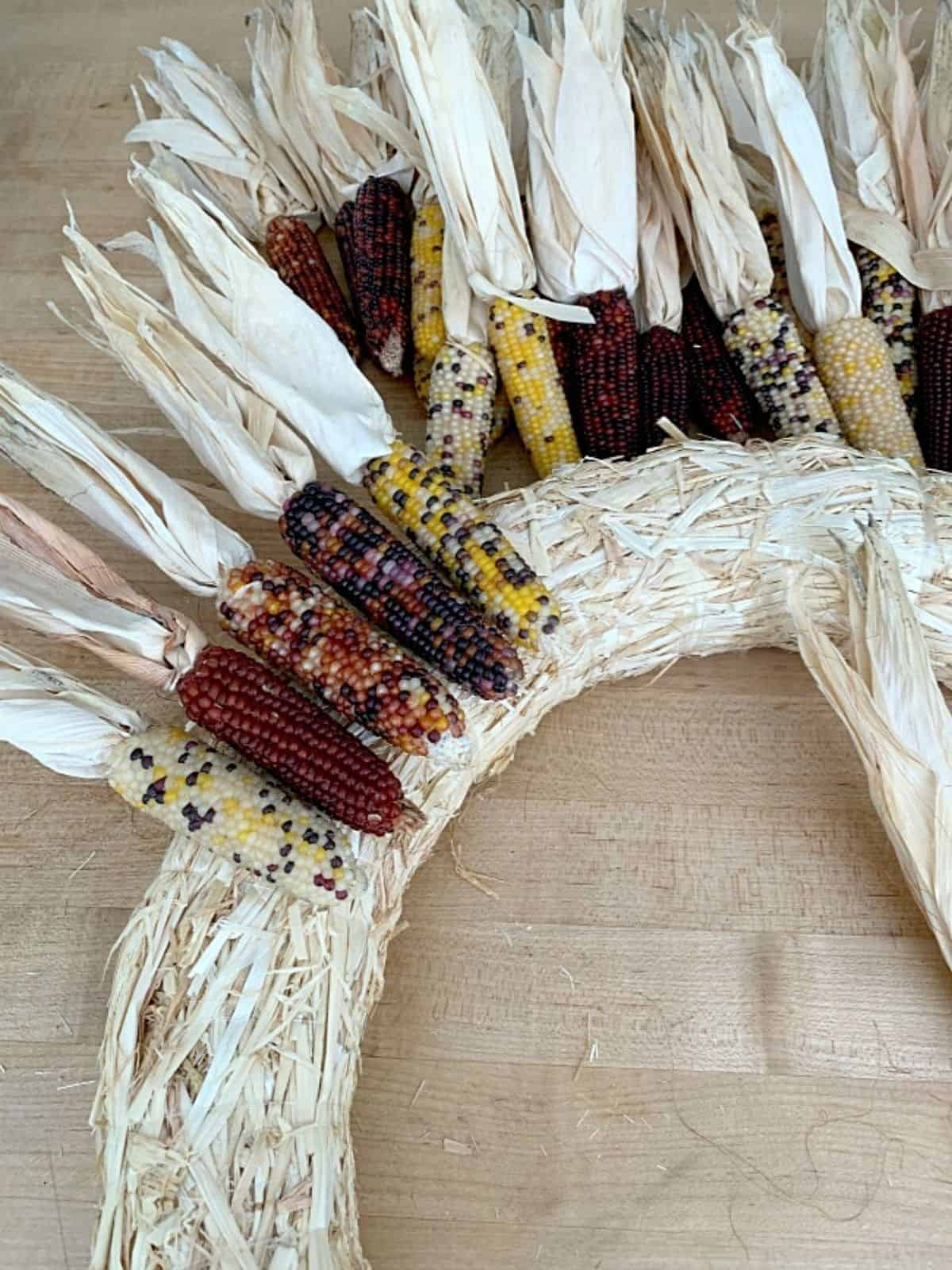 Then I just added a bit of hot glue to each mini corn cob and stuck it on the wreath form.
Yes, it's really that easy.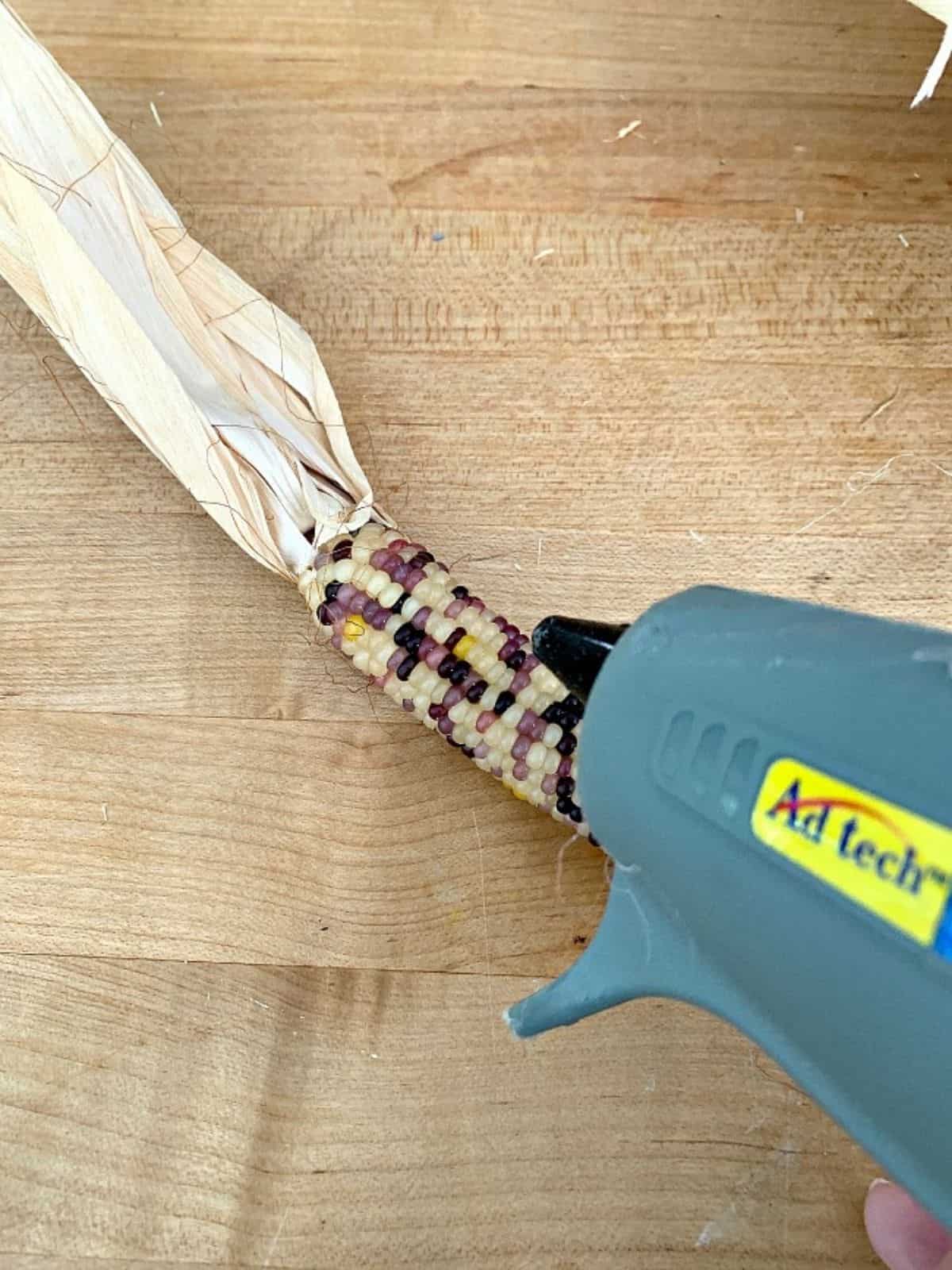 I quickly worked my way around the wreath, trying to mix up the different colored corn cobs.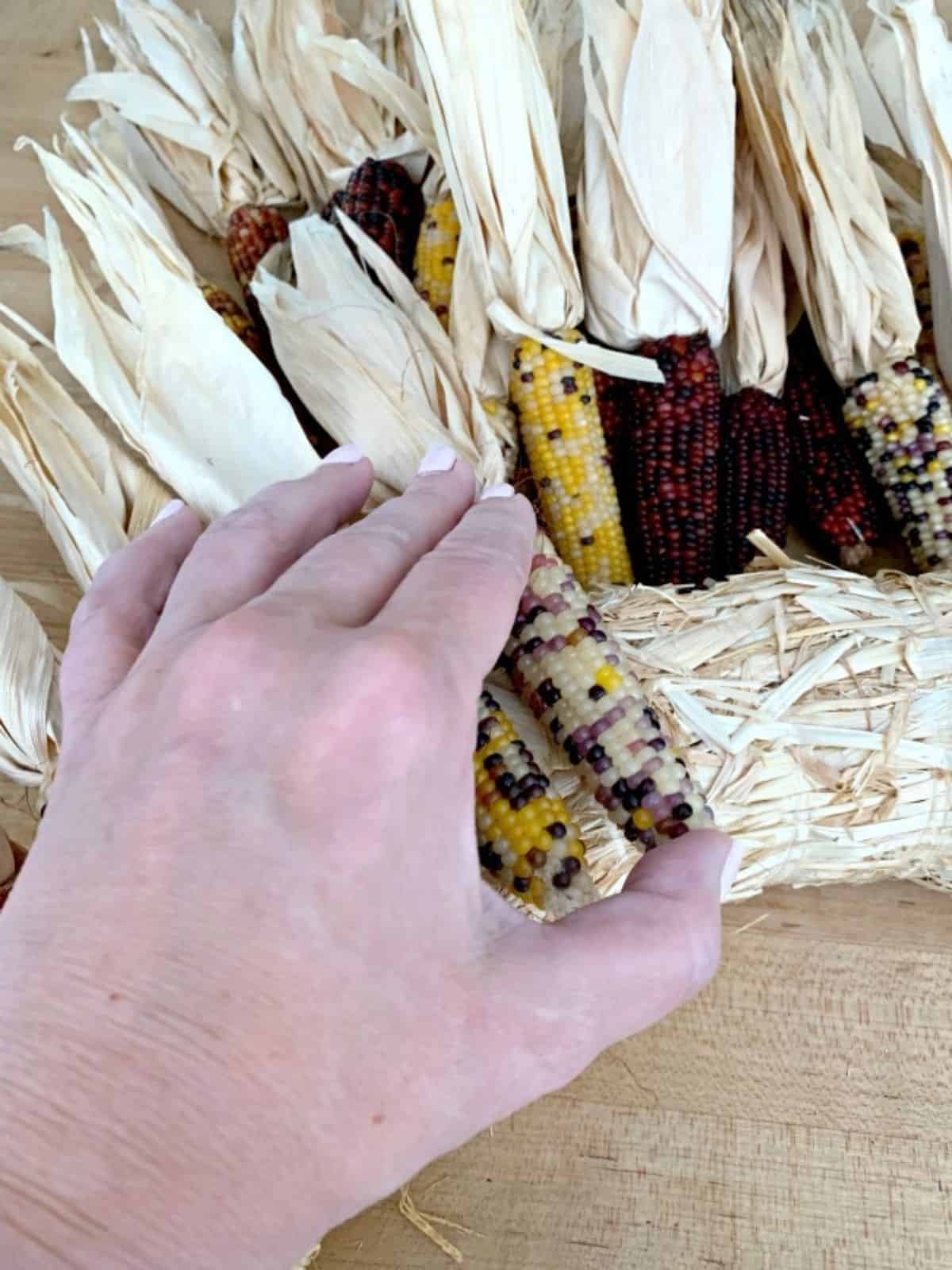 When I reached the end, I found that I had a small gap (even though I laid it all out ahead of time).
Nothing that a big bow couldn't fix.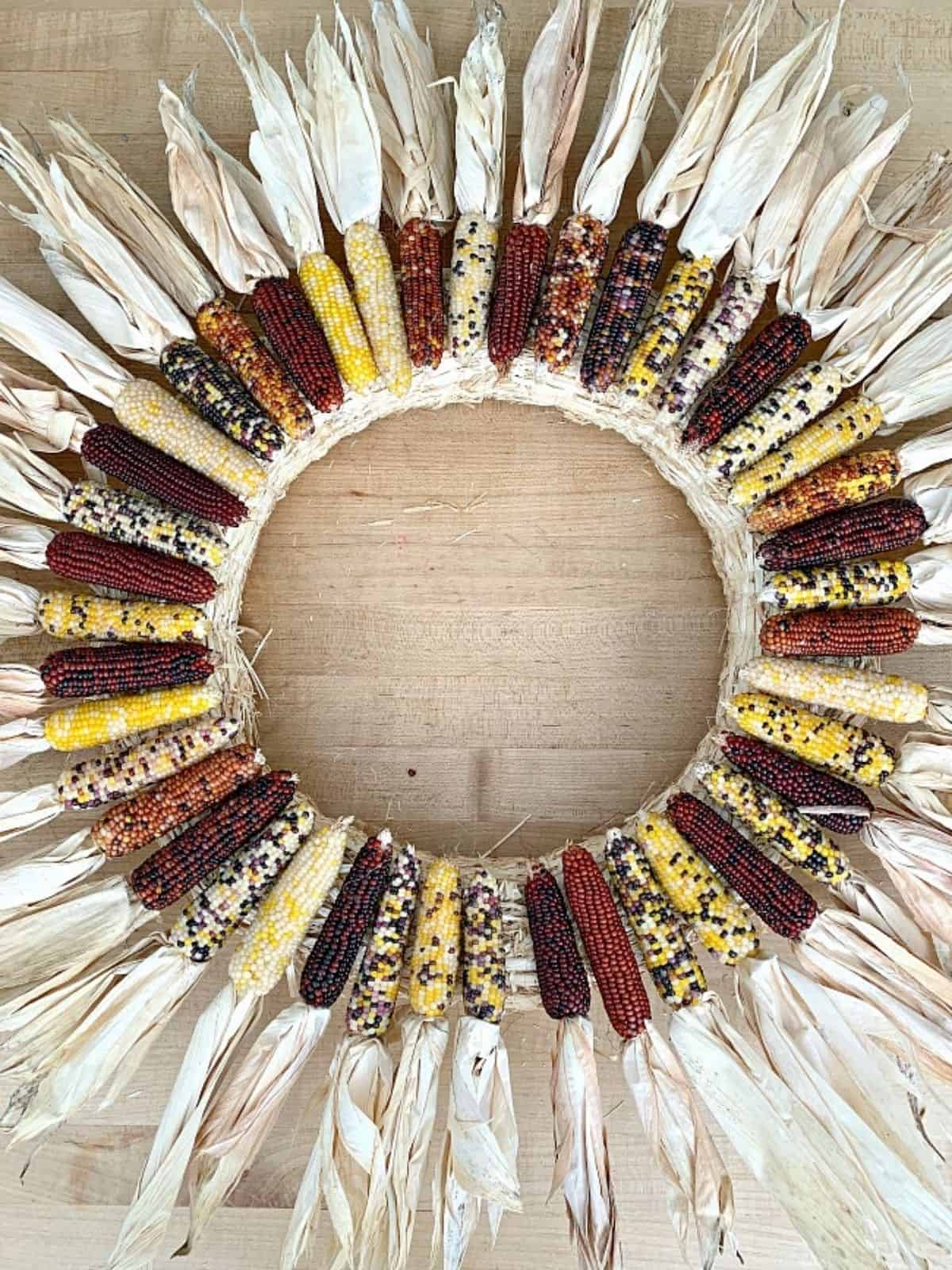 I just cut 2 strips of ribbon, that I already had on hand, and tied them together. I attached them to the wreath form with fishing line.
That's it. It took me about 20 minutes to put the whole thing together.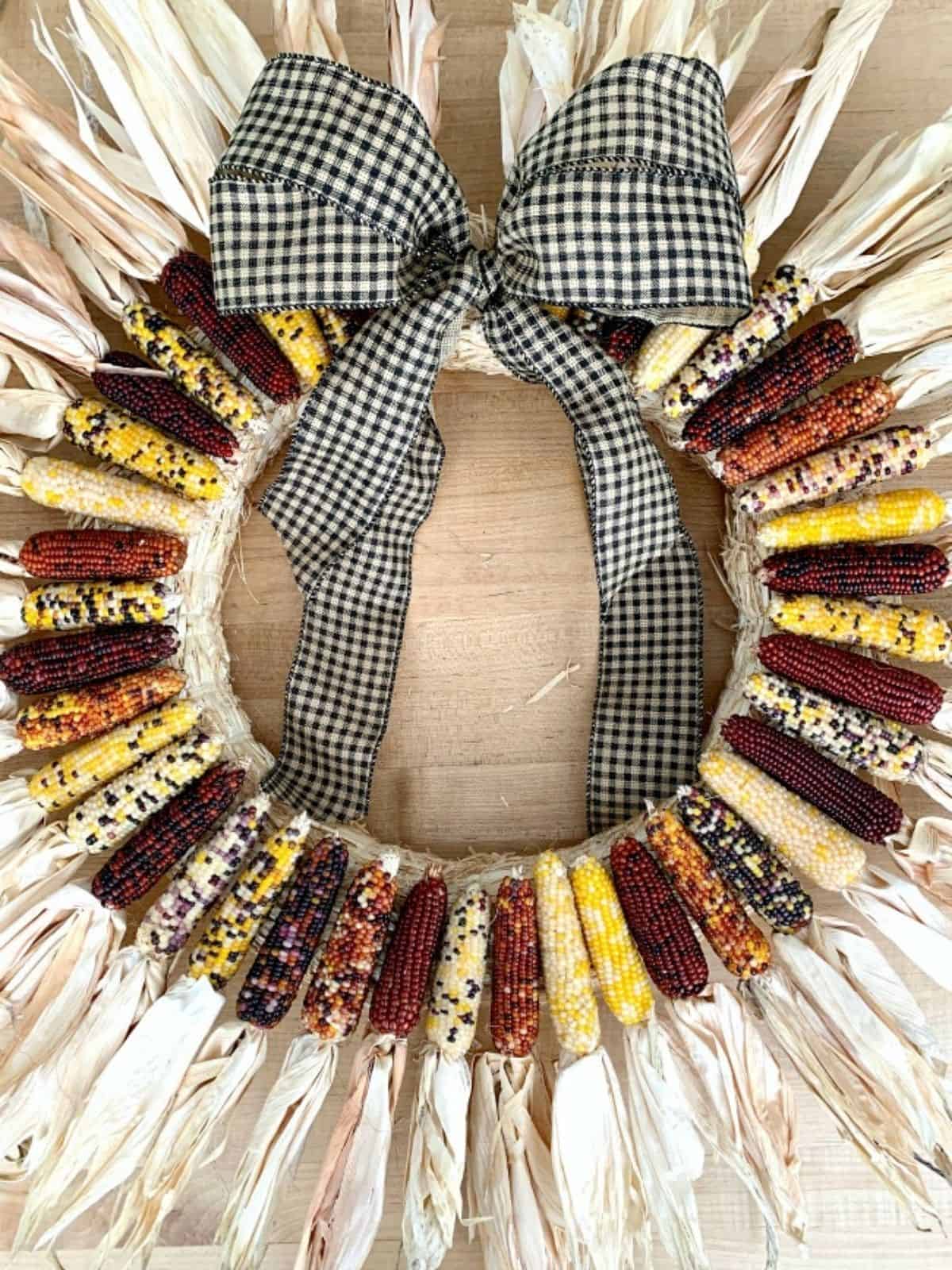 I used more fishing line to hang it on our front door. It's big and heavy so I made sure that I took care to secure it so it wouldn't fall off the door.
It's a great way to show-off your Indian corn, so much better than tick-tacking.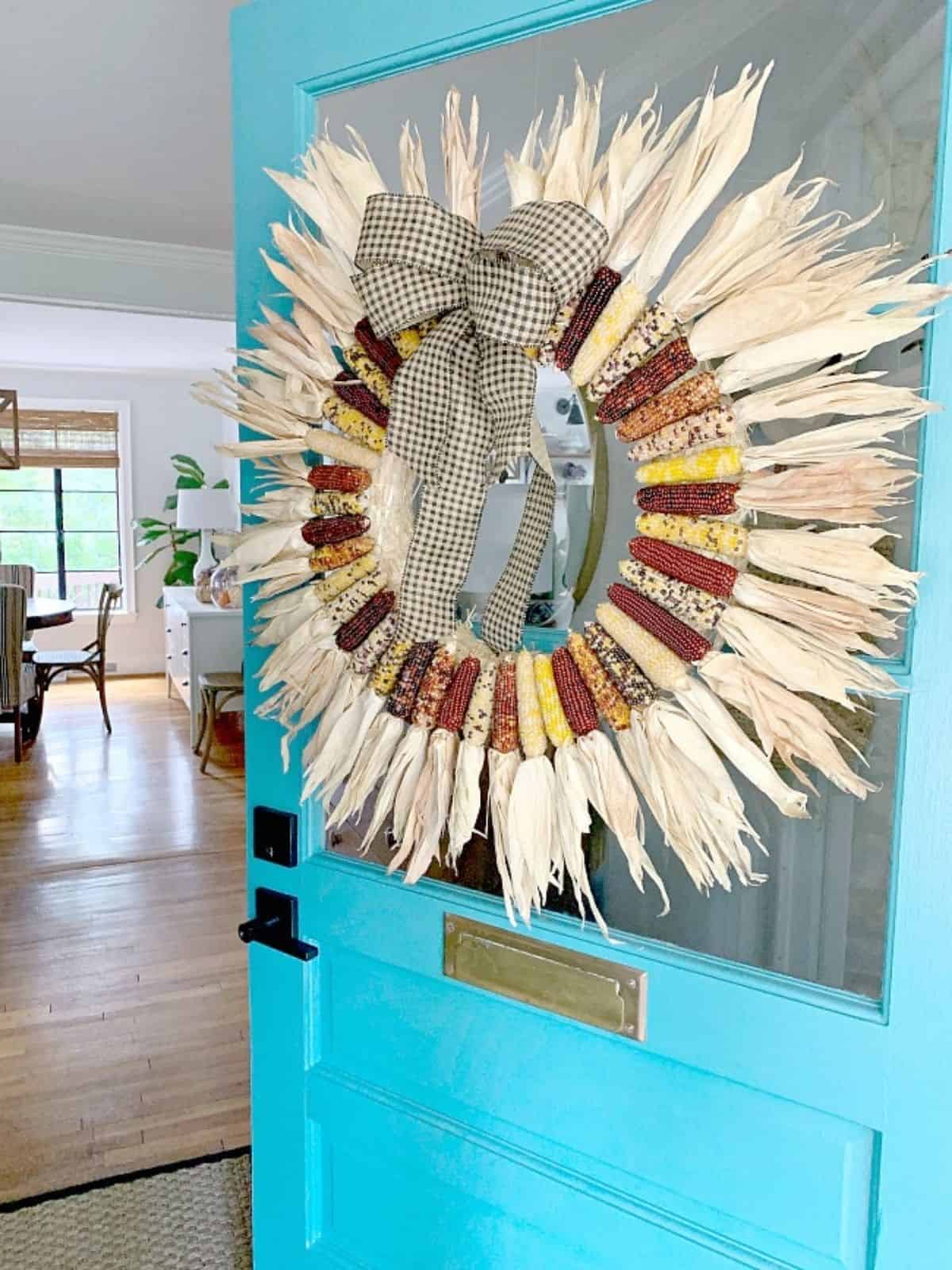 I'm so happy that I was finally able to create the autumn wreath that I've been wanting to make, and that it was so easy to do.
It will be perfect come Thanksgiving, too!
Happy Fall, y'all!!!
I have more fall wreaths to check out…