We are working hard so that we can finish up our kitchen reno, and we got one step closer this weekend by putting some of our things back into the cabinets. Oh happy day! This post won't have beautifully styled pictures and some of them are downright scary, but here goes.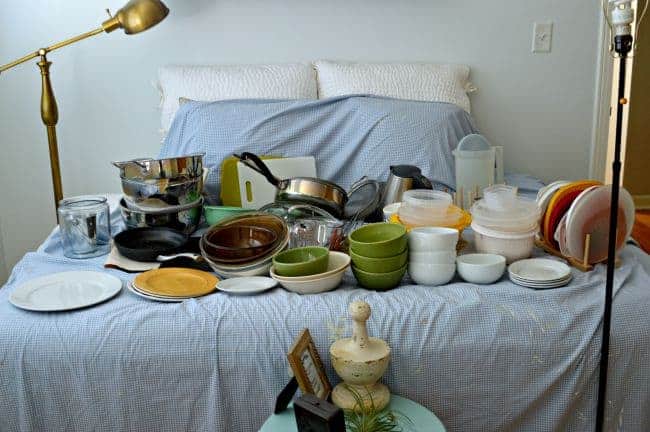 Yikes...yes, that is my pretty guest bed with all of our dishes and pots and pans on it. We've been looking at this mess for the past few weeks, but no more! We were able to put all of that, and more, away this weekend.
The reason why we were able to put some of our things away is because we finally got our countertops! I want to save all the juicy details for the next post. We're still working on getting them in and, as soon as that's done, I'll share pics and give you the 411. This is the first time we've ever done something like this and we're learning as we go, so it's taking us a while to do it. This is what we had to build so we could pick them up from the store.
*This post contains affiliate links. See disclosure.
I did, however, want to share a cutting board storage solution with you. We have a small galley kitchen, with limited storage, so we have to be creative in how we use the space. Our pot and pan storage cabinet is particularly challenging, it's low and deep with a fixed shelf, which makes it difficult to store certain sized items.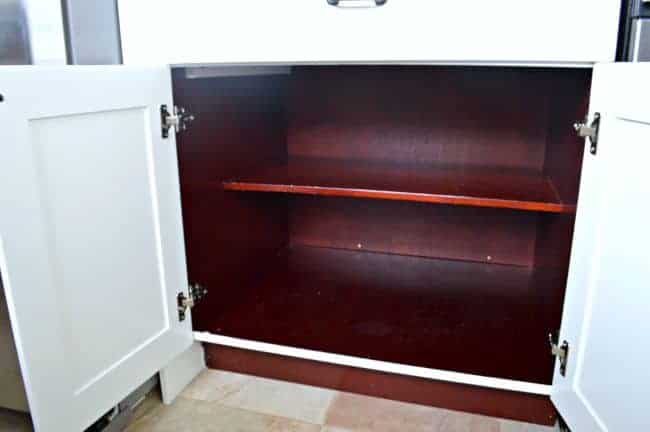 One of the things I've struggled with, in this cabinet, is our cutting board storage. I would try to prop them on the side behind the pots but if you moved the pots, the boards would fall. So to keep them up once and for all, I used two small tension rods, from the floor of the cabinet to the shelf, to give them a standing spot of their own.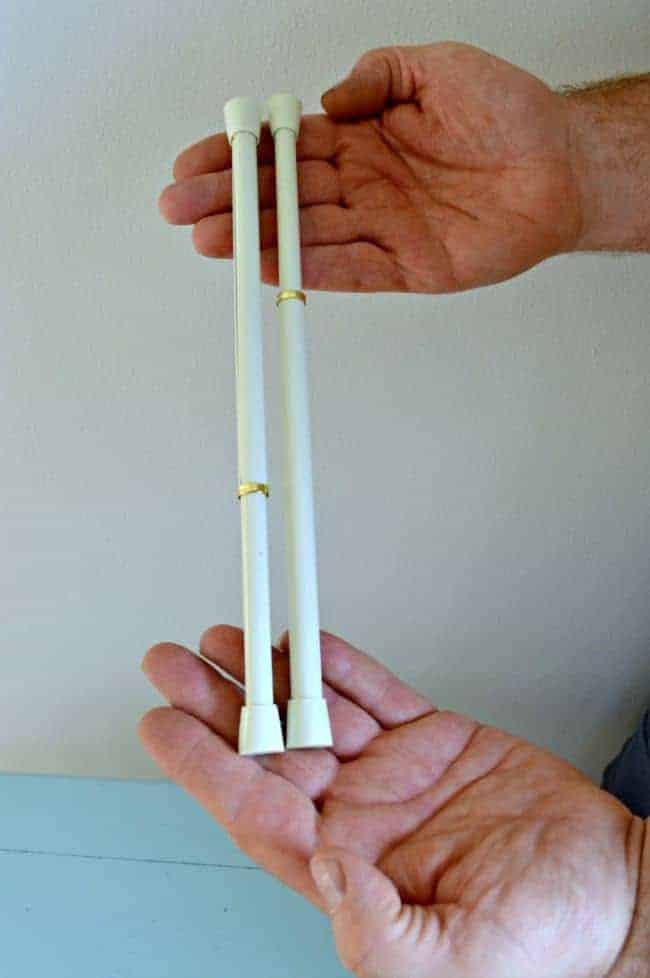 These would be great to use for organizing your baking sheets too.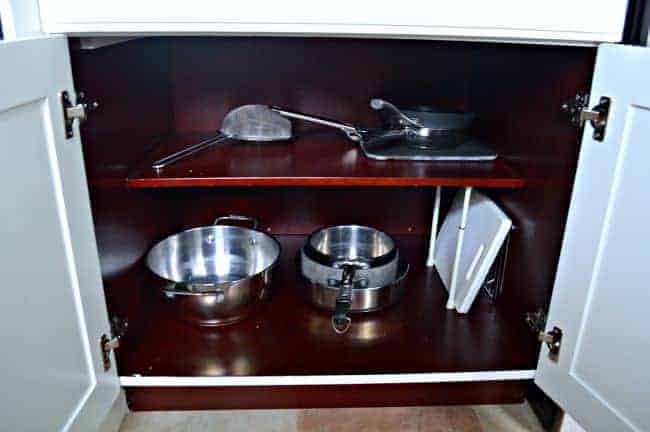 You can easily put them wherever you need them and...Voila!, no more fallen boards. Quick, easy and cheap. I got my rods on Amazon *(affiliate link) for about $10. The small size I needed was tough to find in my area, so I had to order online.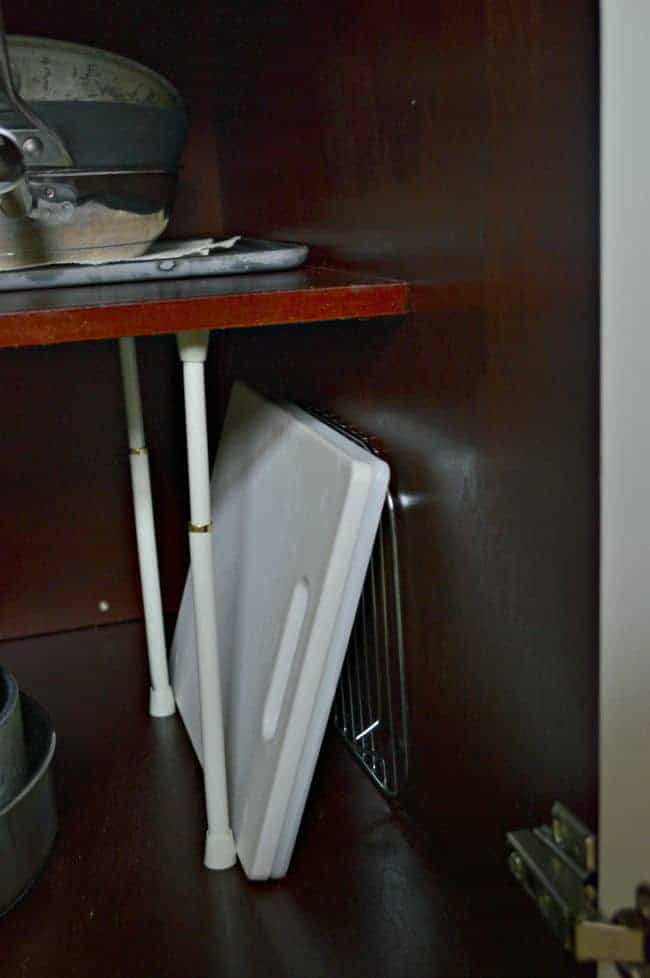 It's funny how a quick fix makes me happy...but I know what would make me really, really happy. Finishing this remodel! Soon, very soon (that's what my husband is always telling me). 😉
How about you? Do you have any quick and easy kitchen storage solutions?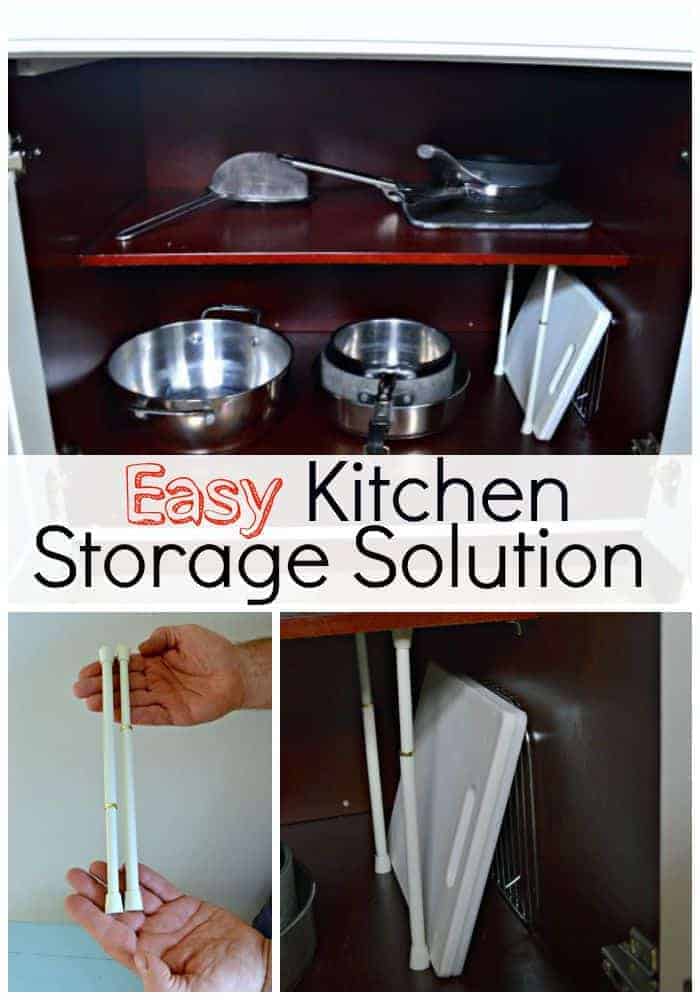 Check out my other post on storage in the kitchen, the hidden trash and recycle bin cabinet we built.
DIY Hidden Trash and Recycle Bins
You can also check out the reveal of the kitchen remodel.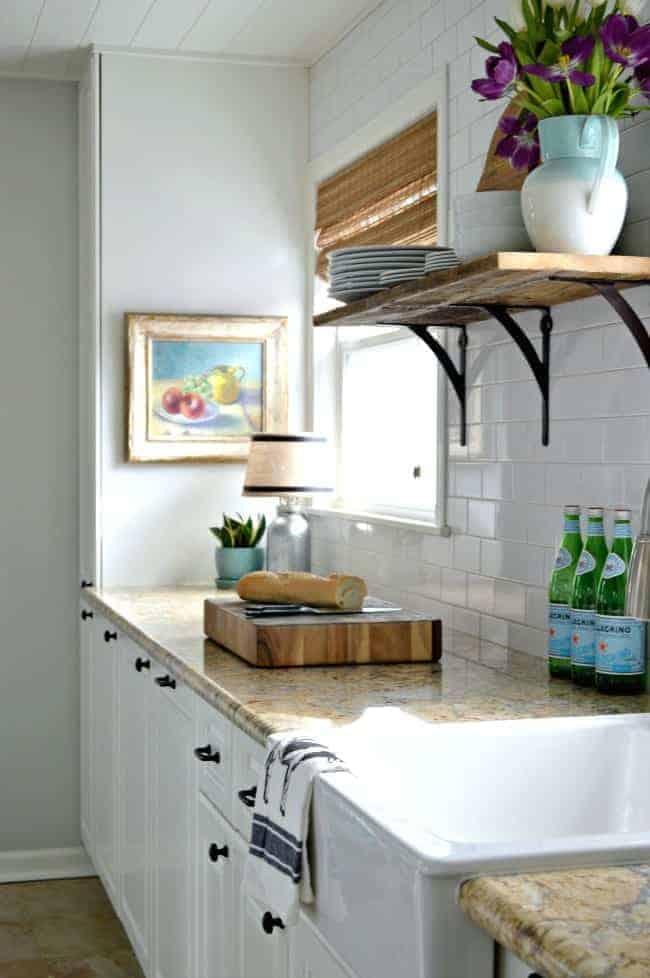 Small Kitchen Remodel for Under $3000