This post may contain affiliate links, please see our policy for details.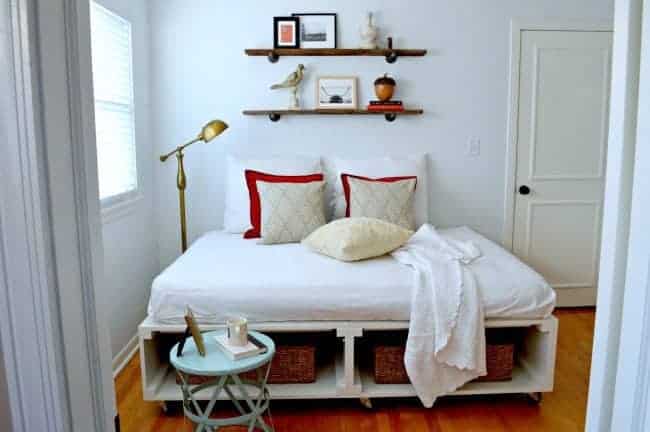 Last week I shared the reveal of my 2nd guest bedroom makeover. I overloaded it with photos so now I thought I'd share some of the details on the decor I used and the platform bed that Mr. C² built for me. This is what the bed looked like before paint and bedding.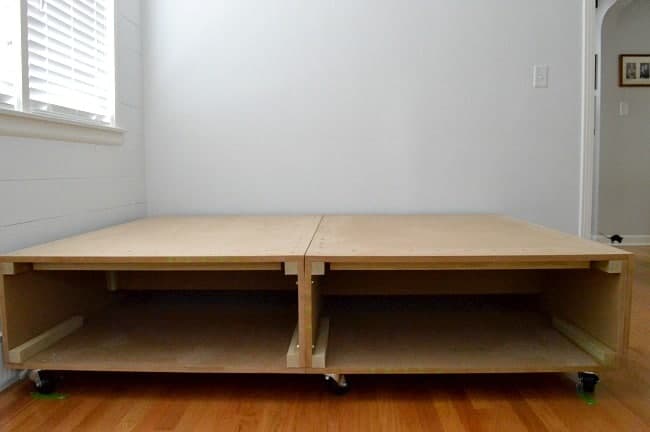 And this is after…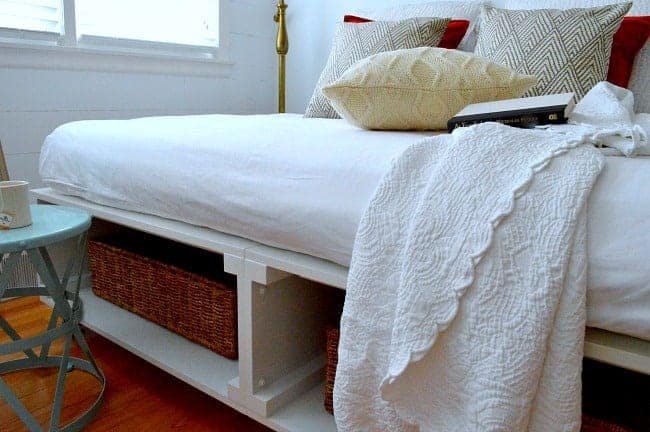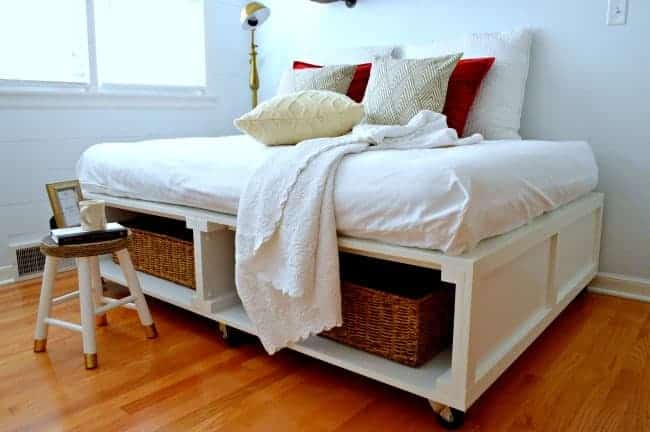 Didn't he do a great job? I was the lucky one that got to fill holes, sand, prime and paint this baby and let me tell you…painting MDF is a huge P.A.I.N. It just soaks up the paint, which raises the grain, so I ended up doing a lot of sanding. I used the same color paint that I used on the rest of the trim and doors in this room, BM White Dove, and we ended up spending about $200, which includes the wood and wheels. It's definitely a solid piece of furniture that can easily be taken apart, in case we move, and it allowed us to use the expensive futon mattress that we already had.
I had a hard time finding baskets that were big enough to sit in the bed cubbies without looking lost but I found these at Ballard's and, compared to some that I saw, they were well made at a good price (more than I thought I would have to spend on baskets though).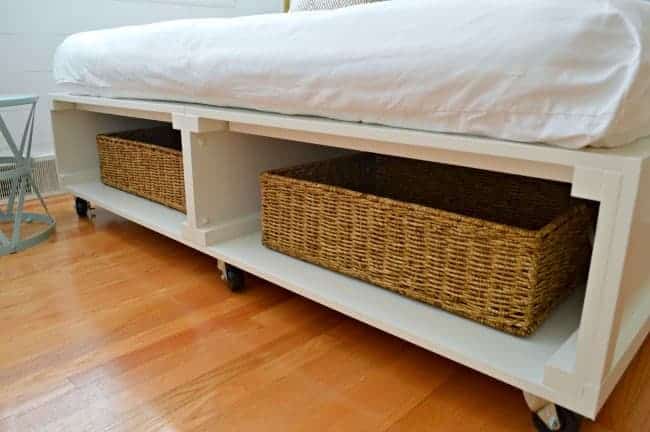 The pillow covers on the bed are all new. The large white euro shams and the red velvet I bought at Pottery Barn, the cream and tan pillows were an Etsy purchase, as was the crocheted pillow cover. I'm so glad that I went with the pop of red…I really love it with the wall color, BM Palest Pistachio, and the other light colors I used.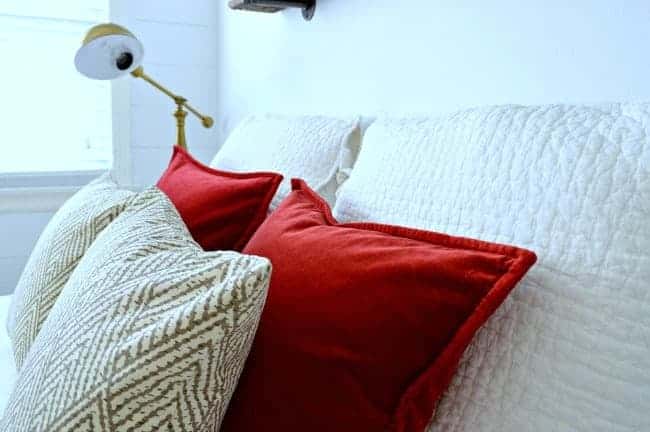 I knew I wanted to use brass accents in this room so when I saw this brass lamp in Home Goods months ago, I brought it home. I wrestled with the idea of wall sconces or a standing lamp because I knew that I wouldn't have room for night stands (and lamps). I ended up with a standing lamp because it's easier to move around with the bed. If I want to move the bed to the window wall, the lamp can go with it.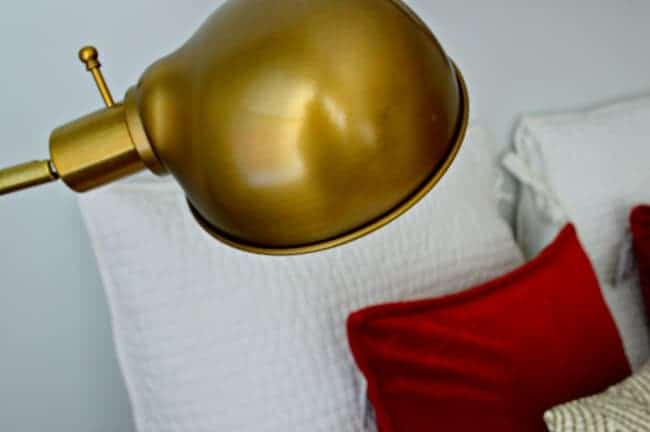 The red wall pic and the steer pic on the barn wood shelves I made were all bought on Minted. It was the first time I ordered anything from them and, I just have to say, I was really impressed. From the website to the packaging of my items, I had a great experience and loved everything I got. I would definitely recommend them and will be buying from them again. All of the other items on the shelves were things I already had.
I had several comments about my armoire, a piece I've not shown on the blog before. I bought it at a little shop in Georgia when we lived there (about 8 years ago). It's got antique hardware with an old key and lock and it's made out of reclaimed pine. My husband tries to convince me to get rid of it every time we move (he hates it) but I love it so it will come with me where ever I go. 😉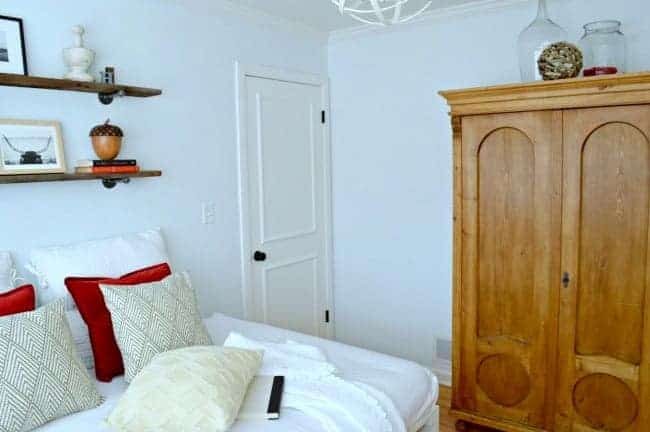 I've already shown you my hanging light that got repainted. I'm so glad that I went for the change because it blends so well with the room now.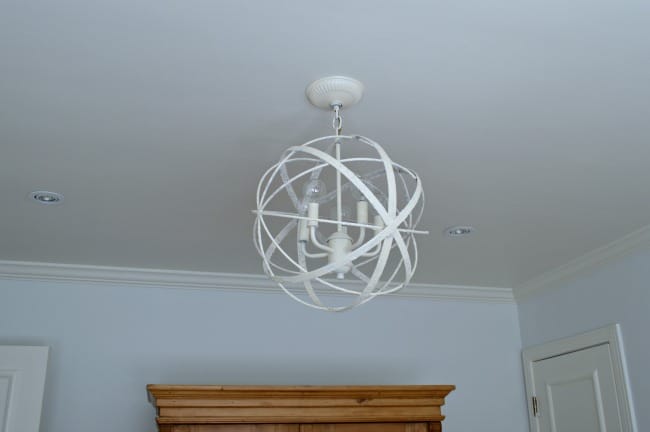 I've also shown you my red chalk paint cabinet redo (it's how my pop of red came about).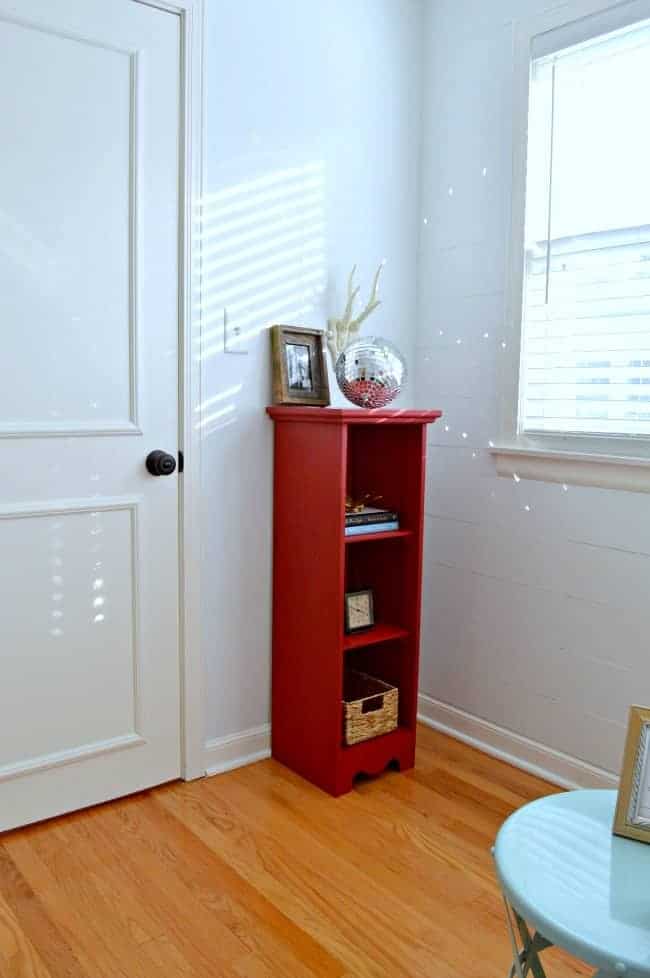 And finally my planked wall. It's subtle but it adds just a bit of texture to the room. It's such an easy, inexpensive project and hope to do it in another room.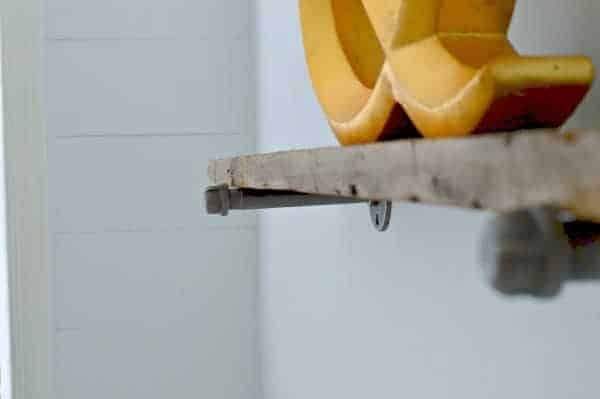 That's my whole room. Seven long months of work but we are loving how it turned out. I'm still working on accessories and I would like to get a small rug, but this room is a wrap. Now it's on to the kitchen, and the husband is not very happy to be there. He is going to have to help me out some and he's not looking forward to it. We I have lots of things planned and I'll be sharing all of that very soon. This is the room that needs the most work so I'm excited to get started.
Bedroom Sources
walls – BM Palest Pistachio
trim, doors – BM White Dove
ceiling – BM White Dove
platform bed – made by us
red velvet pillows – Pottery Barn
white Euro shams – Pottery Barn
cream, tan pillow covers – Etsy
barn wood shelves – made by us
steer picture – Minted
red wall with ampersand – Minted
large bottles on armoire – Ballard's
brass standing lamp – Home Goods
red cabinet – painted in Americana Decor chalk
hanging light fixture – made by me