Rustic Wood Candle Holders – 2 Ways
*As an Amazon Associate and member of other affiliate programs, I earn from qualifying purchases.
Sometimes when I'm stressed, I find that working on projects helps me feel better. My husband says that he can usually tell my level of stress by the number of projects I'm working on, currently it's 3. I know, you would think that doing a lot of projects would be more stressful but it actually takes my mind off of whatever is stressing me out. Does that make sense?
One of the 3 projects I worked on is an easy and inexpensive one, and I love how it turned out…these rustic wood candle holders.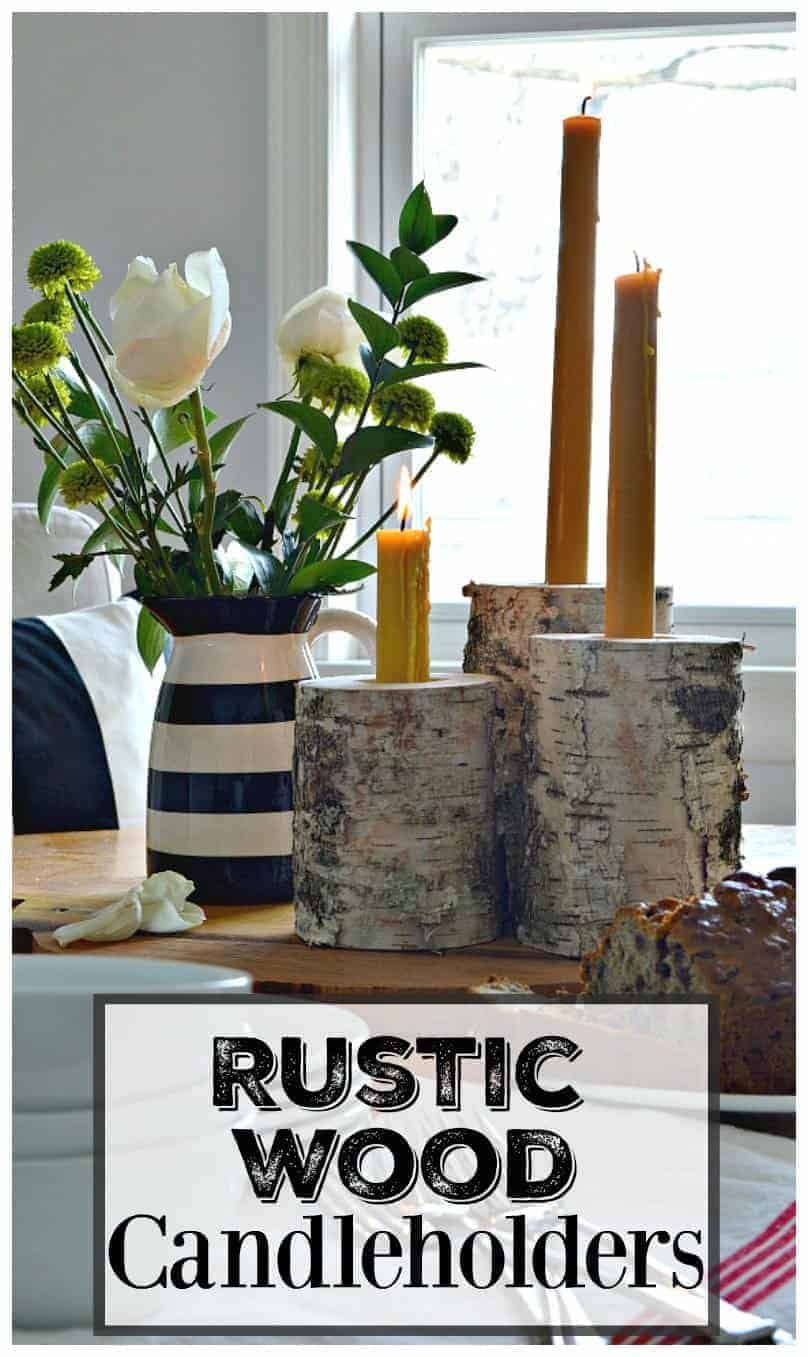 I bought a birch log a while ago so that we could make a few candle holders for our fall decor. Unfortunately we ran out of time after only making a couple, so a few weeks ago we whipped out a few more so I would have a set.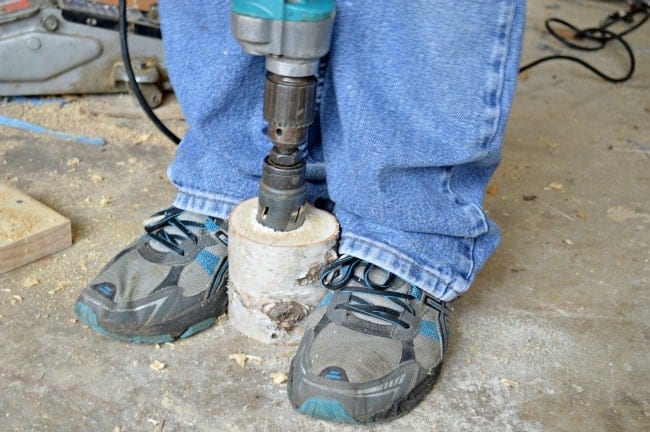 You may have seen these around, they're pretty popular right now, but they're usually made to fit tea lights. I wanted to use them on our dinner table with my beeswax tapers so I decided to change them up a little. I made them to fit 2 different sized candles, tea lights and tapers. Now they're multifunctional. 😉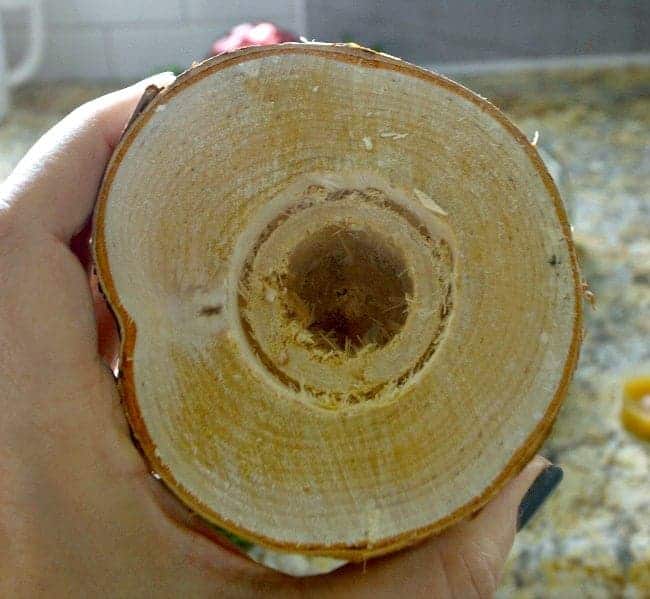 After I cut the birch log into different lengths with the chop saw, we used a hole saw for a tea light and then a butterfly drill bit to make a deeper hole to fit a taper.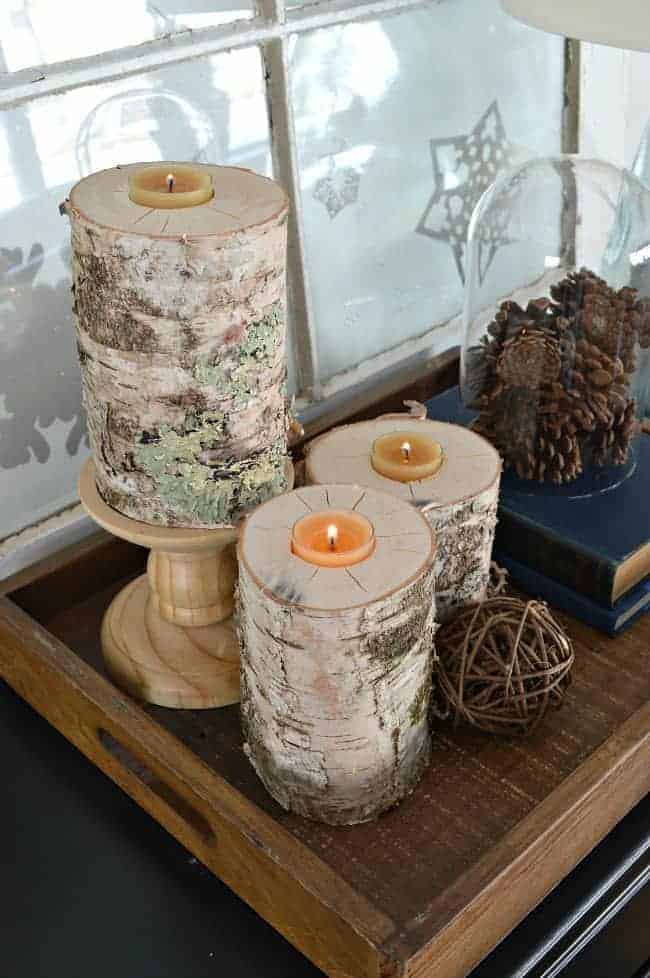 It only took a few minutes to make the holes and in no time we had a set of dual purpose candle holders. The wood was pretty wet when I cut it so I placed them on the dryer in our basement. After a few days on the warm dryer, they had dried nicely.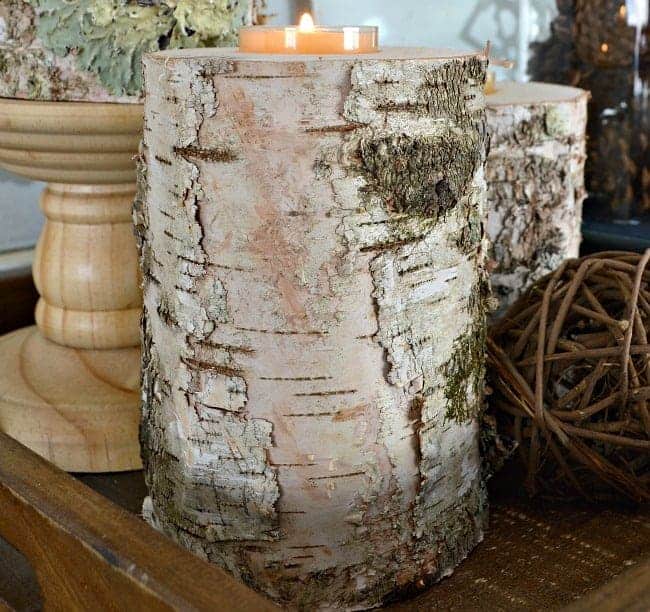 I love the rustic-ness, the moss and chippy bark. Mother Nature certainly knows what she's doing.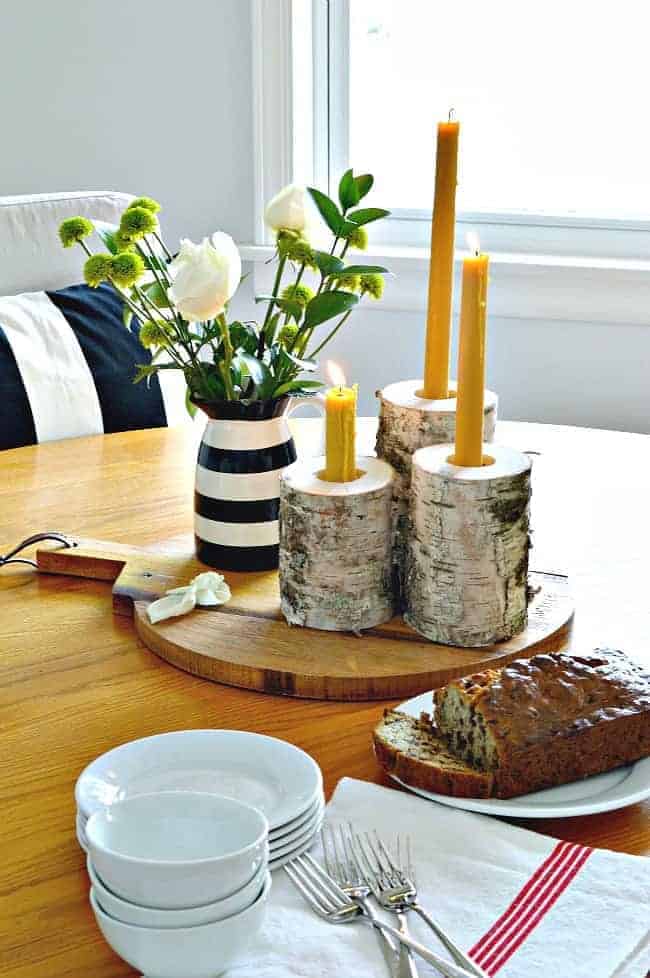 There's nothing formal about our table settings and the wood candle holders fit right in with our relaxed style.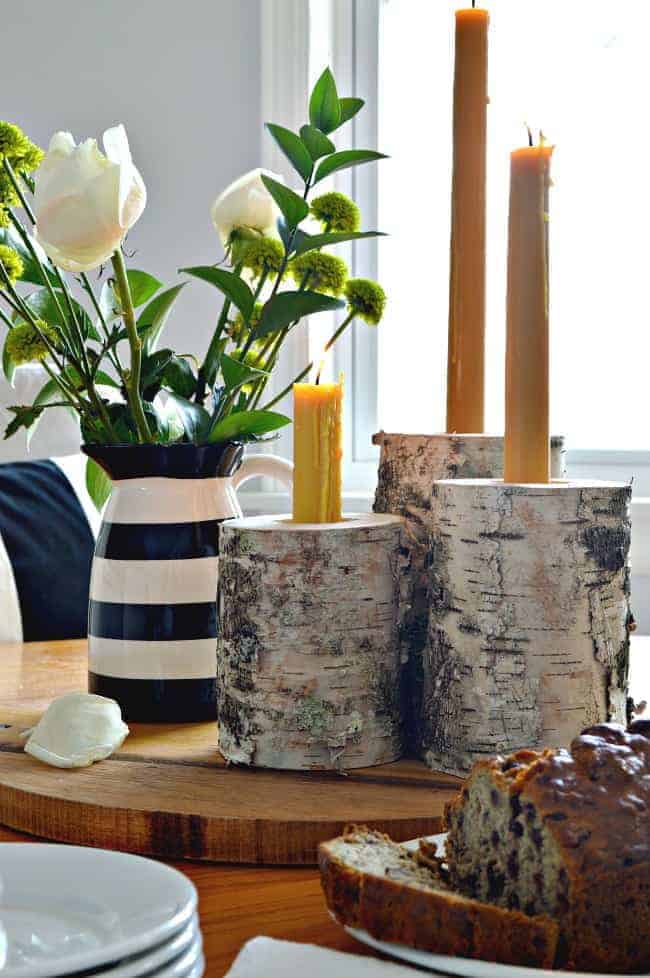 I just added my flower filled striped pitcher, that I got in the Target Dollar Spot, and my yummy chocolate chip banana bread (you can find my easy here), and our dessert table was all set.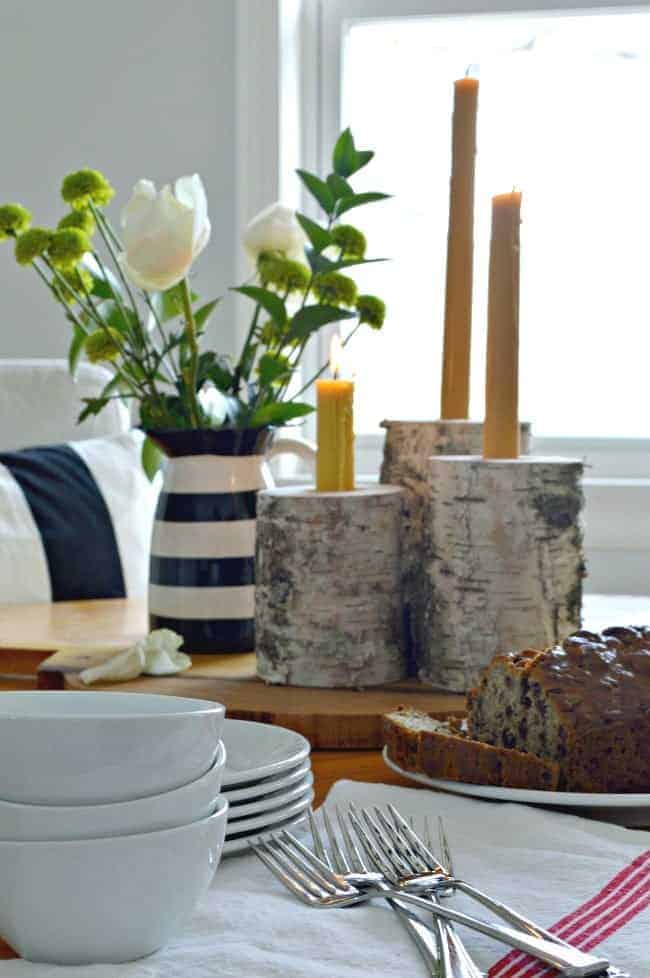 Thanks so much for stopping by.
If you're looking for more easy DIY's, check out these projects.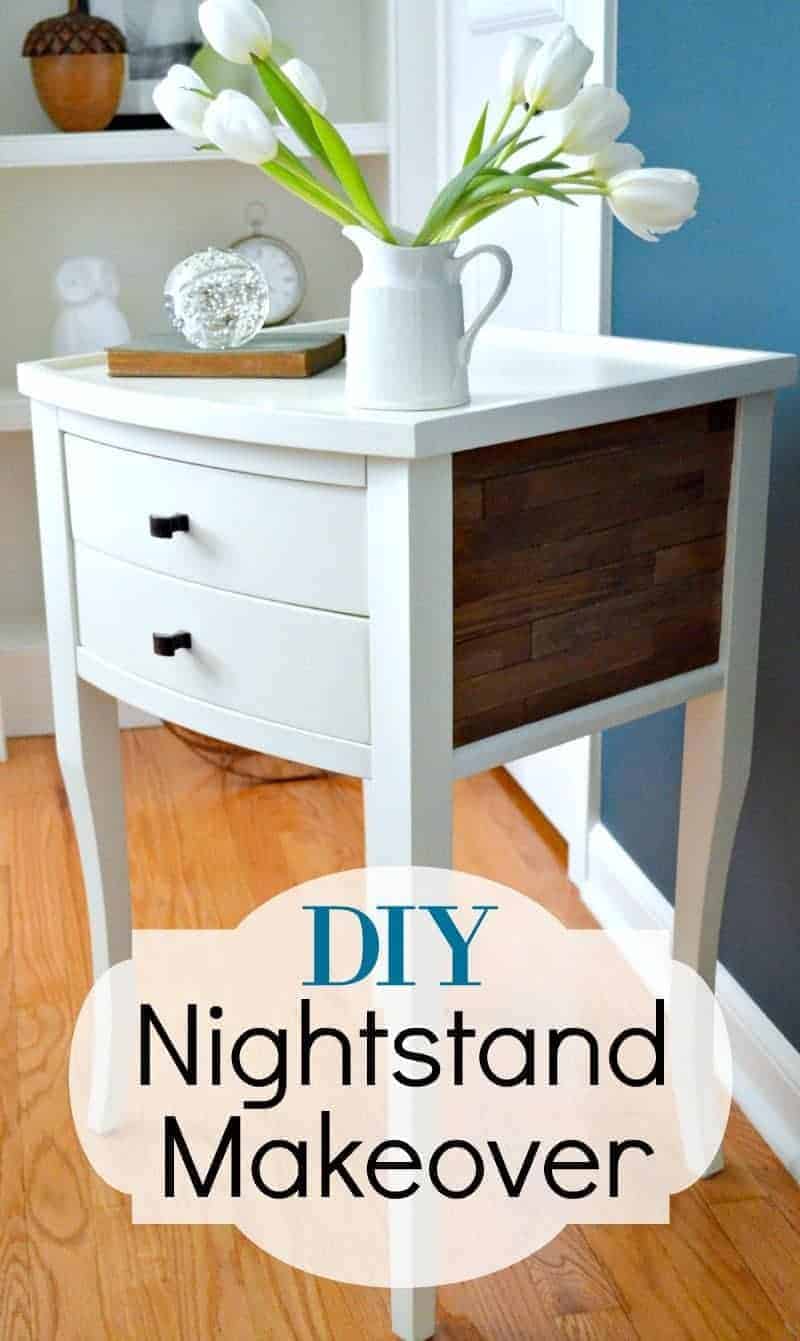 DIY Rustic Nightstand Makeover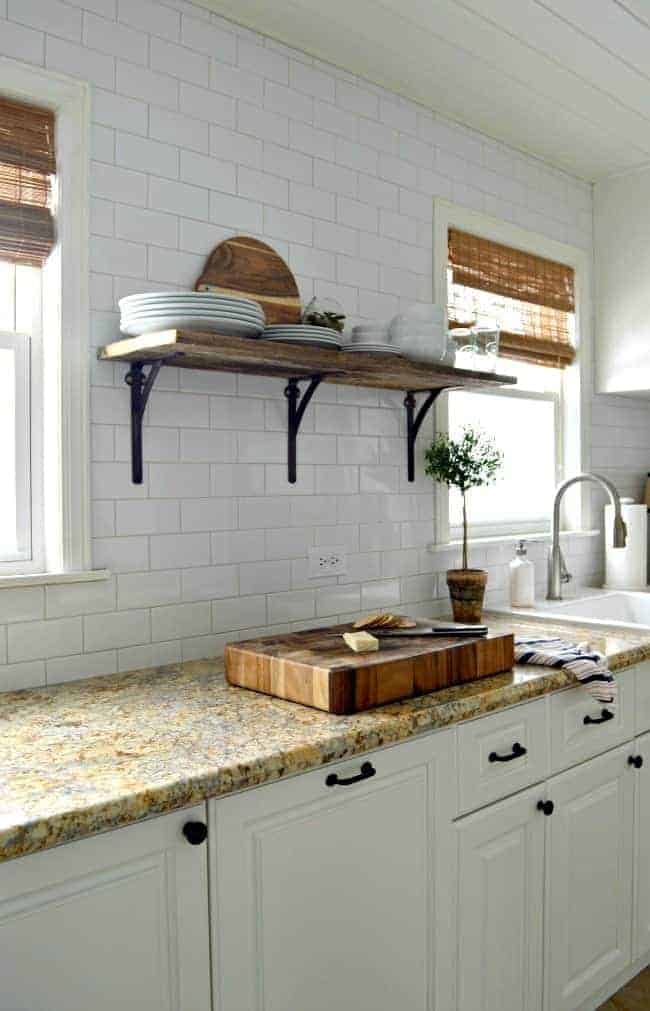 Rustic Kitchen Shelf