I've already posted our holiday dining room, kitchen and front porch tours so I thought I'd share our cottage Christmas decor in the living room, sunroom and master before the holidays are over.
I swear I've had my rooms ready to share with you. I even started decorating extra early but just ran out of time. If anything, maybe it will give you a little inspiration for next year, or it'll take up the 10 minutes that you would have spent loading the dishwasher (a job I despise, BTW). 😉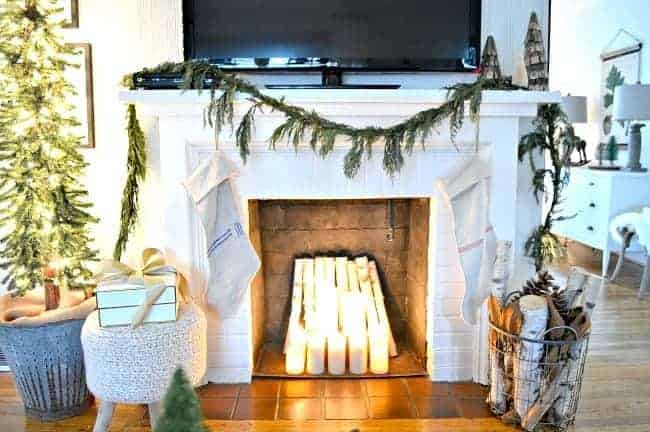 Ok, household chores aside.
Last year was our first Christmas in the cottage and, since we were fixing up some of the rooms, I didn't go crazy decorating. This year I started early and wanted to "do it up" in the rooms that aren't under construction. Although, let's face it... something's always under construction in our house.
Let's start the cottage Christmas tour in the master. If you were able to catch my FB Live, it's still on my FB page, then you'll know that this room is T.I.N.Y. We're able to fit a king size bed but there's not a whole lot of extra room for anything else. I kept the Christmas decor to a minimum and used texture, to keep it cozy, and a bit of red, to create a festive mood. Easy peasy.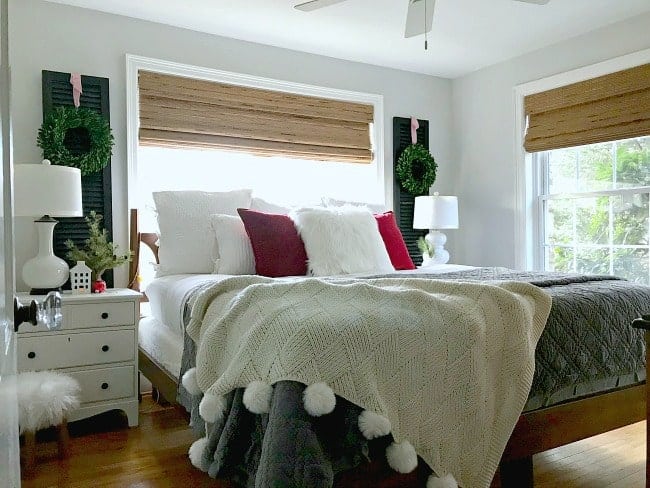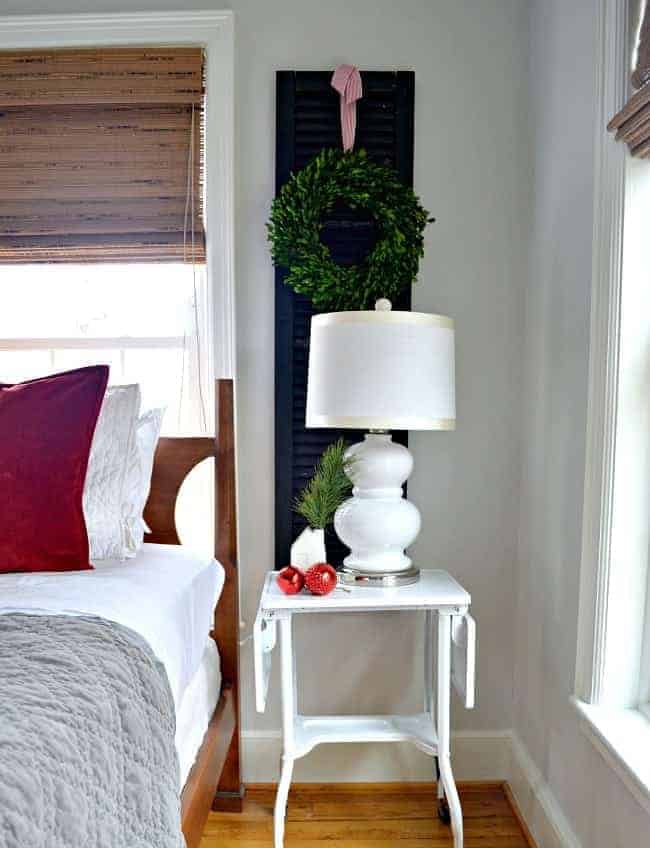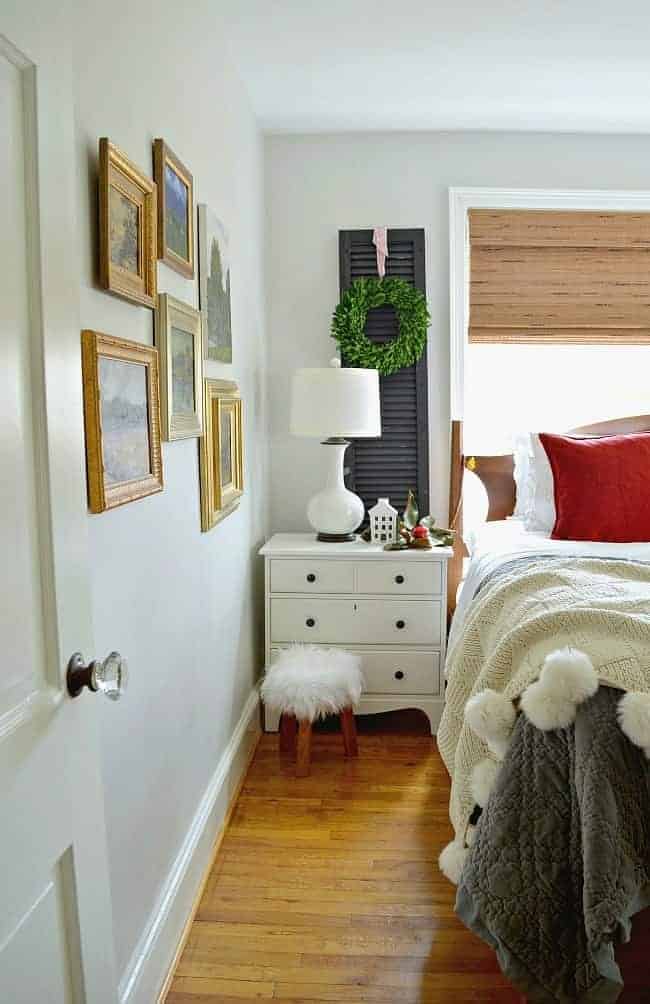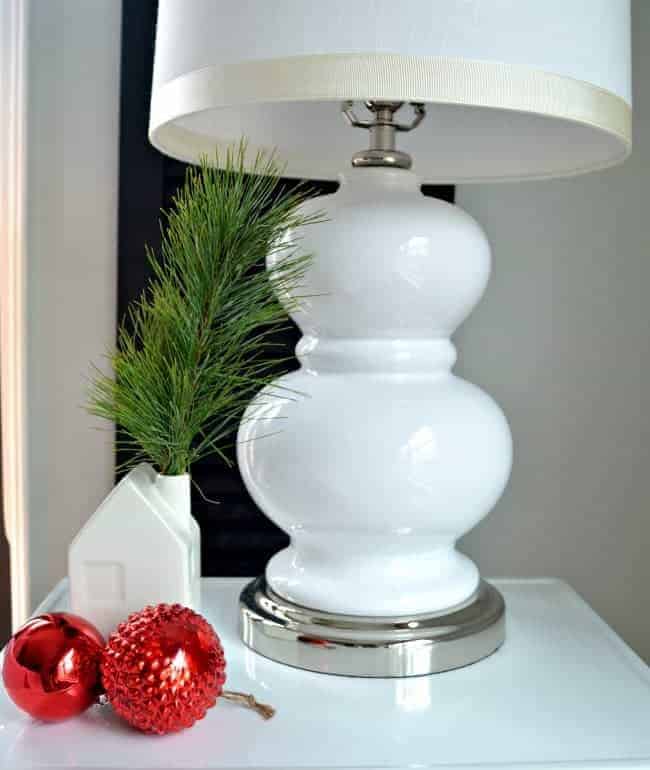 Moving on to the living room, which is not only a small but it's also an awkward space. We can't have a full size tree in here but I was able to find a skinny one that fit.
We did several improvements to this room this past year (like the fireplace redo, paint on the walls and new window coverings) so it was nice to see the finished room decorated for Christmas.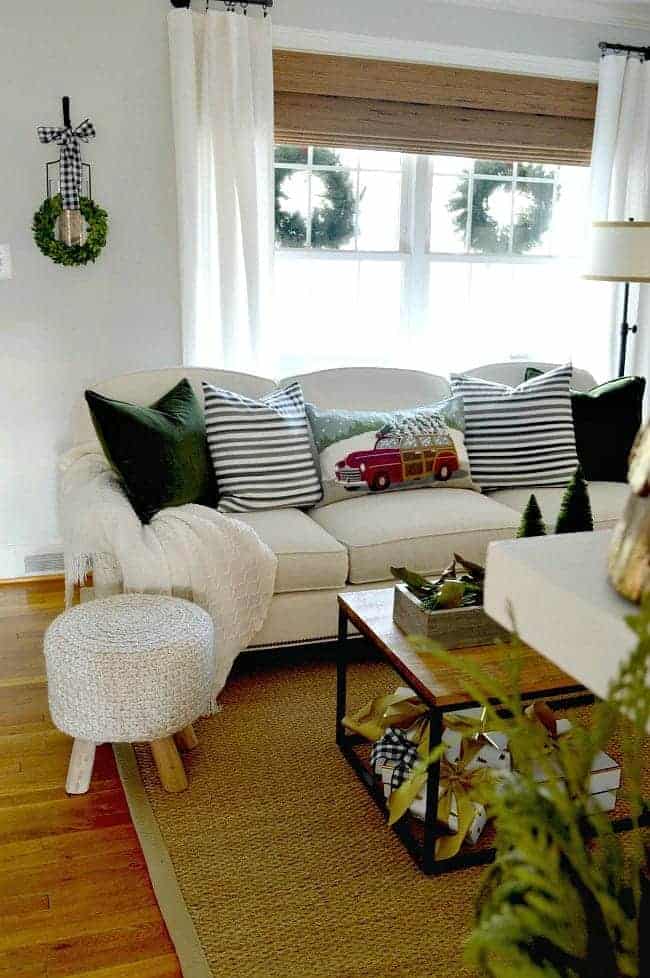 I'm really loving the fireplace area this year. It's still not in working order so I simply added lots of candles to give a similar glow.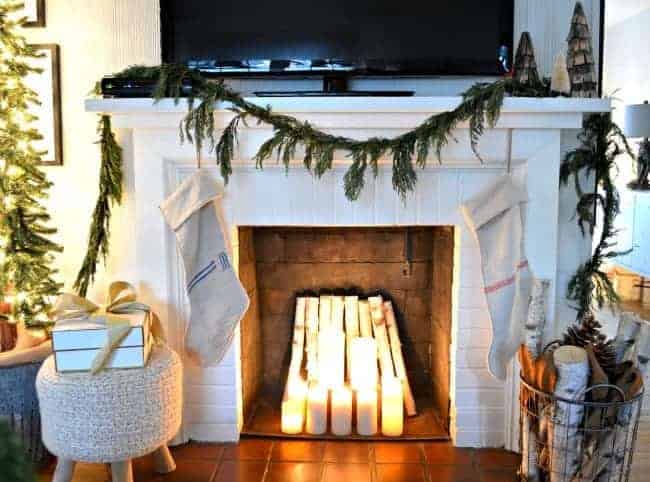 This is where the tv lives so I just went with a simple garland and our stockings. You can see our skinny little tree standing tall in his olive bucket. Because it's so slim, I kept it simple and only decorated it with lights. I think I like it (although I'm not quite convinced just yet).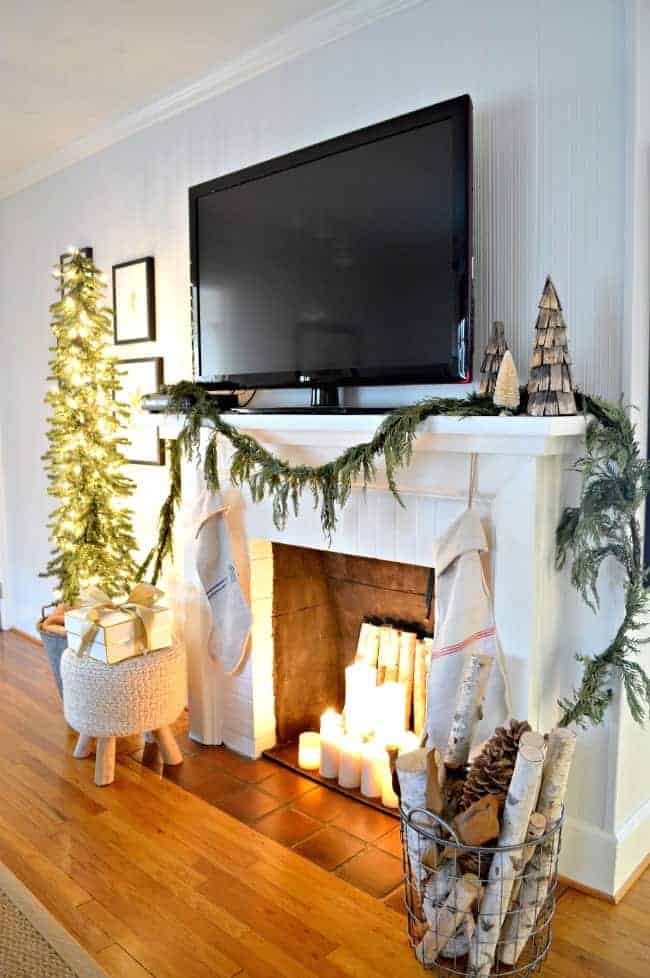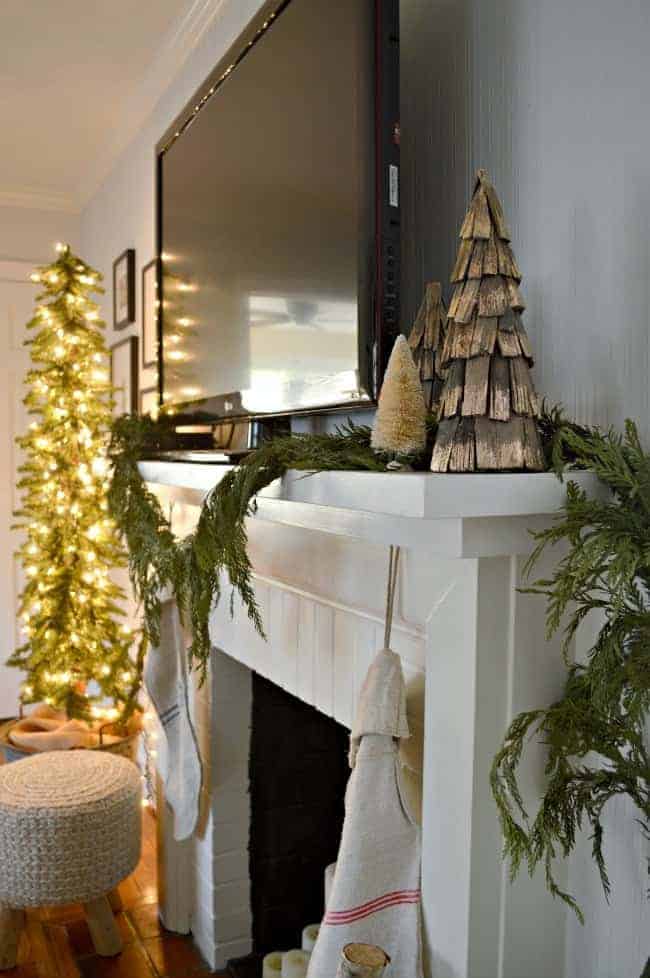 Our entryway is small as well so I just added a few festive touches of green.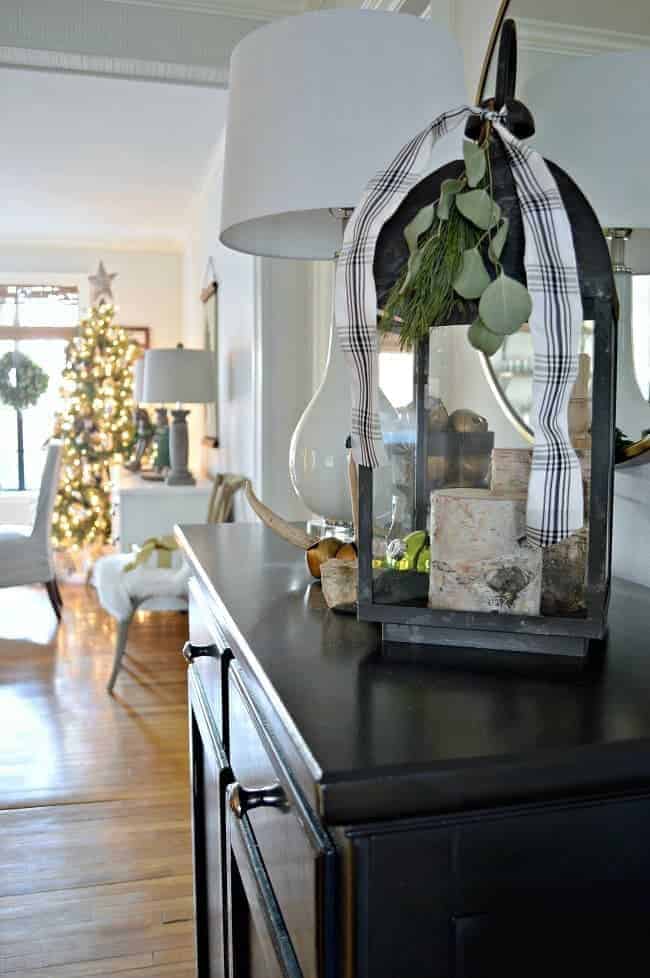 I can't forget about my jingle bells, in a thrift store vase that just got a makeover (check it out here). Hubs really loved this one (and he's very picky).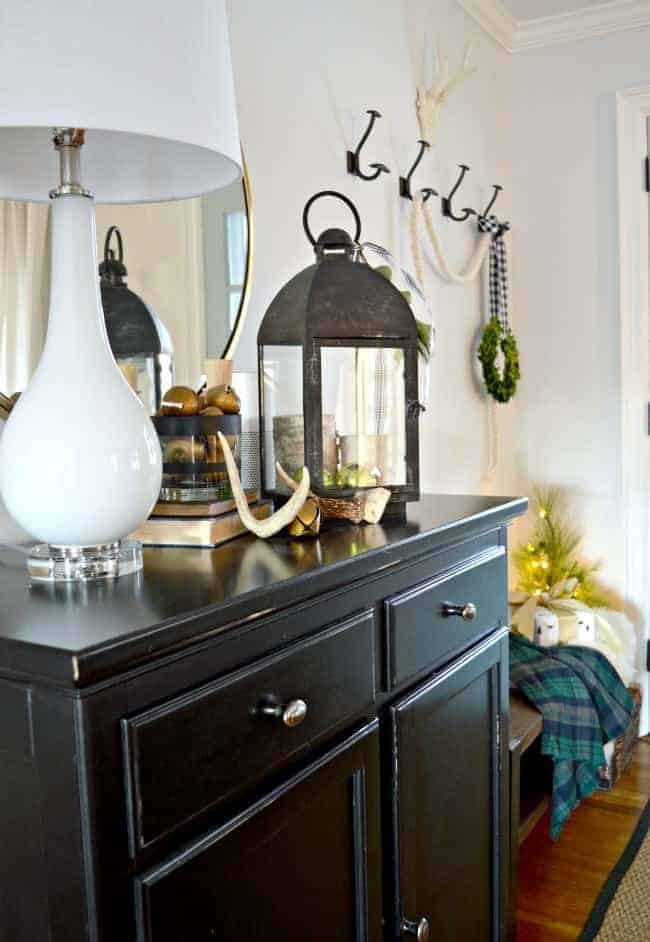 I did a lot of work in the sunroom this past year so I couldn't leave that out of the tour. The furniture was reconfigured during the makeover so the room has a completely different feel from last Christmas.
I wanted it to feel cozy in here so I used lots of pillows, faux fur and a touch of burgundy.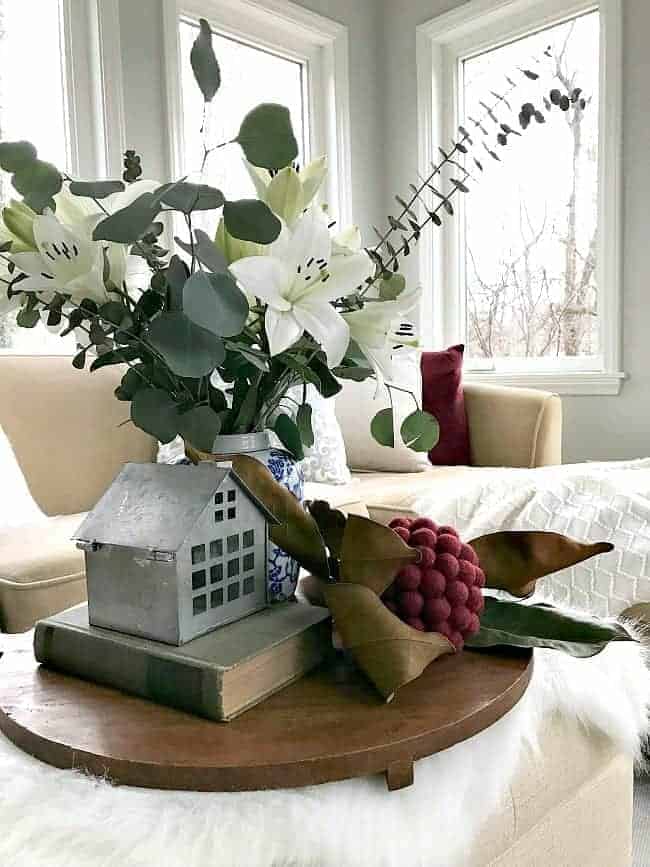 Like all of our other rooms, this is a small space so I kept it to a minimum. I shared phase 1 of the makeover earlier this year. Phase 2 is complete and I'll be sharing that in the new year.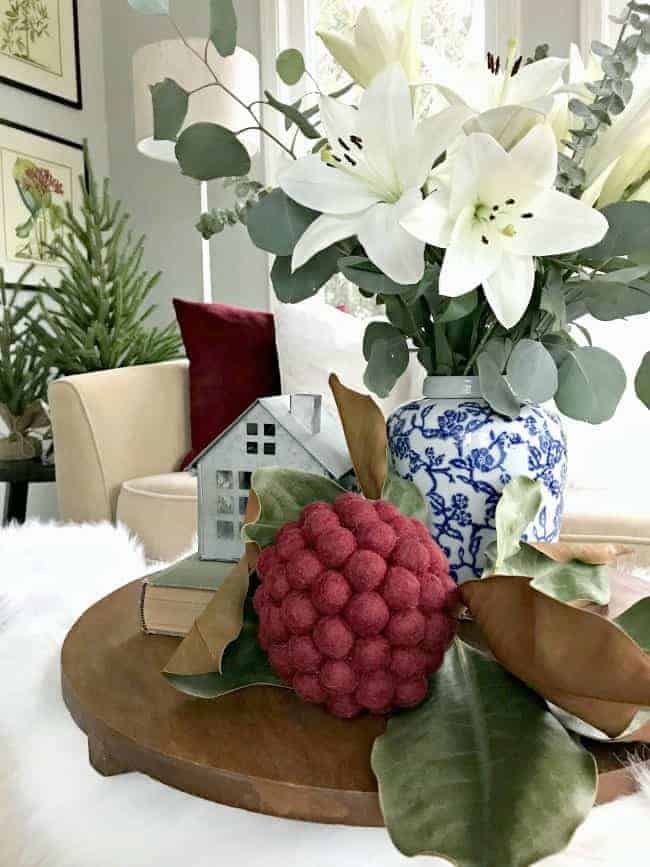 We love this space. The pretty view is what really draws you in.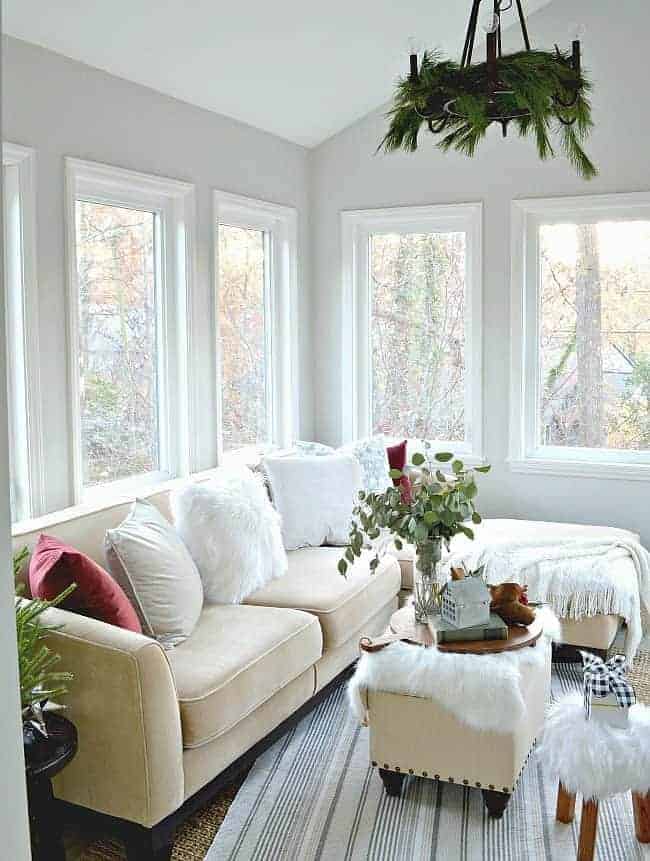 That's the whole cottage Christmas tour (and the end of me using the word "small"). 😉
Thanks for checking it out and for all of your support this past year. I appreciate each and every one of you.
You can also check out a few of my past Christmas decor and DIY posts.
Holiday Home Tour - Christmas Dining Room
Keep up with our projects and new happenings in 2018 by signing up to receive our posts by email, here.