Simple Christmas Decor Ideas
This post may contain affiliate links, please see our policy for details.
Creating a festive holiday home doesn't have to be difficult or expensive. Check out how I transformed our country cottage with some simple Christmas decor ideas.
It's our first Christmas in our little cottage in the country and it's been fun figuring out how to decorate it for the holiday season.
I've never been one to go wild with my holiday decorations, instead I tend to lean into simple decor with lots of greens.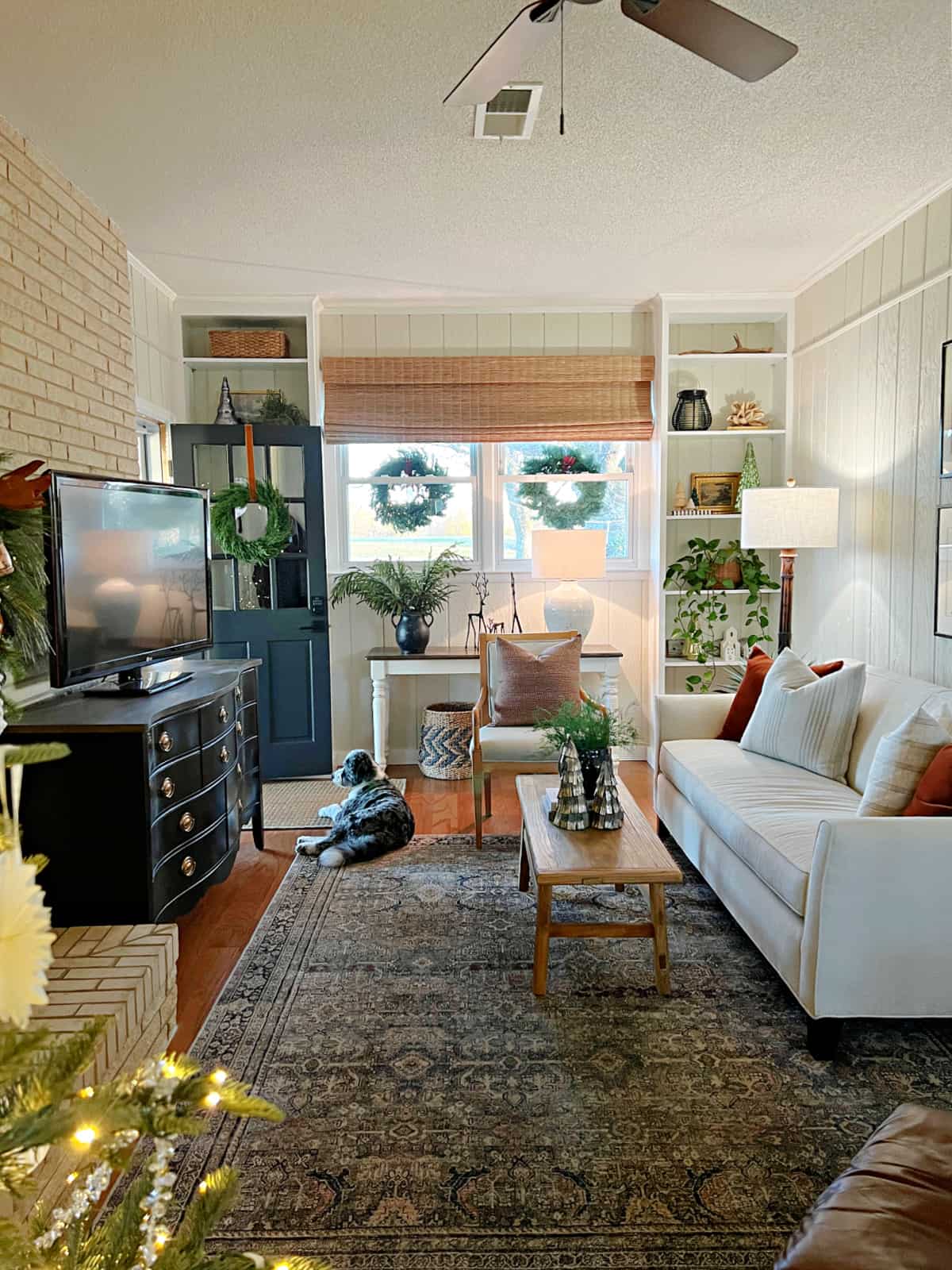 I had a lot of decor that fit specific areas in our last home, like all of the wreaths I had hung in our sunroom windows, so finding places for some of my Christmas decor was tough, but most of it was put to good use.
Living Room Christmas Decor
Our long and narrow living room couldn't handle a ton of decor but I was able to squeeze a tree next to the fireplace.
The tree is really simple with paper ornaments, a paper star and a touch of sparkle from the garland. I also added a few battery-operated candles that flicker.
I'm used to going simple but this sparse Christmas tree is super simple. Going this simple with a tree was a tough challenge, but I'm enjoying the change.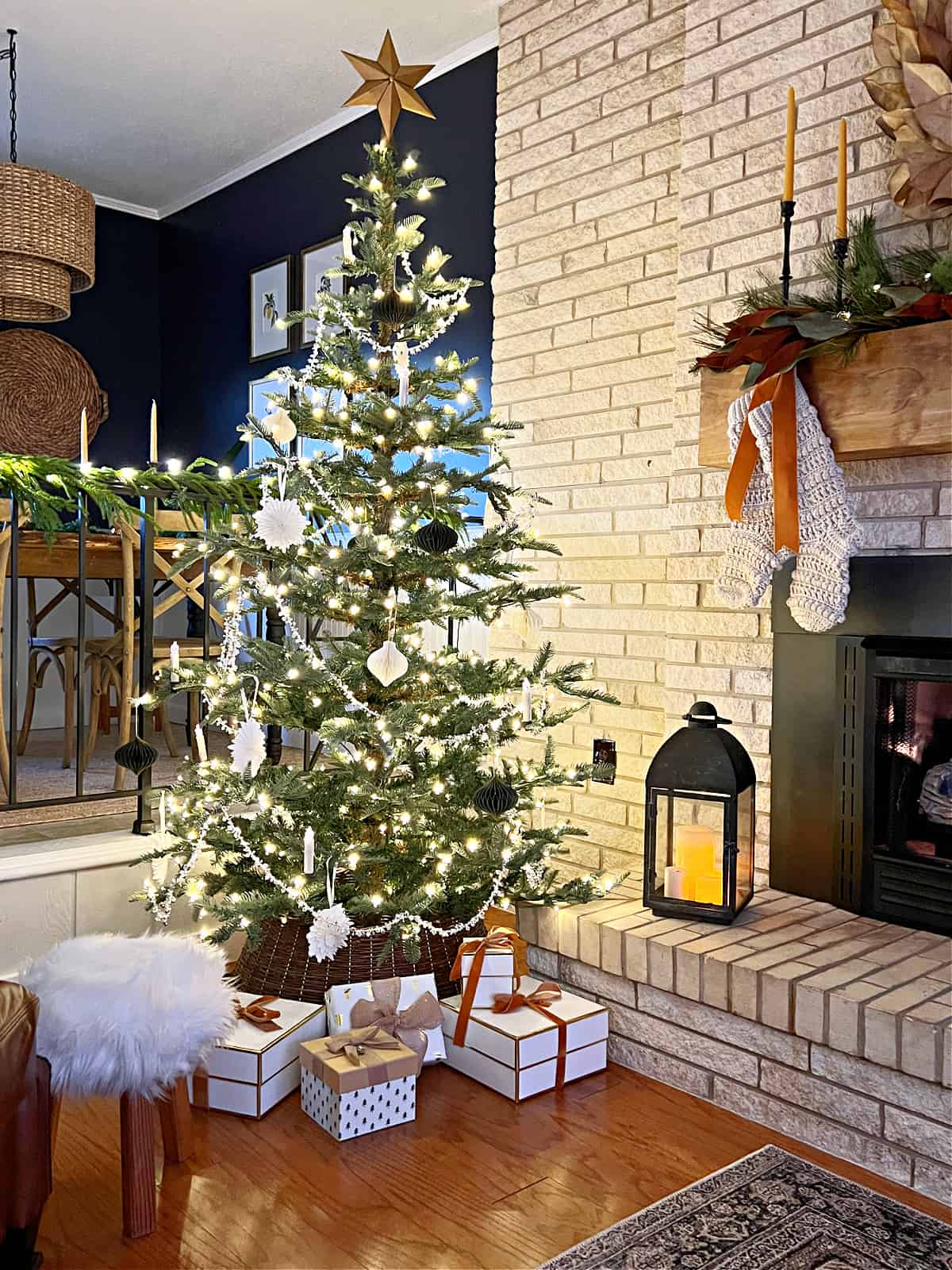 The stone fireplace was my favorite spot to decorate this year. I actually built the mantle (post on how I made it coming soon) just so I could decorate it for the holidays.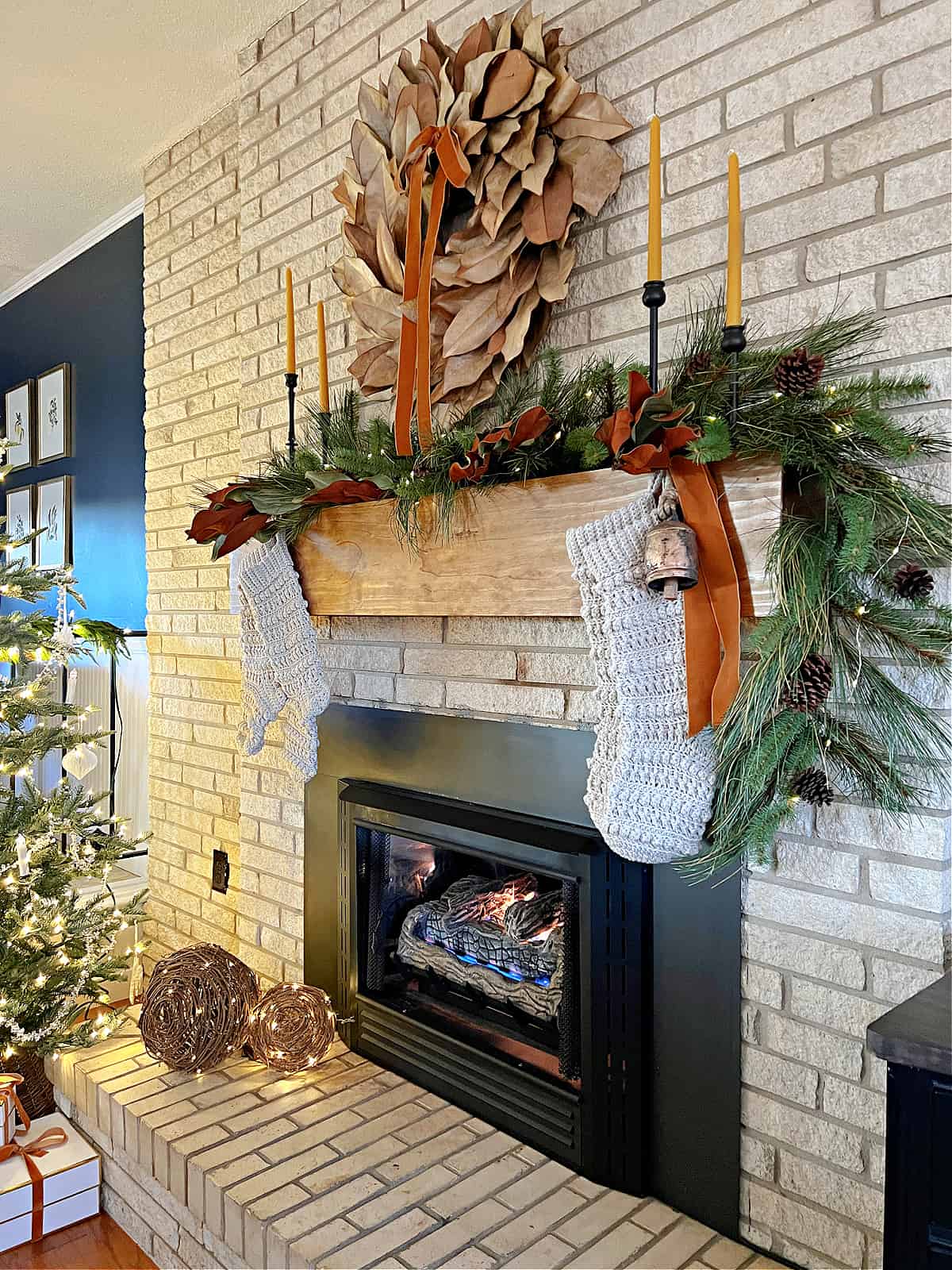 I hung my DIY magnolia wreath over the mantle and draped the mantle in a faux garland with lights. I added a few stems of dried magnolia leaves to keep the theme going.
Again, simple to do and everything but the rust velvet ribbon was in my Christmas decor bins.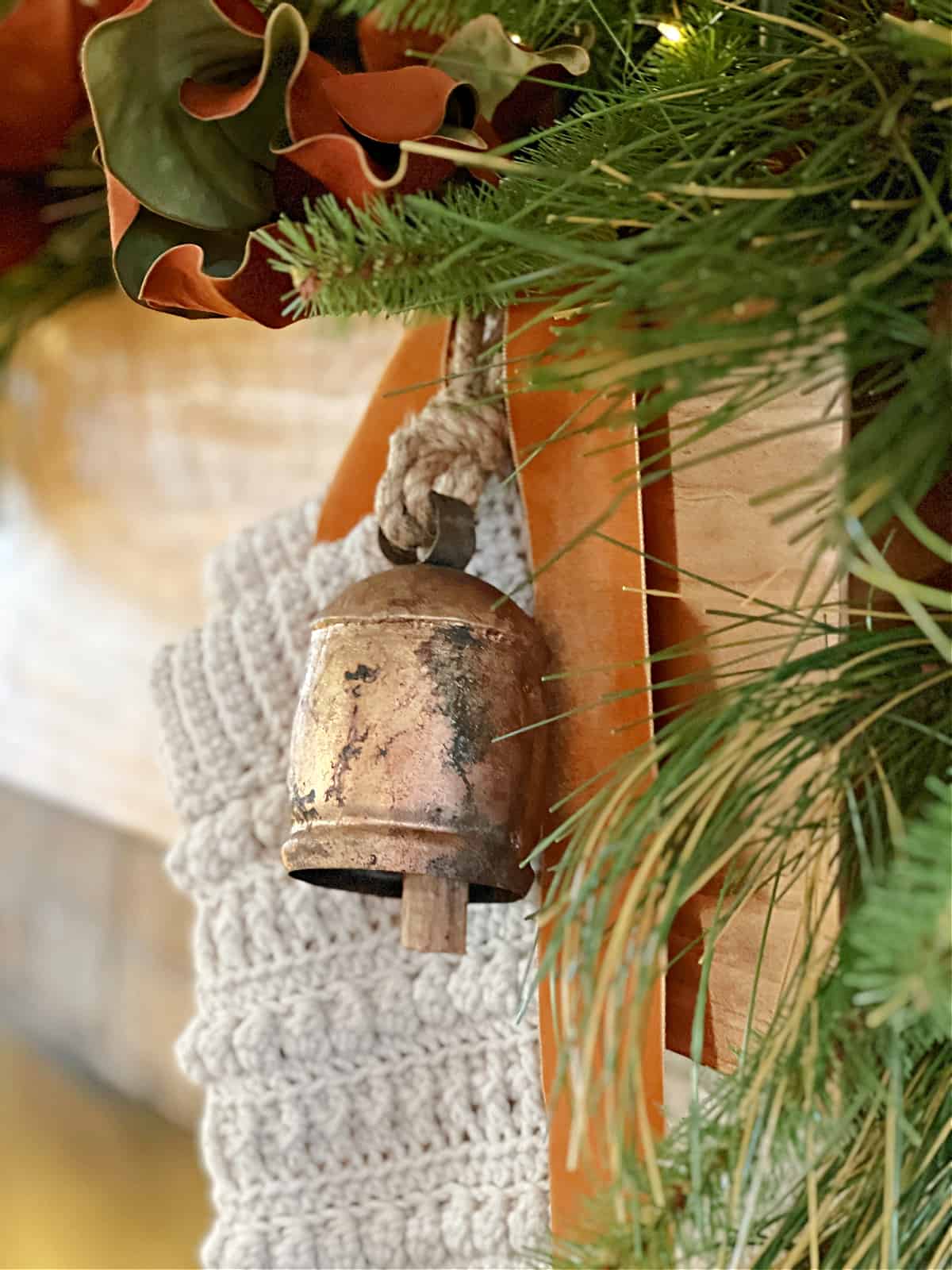 Christmas Decor in the Dining Room
Well, it's actually a dining nook. A tight little dining space that's only big enough for a table and four chairs.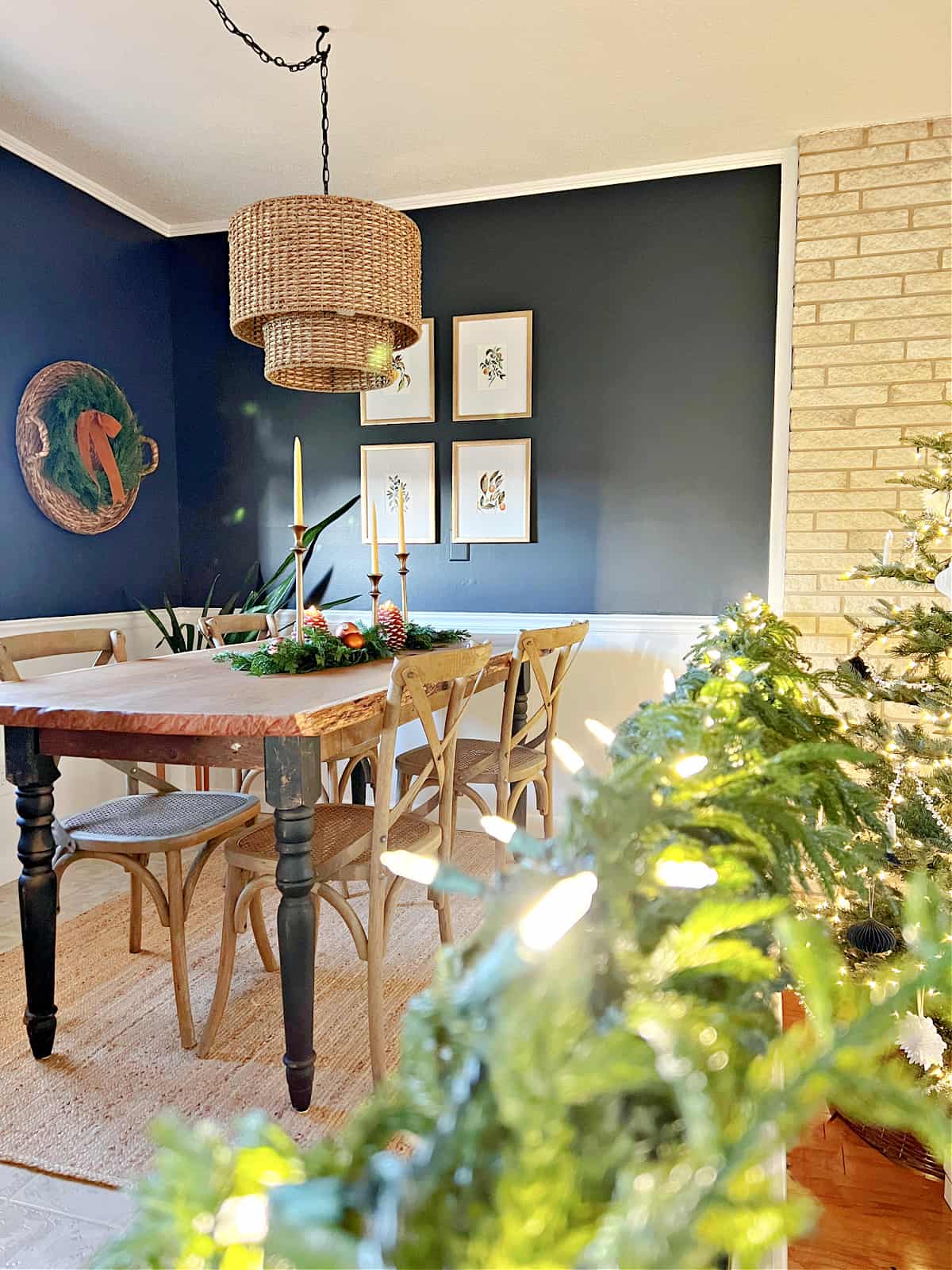 A space this small definitely calls for simple holiday decor. I hung a wreath on the wall hanging and added a garland, candle sticks and a few rust colored ornaments on the dining table.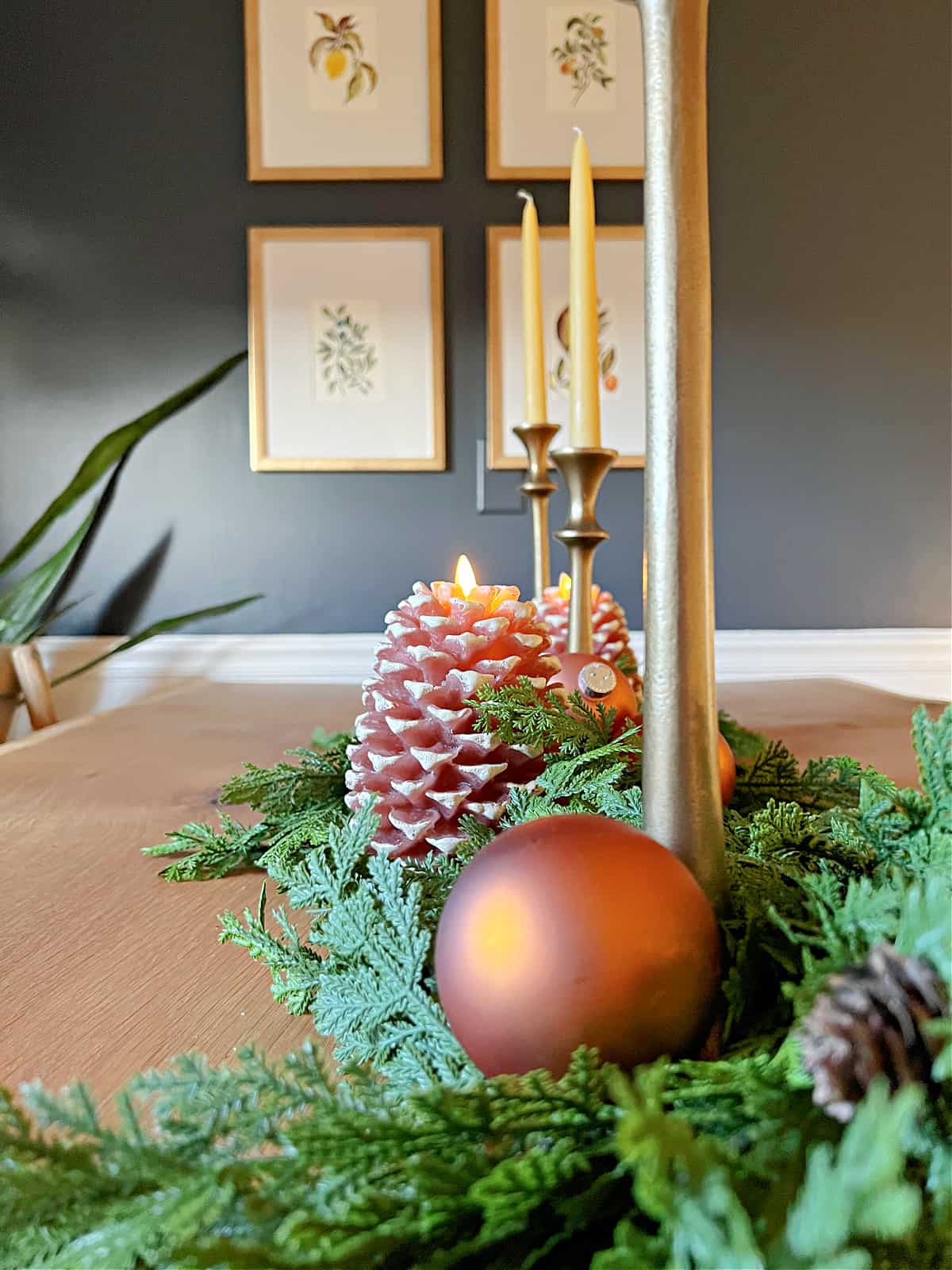 I also hung garland and twinkle lights on the iron railing that wraps around the living room.
This tiny space overlooks our living room so we can gaze at the tree and fireplace while we eat dinner.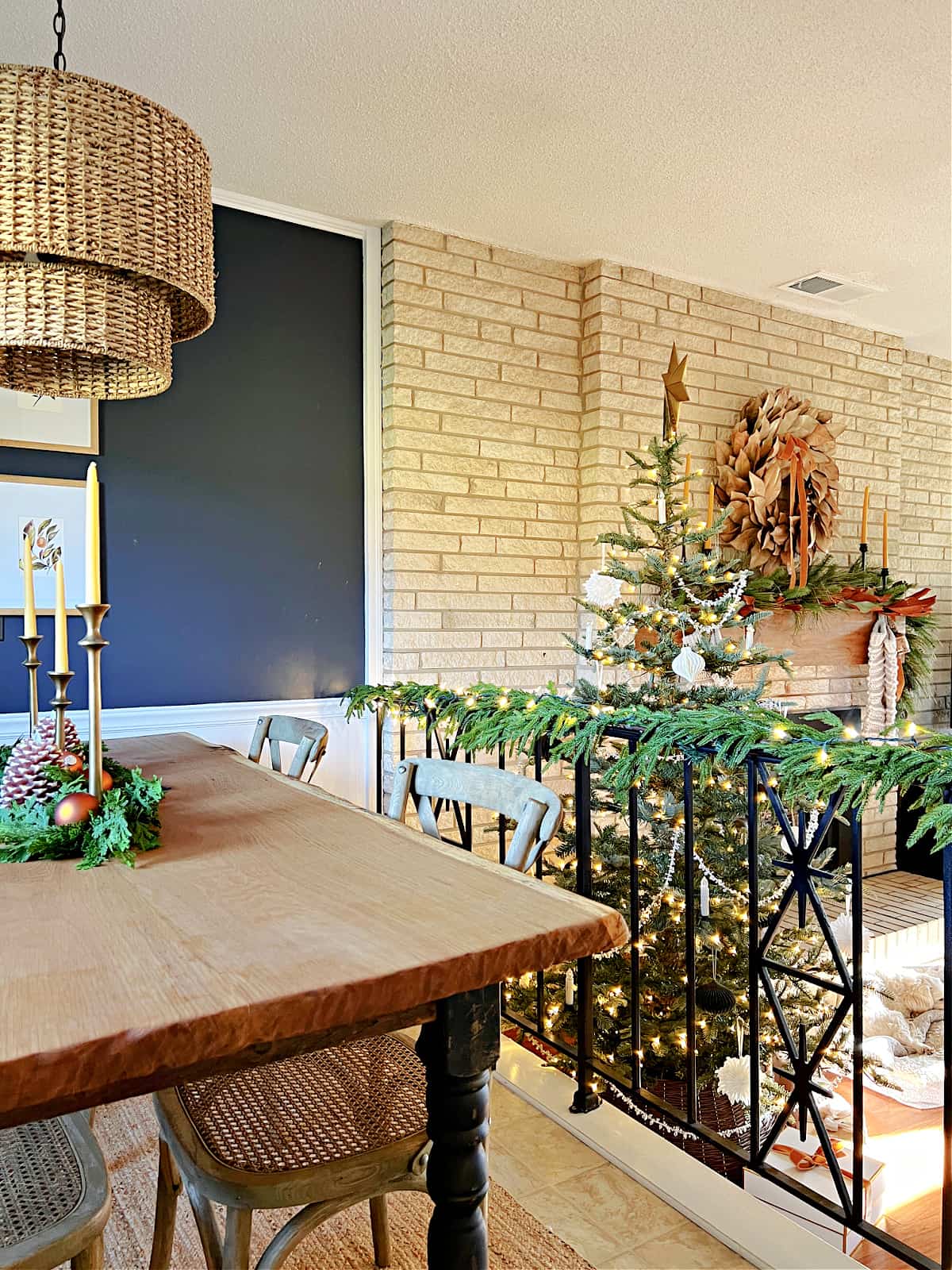 Christmas Decorations in the Den
We actually have 2 living areas in our new house.
I believe this space was formerly used as a dining room but since we had another couch when we moved in, we turned it into a den.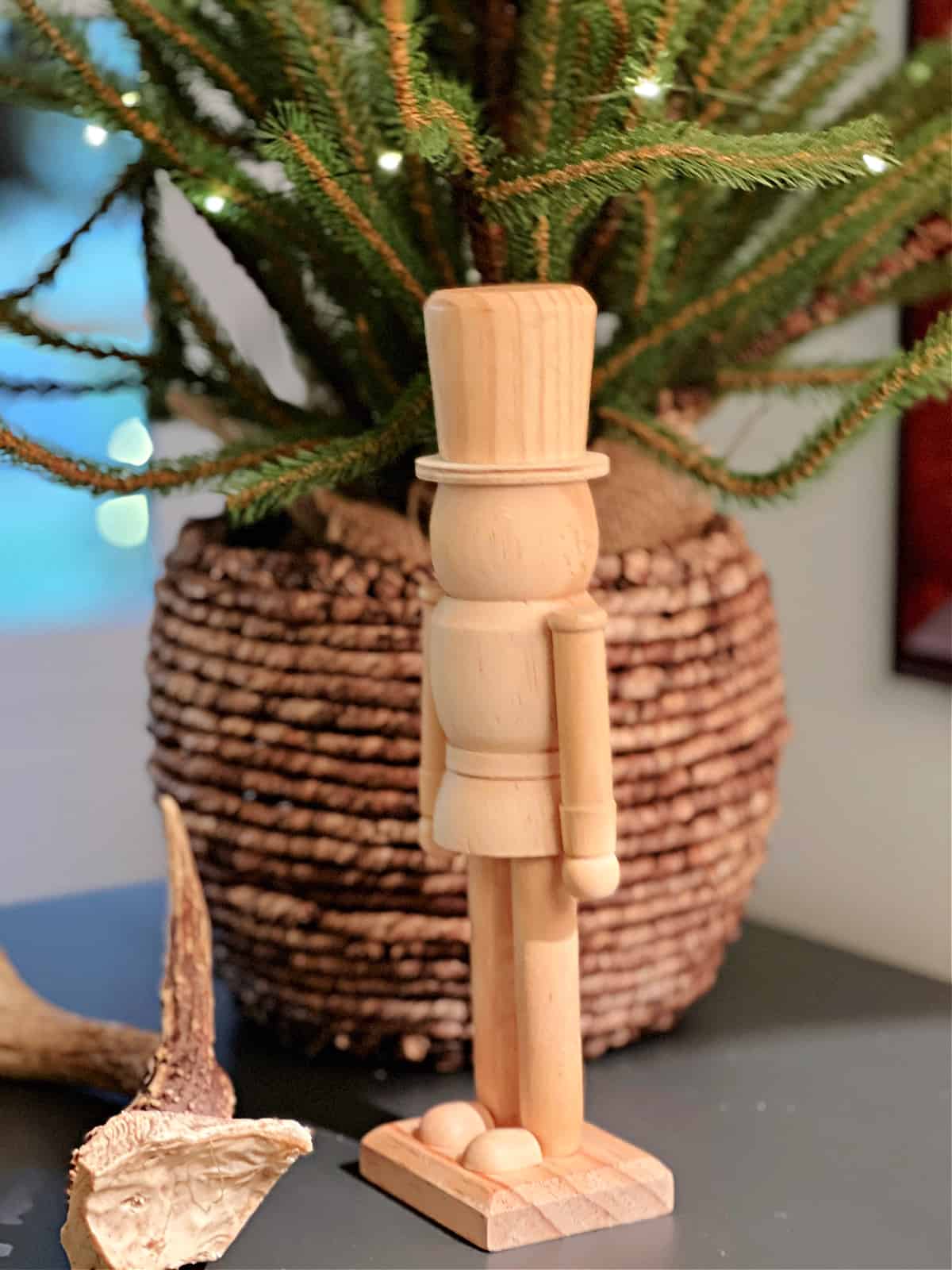 This is a small but cozy space.
There isn't enough room for a big tree so I added a small one, plus a bit of decor on the cabinet.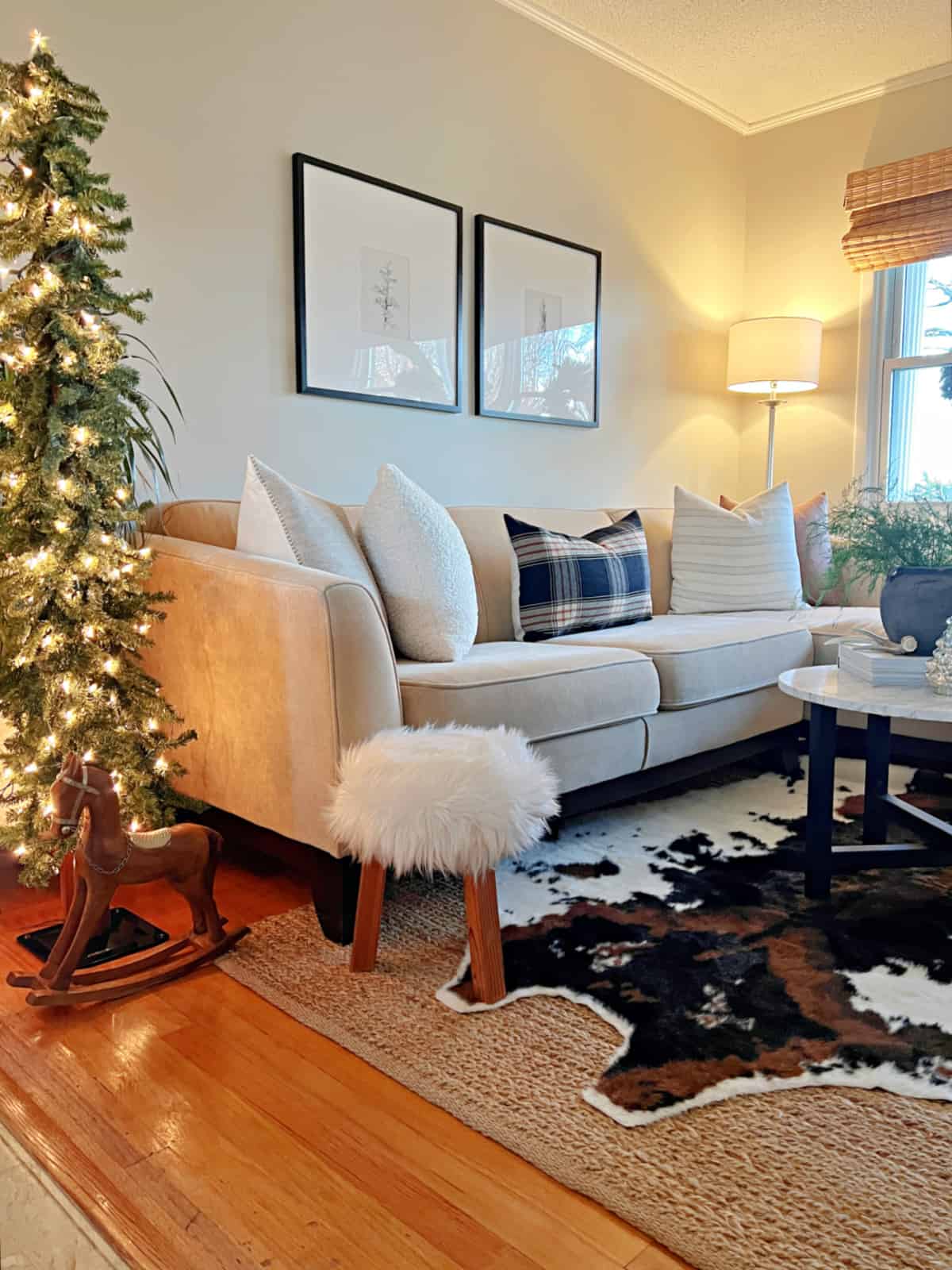 To cozy up the space even more I added a faux hide rug I had packed away and a throw.
Now it's the perfect spot to curl up and read a book.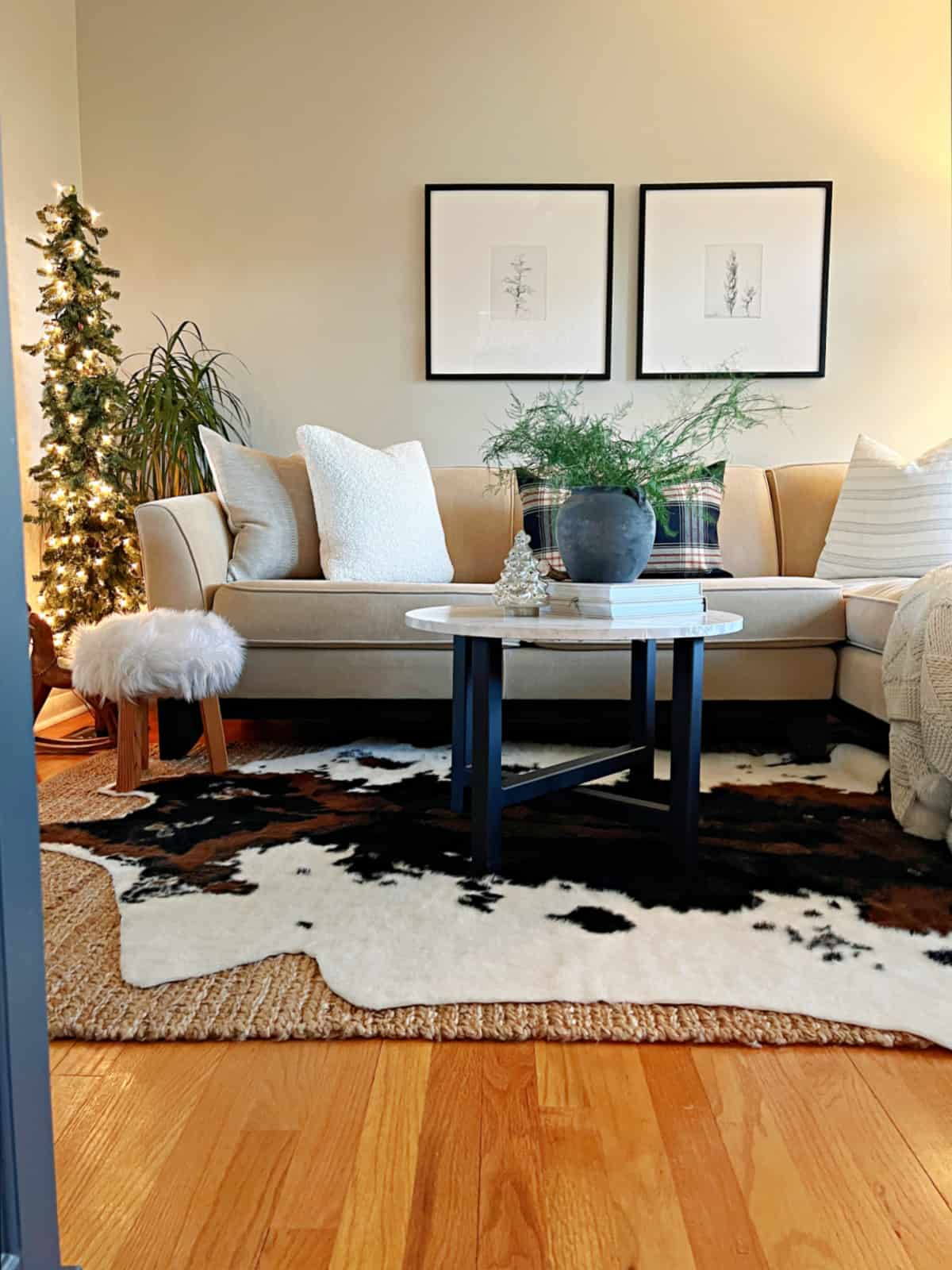 Christmas Decor Entryway
Right off the den is our entryway. It just received a complete makeover with paint, wallpaper and new doors so it was fun decorating it for Christmas.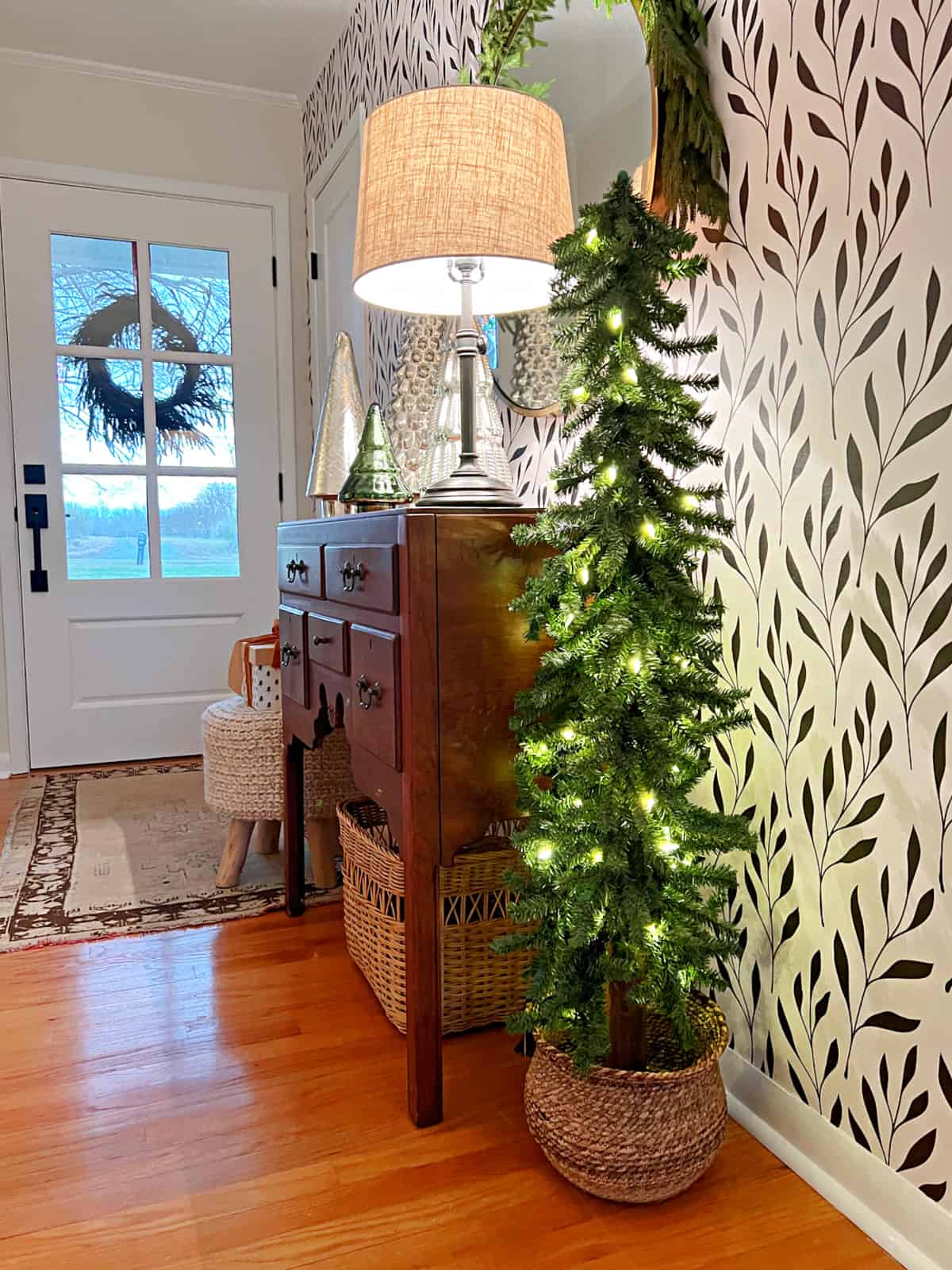 Again, it's a small space with only enough room for a cabinet and mirror, so I just added some of my mercury tree collection and a green garland on the mirror.
I put another small tree in this space to add a bit of sparkle. It's so pretty to see it at night from my spot on the sofa in the den.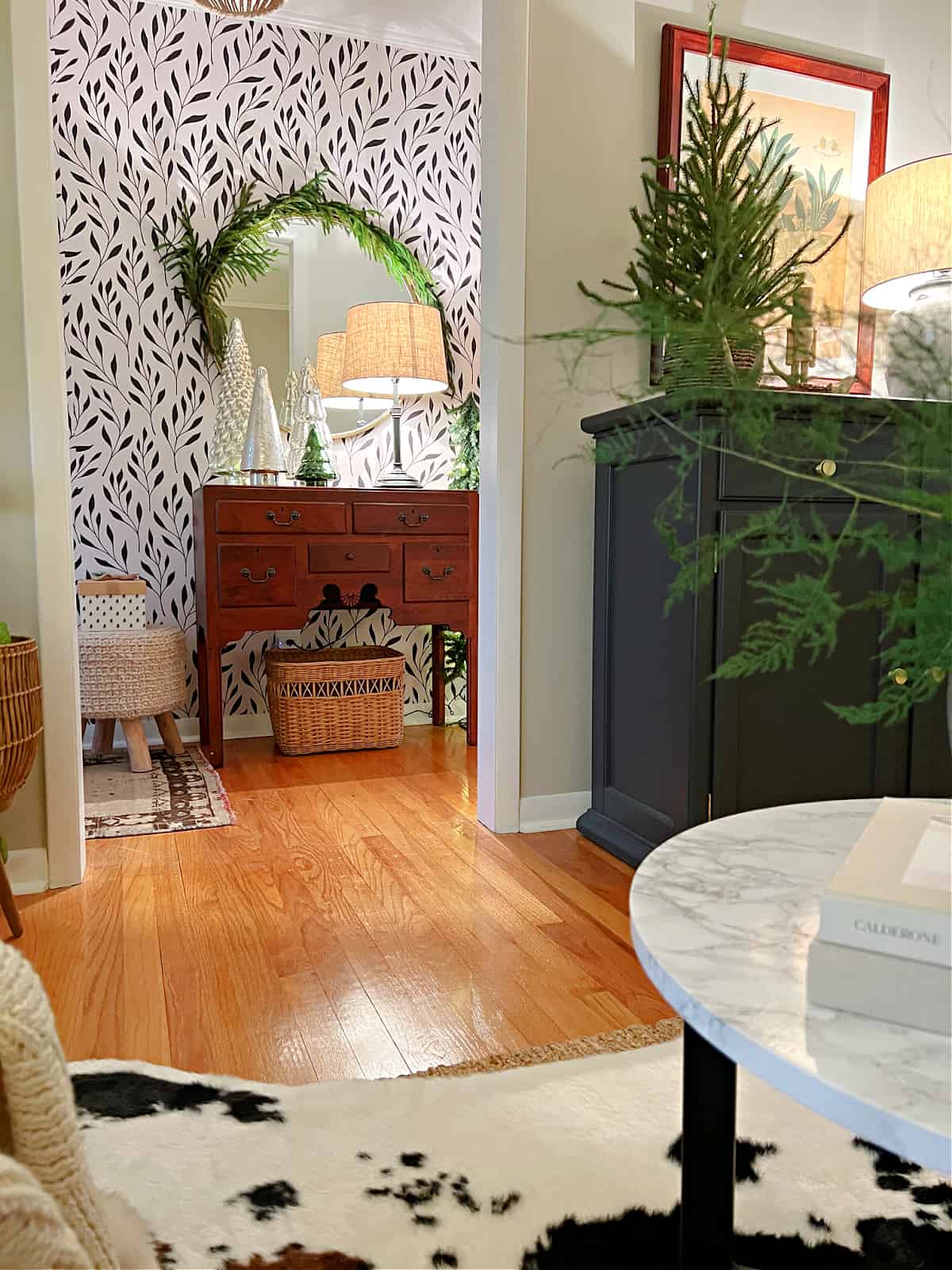 Christmas Sitting Area
The last space on our holiday home tour is an odd little area right off the kitchen. There's not much going for it except the bay window that looks out on the backyard and surrounding pastures.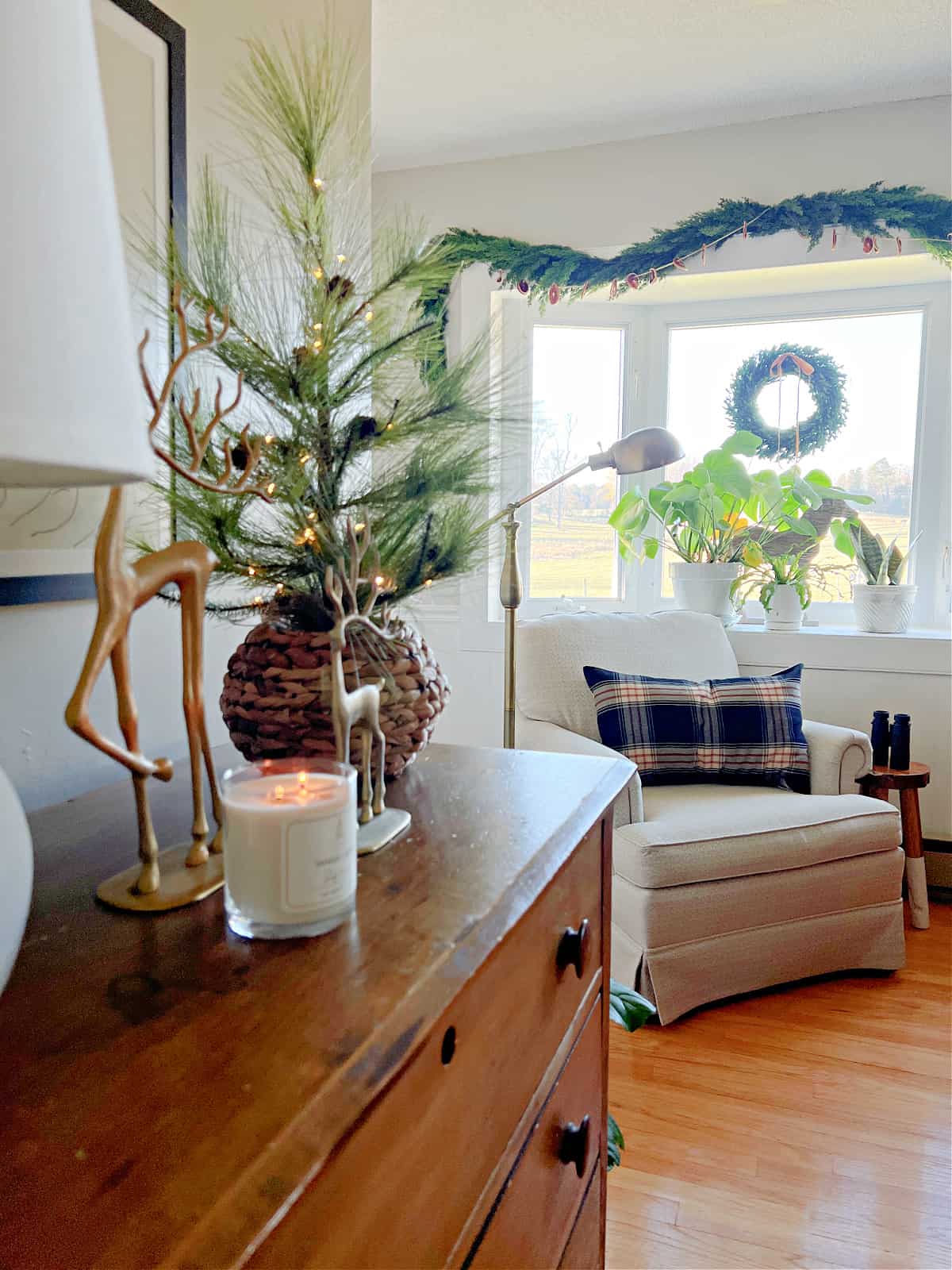 The views from here are pretty amazing. We've spent plenty of time watching storms roll in and our neighbor herd of cows roaming around.
I haven't quite figured this space out, so in the meantime I added my vintage dresser and a comfy chair from the old house.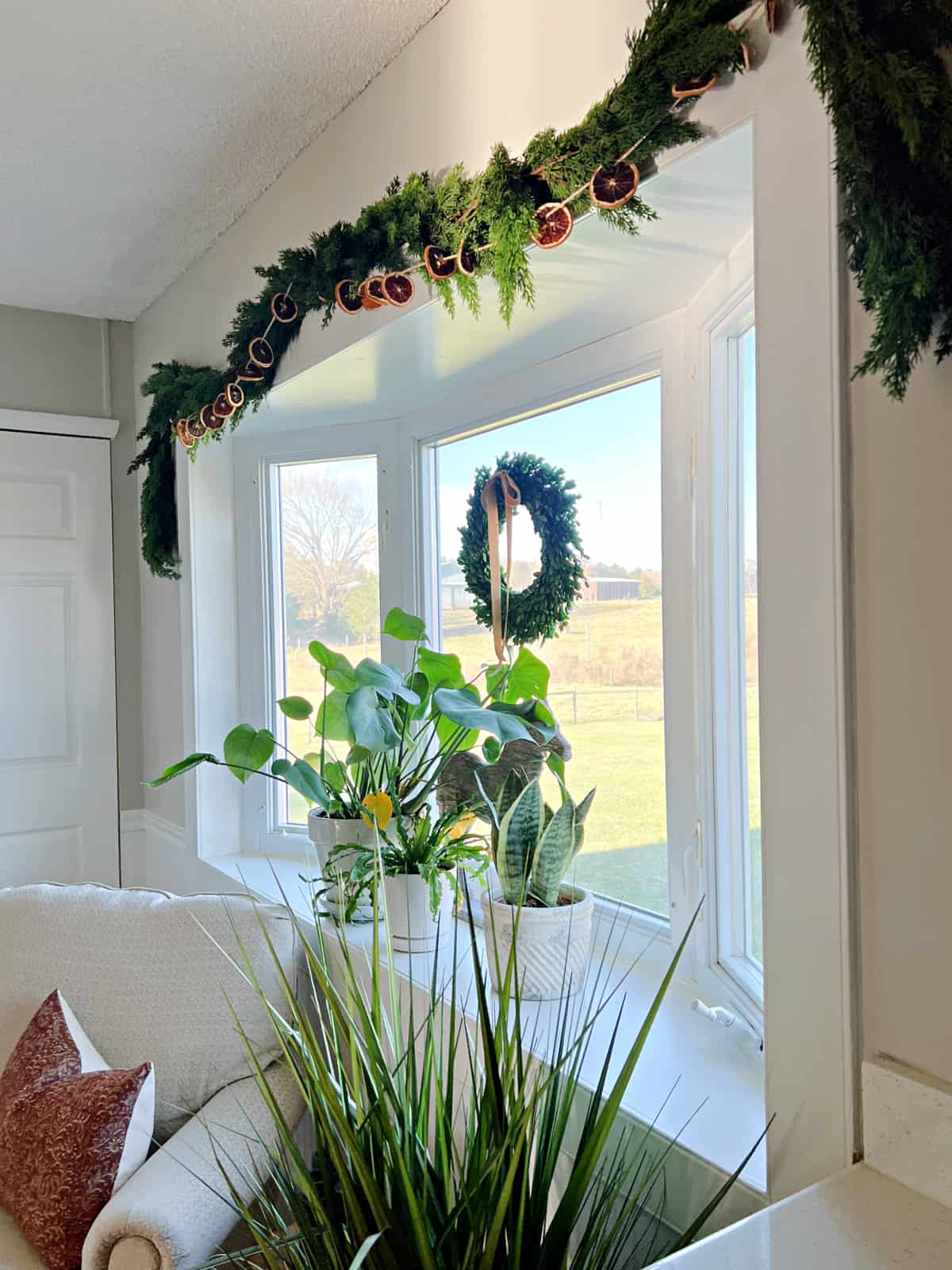 To dress it up for the holidays I draped a garland on the window along with a dried orange slice garland.
I also added a tabletop tree and some simple decor on the dresser.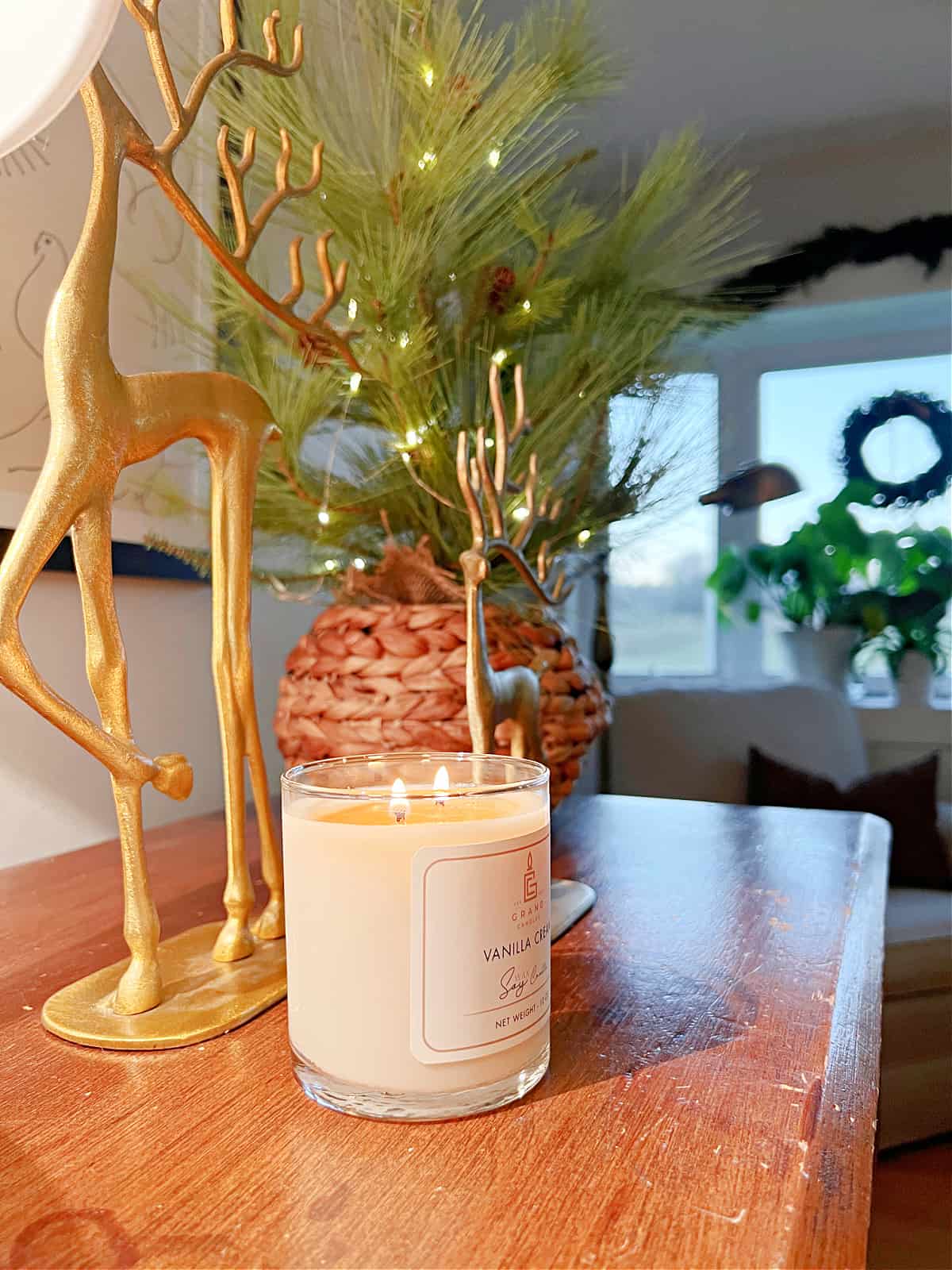 Outdoor Christmas Decor
Moving outside, I continued my simple Christmas decor.
The back porch was dressed with greens, both real and faux.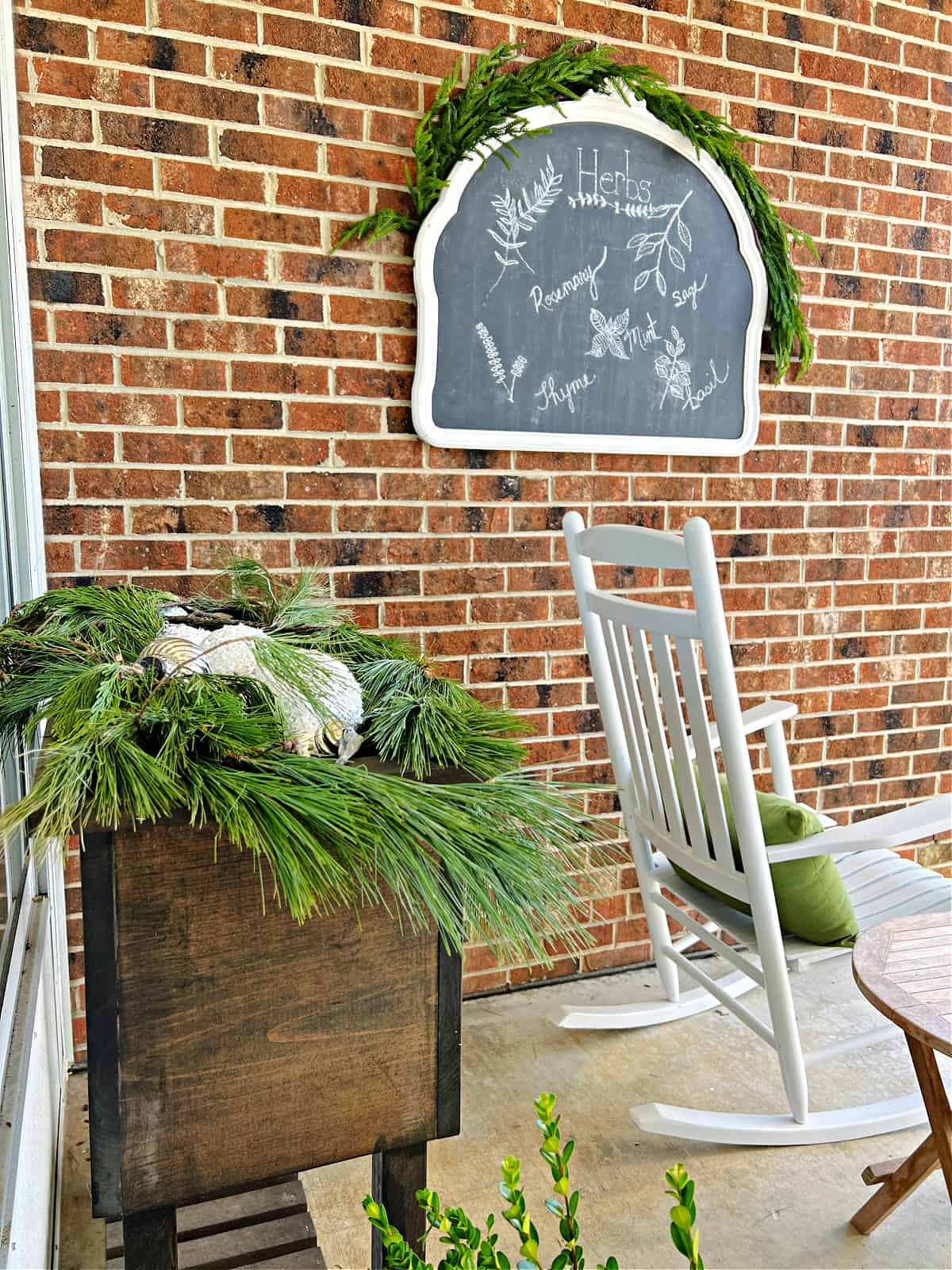 The door on my storage shed also got the Christmas treatment with a rustic wreath made with a strand of live pine branches and a couple of brass bells.
You can't get any easier than that.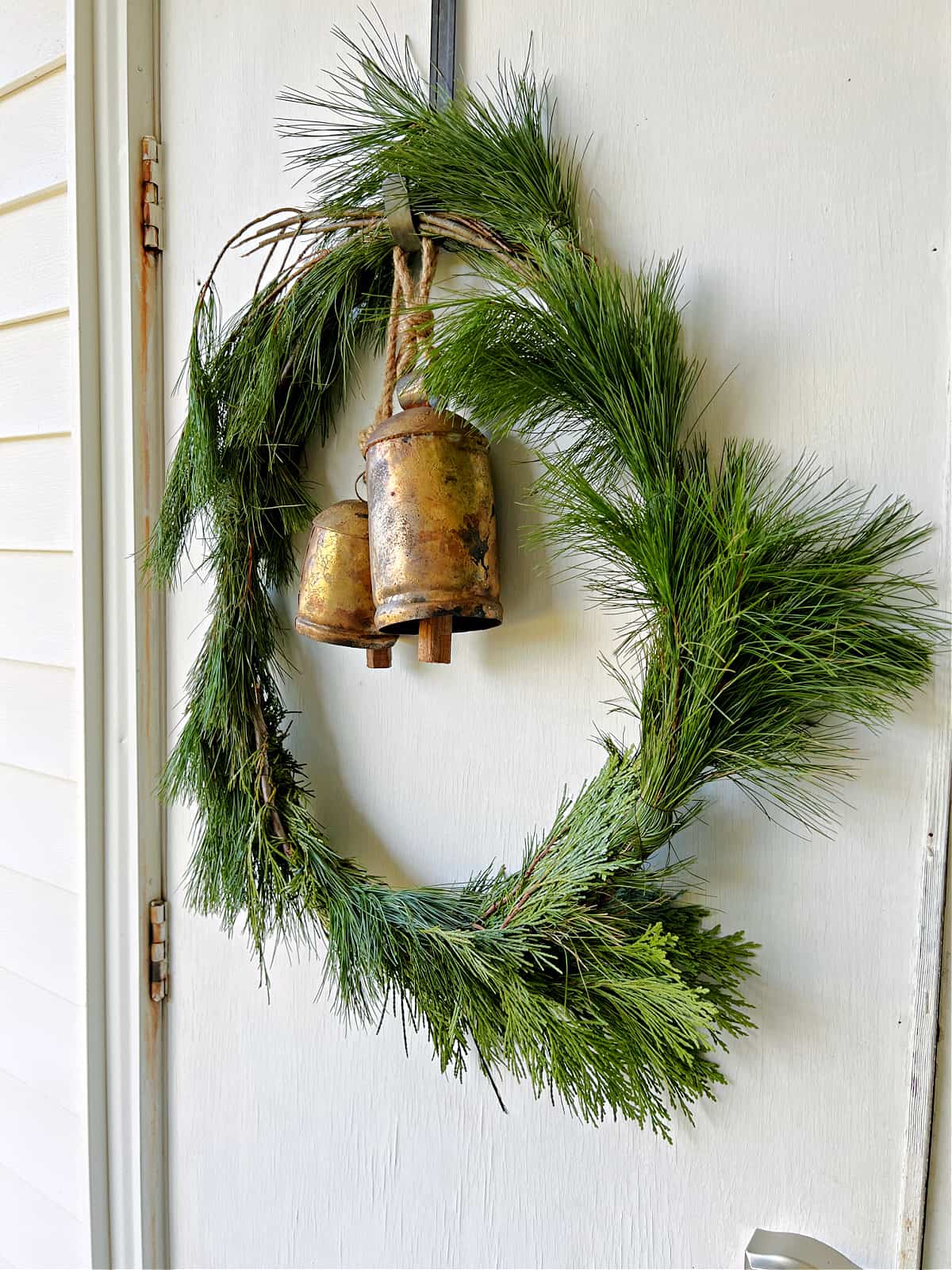 The front of the house is also decorated and ready for the holidays.
We brought our tradition of hanging lighted Christmas balls to the country with us. It's not as elaborate as it was in the old house but it makes me happy to see them.
I also added a wreath to each window and 4 lighted Christmas trees by the front door.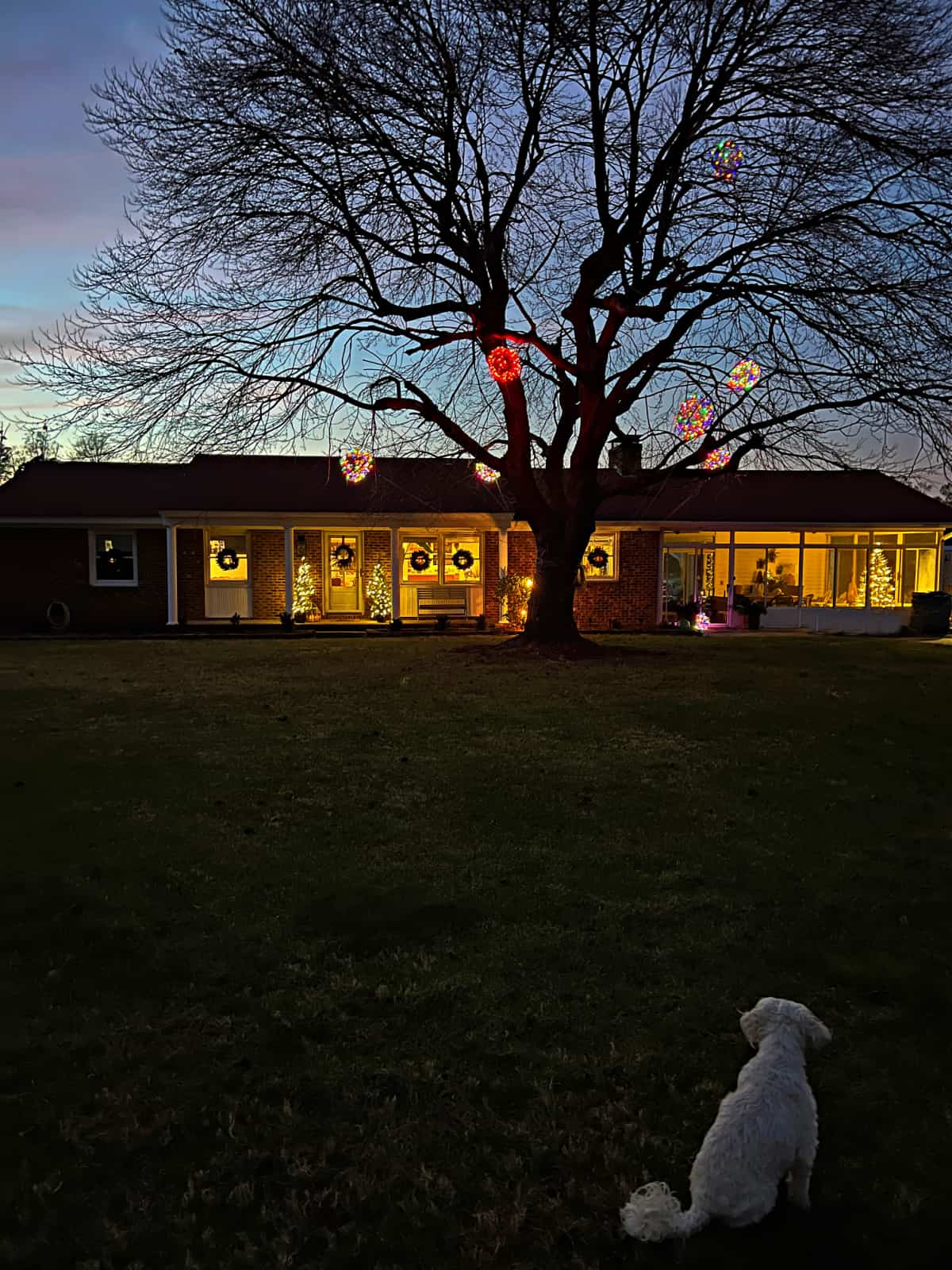 For the front sliding glass doors I filled 2 baskets with live greens and a few faux picks from my stash. They were super simple to make and only took 10 minutes from start to finish.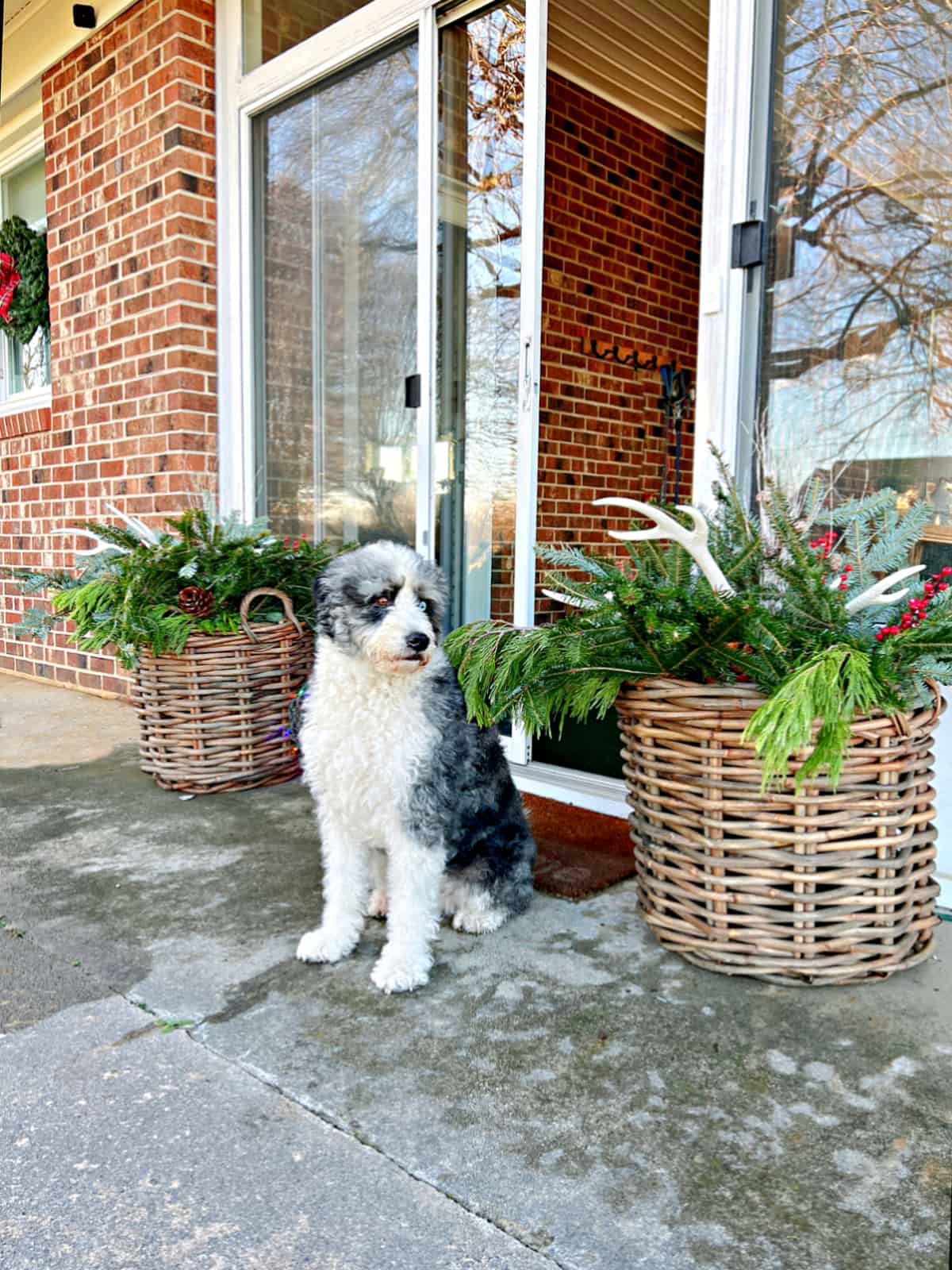 That's it for this year's Christmas home tour. I will admit that I wasn't in the mood to decorate but now that it's all up, I love how cozy and festive it makes our new house feel.
Happy holidays!