Hey there! As you may, or may not know, we are in the middle of a kitchen reno and one of my big dilemmas has been lighting. Not only have I been struggling to find a ceiling light fixture for the center of the room, but I've also been trying to find the perfect little lamp for the counter.
I searched high and low for the perfect small lamp but could find what I wanted. One trip to the thrift store gave me my answer. I found a large 1/2 gallon mason jar for $1.99, and I knew it would make the perfect mason jar lamp.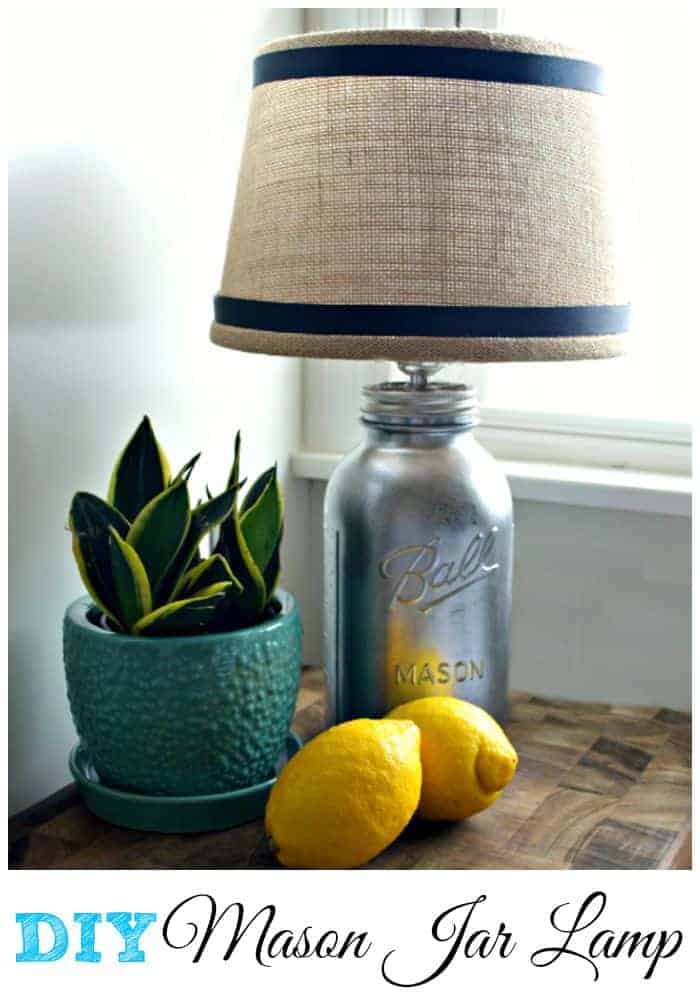 I wasn't sure what I was going to do with the jar when I started this project. It would be cool to fill it up with something pretty, or I could paint it…but, because I had so much fun turning an old window into a mirror a while back, I decided to use Rust-Oleum Mirror Effect Spray again to turn it into a mercury glass mason jar.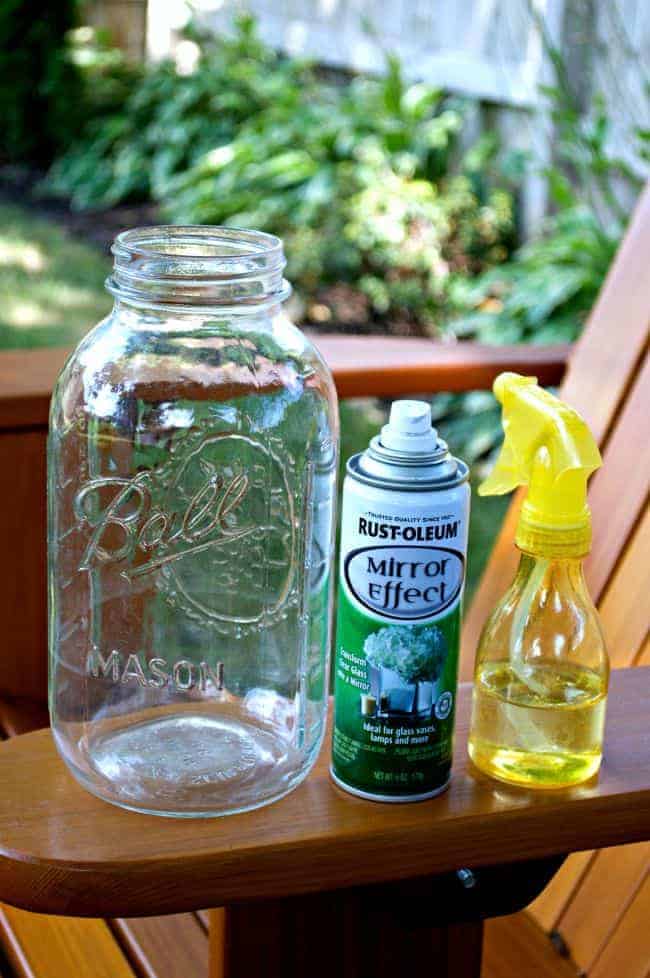 To start, I worked on creating the mercury glass look by giving the jar a thorough wash and dry. Then I sprayed a coat of the mirror effect spray, immediately followed by a light spritzing of a mixture of 1 part vinegar to 1 part water all over the outside of the jar (you want the water to bead up and not run down the sides). I set the jar on cardboard to dry a few minutes and then I took a wet but well wrung out paper towel and lightly blotted the beaded water up.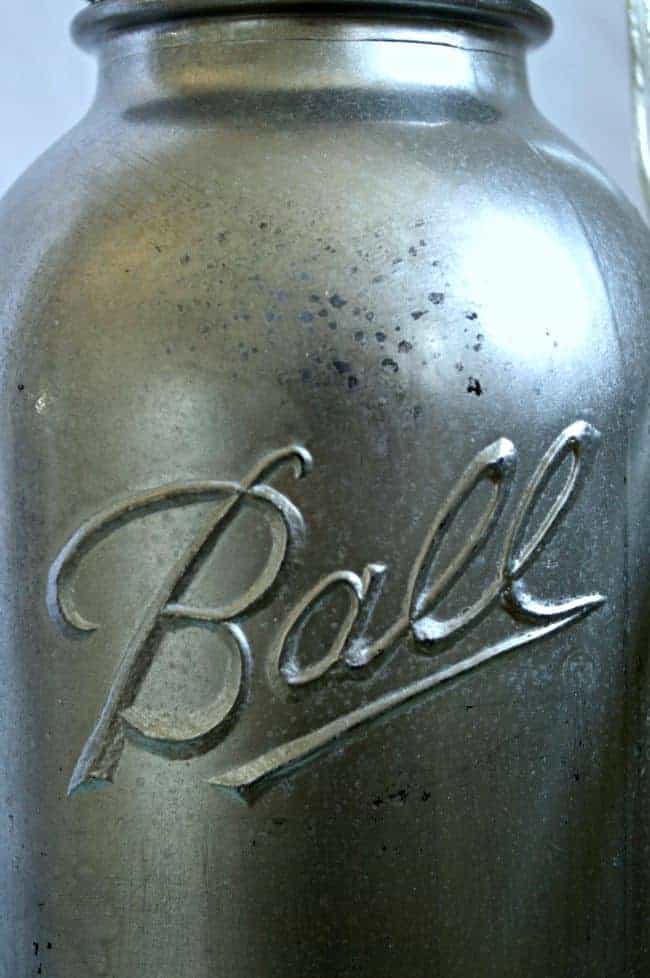 This is where you get the antique, mercury glass look because the water mixture prevents the spray from adhering to the glass. I had to spray, spritz and blot 3 times before I was satisfied with the coverage, but it is a really quick process (just be sure the jar is dry before adding more coats). After I was sure the jar was dry, I sprayed a coat of Rust-Oleum Clear Enamel to protect the finish.
With my jar finished, it was time to add my lamp kit. I've posted the steps to working with a lamp kit before so, to keep this post from going too long, I won't go through the step by step again.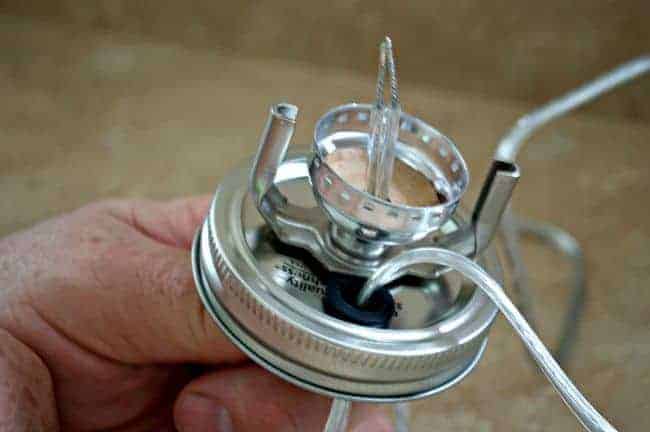 We used a regular mason jar lid, with two lid inserts for extra stability, and quickly wired it all up. I thought about drilling a hole in the jar to bring the cord through but I didn't want to do that, so we just drilled a second hole in the lid, added a rubber grommet and brought the wire back out (as shown in the picture above).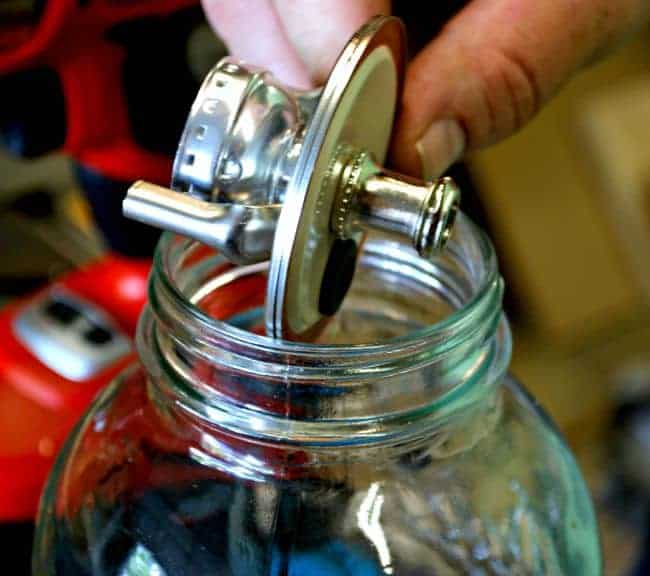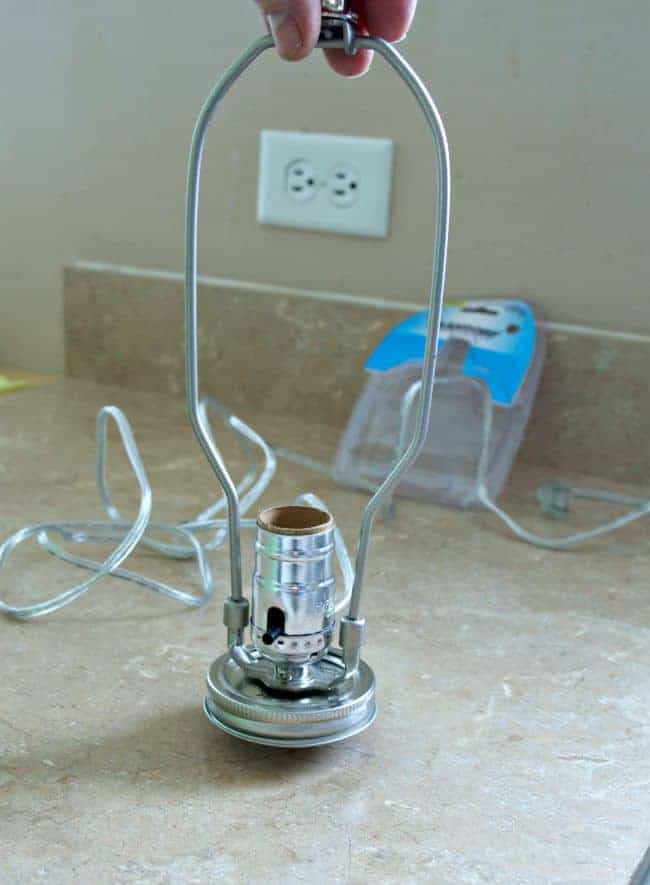 That's it, 5 minutes and the lamp was ready for a shade. I was going to make a burlap shade but I found a really inexpensive one at World Market, and I got a discount (yay!), so I saved myself some time and just used store-bought. I did add some black ribbon that I had in my stash to style it up a bit. I'm not sure if it will stay, but I liked it better than the plain burlap.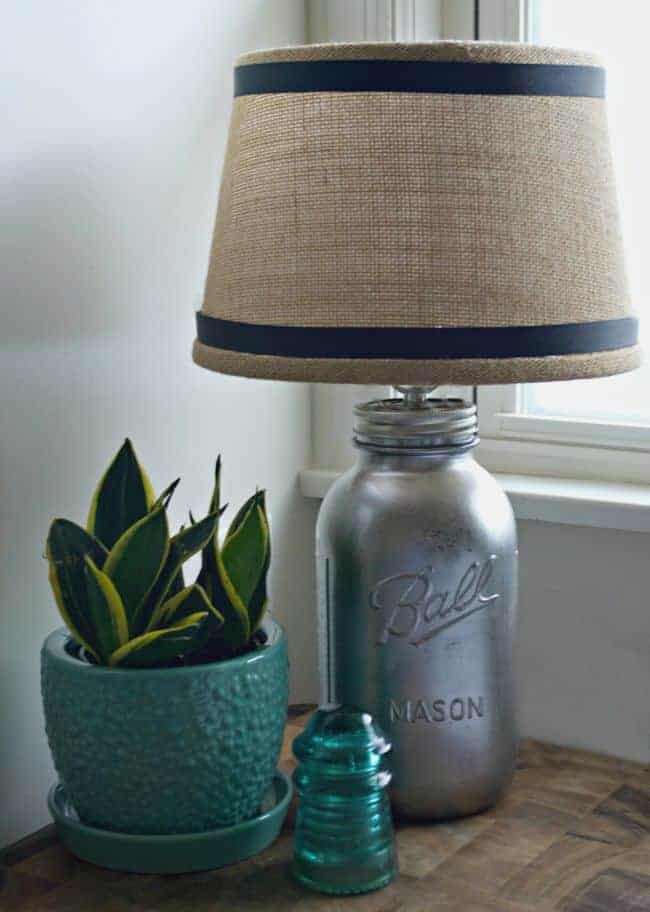 I love how my mason jar lamp turned out and I think it will look great in my new kitchen, if we ever get it finished.
Mason jars have so many uses. Have you ever turned one into something useful, or something pretty?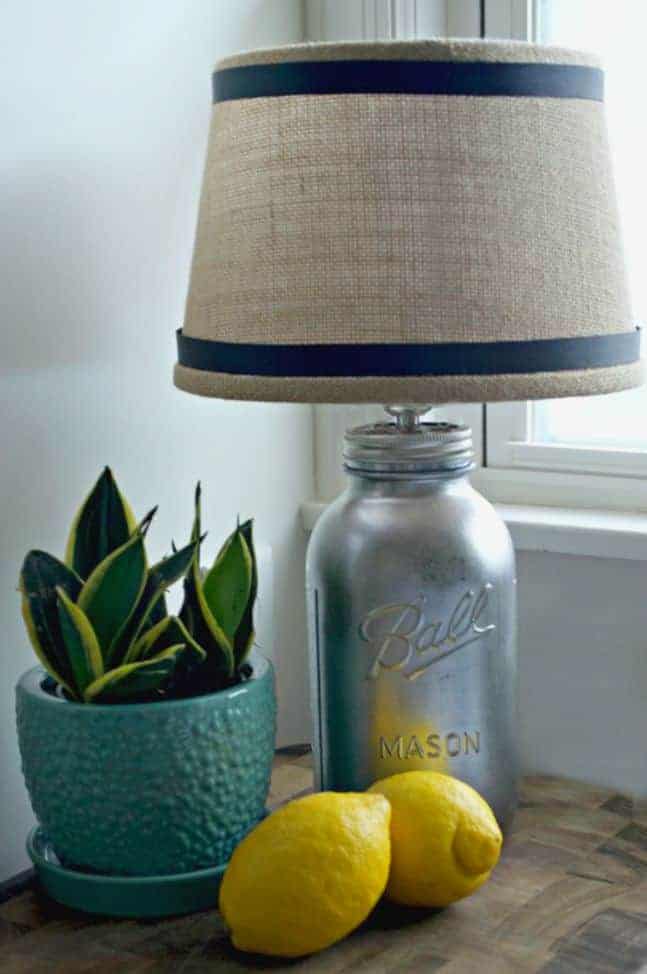 There are 4 more DIY lighting projects to check out. I hope you'll visit my friends and see what fabulousness they've come up with this month.
Check out some of my other DIY posts…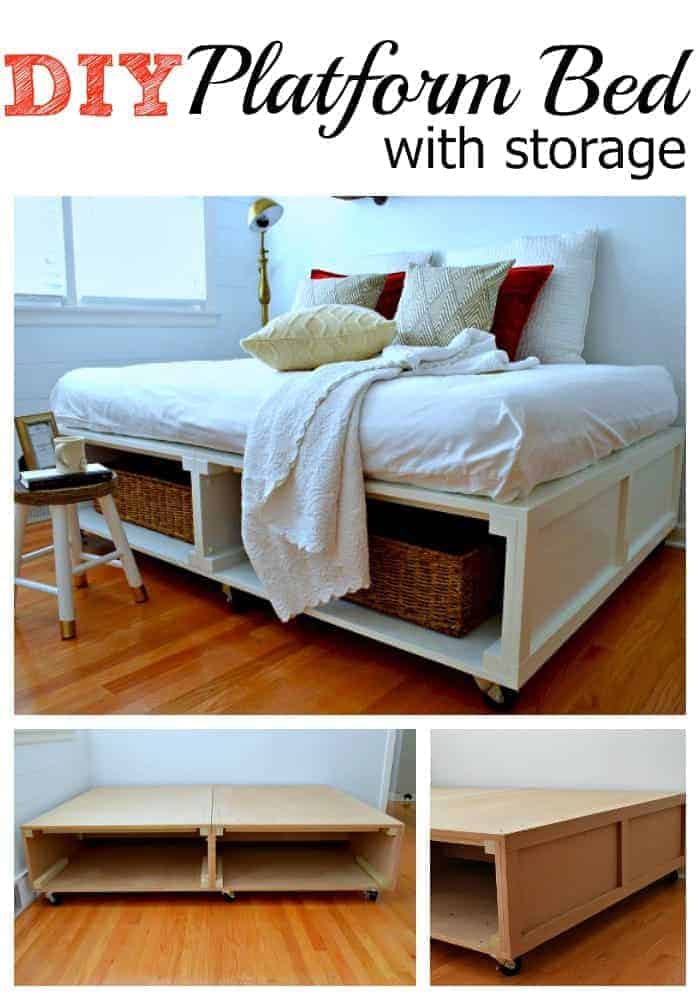 DIY Platform Bed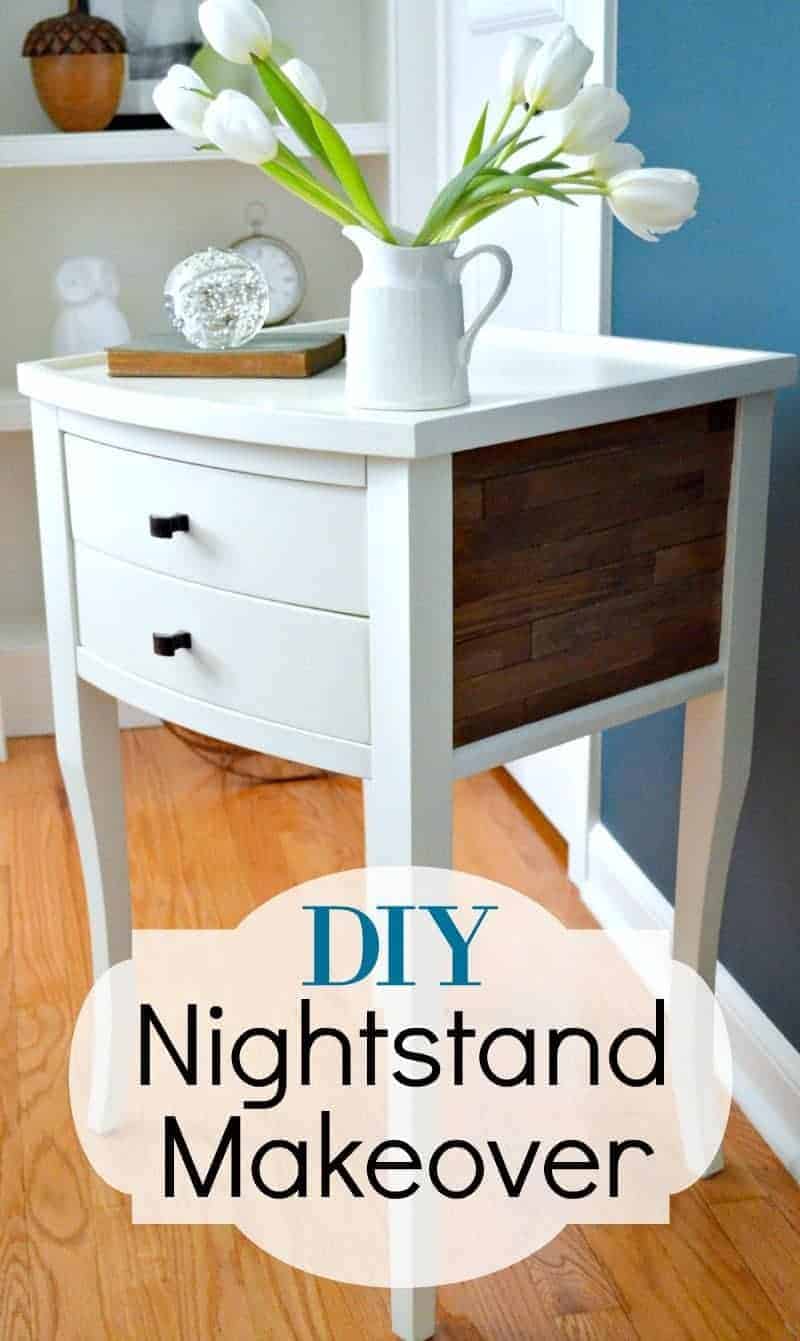 Rustic Nightstand Makeover